This easy cherry cake recipe is so easy to make and so delicious you'd want to bake it all summer long. Dense but soft, not too sweet, bursting with wonderful cherry flavour.
(Take advantage of cherry season and make some mini cherry galettes. Buttery, flaky crust. Plump, juicy, sweet cherries. It's your favourite summer pie without all the work. This chocolate cherry bundt cake is easy to make and looks stunning!)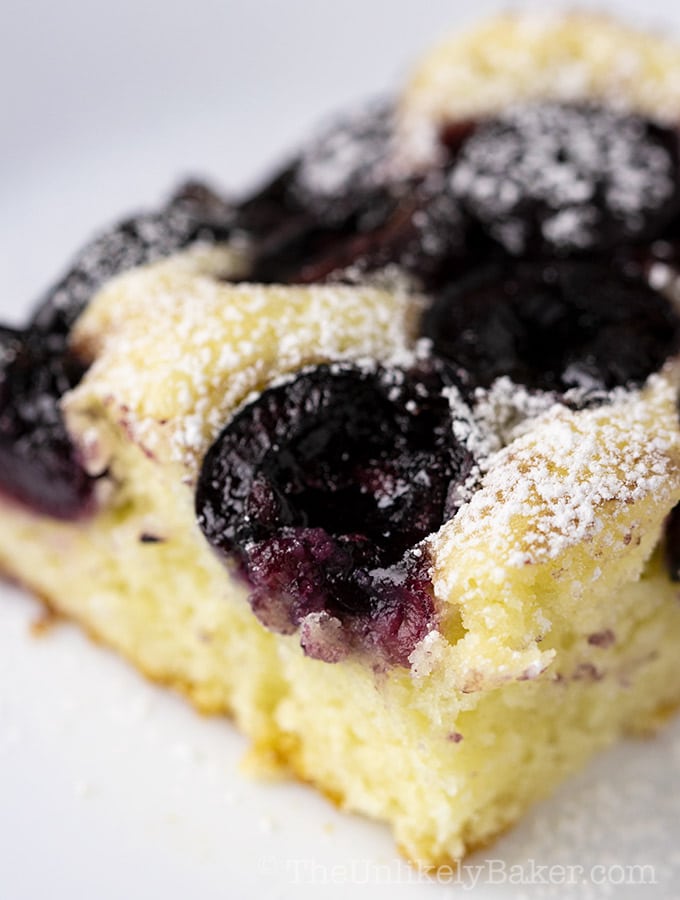 If you're looking for a quick, simple, delicious cake to serve and snack on this summer, you've come to the right place!
No bells and whistles (or frosting and filling) on this one. Just the season's best fresh sweet cherries, simple pantry ingredients, half an hour in the oven, done.
This cherry cake from scratch goes so well with your morning coffee, great for picnics and is perfect with ice cream.
How to make this easy cherry cake recipe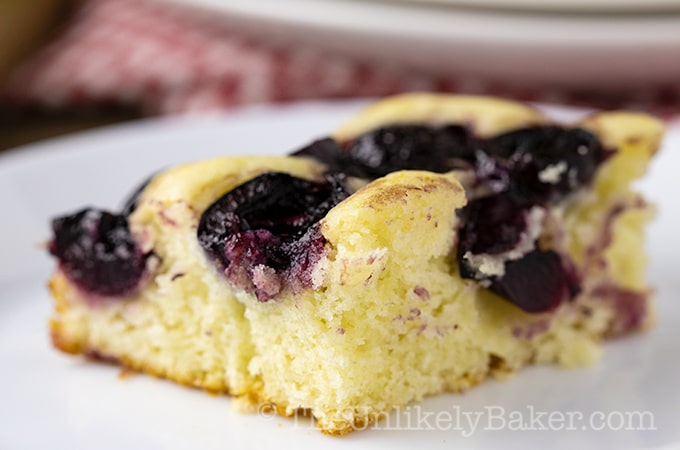 To make this homemade cherry cake, you start by sifting flour with baking powder and salt. You set that aside while you cream butter and sugar until fluffy and light.
Then in goes the egg, buttermilk and vanilla. Mix until incorporated. Gradually add your flour mixture and stir until just combined.
Transfer the batter into your prepared pan and place cherries on top. Bake for 30 minutes or until a toothpick inserted in the centre comes out clean.
Allow the cake to cool in the pan on a wire rack. Sprinkle some powdered sugar or top with ice cream and enjoy!
Ingredients
Like I said earlier, there are no hard-to-source ingredients in this easy cherry cake recipe. All you need are the following pantry staples:
Baking tools
You don't need special tools either. I like using my stand mixer
but a large bowl + a handheld electric mixer
would work just as well too.
In addition, you need:
A 9×9 inch baking pan
Parchment paper

Spatula

Cooling rack
I like using a bench scraper
to cut sheet cakes but a knife will do too.
Recipe FAQs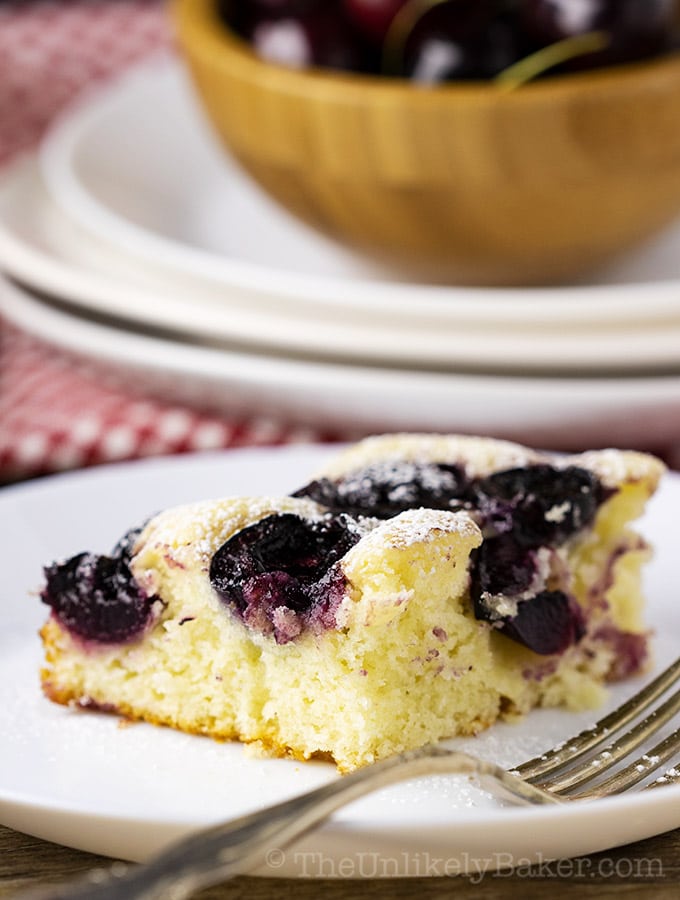 To make this super easy recipe for cherry cake even easier, here are some tips for you.
How to make homemade buttermilk

This recipe only needs ½ cup of buttermilk and if you're like me and can only buy it in 1L bottles, you need to plan out your week and make all things buttermilk (here's a great collection of recipes to help you use that leftover buttermilk).

Or, you can make buttermilk at home so you have just the right amount you need.
It's so simple: I just mix a cup of milk and a tablespoon of lemon juice, stir then let it sit in room temperature for 30 minutes.

Homemade buttermilk doesn't get quite as thick as the one you buy at the store though. Good news is I haven't noticed a significant difference in my baking yet. So I don't hesitate to make homemade buttermilk in a pinch.

Here's an interesting read on commercial vs. homemade buttermilk, if you're curious.
How to pit cherries without a cherry pitter

I love cherries – eating them fresh and baking with them (or making homemade roasted cherry chocolate ice cream – so good!).

Over the years (and countless days of cherry red hands later) I've realized that a cherry pitter
might be one of the best inventions of mankind ever.

Invest in one and you won't look back.

If you don't have one though, there are many ways to pit a cherry. From using a straw (didn't work for me) to using a paper clip (this one hurt!). Here's one using a piping/icing tip (I haven't tried this but it looks very promising).

See what method works best for you (or invest in a pitter already!).
Can I use frozen cherries for this recipe?

If you want to avoid all that drama altogether, you might be wondering if you can just use frozen cherries for this recipe. The answer is you can.

When cherries are $1 a basket, we tend to hoard buy more than normal people would and freeze them ourselves so we can have cherry parties all year.

When the craving hits and I want to bake cherry cake from scratch, I simply thaw them in the fridge.

I just make sure to remove any excess moisture before I use them so my cake doesn't end up being too mushy.
How do I store this cake?

You can store this cherry buttermilk cake in an airtight container in the fridge. It will be good for up to 2 days.

We like eating this cake chilled too so we don't usually bring it down to room temperature before serving.
Other cake recipes that are easy to make from scratch
If there are no cherries available there yet or – gasp – you missed cherry season, here are other cakes you can bake that are just as easy and delicious.
This sour cream peach cake also uses a favourite summer fruit. Delicious, fruity, will definitely give you all the summer feels.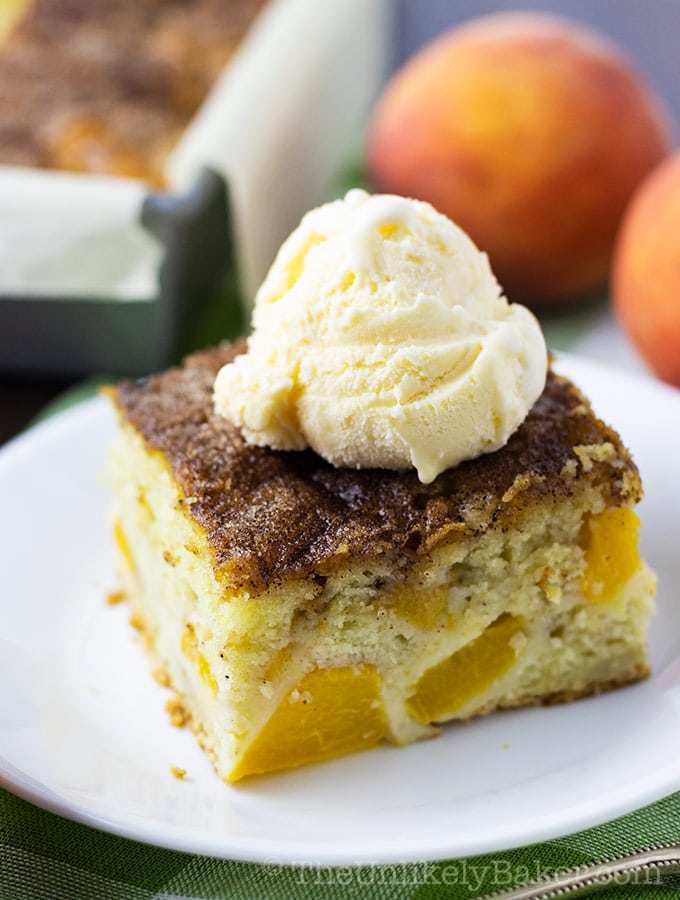 It can't get any simpler than this easy yogurt cake. Top it with fresh strawberries (or your favourite berry) and cream for a fantastic summer dessert.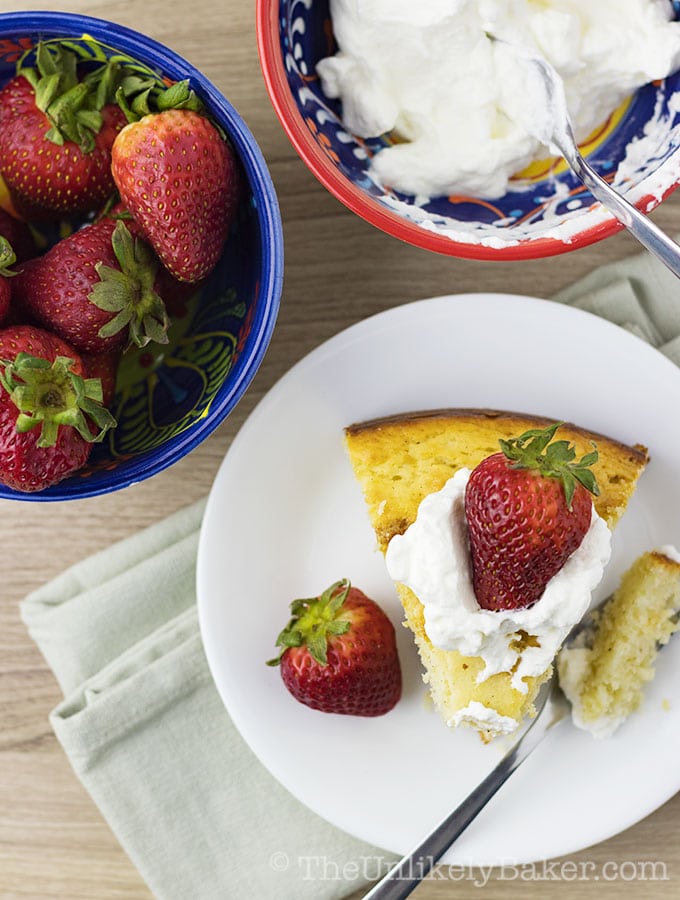 Not in a baking mood? This strawberry refrigerator cake is for you. Fresh, refreshing, great way to stay cool on a warm sunny day!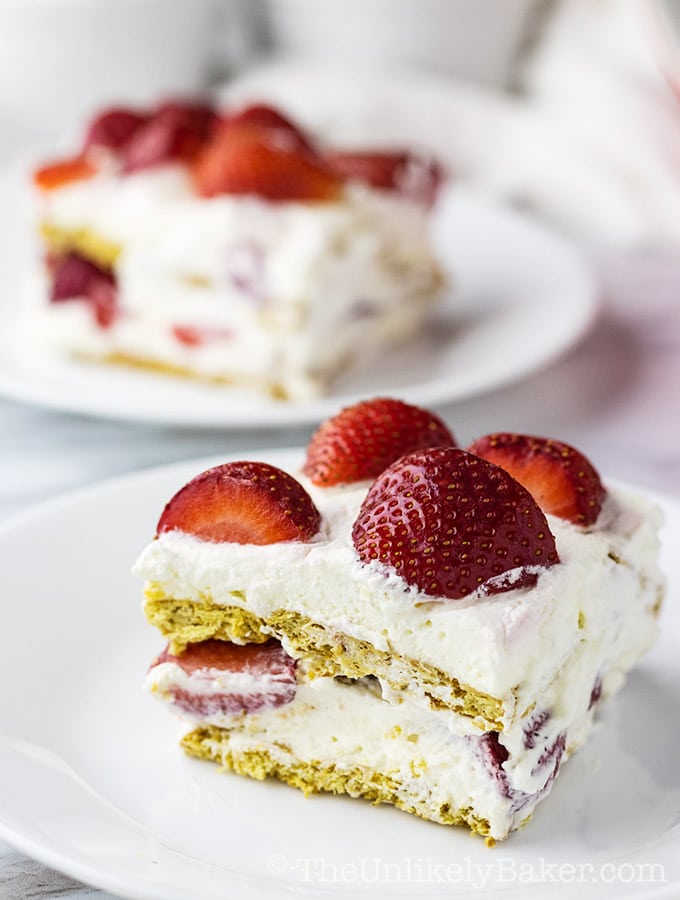 This almond cake is easy to make and scrumptious too!
And if you want a really easy and simple cake in a jiffy, make this cake mix mug cake.
Happy baking!
Did you make this easy recipe for cherry cake? I'd love to hear from you in the comments section below.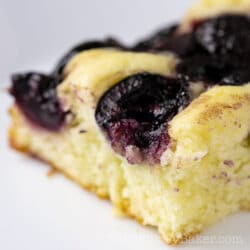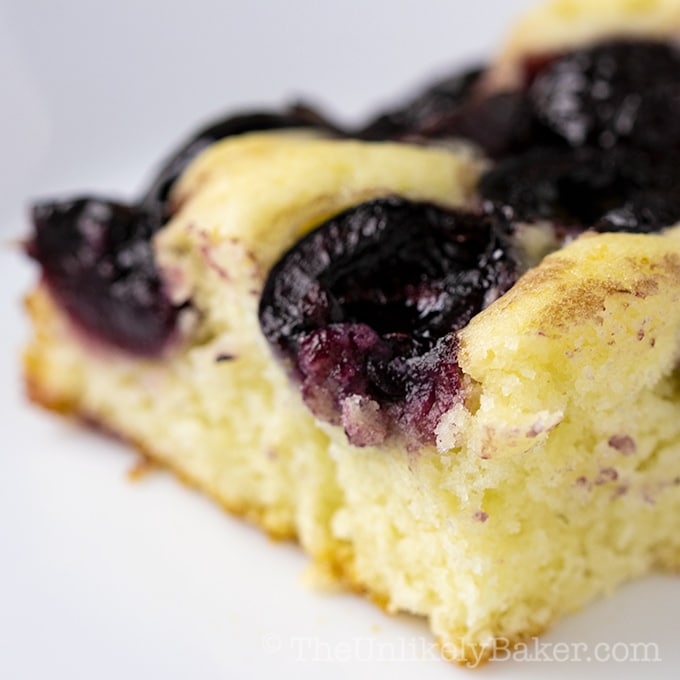 Easy Cherry Cake Recipe from Scratch
This easy cherry cake recipe is so easy to make and so delicious you'd want to bake it all summer long. Dense but soft, not too sweet, bursting with wonderful cherry flavour.
Instructions
In a large bowl, sift 1 ½ cups all purpose flour, 1 ½ tsp baking powder and ½ tsp salt. Set aside.

Using a handheld electric mixer or a stand mixer fitted with the paddle attachment, cream 6 tbsp of butter with ¾ cup of sugar until light and fluffy (about 3-5 minutes on medium-high speed).

Then in goes the egg, ½ cup buttermilk and 1 tsp vanilla extract. Mix until incorporated.

Switch the mixer to low speed and gradually add your flour mixture. Stir just until combined. Remember to scrape the bottom and sides of your bowl.

Transfer your batter into your prepared pan and smoothen the top with a spatula. Place cherries on top (you may want to lightly press some of the cherries into the batter) and bake for 30-40 minutes or until a toothpick inserted in the centre of the cake comes out clean.

Place the pan on a wire rack to cool. Serve with a dusting of confectioner's sugar or a scoop of ice cream.
Nutrition
Calories:
141
kcal
Carbohydrates:
23
g
Protein:
2
g
Fat:
5
g
Saturated Fat:
3
g
Cholesterol:
13
mg
Sodium:
82
mg
Potassium:
133
mg
Fiber:
1
g
Sugar:
13
g
Vitamin A:
165
IU
Vitamin C:
2
mg
Calcium:
36
mg
Iron:
0.7
mg
Nutritional information are estimates only.
Tried this recipe? Leave a star rating today!
Also tag @iamtheunlikelybaker I'd love to see your creations.