Impress your guests and close the year with a bang with these 16 New Year's Eve desserts that are easy to do and even easier to eat!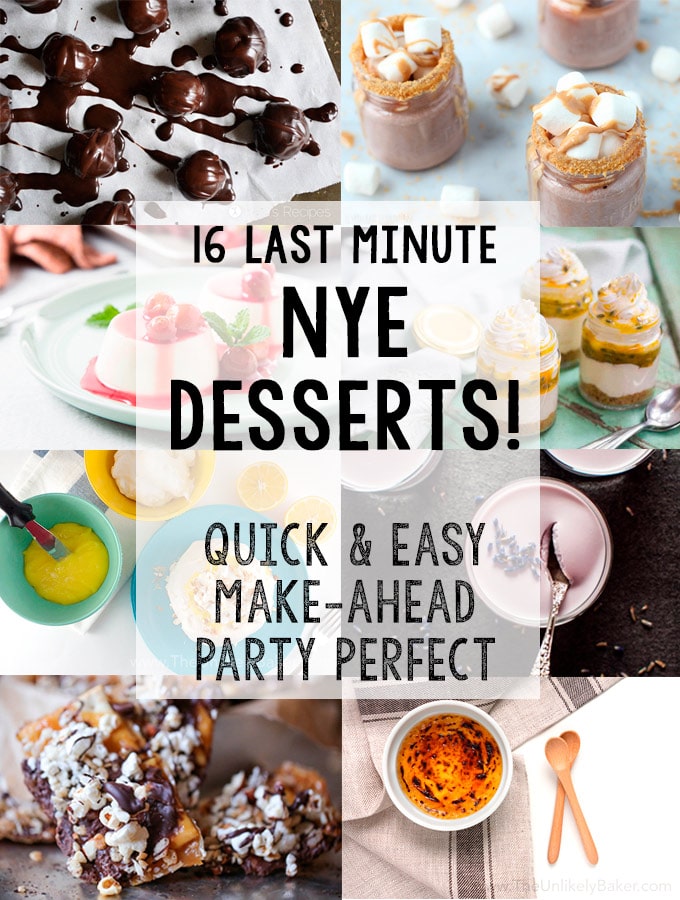 Hope everyone had a happy Christmas! We had a really low-key one, which was a nice change from all the hustle and bustle of the days leading up to it.
But you know what this means – the new year is upon us! Which means New Year's Eve parties.
As always, to close the month I have a delicious round-up for you: 16 last-minute New Year's Eve desserts that you can prep ahead or whip up quickly so that all you need to think about on December 31 is having a blast.
New Year's Eve Desserts: Make Ahead
Anything that you can prep the day before the party is always a lifesaver. Make all the components beforehand and assemble just when you're ready to serve. It allows you to enjoy the party outside the kitchen! It doesn't hurt that they look stunning too.
Impress your guests with this Lemon Panna Cotta with Grapes Two Ways from The Missing Lokness.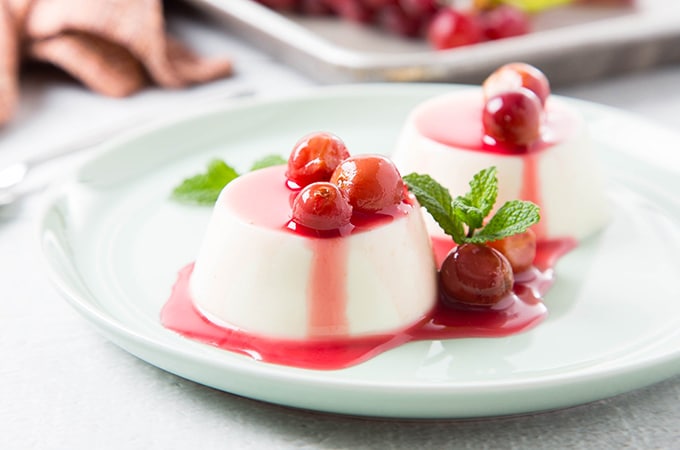 Here's another lovely panna cotta recipe for you – Lavender Panna Cotta – from Salt & Lavender.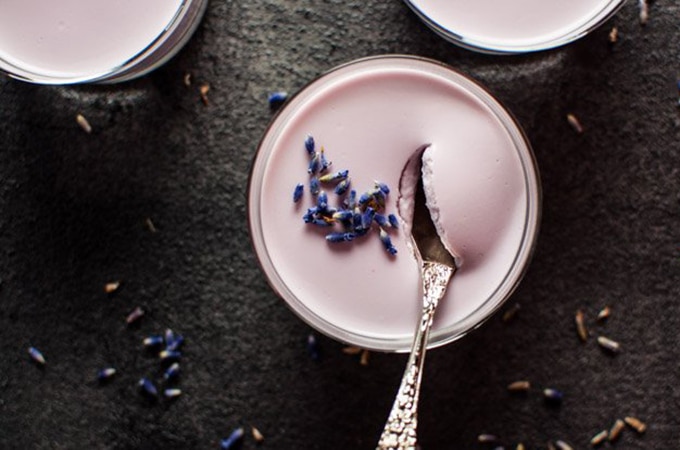 This third one is not panna cotta but an Irish Cream Crème Brûlée – slightly delightfully boozy, perfect for New Year's Eve!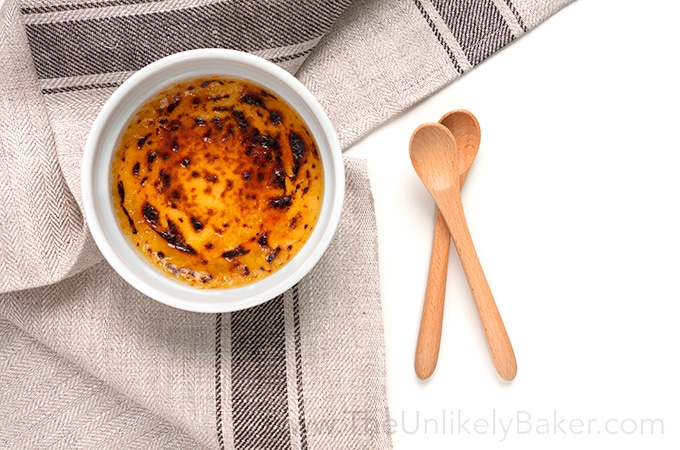 New Year's Eve Desserts: Boozy
Speaking of boozy, Irish cream seems to be popular this time of year.
These Bailey's Chocolate Chip Cookies from Byte Sized Nutrition are definitely not just for Santa.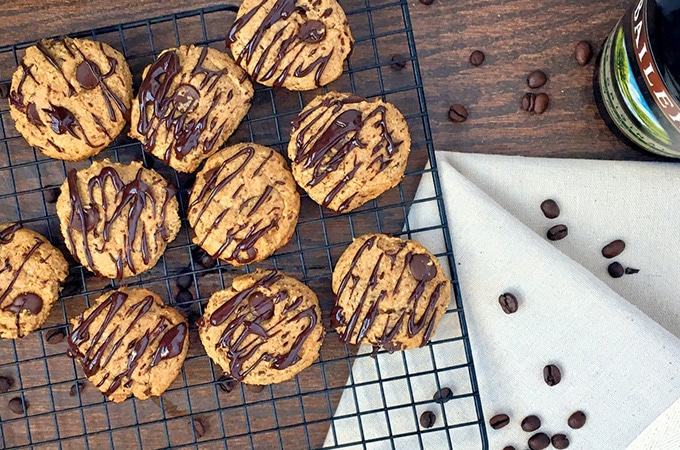 And how about these Baileys Cheesecakes with Baileys Salted Caramel Sauce from Patisserie Makes Perfect? Perfect!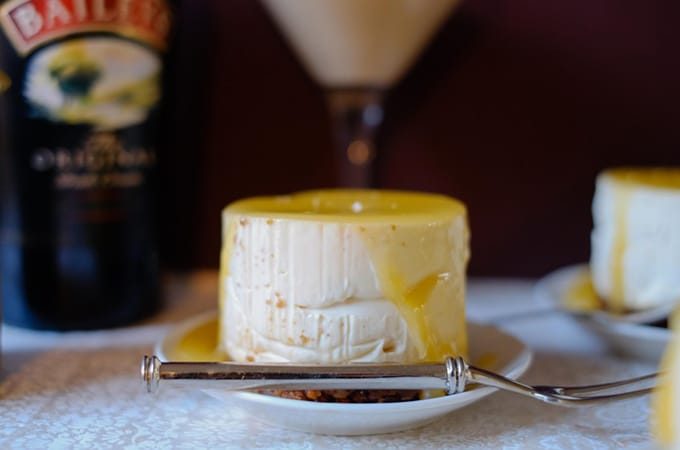 Not into Bailey's? These fun Fluffer Nutter Butter Hot Cocoa Shooters from Lydi Out Loud are made with vodka. How can we say no?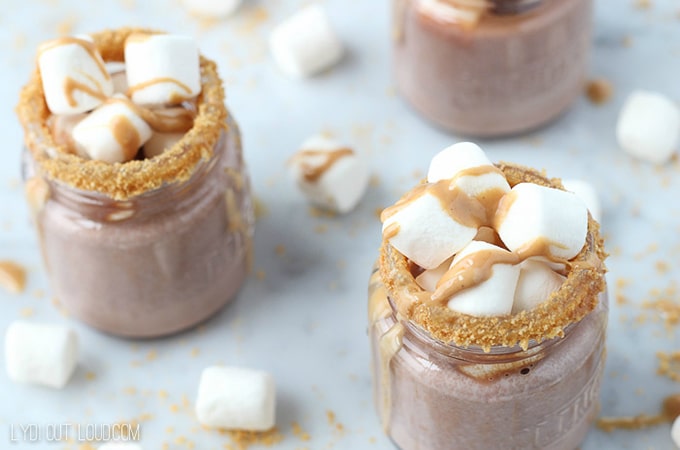 While this Beer Brittle Chocolate Bark from The GastroNom has stout beer. Pretty awesome, right?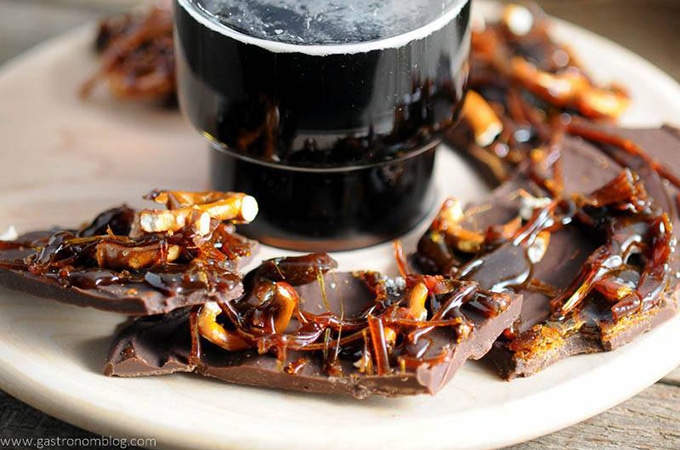 New Year's Eve Desserts: Finger Desserts
If you'd like sober desserts, these Fully Loaded Toffee Saltines from Domesticate ME! is a great choice.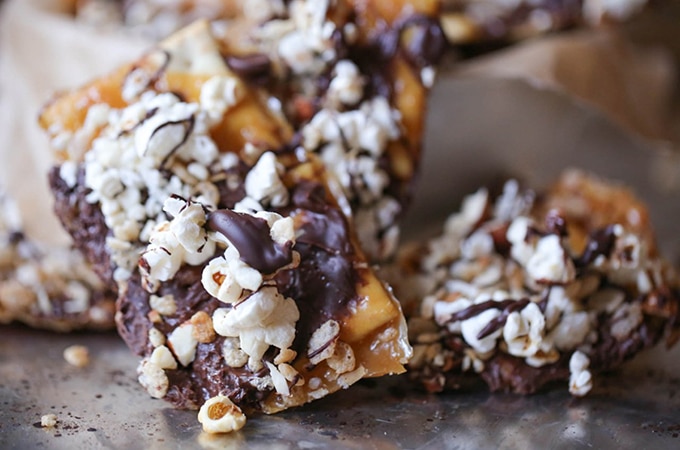 And trick your guests into eating fruit by serving these Apple Nachos with Peanut Butter and Chocolate from Trial and Eater.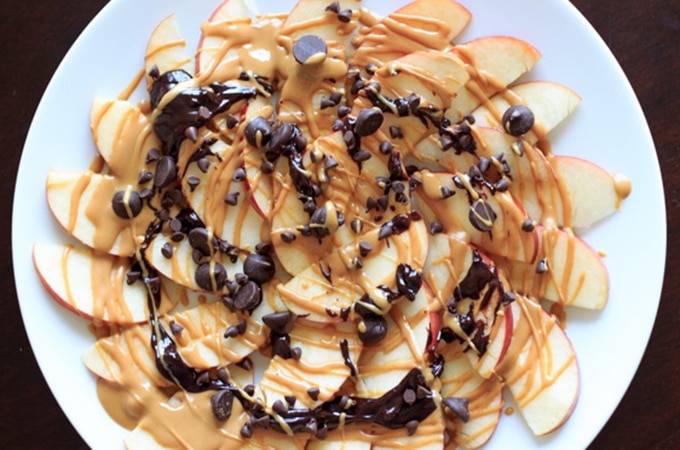 New Year's Eve Desserts: Balls and Truffles
Balls and truffles were big this year and they're really fantastic treats you can serve on New Year's Eve.
Raia's Recipes has these Dark Chocolate Peppermint Truffles that's to-die for.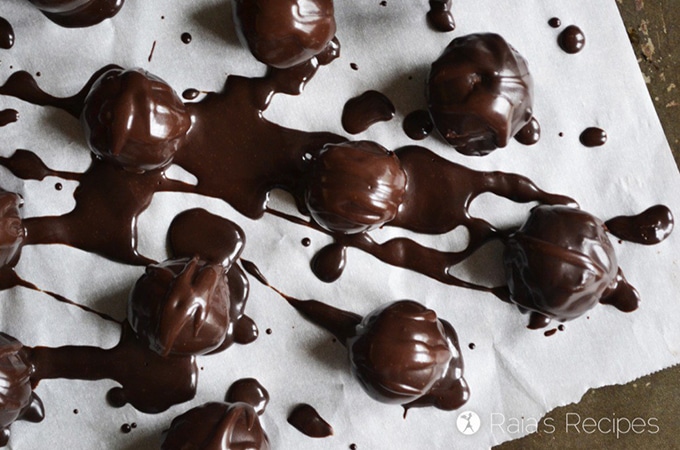 And these Chile Mocha Truffles from Champagne Tastes are – and I quote (and absolutely agree) – "perfect little balls of happiness".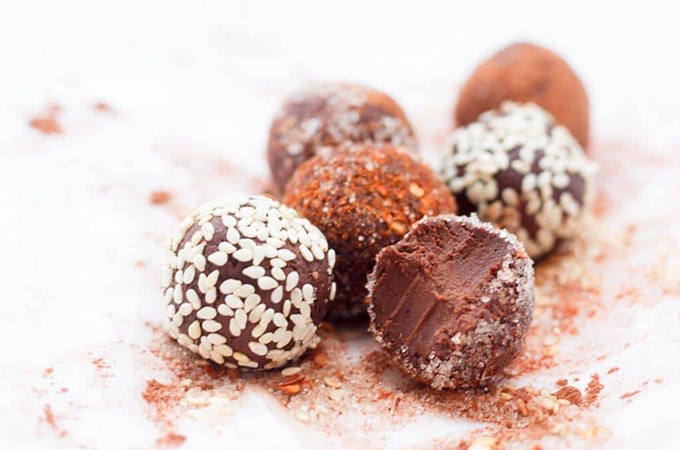 While Natalie's Food & Health came up with these healthy Chocolate Cinnamon Balls. It's never too early to start working on that New Year's resolution to eat healthy!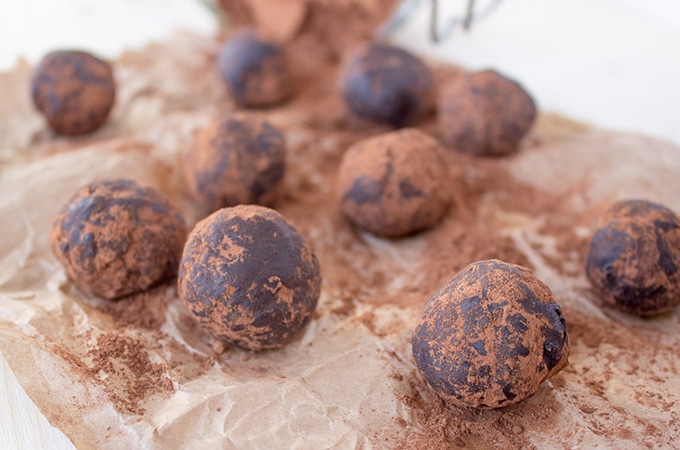 New Year's Eve Desserts: Try Something New
If you want to try something new this year, you'd love the recipes below.
It's hard resist this Fiery Ginger Cheesecake from Made by Luci. It's vegan and gluten free too.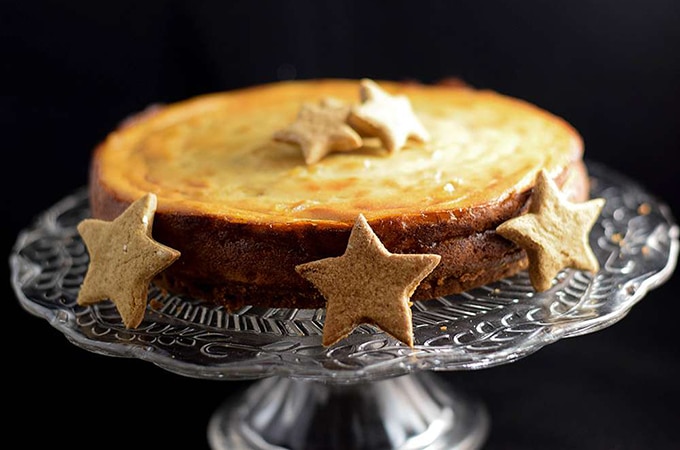 Want cheesecakes in jars? You would love these 8 Ingredient Passion Fruit Cheesecake Jars over at My Food Story.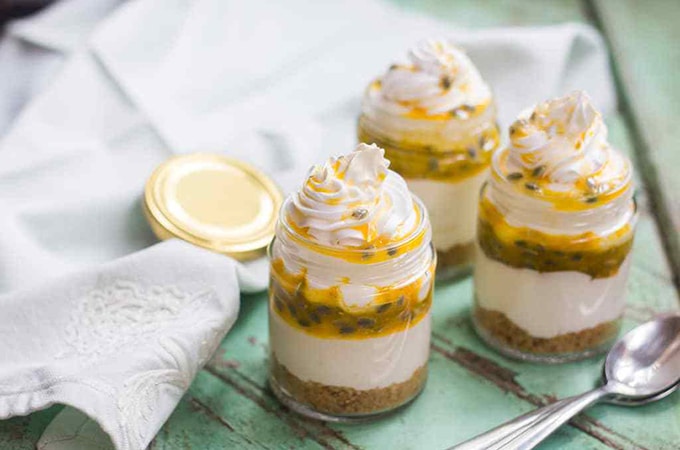 New Year's Eve Desserts: Lemon Love
You didn't think I'd forget about lemon, did you? Never.
Here's a Lemon Pavlova with Toasted Almonds & Coconut that's a ray of sunshine on a dreary winter day.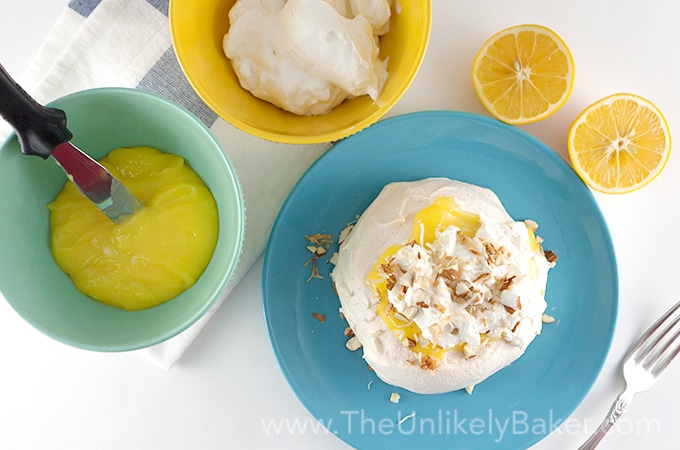 And here's a Lemon Mousse Dessert from Art from My Table that only has 2 ingredients it's a breeze.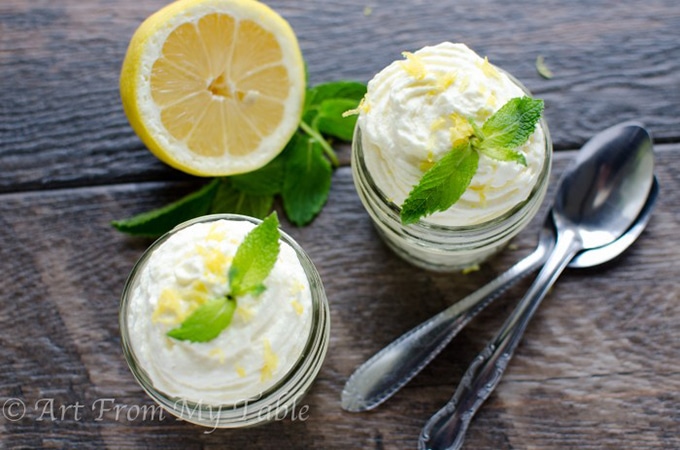 And there you have it. Sixteen incredible New Year's Eve desserts you can serve at your New Year's Eve party.
[clickToTweet tweet="Last-minute dessert ideas for New Year's Eve so you can end the year with a bang! >> http://wp.me/p78RTV-wr" "rel=nofollow" quote="Check out this collection of last-minute dessert ideas for New Year's Eve and end the year with a bang!"]
I'd like to take this chance to thank all of you for going on this awesome baking adventure with me this year. I appreciate the support, the encouragement and the good vibes all around. You guys are the best!
Hope you found this year as exciting and delicious as I did. The journey continues next year, see you on the other side! Have an amazing New Year's Eve and a brilliant and blessed new year!
Did you make any of these recipes? What are your New Year's Eve plans? I'd love to hear from you! Let me know in the comments section below.
And let's get social! Find me on Facebook, Pinterest, Instagram, Twitter, Google+ and Flipboard.
Or subscribe so you don't miss a recipe. I promise I don't spam (I hate spam too).
Do you want to improve your food photography, monetize your blog or start your very own food blog? Check out my Blogging Resources.