Red velvet cake with ermine frosting is the red velvet cake of the good old days. It's not weighed down with heavy cream cheese but paired with the most delicate whipped ermine frosting. The combination is delicious!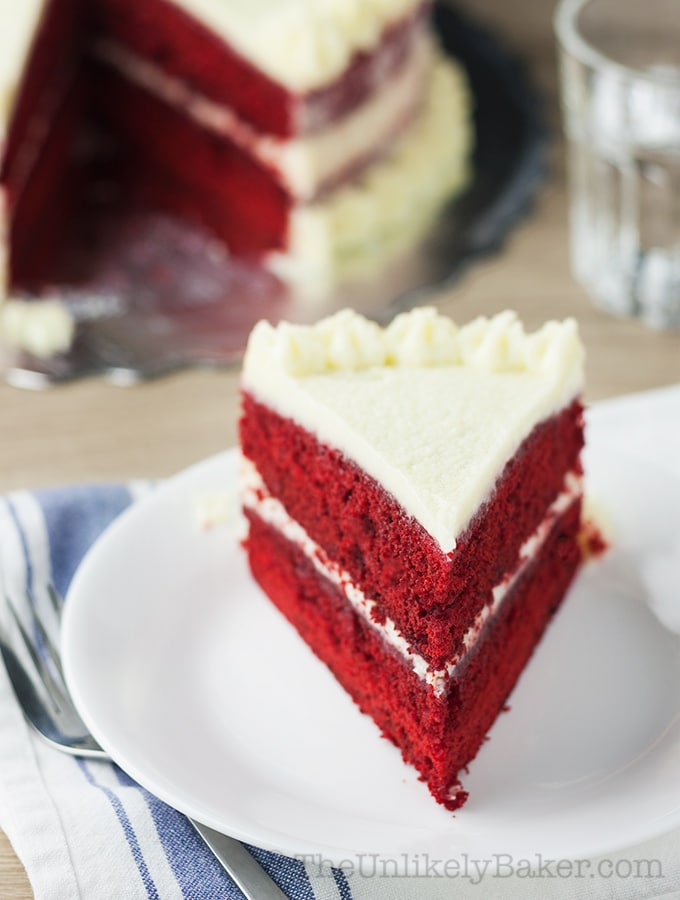 I used to have a love-hate relationship with red velvet cake. I loved to eat it. But it hated me. I've failed at baking it so many times I've lost count.
This was the recipe that changed everything. Now I can successfully make red velvet cake and know it will be a hit every single time.
What went wrong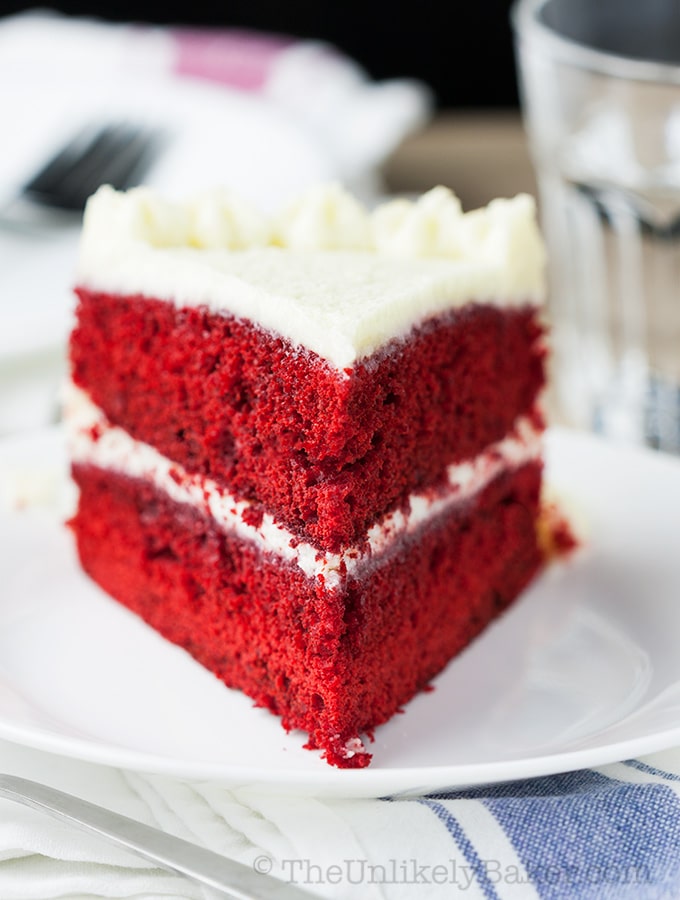 Let's get real for a second – red velvet cake is not for the fainthearted.
One time my cake turned very brown – too little red food colour. So for my next try I added more food colouring.
That made the batter too runny that I've had to scoop the collapsed remnants out of the pan (and straight into the garbage bin).
Don't even get me started on the cream cheese frosting.
First it won't stiffen to the proper consistency – my cream cheese and butter were always too soft.
Or I thought it did, only to find it flowing like soup from within my layers like sweet, white, evil lava (now this is just wrong).
(I'm still not very good at cream cheese frosting so I usually make Swiss Meringue Buttercream instead.)
Keys for success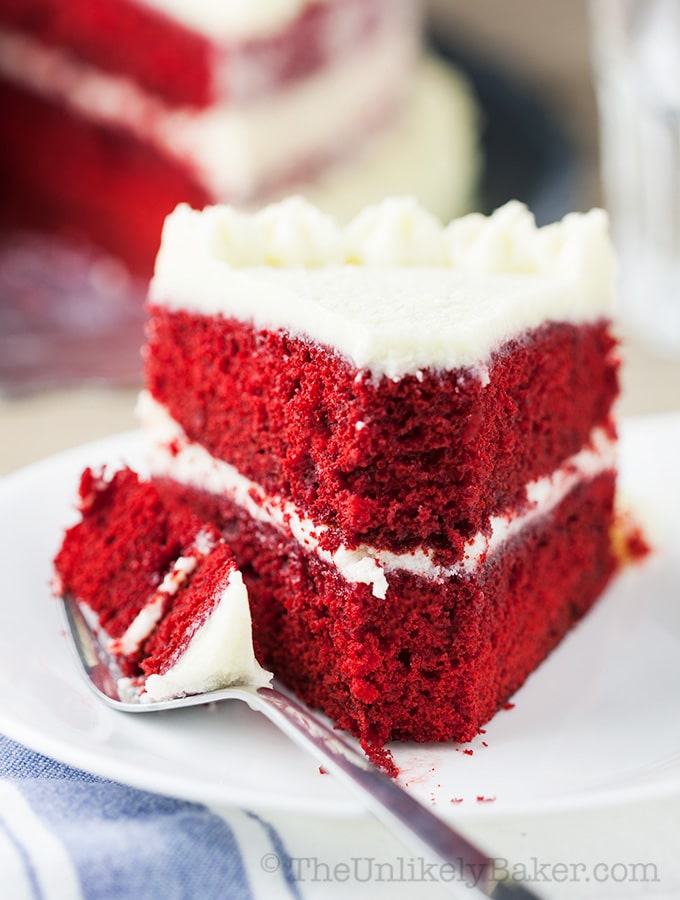 Happily, I've gotten over that dark period in my red velvet baking life and can now share two important tips so you can successfully bake red velvet cake too.
Use gel food colour. Stay away from the liquid ones – they are just not red enough so you'd tend to use more which affects the total liquid in your batter (and you'd get a strange aftertaste too).
Measure your ingredients using a kitchen scale if you can. Baking is a science after all. They're pretty inexpensive and will improve your baking more than any other kitchen gadget (though I think it's tied with an oven thermometer – also cheap!)
Red velvet cake with ermine frosting
Also, try pairing your cake with ermine frosting instead of cream cheese frosting. It's less finicky than cream cheese frosting and lighter too.
What is it exactly? It's one of those classic recipes that our grandmas hold near and dear. And it is actually the original icing paired with red velvet cake.
It's essentially flour and milk whisked until the mixture resembles thick pudding. This pudding then becomes the base for your buttercream.
Ermine frosting or boiled milk frosting or roux frosting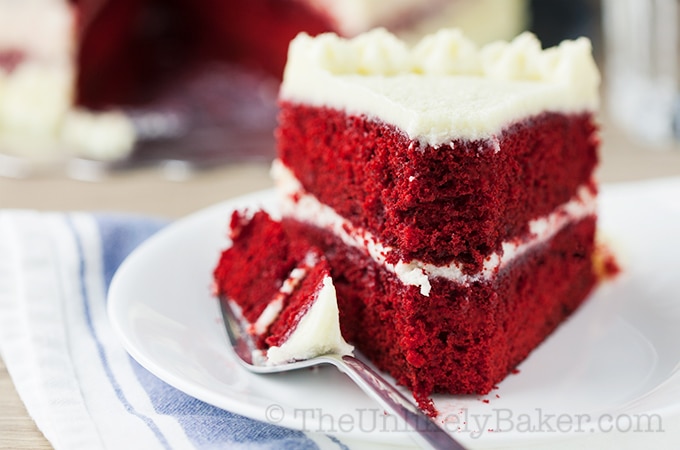 It's called so many names but it's really the same thing. And what is it like?
Light with the consistency of whipped cream.
Not too sweet – just the kind that makes you want more.
And It works so well with red velvet cake. No wonder they were the OG lol.
Not your typical red velvet cake…better!
This is definitely not the red velvet cake we're used to but I think I absolutely like this version better. It's just so unique; hope you give it a try and like it too!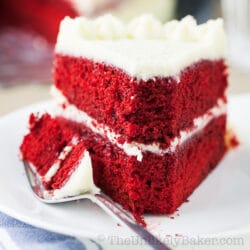 Red Velvet Cake with Ermine Frosting
Red velvet cake with ermine frosting is the red velvet cake of the good old days. It's not weighed down with heavy cream cheese but paired with the most delicate whipped ermine frosting.
Instructions
Red Velvet Cake
Pre-heat oven to 350F. Grease 2 9-inch baking pans then put greased parchment paper at the bottom for easy release.

In a medium sized bowl, sift 2 ¼ cups cake flour, 1 teaspoon salt and 2 tablespoons cocoa powder. Set aside.

Using an electric mixer or a stand mixer with a paddle attachment, cream ½ cup butter and 1 ½ cups sugar on medium speed until light and fluffy (about 2 minutes).

Add the eggs one at a time until combined.

In a separate bowl, add your red food colour to 1 cup buttermilk and stir until combined.

Switch to low speed and add a third of your flour mixture into the batter, then half of your buttermilk, then another third of the flour, the last of the buttermilk, then finally putting in the rest of the flour making sure each addition is fully combined before adding in the next. Scrape the bottom and sides of your bowl as needed.

Add 1 teaspoon vanilla and stir until you see no more streaks of flour in the batter. Remove the bowl from stand mixer, if using.

In a small bowl, mix 1 teaspoon baking soda with 1 teaspoon vinegar. Once the mixture foams and bubbles, quickly fold it into your cake batter.

Pour the batter into your prepared baking pans and bake for 24-30 minutes or until the cakes start to pull away from the sides of the pans and when a toothpick inserted in the middle comes out clean.

Take out from oven and cool on a rack for about 15 minutes or until the pans are cool enough to handle. Then remove the cakes from pans, remove the parchment paper from the cakes and let cool completely on the racks before frosting.
Ermine Frosting
In a medium sized sauce pan, combine 5 tablespoons flour and 1 cup milk and constantly stir over medium heat until very thick, like pudding (8-10 minutes).

Remove from heat, place plastic wrap on top and cool to room temperature. Then transfer it to the fridge and chill for 1 hour.

Using an electric mixer or a stand mixer fitted with the whisk attachment, cream 1 cup sugar, 1 cup butter and 1 teaspoon vanilla extract on medium high speed until light and fluffy (3-5 minutes).

Add the completely cool flour mixture and continue beating until you get the consistency of whipped cream (3-5 minutes).

Fill, frost and decorate cake as desired.
Notes
While you can serve this cake immediately, it is at its best after at least a couple of hours in the fridge. Then let stand in room temperature for about 10 minutes before serving.
See post for more baking tips.
Nutrition
Calories:
500
kcal
Carbohydrates:
63
g
Protein:
5
g
Fat:
25
g
Saturated Fat:
15
g
Cholesterol:
92
mg
Sodium:
343
mg
Potassium:
108
mg
Sugar:
43
g
Vitamin A:
815
IU
Calcium:
62
mg
Iron:
0.6
mg
Nutritional information are estimates only.
Tried this recipe? Leave a star rating today!
Also tag @iamtheunlikelybaker I'd love to see your creations.
Happy baking!
Did you make red velvet cake with ermine frosting? How'd you like it? I'd love to hear from you in the comments section below.
Looking for other celebration cakes? Try these:
The rest of the cake recipes are here.