Thick, creamy tomato sauce and your favourite rotisserie chicken come together in this delicious creamy chicken spaghetti. It's so good it'll give good old regular spaghetti a run for its money!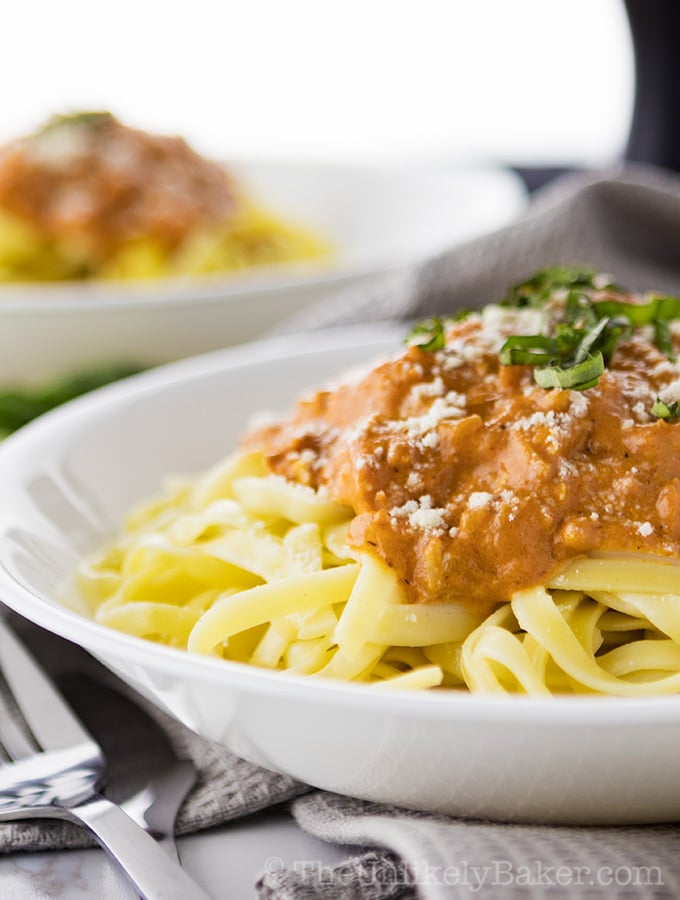 I remember my mom making us chicken spaghetti all the time when we were kids. She doesn't make it as often anymore but I certainly remember the taste very well – thick, creamy, rose-coloured tomato sauce, shredded chicken and lots of cheese.
So for Mother's Day, as a special shoutout to my amazing mom, I made my version of creamy chicken spaghetti. I used this sauce as starting point in my experiment and lemme tell you, it tastes so much like my mom's chicken spaghetti I almost cried. I cannot wait for her to taste it. And for you to try it!
Easy pasta recipes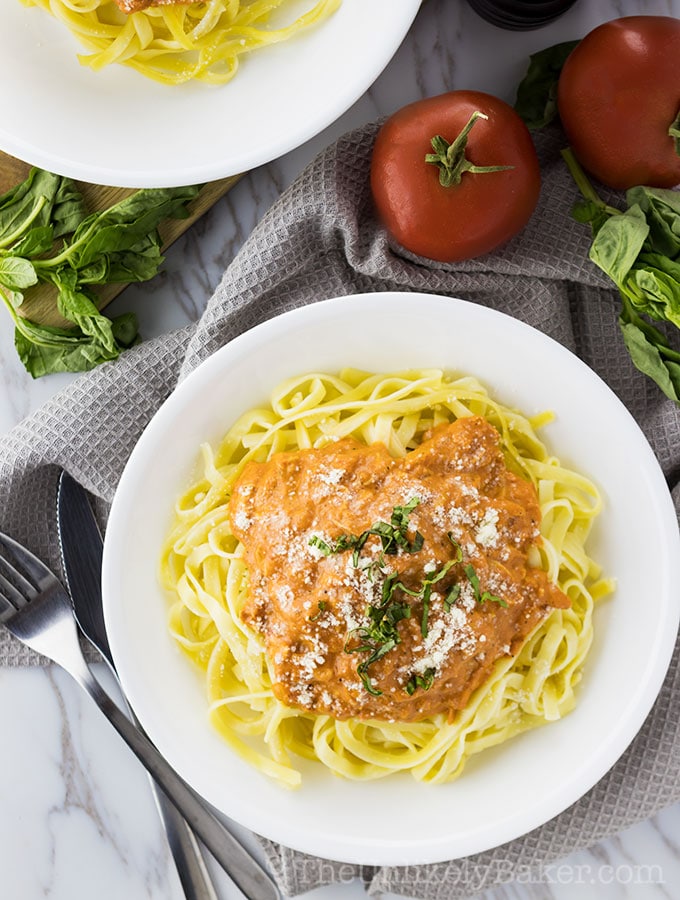 Most of you know I can't cook, I can only bake (true story). Whenever you see me share something savoury, it's usually Red doing the cooking and me doing the annoying documenting. Two-person team, TUB is.
However, lately I've been moving from the oven into Red's stovetop area more and more. I can cook a pretty mean carbonara (and it's David Rossi's Carbonara Recipe too!) and this creamy chicken spaghetti is the second pasta dish I am proud to share.
(What was that? Seems like pasta is the only thing I can cook? Yes, it sure looks that way lol! Stick with me though and let's become better bakers and home chefs together – subscribe here – beef bourguignon here we come.)
Related: Sweet and Salty Filipino Style Spaghetti
Great recipe for leftover rotisserie chicken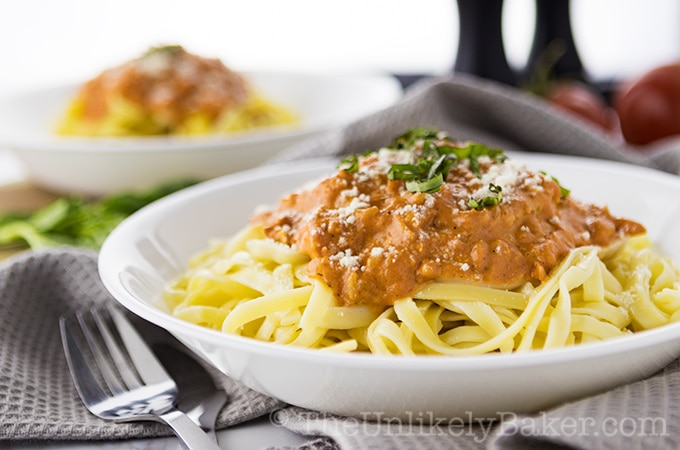 Chicken spaghetti is a great way to use up leftover rotisserie chicken. Red and I love to shop at Costco and we usually grab one of their cooked chickens. We almost always don't finish the whole thing though so we've got to be creative in using up the rest.
I used rotisserie chicken here. It took a good third of the chicken so if you're a family of four and you only usually have a tiny bit left, best to plan ahead so you have enough chicken left.
Related: 22 Delicious Ways to Use Leftover Buttermilk
Creamy chicken spaghetti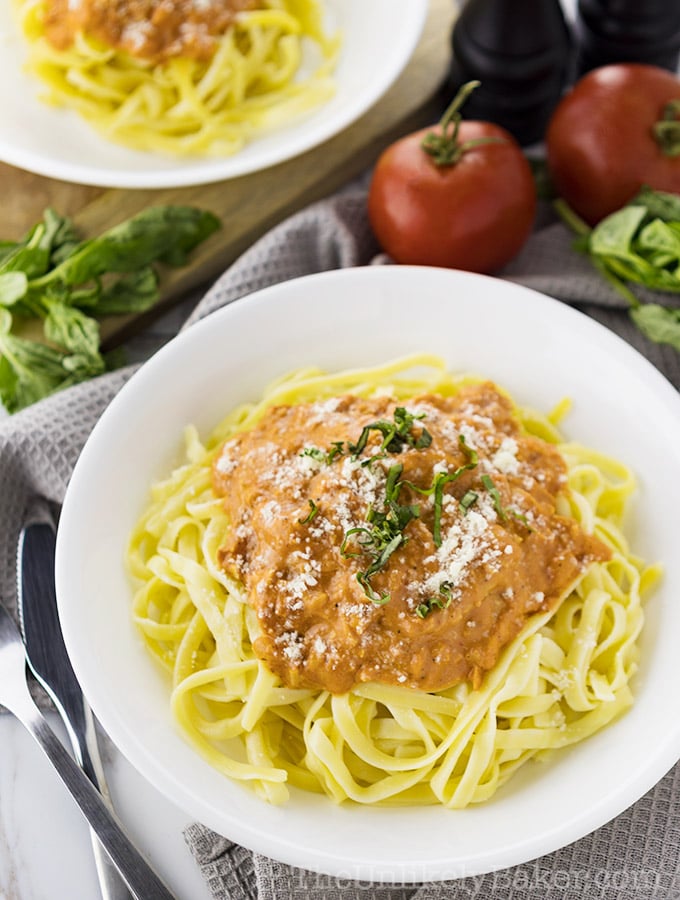 This dish is so easy to make (I mean, if I can make it right?). And the star of the show here is the sauce.
It is thick and creamy, sweet and salty, and just have the prettiest colour! Top it with basil and some cheese and you've got yourself a dish that will make your momma proud.
Related: How to Take Delicious Food Photos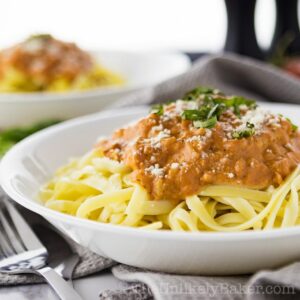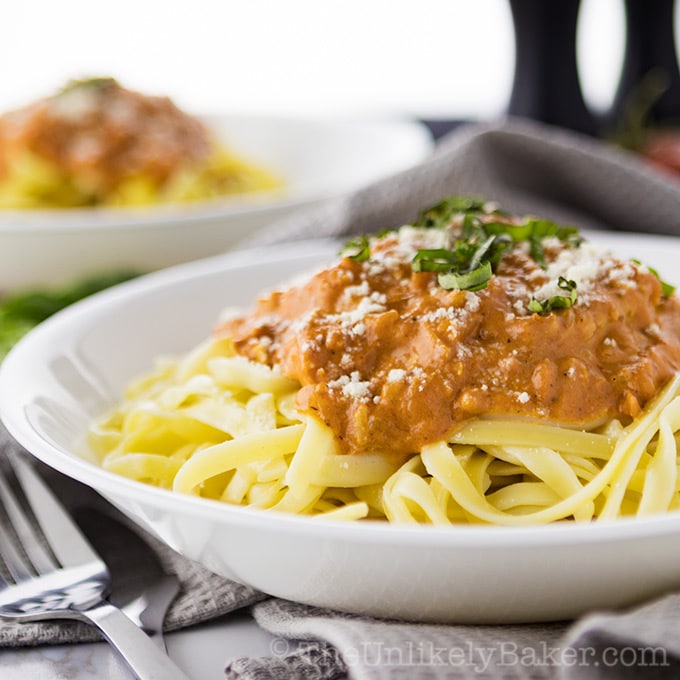 Creamy Chicken Spaghetti
Thick, creamy tomato sauce and your favourite rotisserie chicken come together in this delicious creamy chicken spaghetti.
Print
Rate
Ingredients
1.5

lbs

pasta

2

tbsp

olive oil

2

tbsp

unsalted butter

1

pc

sweet onion

finely chopped

5

cloves

garlic

minced

30

oz

tomato sauce

1

tsp

granulated sugar

1

tsp

salt

adjust to taste

1

tsp

pepper

adjust to taste

1

cup

heavy cream

room temperature

0.50

lbs

rotisserie chicken meat

shredded

Parmesan cheese

for topping

Chopped, fresh basil

for topping
Instructions
Cook 1.5 lbs pasta in a large saucepan until al dente (see note 1). Once cooked, save about a cup of pasta water then drain. Set aside.

Using the same saucepan, stir 2 tbsp olive oil and 2 tbsp butter over medium heat until the butter has melted. Add onions and garlic and cook until onions are soft and translucent (2-3 minutes).

Pour 30 oz tomato sauce and add sugar, salt and pepper (see note 2). Lower the heat and cook for 30 minutes or until the sauce thickens considerably. Stir occasionally.

Remove from heat and add 1 cup heavy cream and 0.50 lbs shredded chicken. Stir to combine (see note 3). Taste and season once more if necessary. Serve with a generous helping of parmesan cheese and topped with fresh basil.
Notes
When we cook pasta, we boil water first that's seasoned generously with salt. Once the water's boiling, we add the pasta and cook until al dente. 
I added 1 tsp each of sugar, salt and pepper. I suggest you start with 1/2 tsp then just adjust to taste.
If your sauce becomes too thick, you can add a little bit of pasta water at a time to thin it out to your desired consistency.
Happy cooking!
Did you make creamy chicken spaghetti? I'd love to hear from you in the comments section below.
Here are more recipes perfect for Mother's Day:
And let's get social! Find me on Facebook, Pinterest, Instagram, Twitter, Google+ and Flipboard.
Or subscribe so you don't miss a recipe. I promise I don't spam (I hate spam too).
Do you want to improve your food photography, monetize your blog or start your very own food blog? Check out my Blogging Resources.