Strawberry cheesecake mousse – cold, refreshing and bursting with the wonderful flavours of fresh strawberries. This no-bake dessert is a fantastic spring and summer treat. Delicious and minimal effort required!
(Love using seasonal fruit in desserts? Make some delicious kiwi crumble using golden kiwifruit. It's the best crumble recipe you'll ever make!)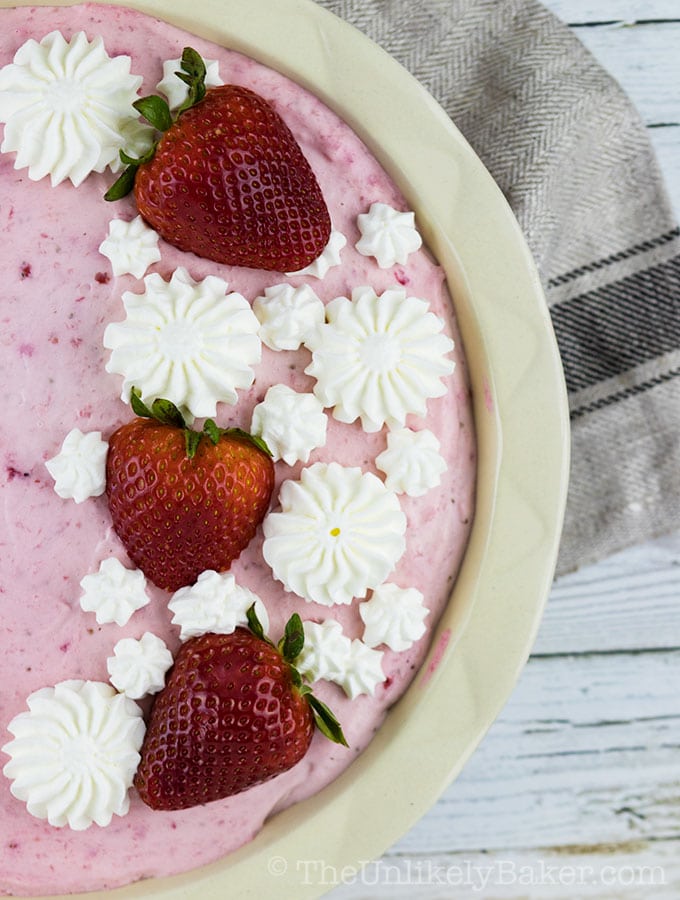 It's summer! Yay!
To kick off our No Bake Summer Series (that wonderful time of the year when we turn our ovens off and spend more time outdoors), I have for you a truly delightful no-bake treat – fresh strawberry cheesecake mousse.
It's a cross between strawberry cheesecake and strawberry ice cream but requires less than half the work. Isn't that awesome?
Strawberry desserts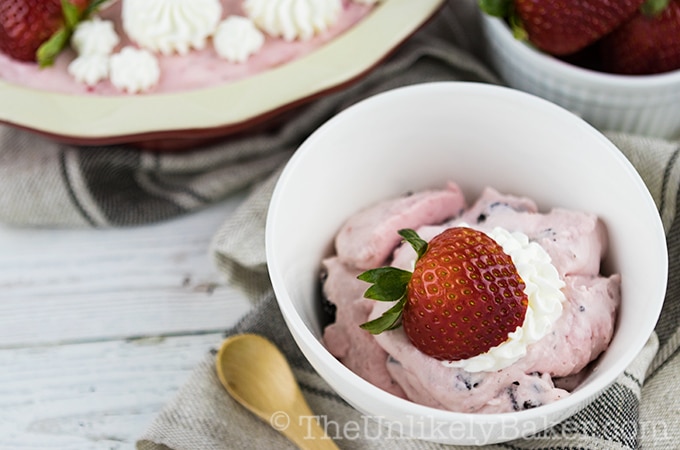 I know strawberries are available year-round but spring/early summer is really the time they're at their best. They're abundant, sweet and beautiful.
Do you love strawberries as much as I do? Check these out:
(Did someone say strawberry? LOL)
Fresh strawberry cheesecake mousse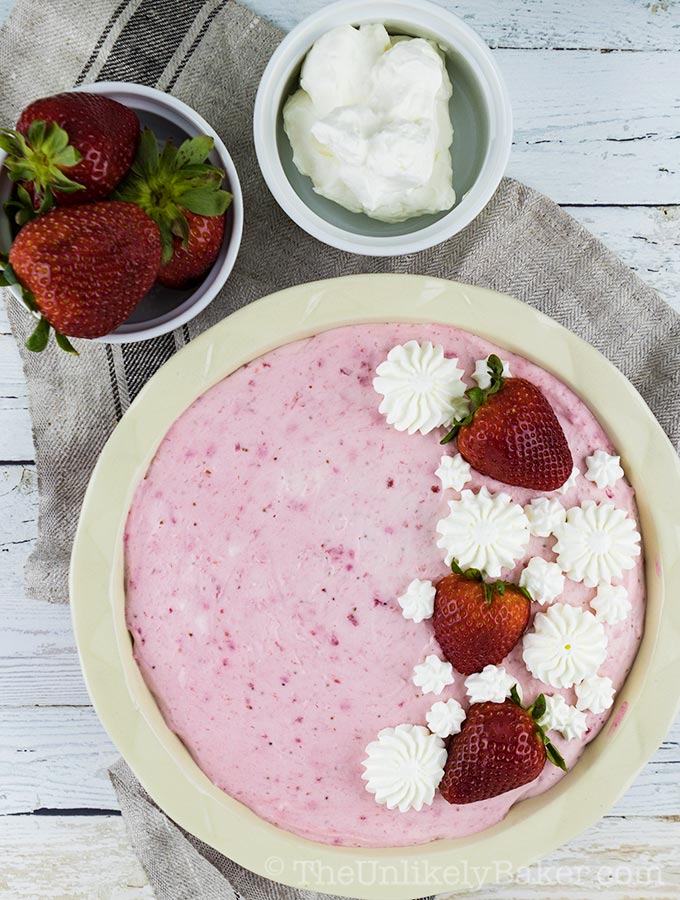 Here's another delicious recipe to add to our strawberry mania here at TUB – strawberry cheesecake mousse.
Let's be real for a second though – you might notice the photos look like pie. Or maybe a no-bake cheesecake in a pie dish.
That's because I initially set out to make a no-bake cheesecake/pie.
But I just cannot for the life of me get the batter to set (here's a baked strawberry swirl cheesecake if you're really craving for cheesecake and don't mind baking).
I didn't want to add gelatine because I already love the texture and consistency. And the flavour was already where I wanted it to be.
So I did what every home baker does – I managed expectations LOL!
When people asked what they were about to eat (ah, to be blessed with so many open-minded taste-testers!) I said it was….definitely strawberry…that has cream cheese…but has the consistency of mousse. And they loved it!
So this lovely dessert was born.
Perfect summer treat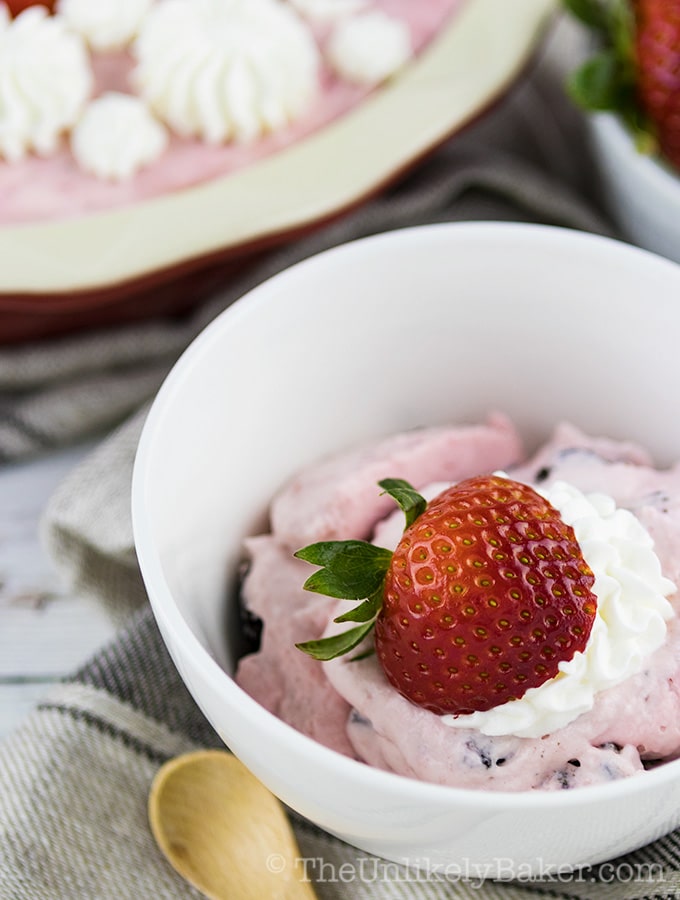 And I really wouldn't do it any other way. This strawberry cheesecake mousse is so delicious and so easy to make; it's just the waiting that's the hard part!
It's worth it though. It's a refreshing summer party in your mouth!
We're definitely going to be making lots more strawberry that has cream cheese but has the consistency of mousse this season. Hope you do too.
If you're looking for good old fashioned strawberry pie, check out this strawberry pie with jello from Sharon over at Grits and Pinecones!
Enjoy!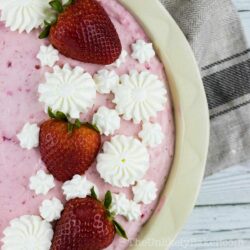 Fresh Strawberry Cheesecake Mousse
Cold, refreshing and bursting with the wonderful flavours of fresh strawberries, this strawberry cheesecake mousse is a fantastic summer dessert. Delicious and minimal effort required!
Instructions
Lightly grease the bottom and sides of a 9-inch pie dish (see note 3). Set aside.

In a medium bowl, combine all crust ingredients until evenly moist and transfer to your pie dish. Firmly press onto the bottom and up the sides of the dish. Chill while you're preparing the filling.

Using a handheld electric mixer or a stand mixer fitted with the paddle attachment, beat the cream cheese, ⅓ cup sugar and ½ tsp vanilla until incorporated.

Stir in your strawberry puree until combined. Taste and add sugar, if necessary.

In a separate bowl, whip 1 cup heavy cream with 2 tbsp sugar until you reach stiff peaks. Fold the whipped cream into your cream cheese mixture.

Transfer the mixture to your pie dish and chill for 6-8 hours, preferably overnight. Serve cold in bowls. Optional: top with more whipped cream and strawberries.
Notes
Depending on how sweet your strawberries are, you may want to put more (or less) sugar. Taste and decide what level sweetness you like.
One pound of strawberries is equivalent to a little more than a cup of pureed strawberries. I use my blender to puree them.
Instead of a pie dish, you can also serve the mousse in individual cups, layered like a parfait. Depending on how big your serving glasses are, you'd need 8-12. No need to grease the cups.
Nutrition
Calories:
314
kcal
Carbohydrates:
26
g
Protein:
2
g
Fat:
23
g
Saturated Fat:
12
g
Cholesterol:
61
mg
Sodium:
115
mg
Potassium:
107
mg
Fiber:
1
g
Sugar:
14
g
Vitamin A:
655
IU
Vitamin C:
26.8
mg
Calcium:
32
mg
Iron:
0.7
mg
Nutritional information are estimates only.
Tried this recipe? Leave a star rating today!
Also tag @iamtheunlikelybaker I'd love to see your creations.
Happy no-baking!
Did you make strawberry cheesecake mousse? I'd love to hear from you in the comments section below.
And let's get social! Find me on Facebook, Pinterest, Instagram, Twitter and YouTube.