Strawberry lemon parfait is the perfect spring and summer treat – quick and easy to make, so refreshing, and no baking required! Great way to take advantage of strawberry season.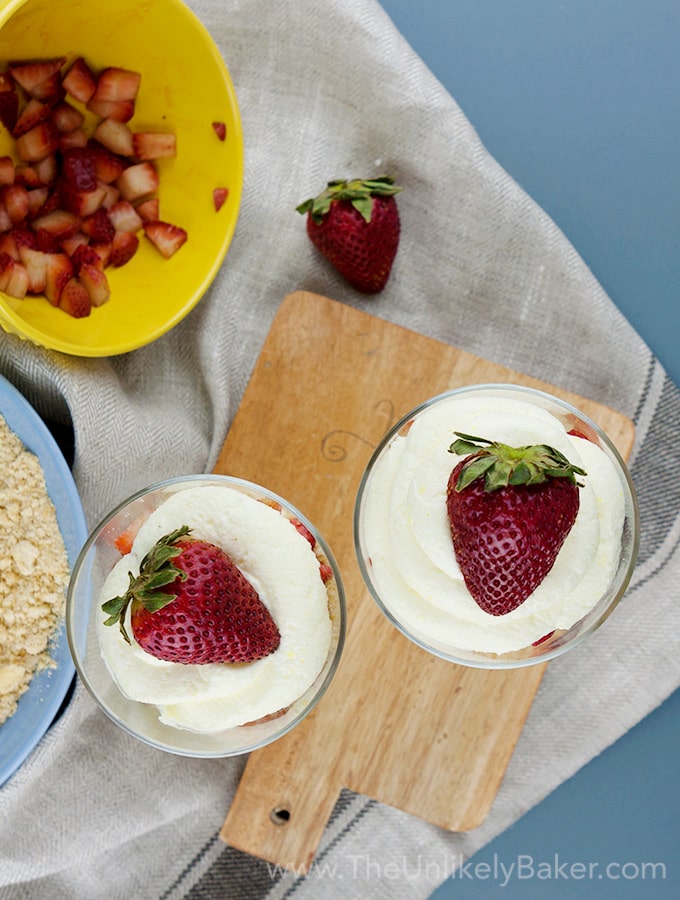 This recipe was born out of necessity. I was experimenting with tiramisu (coming to the blog soon!) and had lots of ladyfingers left. We can't just keep dunking them in hot chocolate and eating them (I mean, we can but we shouldn't!).
So I repurposed them into these charming little strawberry lemon parfait that are incredibly easy to do, slightly boozy (hey, it's me!) and so delicious. It's spring and summer in a glass (or a mason jar if you're so inclined!).
Watch the video!
I made a video of how to do it too. Just click on it below and you'll see how extremely easy it is (and fun!).
Experiment with other berries
Not into strawberries? Experiment with your favourite berries! Even mix them up. I'm sure your parfait will taste delightful.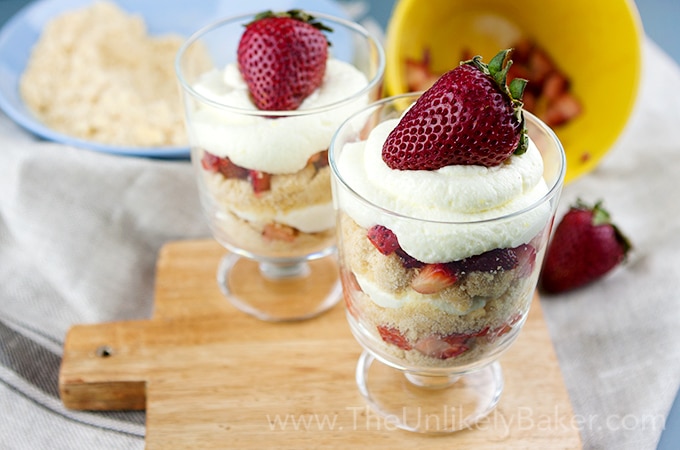 Lemon curd whipped cream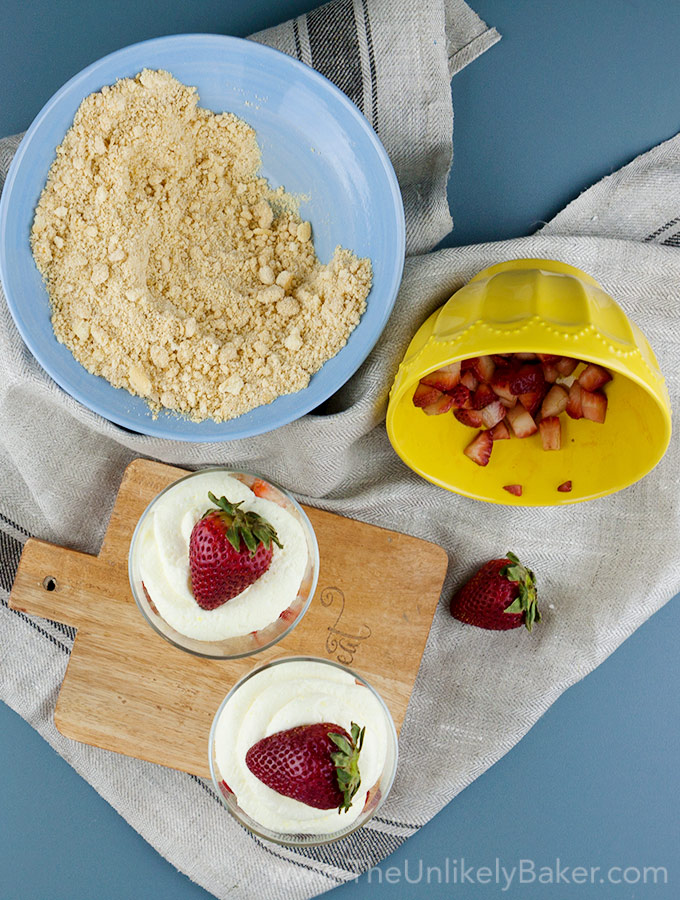 I won't lie though, my favourite thing about these little guys is the lemon curd whipped cream (hey, it's me!).
I used the last of my homemade lemon curd, made a fresh batch of homemade whipped cream, put them together and it's almost like ice cream! (In fact, that's a great idea for ice cream…coming to the blog soon lol!)
Of course, you can use your favourite ready-made lemon curd and whipped cream brands and make the recipe that much easier.
You can make your strawberry lemon parfait kid-friendly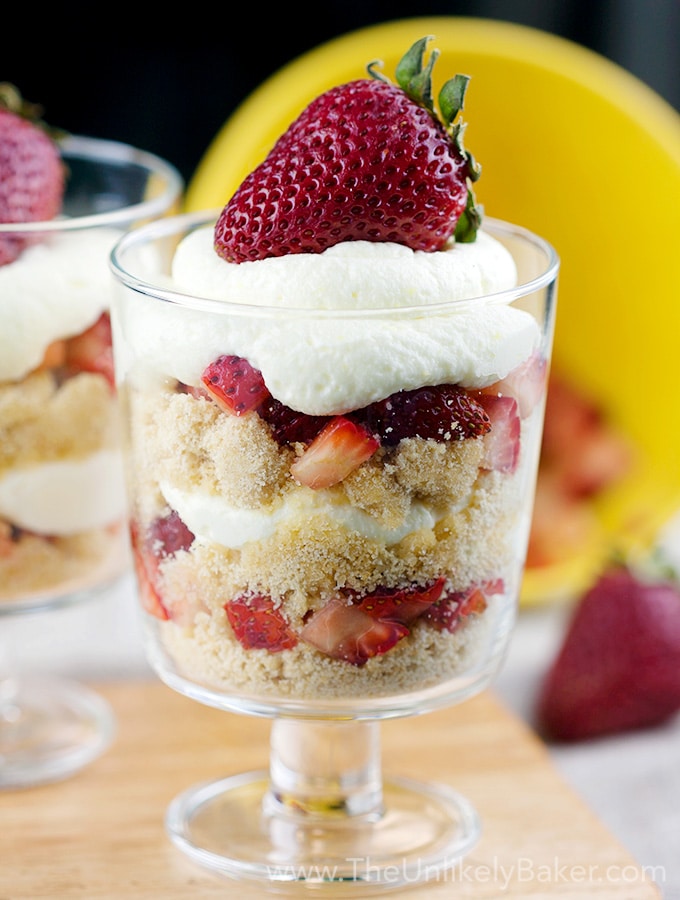 You can also certainly omit the orange liqueur in this recipe. Here's a great article I found on alcohol substitutions.
Now it's just a matter of putting it together! And it's so much fun. You can get your kids to help and you guys can make an afternoon of it. Or you can do a parfait bar and have your guests assemble their own.
However way your strawberry lemon parfait come together, they will be delicious.
Strawberry Lemon Parfait (with video)
Strawberry lemon parfait is the perfect spring and summer treat - quick and easy to make, so refreshing, and no baking required!

Ingredients
12 pieces ladyfinger cookies, crushed
2 tablespoons lemon juice
1 tablespoon orange liqueur (see my notes on the post about how to make a no alcohol version)
1 1/2 cups diced strawberries
1/4 teaspoon granulated sugar (you may need more, depending on how sweet or tart your strawberries are)
1/2 cup lemon curd
1 cup heavy cream, whipped to medium peaks
Instructions
In a medium sized bowl, combine crushed ladyfinger cookies, 2 tablespoons lemon juice and 1 tablespoon orange liqueur. Stir until evenly incorporated. Set aside.
In a smaller bowl, stir 1 1/2 cups diced strawberries and 1/4 teaspoon sugar. Set aside.
In another bowl, whisk 1/2 cup lemon curd into 1 cup heavy cream that have been whipped to medium peak. Beat with a whisk by hand or using a handheld electric mixer until stiff. Set aside.
To assemble your parfait, start with a layer of your ladyfinger mixture, then strawberries then whipped cream. Continue until your glass (or container of choice) is full. Serve immediately.
© 2021 This delicious recipe brought to you by www.TheUnlikelyBaker.com | (c) 2016-2017
Happy parfait-ing!
Did you make strawberry lemon parfait? I'd love to hear from you in the comments section below.
Here are other berry recipes for you:
And let's get social! Find me on Facebook, Pinterest, Instagram, Twitter, Google+ and Flipboard.
Or subscribe so you don't miss a recipe. I promise I don't spam (I hate spam too).
Do you want to improve your food photography, monetize your blog or start your very own food blog? Check out my Blogging Resources.