These fudgy walnut brownies are what proper brownies should be – crusty and shiny on top, chewy in the centre, and bursting with chocolate chip and walnuts in every bite.
(Try these Soft and Chewy Cookie Butter Blondies – they're brownies but made with everybody's favourite cookie butter
, or these Salted Caramel Cream Cheese Brownies for a super decadent treat.)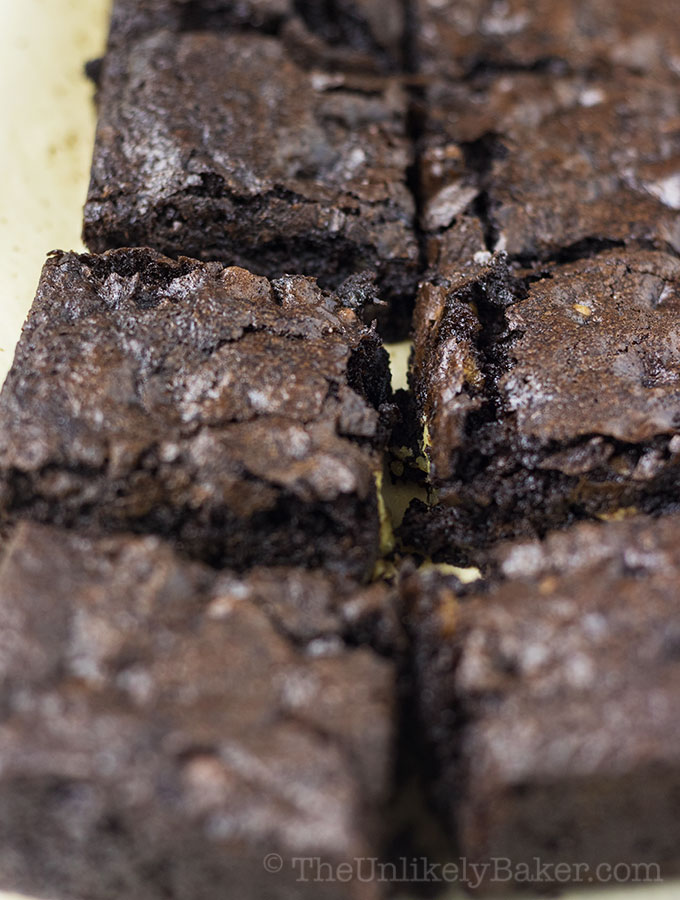 There's a reason brownies always show up in bake sales – they're easy to make (you do everything in 1 bowl without a mixer!) and very hard to mess up.
But the perfect brownie, now that's what chocolate dreams are made of. Not those burnt, dry kind you find at the grocery store that's more grey than brown.
I'm talking about dark, moist, chocolatey brownies with a perfectly crackly top. Closer to fudge than cake, slightly gooey, most certainly chewy.
Those that remind you of grandma or the kitchen smelling wonderful as you come home from school. Those brownies. These brownies.
Let's get to it!
What makes a chewy brownie?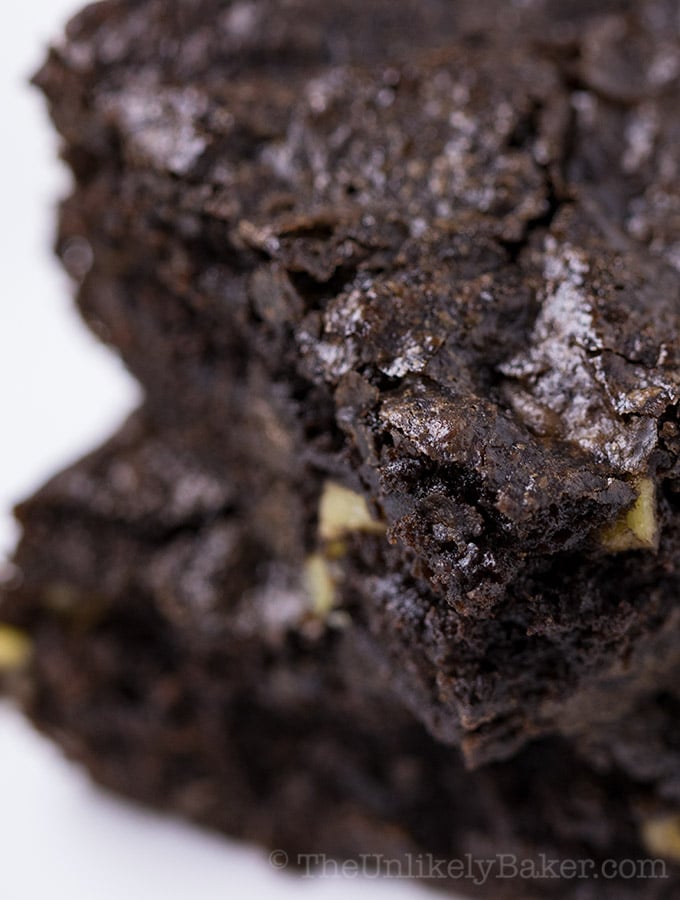 From my experience, two things significantly affect the chewiness factor (is that a thing? Let's make it a thing) of brownies:
Brown sugar. In this recipe, there's 1/2 cup packed brown sugar and I've found that adding it helps create that sticky, fudgy texture.
Bake time. Remember it's better to under-bake than over-bake brownies. Use the baking time in this recipe (or any brownie recipe) as a guide then start testing your brownies about 10 minutes before the end, or just when they start pulling away from the sides of your pan.
The tester or toothpick you insert in the centre must not come out clean. What you want are bits of crumbs (not wet batter) sticking to it. The brownies will continue to cook as they cool.
Related: Chewy Double Chocolate Chunk Cookies (Video)
How to make fudgy walnut brownies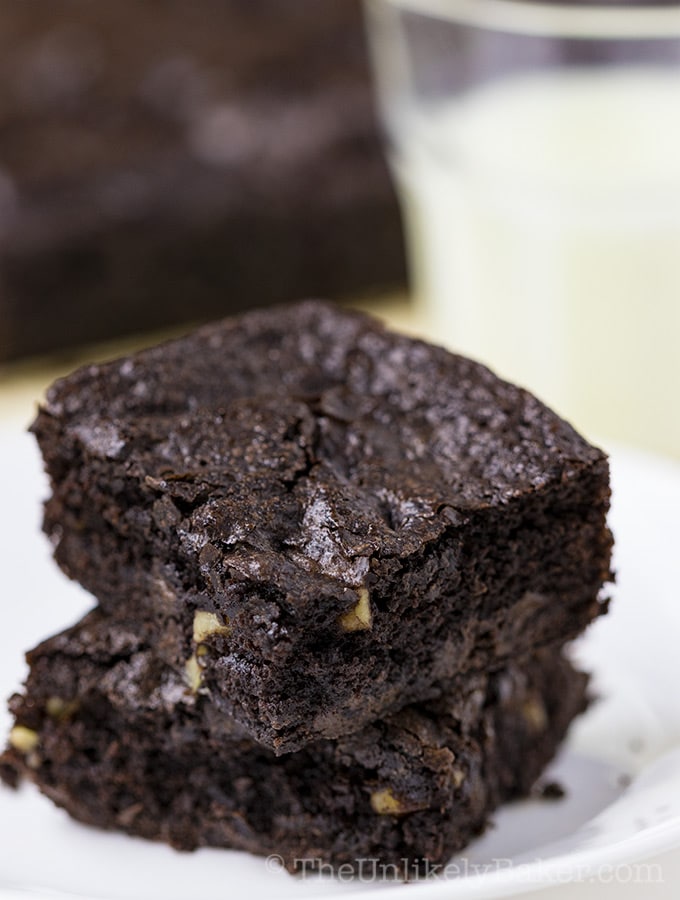 I know there are lots of boxed mixes out there (this was my favourite
) but lemme tell you, nothing beats the taste of homemade brownies.
And it's so easy too. You're essentially just mixing all the ingredients in a bowl and transferring them to a baking pan. That's it!
And these fudgy walnut brownies are so good, they will be the hit of any bake sale (omit the walnuts if you need them nut-free). They freeze beautifully too so you can make them ahead.
Related: How to Make Black Bottom Cupcakes
How to freeze brownies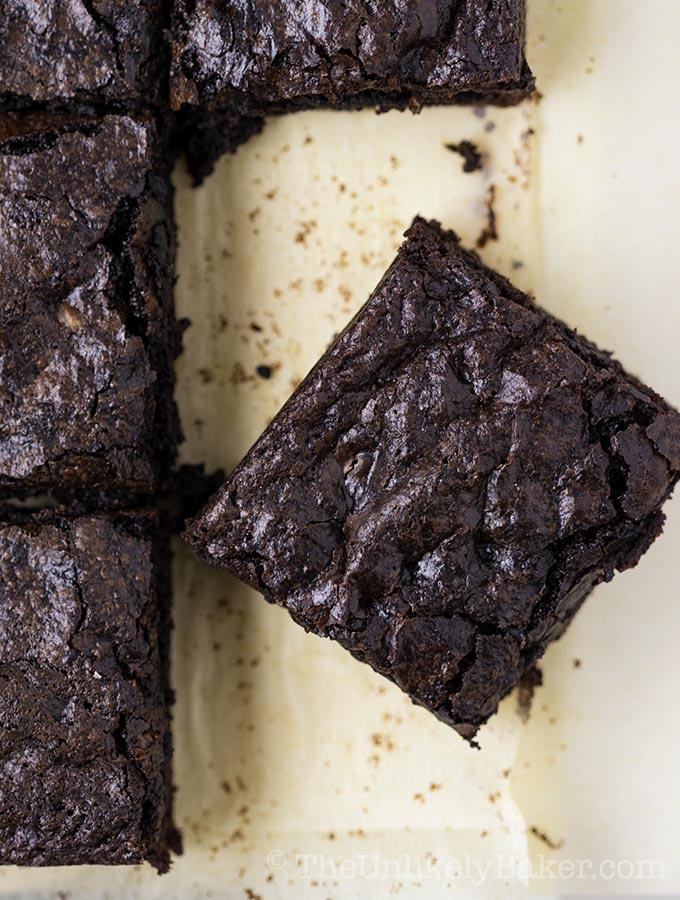 What I usually do is cut the thoroughly cooled brownies into individual pieces, wrap each one in plastic wrap (wrap them snugly), then with foil. Then I place each one in a freezer safe container or Ziploc bag.
When I'm ready to eat or serve them, I just bring them out and thaw at room temperature. They're good slightly chilled too so sometimes I don't even wait that long!
Brownies stored in the freezer will keep for 1-2 months.
Related: 2-Ingredient Frozen Yogurt Granola Cups
How to cut brownies smoothly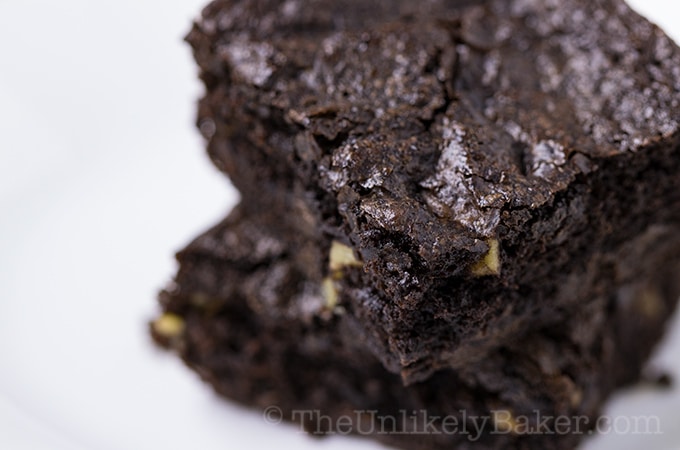 If you want to give out brownies as presents for the holidays or serve them to company, you most definitely want to cut them in nice even squares.
The trick is to allow the brownies to cool completely before cutting (hard, I know!). Then use a warm knife (i.e. run the blade under hot running water then wipe dry) to cut. I sometimes use my bench scraper
too. And if I really want them even I bust out my baking ruler/decorating comb
.
Remember to wipe the blade clean after each cut and run the blade under hot water again if needed. Then eat, or share, it's up to you!
Quick, easy chocolate dessert recipes
Looking for more chocolate treats? Try these: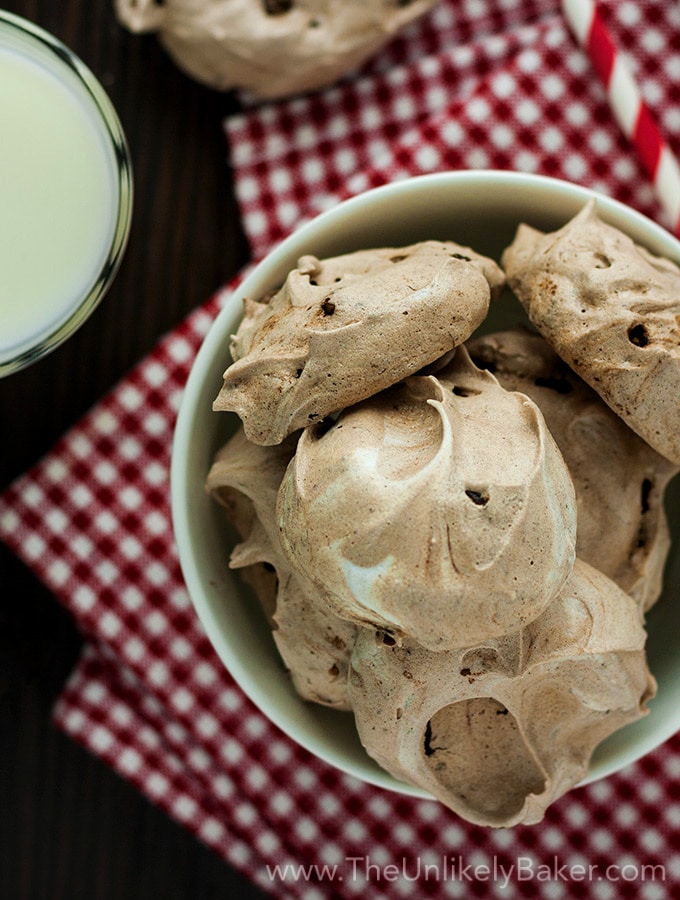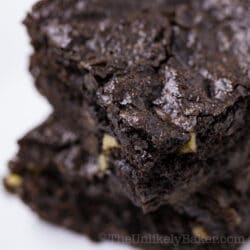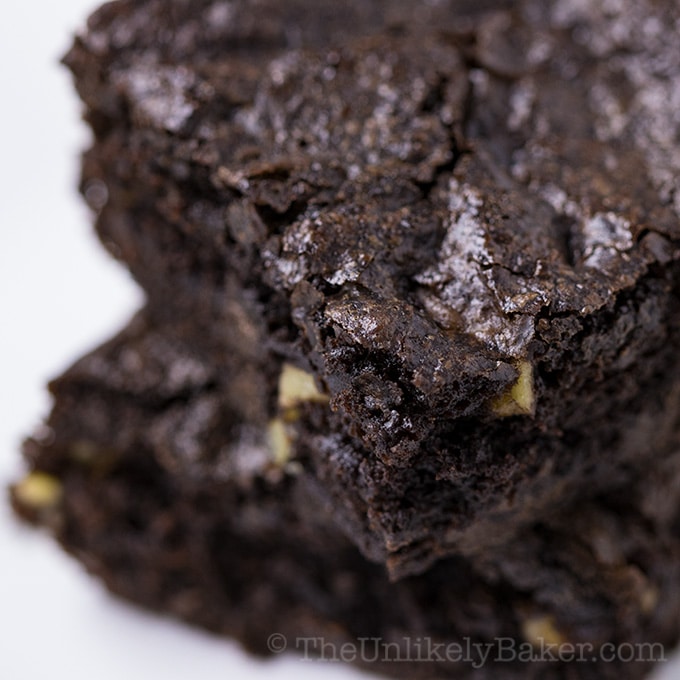 Fudgy Walnut Brownies with Chocolate Chips
These fudgy walnut brownies are what proper brownies should be – crusty and shiny on top, chewy in the centre, and bursting with chocolate chip and walnuts in every bite.
Instructions
Preheat oven to 325F. Line a 9×13 baking pan with parchment paper with slight overhang on each side. Set aside.

In a large bowl, whisk ¾ cup cocoa powder and ½ tsp baking soda. Whisk in ⅔ cup melted butter until smooth. Then whisk in ½ cup espresso until thick and incorporated.

Add 1 ½ cups sugar, ½ cup brown sugar, 2 tsp vanilla, 2 eggs and a pinch of salt. Stir until shiny and smooth.

Add 1 ⅓ cups flour, your chocolate chips and walnuts and gently stir until just combined. Don't overstir.

Transfer the batter to your prepared pan and bake for 30-40 minutes or just until the sides are starting to pull away from the pan and a toothpick inserted in the centre comes out with minimal crumbs.

Let cool in the pan completely before cutting into squares.
Notes
See post for lots of tips on how to bake the perfect brownies every time.
Nutrition
Calories:
202
kcal
Carbohydrates:
27
g
Protein:
2
g
Fat:
10
g
Saturated Fat:
5
g
Cholesterol:
13
mg
Sodium:
35
mg
Potassium:
111
mg
Fiber:
1
g
Sugar:
19
g
Vitamin A:
160
IU
Vitamin C:
0.1
mg
Calcium:
32
mg
Iron:
0.9
mg
Nutritional information are estimates only.
Happy baking!
Did you make chocolate brownies with walnuts and chocolate chips? I'd love to hear from you in the comments section below.