Take your scrambled eggs to a whole new level with Greek scrambled eggs (or strapatsada). Packed with the wonderful flavours of tomatoes, sweet onions and salty feta cheese.
Disclosure: This Greek Scrambled Eggs with Tomatoes (Strapatsada) post is sponsored by Egg Farmers of Canada. I have been compensated monetarily but all photos, words and opinions are mine. Thank you for supporting the brands and organizations that support me!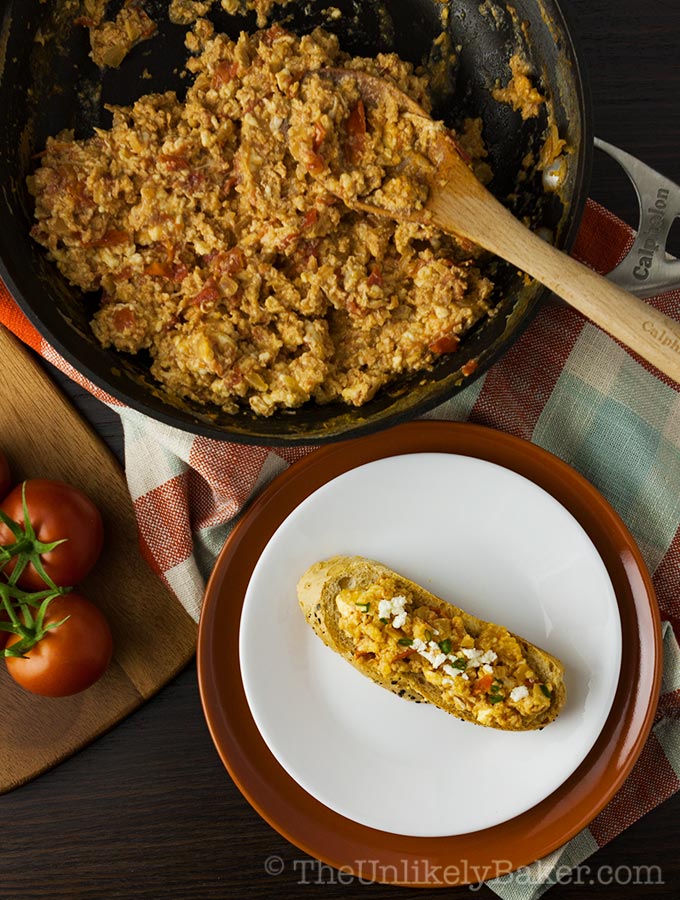 Happy World Egg Day! Fun fact: October 12 is a global celebration of the health benefits of eggs as well as the hard work and dedication of the people who make it possible for us to enjoy them.
To celebrate this delicious occasion, I'm sharing one of our favourite egg recipes, which, incidentally, we discovered when we were vacationing in Greece last year almost to the day today. Talk about serendipity!
Greek scrambled eggs (also called strapatsada) is a delicious dish made of eggs, tomatoes, onions and feta cheese. It's a great meal to share with family and friends.
How to make Greek scrambled eggs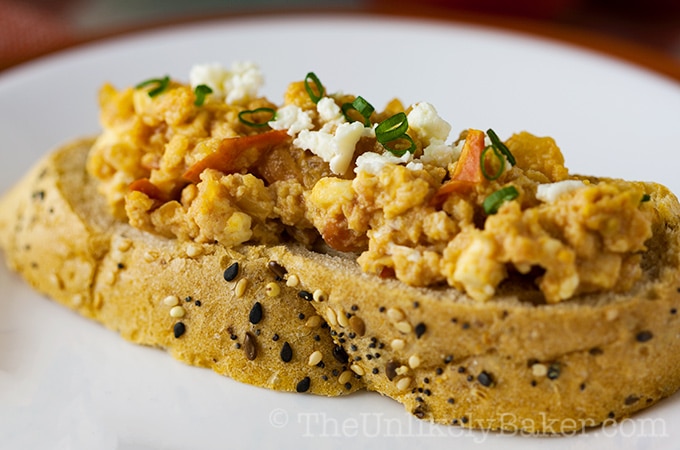 We ate strapatsada almost everyday when we were in Greece. It's so simple but so delicious.
First you caramelize the tomatoes and the onions, then you add the eggs and stir. You finish with feta cheese and you're done!
This recipe is good for 4-6 people so it's a great dish to make on a Saturday morning to enjoy with your loved ones. It's protein-packed and filled with key nutrients too so its a great way to start the day everyday.
How to know if eggs are fresh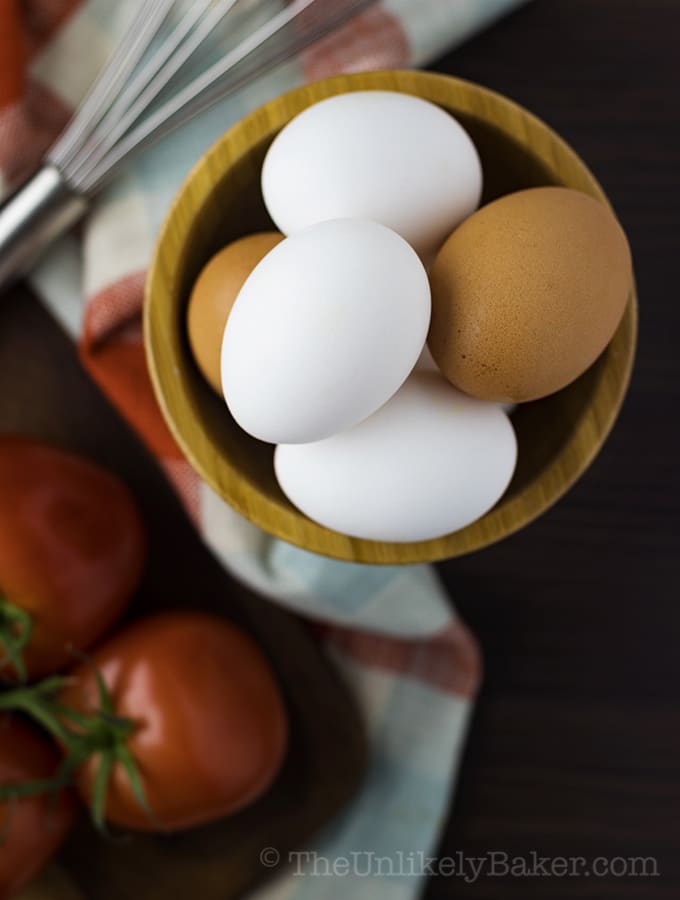 One thing you need to do is ensure your ingredients are fresh to really make this dish shine.
A simple way to check if your eggs are fresh is to fill a cup with cold water then gently drop the egg in.
If it sinks to the bottom of the cup, it's fresh. If the egg sinks to the bottom but stands upright, it's still good but you need to use it soon. If the egg floats to the top, it's no longer fresh and you need to throw it away.
Here in Canada, eggs get from farm to stores in less than a week so we're always sure that they're fresh when we buy them.
Proud to be Canadian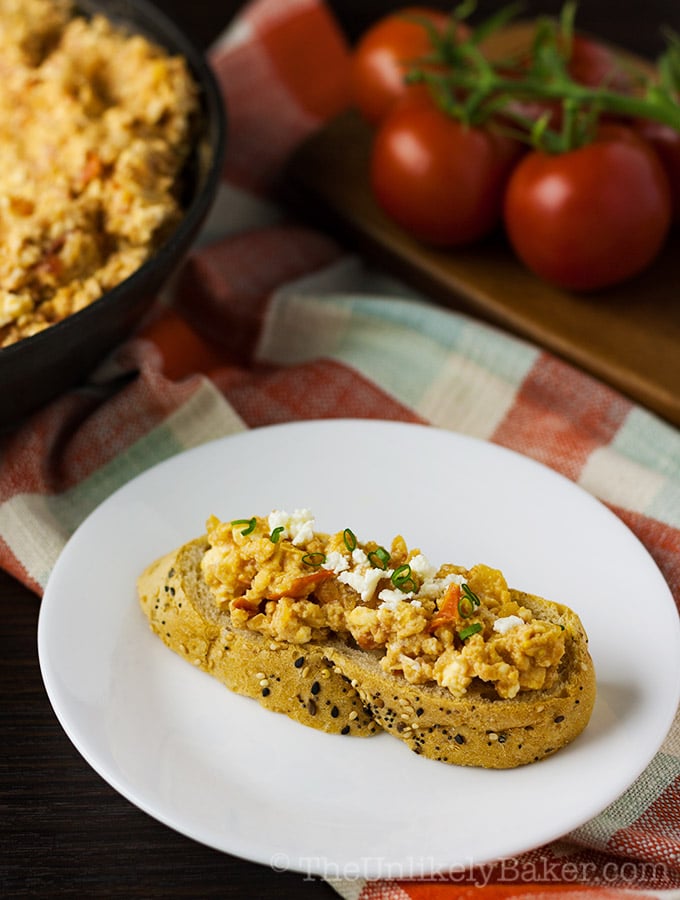 We're so lucky that our Canadian egg farmers take great pride in providing us with the highest quality eggs. They adhere to National Animal Care and food-safety programs and make sure the hens are cared for too.
And no matter where we are in Canada, whether here in Ontario where I am or in the Northwest Territories, we can be sure that our eggs come from our local farmer because Canadian eggs are produced in every province. Buying local is really important to us so this makes us happy!
Celebrate World Egg Day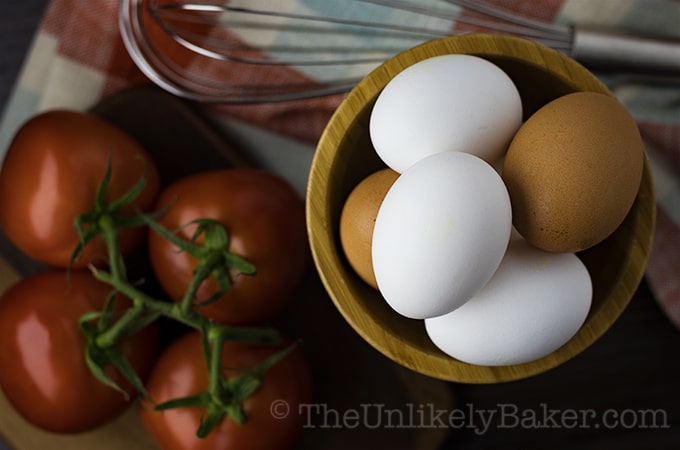 Come and celebrate this delicious day with us! What's your favourite way to enjoy eggs? Use the hashtag #WorldEggDay so we can see all your favourite egg recipes.
If you'd like more information about Canadian eggs, egg nutrition or for other delicious recipes, visit eggs.ca or follow along on Twitter, Instagram or Facebook.
We're having our fill of Greek scrambled eggs for sure. Do you prefer your eggs sunny-side up? Check out these easy and delicious sunny-side up recipes:
Jalapeño Cheddar Waffles with Fried Egg
Sweet Potato Breakfast Hash with Sausage, Bacon and Eggs
Related: How to Take Delicious Food Photos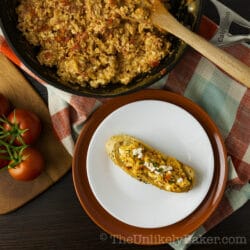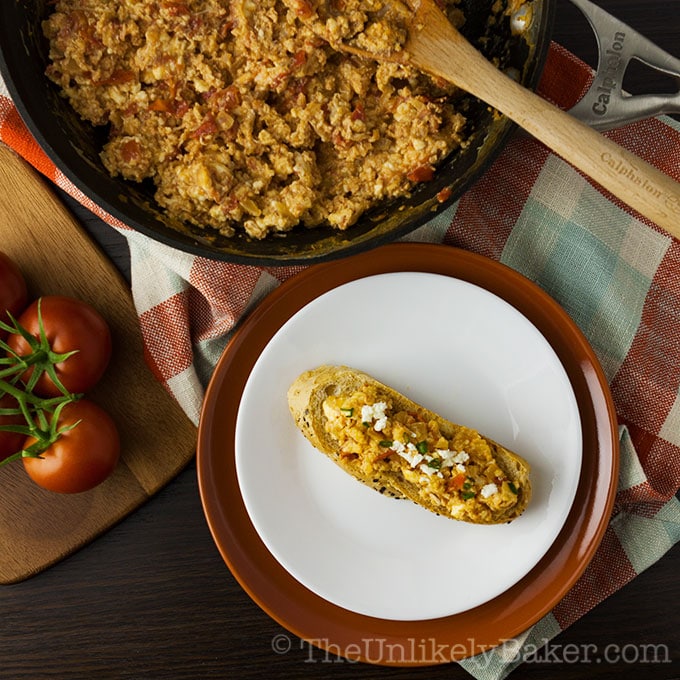 Greek Scrambled Eggs with Tomatoes (Strapatsada)
Take your scrambled eggs to a whole new level with Greek scrambled eggs (or strapatsada). Filled with the wonderful flavours of tomatoes, sweet onions and salty feta cheese.
Ingredients
drizzle

olive oil

1

pc

large sweet onion

finely chopped (see note 1)

6

pcs

medium tomatoes

diced (see note 2)

1

tsp

granulated sugar

6

pcs

large eggs

beaten well

3

oz

crumbled feta cheese

salt

to taste

pepper

to taste
Instructions
Drizzle some olive oil on a skillet. Add chopped onions and cook on medium-high heat until soft and translucent.

Add diced tomatoes (including all the juice) and 1 tsp sugar. Allow to boil for 15-20 minutes or until all the liquid is gone and the mixture is well caramelized (see note 3).

Meanwhile, season eggs with salt and pepper. Switch to low heat and pour the eggs into the caramelized onions and tomatoes. Stir continuously so that the eggs incorporate into the onions and tomatoes well (we don't want them cooking separately).

Once cooked (still juicy and not dry), take off the heat and add feta cheese. Stir until combined.
Notes
Chopped, you should have a heaping 1 1/2 cups - 2 cups of onions.
You can also use canned, diced tomatoes. Make sure to include the juice.
Add 1/4 cup water if your tomatoes are not very juicy.
Nutrition
Calories:
62
kcal
Carbohydrates:
2
g
Protein:
3
g
Fat:
4
g
Saturated Fat:
3
g
Cholesterol:
24
mg
Sodium:
239
mg
Potassium:
13
mg
Sugar:
1
g
Vitamin A:
90
IU
Calcium:
105
mg
Iron:
0.1
mg
Nutritional information are estimates only.
Happy cooking!
Did you make Greek scrambled eggs? I'd love to hear from you in the comments section below.
And let's get social! Find me on Facebook, Pinterest, Instagram, Twitter, Google+ and Flipboard.
Or subscribe so you don't miss a recipe. I promise I don't spam (I hate spam too).
Do you want to improve your food photography, monetize your blog or start your very own food blog? Check out my Blogging Resources.