More than 80 recipes for the coolest, the most refreshing summertime drinks. From smoothies to slushies, from lemonades to sangrias. This is the only list you'll need to quench your thirst this season!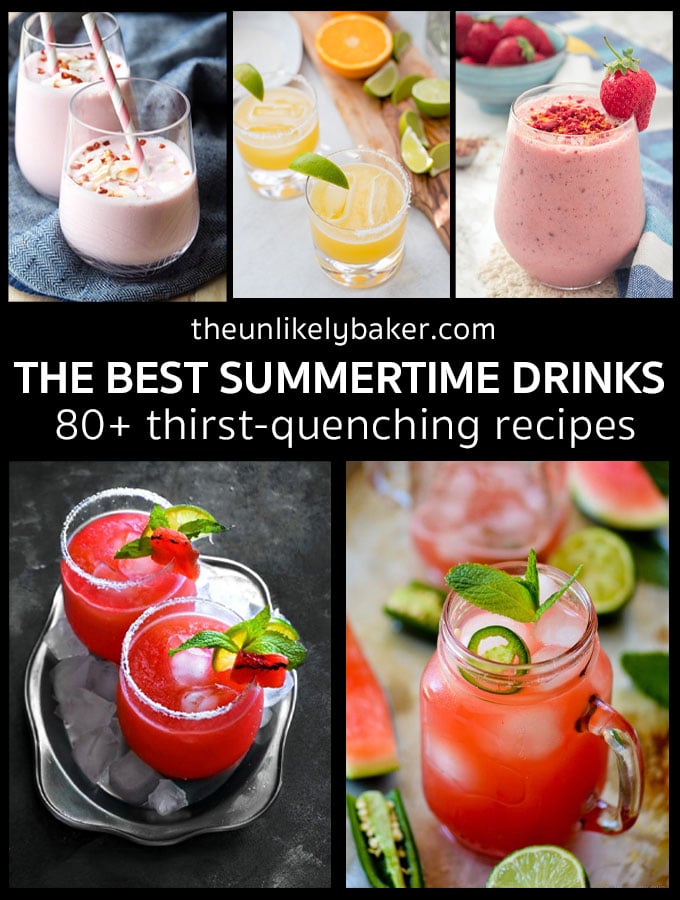 Hope your summer is off to a wonderful start. For this quarter's recipe round-up, I collected almost 100 summertime drink recipes from my favourite food bloggers. Whether you like healthy smoothies, cheat day milkshakes or Friday margaritas, this collection has it all.
So have a look, pick a favourite, enjoy! And remember to bookmark or pin this page so you can go back to it for your next summer BBQ.
Summertime Drinks: Smoothies
Let's start with everyone's favourite: smoothies! Specifically, strawberry smoothies. There's just something about summer and strawberries, eh?
Pineapple is also a popular choice (they're green but trust me, they're yummy pineapple!). Tropics, here we come.
Of course, other fruits won't be far behind.
And yes, even everyone's beloved peanut butter!
Summertime Slushies
I always wondered what the difference is between slushies and smoothies. A quick google search and I realize there are lots of opinions out there LOL. But I think the main difference is slushies don't contain milk?
Whatever it is, they are fabulous in this heat!
The Best Milkshakes
Now milkshakes need no explanation. Just look at these beauties!
Thirst-Quenching Iced Teas
Another popular summertime drink are iced teas. And these look especially refreshing.
Summertime Drinks: Lemonades
And summer really won't be summer without lemonades. Here are great recipes if you'd love to make the kind mom used to make.
If you want to explore other flavours, I have recipes for you too. For example, these berry ones are great.
And these ones, too.
Refreshing Agua Fresca
I wasn't familiar with agua fresca before this round-up and boy, was I missing out! Agua fresca ("fresh water" in Spanish) is a light fruit drink popular in Mexico. You make it by blending fruit with water, a bit of sugar and lots of imagination!
Summertime Drinks: Mocktails
Having a party and want some non-alcoholic drink options? Say no more. I got you.
Of course, me being me, you know the rest of this post is going to be boozy, right? Ready?
The Best Summer Margaritas
Ah. My summertime drink of choice. I've never had margarita like these before though. Here are really amazing margarita recipes to try (cannot wait).
Want a margarita but also want to keep calories down? Not to worry, here are some skinny margarita recipes for you.
Summertime Drinks: Sangria
Sangria has fruit it in. In my universe that makes them appropriate any time of the day. You with me?
Boozy Slushies
Remember the slushies from before? Let the kids have them. These are for us.
Boozy Lemonades
The lemonades too! The adults deserve a little bit of buzz.
The Moscow Mule
Ever wondered why the moscow mule is almost always served in a copper mug? Apparently (according to Wikpedia anyhow) it was part of a marketing campaign to promote a vodka brand back in the day. Who knew?
Mojitos
Now mojitos just make me want to dance and do the conga (did that just age me?). There are berry mojitos. And pineapple mojitos.
Summertime Drinks: Boozy Pineapple
Speaking of pineapple, here are more boozy pineapple drinks coming your way!
Delicious Gin Cocktails
Gin is a good base for all your favourite summertime cocktails, like these really fun ones.
Have you heard of lavender bee's knees before? I haven't but I will definitely consume my fair share this summer!
Rosé and Prosecco
Like your wine? Here are really creative ways to jazz them up.
Including this Summer Fling Champagne Cocktail. I mean, how can you say no to that?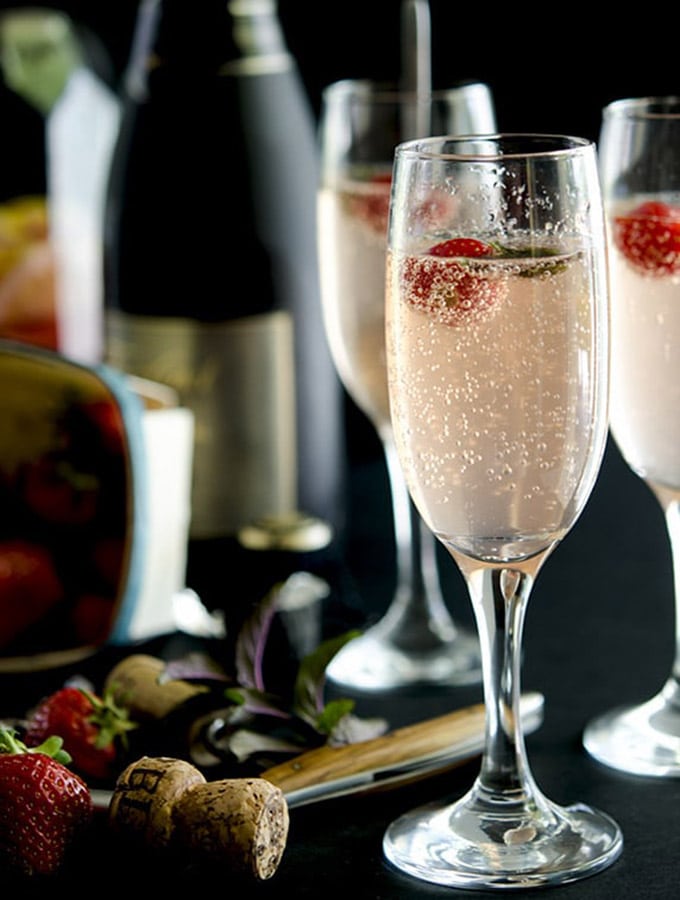 Summertime Drinks: Vodka
And if vodka is your drink of choice, I got cocktails for you too!
Whew! That's a lot right? So many awesome summertime drinks, so little time. So be sure to bookmark or pin this post for future reference.
I hope you have an amazing summer, filled with lots of sunshine and parties and great company.
Cheers!
Do you have a favourite already? Which one are you trying out first? I'd love to hear from you in the comments section below.
Check back in next week when we resume our No Bake Summer Series. In the meantime, enjoy these other recipe collections:
The rest of our recipe round-ups live here.
And let's get social! Find me on Facebook, Pinterest, Instagram, Twitter and YouTube.