Creamy lime bars – perfectly sweet and tart with a coconut cookie base. Watch the video to see how easily these velvety, citrusy bars come together!
(If your'e looking for lemon recipes, try these equally delicious Lemon Bars with Shortbread Crust or this Dreamy Creamy Meyer Lemon Pie, a reader favourite! This Eggless Key Lime Pie is very popular too – hint: it's delicious.)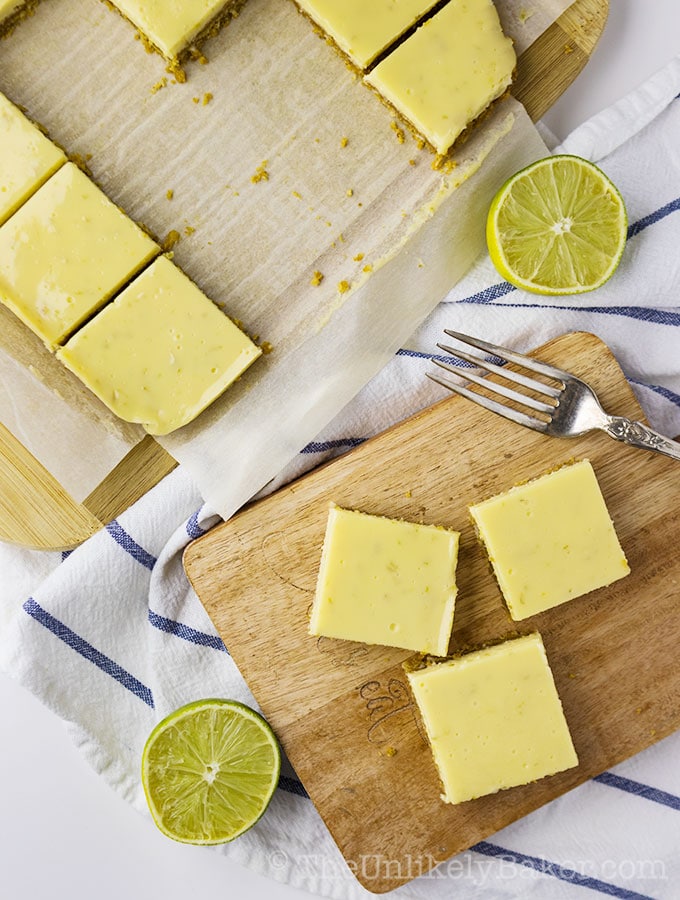 Hi everyone! Welcome to September and Happy Labour Day weekend to all of you who are celebrating.
School has probably started for a lot of you but here it typically starts after Labour Day.
So this long weekend usually signals the beginning of the end of summer. But hey, we technically have a few more weeks left so let's make the most of it!
These creamy lime bars would certainly help – they taste like the tropics and scream of summer. They're a breeze to make and would certainly transport you to your happy summer place, whatever the season.
Ready to pucker up?
Lemon and lime desserts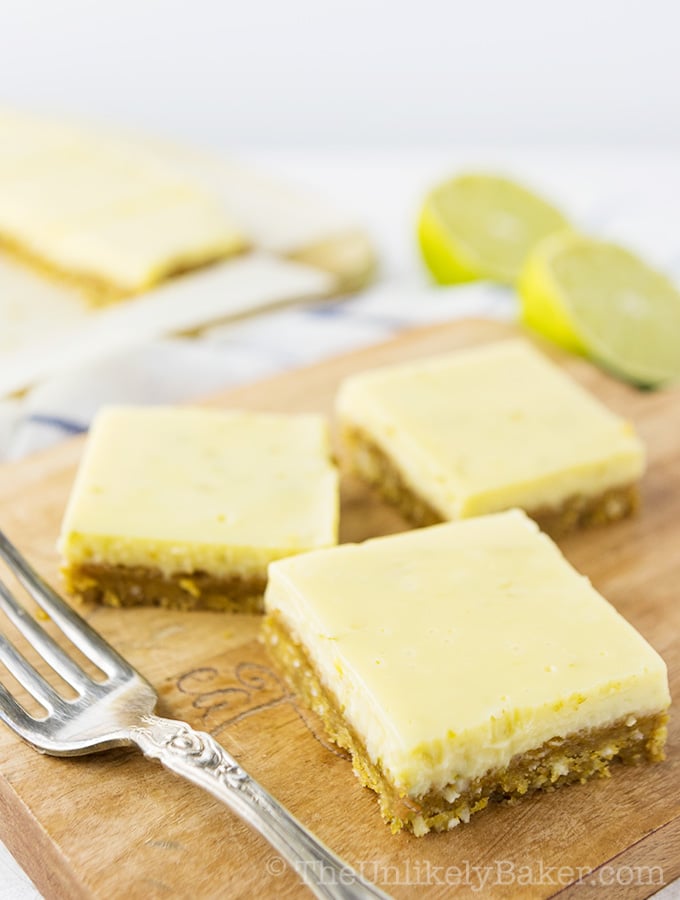 Those of you who have been with me for a while know that I love lemon desserts. Between chocolate and lemon, it's lemon for me every single time.
I just love how they're never too sweet, always just the right amount of tart. They're also always so refreshing.
I'm not a fan of winter but citrus fruits are at their best in the wintertime (factoid of the day). It certainly makes me feel a little better about the -40C windchill! And with their bright colour and vibrant taste, they always remind me of summer
These creamy lime bars are the same.
They look like summer, they taste like summer and eating them will make you happy like it's summer all year long. Which is why I always have limes and lemons on hand (also perfect for making lime cupcakes!)
Related: Quick and Easy Homemade Lemon Curd
The best way to store limes and lemons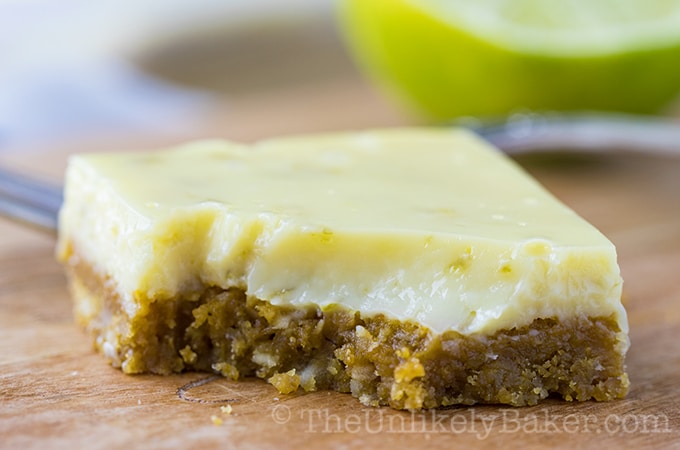 Limes and lemons are probably two of the most common ingredients out there that we don't give a second thought about how to store them.
But have you ever had a lime or a lemon dry up and shrivel on you? It's a sad sight!
They are pretty low maintenance and should stay fresh at room temperature for about a week. To last longer though (about a month), store them in the crisper drawer of your fridge.
But you know what I do? I freeze them!
Related: The Best Lemon Cheesecake. Ever.
How to freeze lime and lemon zest
Whenever Meyer lemons are in season here (usually in the winter), I tend to buy a lot of it for use throughout the year.
I tend to buy a lot of limes as well and instead of allowing them to go bad, I freeze them.
There are several ways to freeze lemons and limes. My favourite way is to freeze the zest and the juice separately.
Wash and dry them properly
Zest with a microplane zester
Place the zest in a small Ziploc bag and place the bag in the freezer. It helps to label the bag with the current date
When you're ready to use the zest, simply take out the amount you need and place the rest back in the freezer. Frozen zest can last for several months
Related: Meyer Lemon Ricotta Pound Cake (with video)
How to freeze lime and lemon juice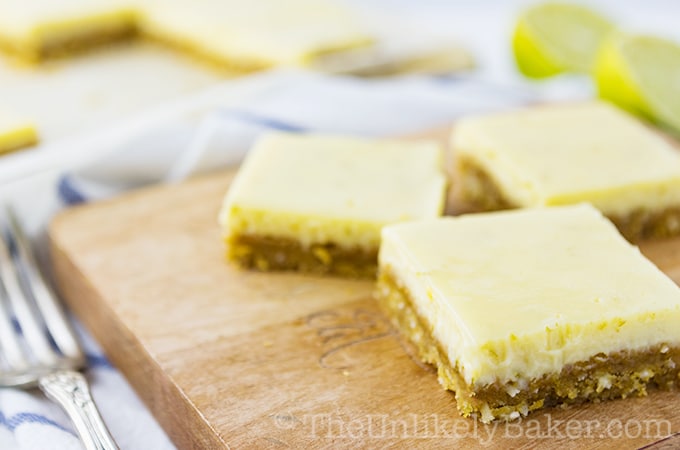 After I zest my fruits, I juice the living daylights out of them using my trusty wooden reamer.
Spoon a tablespoon of juice into ice cube trays. This way, you know that 1 cube = 1 tablespoon
Once frozen, transfer ice cubes in a Ziploc bag. Again, dating the bag would be helpful (but optional)
Then when you need lime or lemon juice just take out however many ice cubes you need
Easy, right?
Related: Lemon Pavlova with Toasted Almonds & Coconut
How to make creamy lime bars video
Almost as easy as making these creamy lime bars. You don't even need a mixer to make these.
The ingredients are pretty straightforward as well – graham cracker crumbs, sweetened shredded coconut, condensed milk, eggs, lime juice.
Watch the step-by-step video to see how easy!
More lemony recipes that are not desserts
Love lemons as much as I do? Then you would love these other lemony treats. What better way to start the day than with these lemony breakfast recipes?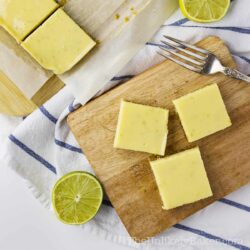 Creamy Lime Bars
Creamy lime bars – perfectly sweet and tart with a coconut cookie crust. Watch the video to see how easily these velvety, citrusy bars come together!
Ingredients
For the coconut cookie crust:
For the creamy lime filling:
1

10-oz can

condensed milk

2

pcs

egg yolks from large eggs

beaten

½

cup

lime juice

1

tbsp

lime zest
Instructions
Preheat oven to 350F. Line an 8×8 baking pan with parchment paper with slight overhang on each side. Set aside.

In a large bowl, combine all crust ingredients and stir until evenly moist (looks like wet sand). Transfer to your prepared pan. Press down and make sure the crust is packed on the bottom of the pan.

Bake for 10 minutes. Take out of the oven and allow to cool slightly. Keep your oven on. In the meantime, prepare your filling.

In a large bowl, whisk all filling ingredients until smooth and incorporated. Transfer to your pan and bake for 10-12 minutes or just until you see the edges starting to set (don't allow to brown).

Allow to cool slightly before chilling 4-6 hours (preferably overnight). Cut into squares once set completely.
Notes
I used fresh lime juice for this recipe (about 4 limes to make ½ cup) but you can also use store-bought, unsweetened juice
Nutrition
Calories:
88
kcal
Carbohydrates:
8
g
Fat:
6
g
Saturated Fat:
3
g
Cholesterol:
12
mg
Sodium:
60
mg
Potassium:
32
mg
Sugar:
3
g
Vitamin A:
135
IU
Vitamin C:
2.4
mg
Calcium:
9
mg
Iron:
0.4
mg
Nutritional information are estimates only.
Tried this recipe? Leave a star rating today!
Also tag @iamtheunlikelybaker I'd love to see your creations.
Happy baking!
Did you bake creamy lime bars? I'd love to hear from you in the comments section below.