Here's an easy pandesal recipe so you can make the quintessential Filipino bread roll at home. It's crunchy outside, soft and fluffy inside, perfect with butter or dipped in your morning coffee.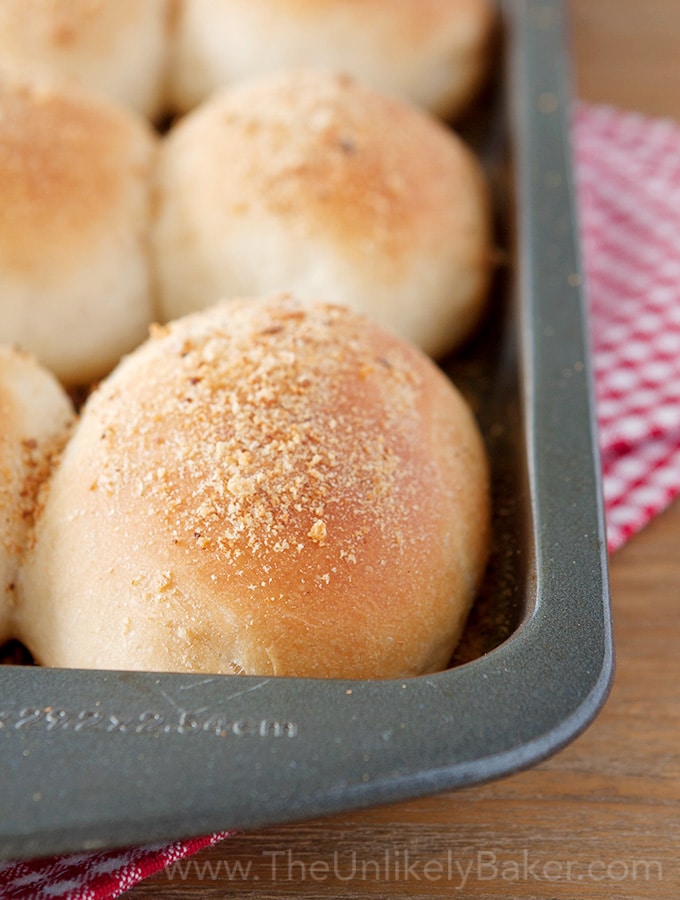 Are you a Filipino living abroad like me? Then you're probably thinking why bother making pandesal at home when you can get them pretty easily at the Asian store. One reason: nothing beats the smell of freshly baked pandesal filling your kitchen.
And it's not just any smell. It's THE smell. One sniff of freshly baked pandesal and I'm back at my nanay's dining table, eating pandesal filled with Lily's Peanut Butter that she prepared for me after school. Or it's a Sunday morning and I'm happily eating pandesal (out of those little brown paper bags) that my mom bought from the local panaderia after church.
Not a Filipino? Then you are in for a treat. Unlike dinner rolls or the regular loaves of bread we get, this recipe for Filipino bread rolls is egg-free, has a very subtle hint of sugar and salt, crunchy outside and soft inside. It's certainly unique and absolutely delicious. Give it a go and find out why Filipinos all over the world love it.
Patience is key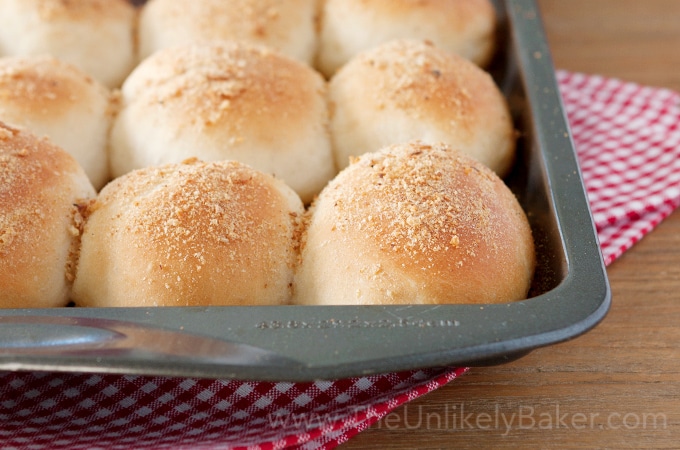 I won't lie to you – it probably is quicker for you to get in your car, drive to the store and buy pandesal. But there's something so fulfilling about making your own bread. And I'm not kidding about the smell. I may or may not have cried.
Who knew so many memories can be attached to a single bread roll eh? I guess food (and food smells!) work that way, especially for immigrants like me.
Different kinds of pandesal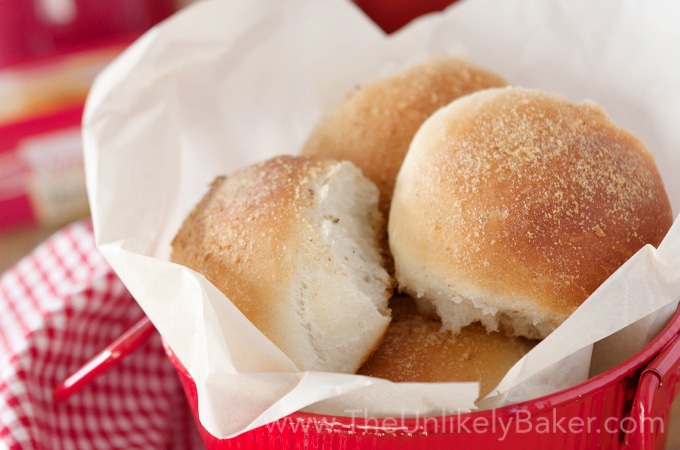 I can't claim that this pandesal recipe is for the "traditional" pandesal however; I've eaten different kinds (big, small, light, dense) to know that each province, town or city probably has their own version so there's technically no traditional kind.
This is the pandesal I grew up on. Crunchy, soft, sweet and salty all at once.
Nothing beats the smell of freshly baked bread. Grab the recipe for Filipino pandesal here!
Click To Tweet
Pandesal recipe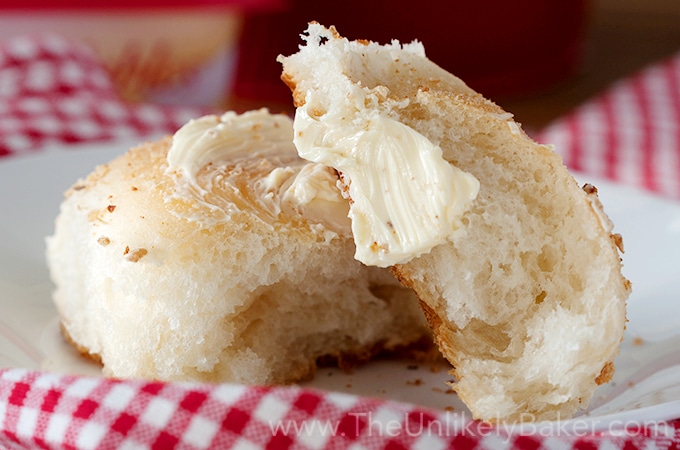 I've looked around for pandesal recipes for a long time and this is the result of me tweaking and trying to make it easier. It's still lots of steps but trust me, you will be rewarded with delightful pandesal that's perfect with butter and jam, as a side to a savoury dish, or do as Filipinos do and dip it in your morning coffee.
Pandesal Recipe (Filipino Bread Rolls)
Here's an easy pandesal recipe so you can make the quintessential Filipino bread roll at home. It's crunchy outside, soft and fluffy inside, delicious.
Ingredients
Phase 1:

2 cups (475 ml) warm water (around 110F)
2 teaspoons active dry yeast
1 teaspoon granulated sugar
Phase 2:

2/3 cup (134 grams) granulated sugar
1/4 cup (59 ml) canola oil
2 teaspoons salt
6 cups (768 grams) all purpose flour
Phase 3:

1 tablespoon canola oil
Phase 4:

1/4 cup (25 grams) bread crumbs
Instructions
Phase 1:

In a medium sized bowl, stir 2 cups warm water, 2 teaspoons active dry yeast and 1 teaspoon sugar until dissolved. Set aside and let stand until bubbly (about 10 minutes).
Phase 2:

In a large bowl, stir 2/3 cup sugar and 1/4 cup oil until fully combined. Add 2 teaspoons salt, your yeast mixture and 1 cup flour. Stir until incorporated. Proceed to add the rest of your flour 1/2 cup at a time combining well after each addition.
Once the dough starts pulling and sticking together in a ball, transfer it into a lightly floured surface and knead until smooth and elastic (8-10 minutes). When in doubt, knead some more.
Phase 3:

Oil a large bowl with 1 tablespoon oil. Place your dough in the bowl and turn to ensure the whole dough is coated. Cover with a damp cloth and allow to rise in a dry warm place (about 90F) until it doubles in size (about 2 hours).
Once the dough is ready, turn the dough into a lightly floured surface and knead slightly. Weigh the dough and divide into 32 pieces. Shape each piece into an oval, like an egg, and place onto a lightly greased baking sheet (you would need two baking sheets - 16 pieces per sheet). Make sure to keep about a quarter inch space around each piece to allow them to rise further.
Cover each baking sheet with a damp cloth and allow to rise a second time (about an hour).
Phase 4:

Preheat your oven to 375F. Sprinkle bread crumbs on top of the pandesal and bake until golden brown (15-20 minutes). Since you're using 2 baking sheets, you may want to rotate/switch the sheets midway through.
https://theunlikelybaker.com/pandesal-recipe-filipino-bread-rolls/
This delicious recipe brought to you by www.TheUnlikelyBaker.com | (c) 2016-2017
Happy baking!
Did you try this pandesal recipe? I'd love to hear from you in the comments section below.
Here are more Filipino recipes you might like:
And let's get social! Find me on Facebook, Pinterest, Instagram, Twitter, Google+ and Flipboard.
Or subscribe so you don't miss a recipe. I promise I don't spam (I hate spam too).
Do you want to improve your food photography, monetize your blog or start your very own food blog? Check out my Blogging Resources.