In the Philippines, there are two types of leche flans (or crème caramels) – one that's light and airy, the other smooth, dense and creamy. This leche flan recipe is the latter – made of only egg yolks and baked in a water bath, the flan is rich, silky, an absolute dream.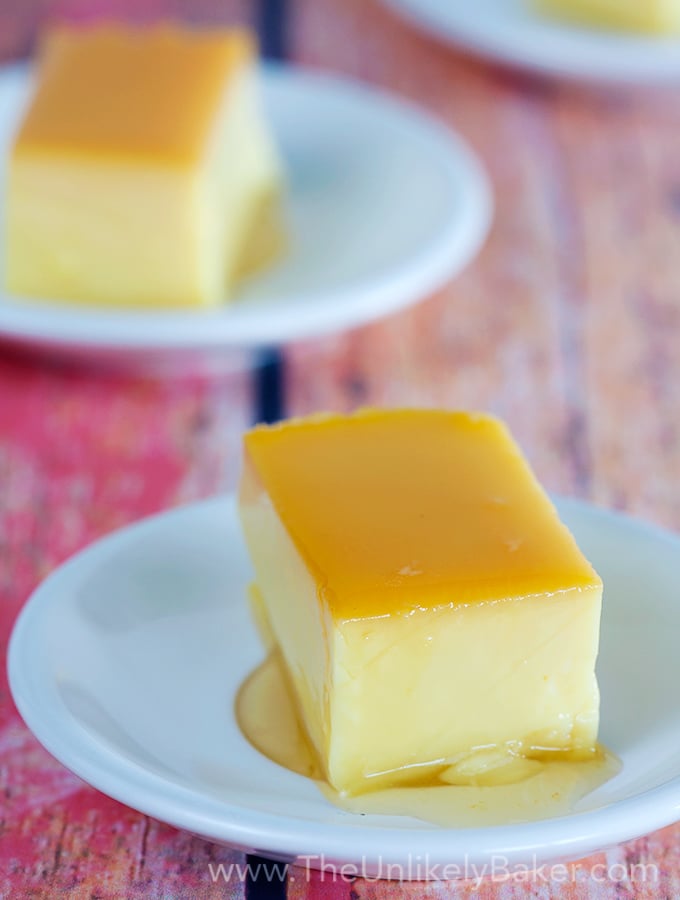 Hi! I'm back from my two-week vacation. How's October treating you?
I'm still feeling a little jet lagged (ok, a lot jet lagged) and quite frankly wishing I was still back home eating my mom's cooking. So thought I'd start getting back into the groove of things by doing a post on a beloved Filipino dessert.
Filipinos associate leche flan with 1) Christmas and 2) any special occasion. It's not the kind of dessert you make out of the blue because you feel like it. Using 10 eggs and milk, it's borderline impractical to make on a whim.
Great way to use extra egg yolks
If you have extra egg yolks though (as I did, after making Swiss Meringue Buttercream for that Rainbow Cake I made a while back), this leche flan recipe presents a really great opportunity to use those yolks and create a wonderful dessert that tastes great and makes any day special.
The perfect leche flan recipe
I think all Filipino families have their own version of leche flan. My maternal grandma always made the airy kind while my paternal grandma made the rich kind. Both are great, it's all a matter of preference.
And I just happen to prefer the rich kind (sorry, Lola Naning). The kind that's so creamy you can slurp it. The kind that doesn't have any air bubbles in it. The kind that jiggles just right but maintains its shape. That kind.
[clickToTweet tweet="Leche flan (Filipino crème caramel) – rich, silky, an absolute dream! http://wp.me/p78RTV-j0″ "rel=nofollow" quote="Leche flan (Filipino crème caramel) – rich, silky, an absolute dream! "]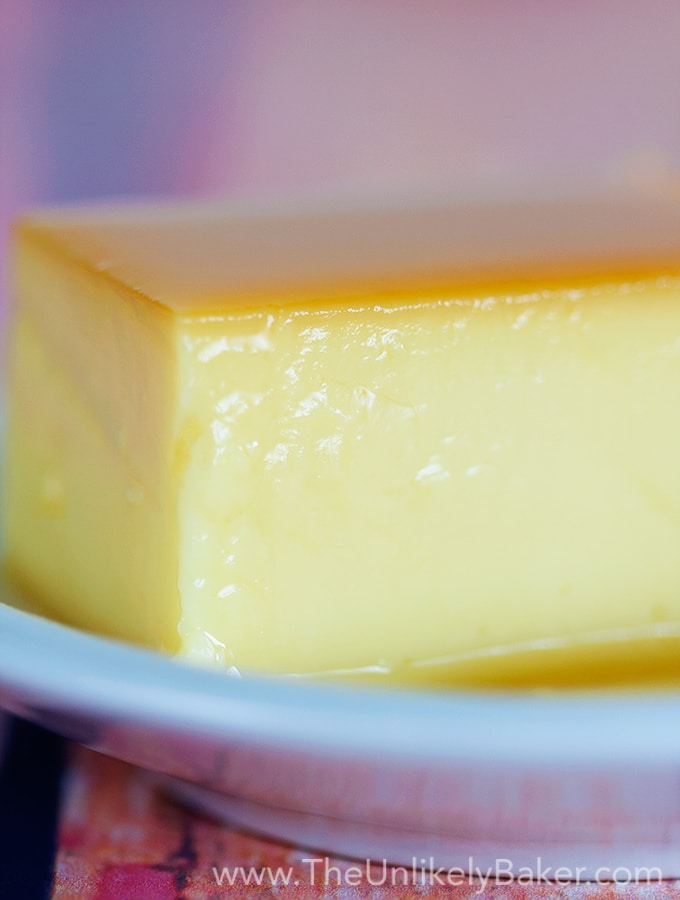 My one leche flan tip
Over the years (and thanks to our friend Regina who's kind of a leche flan expert), I've learned a few things to ensure leche flan success.
The most important one is simple but very effective: to ensure the smoothest texture, strain the mixture through a very fine mesh sieve or cheese cloth as you gently and carefully transfer the mixture into your baking dish. Some air bubbles will float up to the top. Gently scoop them out.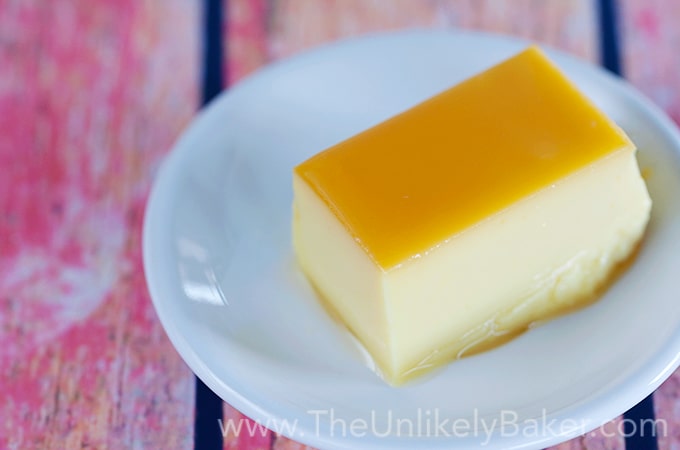 Less than an hour in the oven, a few hours in the fridge and you'll be rewarded with the smoothest, creamiest leche flan that's so good it will make you feel like Christmas.
Leche Flan Recipe (Filipino Crème Caramel)
This leche flan recipe only uses egg yolks and, because the flan is baked in a water bath, results in a dessert that's rich, silky, an absolute dream.
Ingredients
For the Caramel:

1 cup granulated sugar
2 tablespoons water
For the Flan:

10 egg yolks, room temperature
1 300 ml can condensed milk
1 cup evaporated milk
1 teaspoon vanilla extract
1/2 teaspoon fresh lime juice (see notes)
Pinch of salt
Instructions
Preheat oven to 350F.
Make the caramel first by mixing 1 cup granulated sugar and 2 tablespoons water in a medium sized saucepan over low heat. Leave alone, swirling occasionally to ensure the sugar does not harden and/or burn. Once it turns a light golden colour, remove from heat and spread evenly on your baking dish (see notes). Set aside and work on the flan.
Beat the 10 egg yolks before adding the can of condensed milk. Stir until thoroughly combined. Add 1 cup evaporated milk, 1 teaspoon vanilla extract and 1/2 teaspoon fresh lime juice and mix well. Add a pinch of salt and give the mixture a final stir.
Transfer your mixture into your baking dish (on top of the caramel) by straining it through a fine mesh sieve or a cheese cloth. Gently and carefully pour it so as not to create any air bubbles.
Place your baking dish in a roasting pan and put the roasting pan in your preheated oven. Then fill the roasting pan with hot water until it reaches halfway up the side of your baking dish. Bake for 45-60 minutes or until the flan is set (firm but still jiggly; see notes). If you see that the top is getting too brown, loosely cover with aluminum foil and continue baking.
Take the flan out of the oven and cool slightly before refrigerating for at least 3 hours.
Run a sharp knife around the edges of your dish to loosen the flan before inverting into a platter to serve (see notes).
Notes
Leche flan is traditionally made with dayap, a local key lime variety. If you can get hold of that, use it. Otherwise, lime juice works just fine.
It is also traditionally baked in a llanera which is an aluminum mold/baking pan but thinner. I've always used glass baking dishes (for this recipe, I used 2 3x6 inch glass baking dishes). I think regular baking pans will work too.
The baking time in this recipe is based on the use of glass baking dishes. If using something else, adjust the time accordingly. Check the flan at the 30-minute mark for doneness.
I sometimes have issues getting the flan out of the baking dish. So if I'm not serving it to company I don't bother inverting it into a serving platter; we just scoop it out and eat it rustic style. It tastes just as great. But if you do have company and your edges are all uneven as a result of your attempts to take it out of the dish don't worry – just slice the edges off or slice them into bite-size pieces. Nobody will ever know.
https://theunlikelybaker.com/leche-flan-recipe-filipino-creme-caramel/
This delicious recipe brought to you by www.TheUnlikelyBaker.com | (c) 2016-2017
Happy baking!
What do you think of this leche flan recipe? Tell me about it in the comments section below. I'd love to hear from you.
If you're looking for other Filipino desserts, here are other recipes you might like:
The rest of the Filipino desserts are here.
And let's get social! Find me on Facebook,  Pinterest,  Instagram,  Twitter,  Google+  and  Flipboard.
Or subscribe so you don't miss a recipe. I promise I don't spam (I hate spam too).
Do you want to improve your food photography, monetize your blog or start your very own food blog? Check out my Blogging Resources.