Smooth and silky lemon curd reside between the layers of this soft lemony cake frosted with lemon buttercream. This is the ultimate lemon curd layer cake for lemon lovers. Did I mention there was lemon?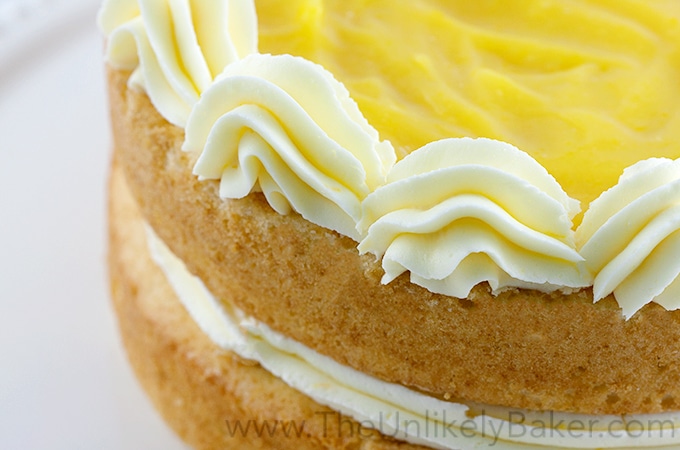 If you're a lemon dessert lover like me, you'd know that we're the minority. If you're at a restaurant and you're sharing a dessert with a group, you'd almost always certainly be outvoted – you know the group would go for the chocolate lava cake (which is not a bad thing, we like chocolates too…we just love lemons). And there are always chocolate cakes at the local bakeshop but when you're craving for something lemony, chances are you'd have to search far and wide for one.
So being able to bake a lemon cake yourself is a big deal (at least for me). This is the second recipe I tried and decided this is the one I'm going with. Easy and simple (always my first criteria) and oh so lemony. Perfect for Easter or just to celebrate the arrival of spring (now that is reason to celebrate).
Lemon curd layer cake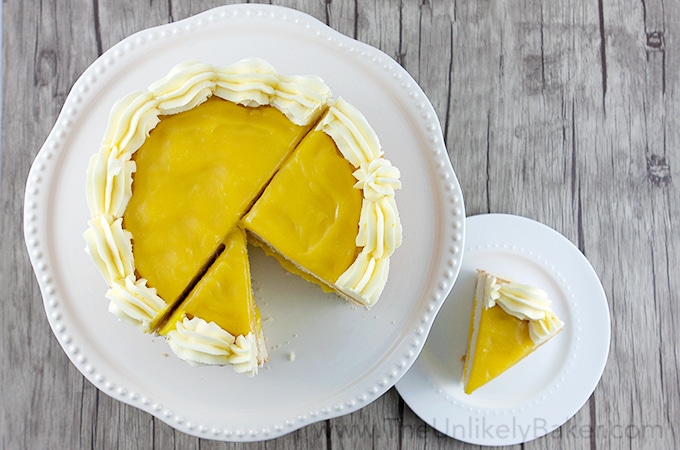 And this lemon cake is a celebration-worthy cake. The cake, on its own, is light and soft but sturdy enough so it does not get all mushy once all the bells and whistles are put on top of it (or within it). It also has a delightfully light lemony flavour that doesn't overwhelm but makes you want to take another bite.
Lemon curd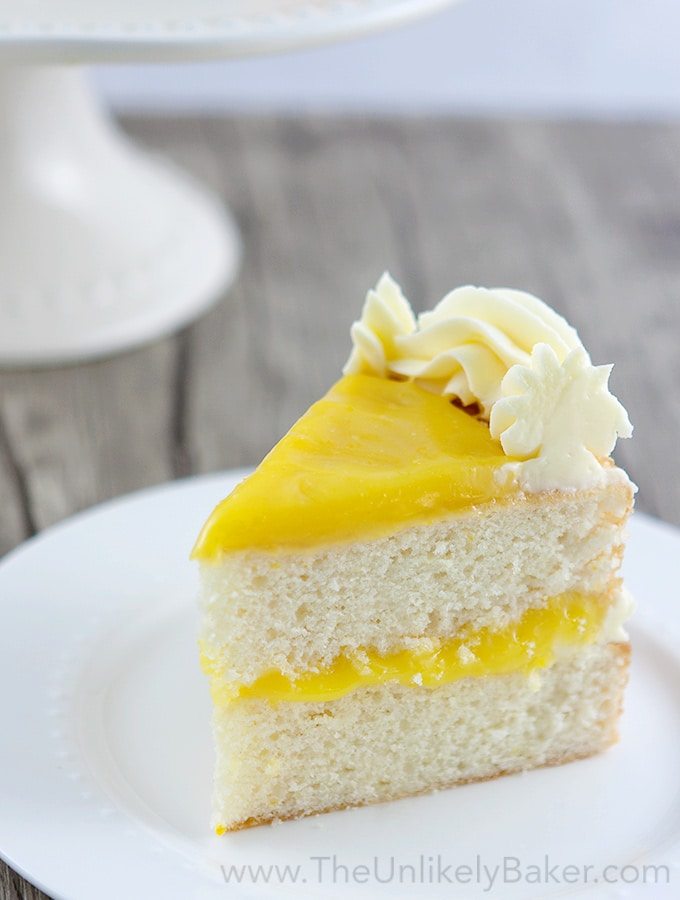 It is filled with gorgeous and lustrous lemon curd that adds that rich, sweet and tangy lemon flavour we're craving for. I made my own lemon curd but you can certainly use your own recipe or just buy a jar of your favourite brand from the store (I strongly recommend you try to make homemade though – so delicious and so easy!).
Lemon buttercream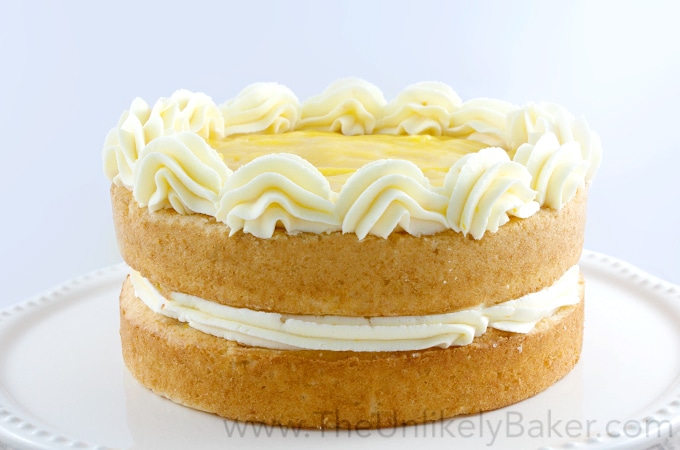 The lemon buttercream is, quite literally, just icing on this already awesome cake. It's made with lemon zest and butter – how could you go wrong?
So go ahead and make this cake you lemon lover you (you know you want to). Easter is coming up and this is an excellent cake to bring to brunch, lunch or dinner. Or simply to reward yourself for surviving winter. But you really don't need a reason. You love lemon? This is the cake for you.
[clickToTweet tweet="Lemon curd-filled lemon layer cake with lemon buttercream. Did I say lemon?" quote="Lemon curd-filled lemon layer cake with lemon buttercream. Did I say lemon?"]
Lemon Cake with Lemon Curd and Lemon Buttercream
Smooth and silky lemon curd reside between the layers of this soft lemony cake frosted with lemon buttercream. This is the ultimate lemon cake for lemon lovers. Did I mention there was lemon?
Ingredients
Cake:

2 1/3 cups cake flour
2 3/4 teaspoons baking powder
1/4 teaspoon salt
1 3/4 cups granulated sugar
2 tablespoons lemon zest (about 2 medium sized lemons - I used Meyer lemons)
3/4 cup unsalted butter, room temperature
1 cup milk divided into 1/4 and 3/4 cups, room temperature
5 egg whites from large eggs, room temperature
1/4 teaspoon cream of tartar
Frosting:

1 cup salted butter, room temperature
2 tablespoons lemon zest
3 1/2 cups confectioner's sugar, sifted
3 tablespoons fresh lemon juice (1 medium-sized lemon should be enough - again, I used Meyer lemons for the frosting)
Instructions
Cake:

Preheat oven to 350F and prepare 2 8-inch pans by greasing the bottoms and sides and putting parchment paper at the bottom for easy release.
In a medium bowl, sift 2 1/3 cups cake flour, 2 3/4 teaspoons baking powder and 1/4 teaspoon salt. Set aside.
Using your fingers, rub the 1 3/4 cups sugar and 2 tablespoons lemon zest together until they are combined and the sugar slightly moist (and your kitchen filled with that wonderful lemon sugar smell). Set aside.
In another bowl, using a handheld electric mixer or a stand mixer fitted with the paddle attachment, beat 3/4 cup butter and your lemon sugar on medium-high speed until light, fluffy and smooth.
Add 1/4 cup milk and mix just until incorporated.
Switch to low speed and add a third of your flour mixture. Then half of your remaining milk. Then another third of your flour, the last of your milk then finally the last of your flour. Make sure each addition is well combined before adding in the next but do not overbeat (your mixture will be thick). Also remember to scrape the bottom and sides of your bowl. Set this batter aside for now (I only have 1 stand mixer so I transfer this to another bowl and wash and

thoroughly dry

my mixer bowl before I work on my egg whites. If you have two stand mixers you can obviously skip this step - and know that I am jealous).
In another bowl using a handheld electric mixer or a stand mixer this time fitted with the whisk attachment, beat the 5 egg whites on medium-high speed until foamy. Add 1/4 teaspoon cream of tartar and whisk until you reach stiff peaks.
Gently fold your egg whites into your batter with a rubber spatula about a quarter a time. Be very careful not to deflate the air you've incorporated into the egg whites. You will notice that as you fold, the batter (which was very thick earlier) will become smoother and easier to handle.
Divide your batter equally and transfer to your two pans.
Bake for 30-40 minutes or until a toothpick inserted in the middle comes out clean.
Take out of the oven and cool in the pans for 10 minutes. Then take the cakes out of the pans, carefully remove the parchment paper and let cool on a cooling rack completely.
Lemon Curd:

You can use store-bought lemon curd or if you want to make your own, see this recipe for homemade lemon curd
Frosting:

Using a handheld electric mixer or a stand mixer fitted with the paddle attachment, beat 1 cup butter and 2 tablespoons lemon zest until light and fluffy.
Gradually add the confectioner's sugar about 1/2 cup at a time and beat until smooth.
Add the 3 tablespoons lemon juice and beat until fully incorporated or until you get the consistency you want.
Assembly:

Trim the tops of your cake if they are uneven using a serrated knife or a cake leveller. The important thing is the tops are level and your two cakes are of equal height (you can eyeball this but a ruler is very handy).
Take one and place on a platter or cake turntable smooth side down (trimmed side up). Using a piping bag fitted with your favourite large tip (I would recommend the Wilton 1A or similar) or just simply cut the end of the bag to make a hole about 1/3 of an inch in diameter, pipe a border around the cake to act as a dam so your lemon curd won't ooze out later.
Once you've done that, fill the centre with about 1/4 cup lemon curd (you might need to add more) - the key is making the height of the lemon curd equal to the height of your dam so your cake doesn't sag in the middle.
Put your other cake on top, smooth side up (trimmed side down). Now you can go crazy! Decorate as desired.
Notes
1. Making homemade lemon curd would make this a 2-day cake because the curd has to be refrigerated overnight.
2. I used Meyer lemons, which is sweeter, so when I tasted the different components of this cake I decided it would be too sweet if I frost the cake all the way around. So I made a nude cake and that worked perfectly for me. You can certainly frost and decorate any way you like.
https://theunlikelybaker.com/lemon-cake/
This delicious recipe brought to you by www.TheUnlikelyBaker.com | (c) 2016-2017
(This recipe adapted from Fine Cooking)
Happy baking!
Did you make this lemon curd layer cake? Tell me about it in the comments section below. I'd love to hear all about it. Obsessed with lemons? Check out I Love Lemons for more lemony treats.
And let's get social! Find me on Facebook, Pinterest, Instagram, Twitter, Google+ and Flipboard.
Or subscribe so you don't miss a recipe. I promise I don't spam (I hate spam too).
Do you want to improve your food photography, monetize your blog or start your very own food blog? Check out my Blogging Resources.