This strawberry refrigerator cake (or the Filipino version of strawberry icebox cake) has a secret ingredient – condensed milk! It's sweet, creamy and perfect on a warm sunny day.
(Looking for more no bake cake recipes? Try this creamy, lemony, no bake lemon cheesecake. It's a great summer dessert! If you're craving for chocolate, you'd love this eggless tiramisu. Chocolatey, a little boozy and comes together in a flash.)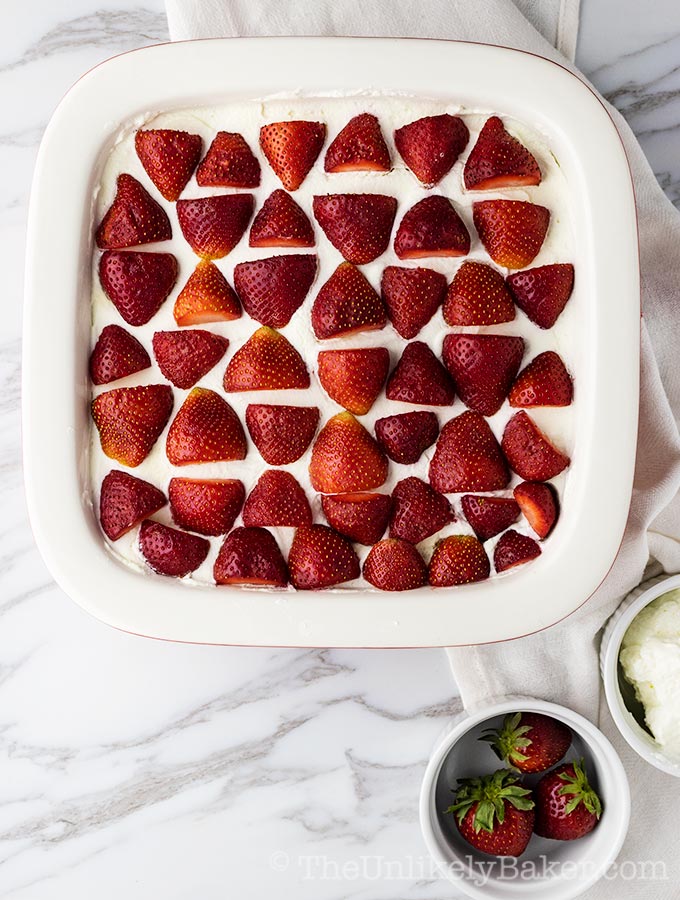 Refrigerator cakes or icebox cakes have been around for a long time, probably since refrigerators were invented! It's so easy to make, can be made days ahead and always a crowd pleaser.
Really, what's not to love? Cookies sandwiched between luscious cream topped with fruits or chocolate or whatever you fancy.
This is my mom's recipe though she usually makes her fridge cakes with mangoes (fun fact of the day: Philippine mangoes are the best in the world). But strawberries work too. Or whatever fruit happens to be in season.
There is an abundance of strawberries now so strawberry refrigerator cake it is.
How to make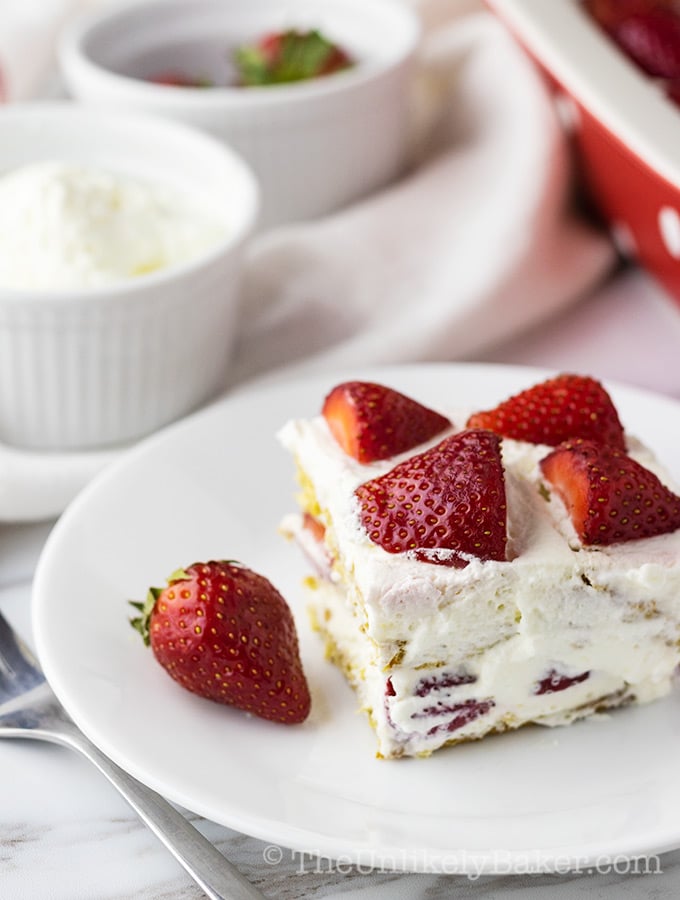 My mom's recipe had a layer of graham cracker crumbs mixed with melted butter but after making this cake countless times, I've found that I preferred using whole graham cracker cookies. Less work but just as delicious.
So I updated the recipe and simplified it.
To make this cake, first you need to prep your layers:
Hull and slice strawberries

Whip heavy cream to medium peaks

Then drizzle condensed milk and whip until stiff
When you're ready to assemble:
Start with a layer of graham crackers. Make sure they fit your baking dish exactly so cut the cookies if you must

Then evenly spread a heaping cup of whipped cream on top of the graham crackers

Top with sliced strawberries

Repeat
Then chill overnight. Easy peasy right? Watch the video to see how easy! Seriously, the hardest part is always the waiting.
Assemble parfait style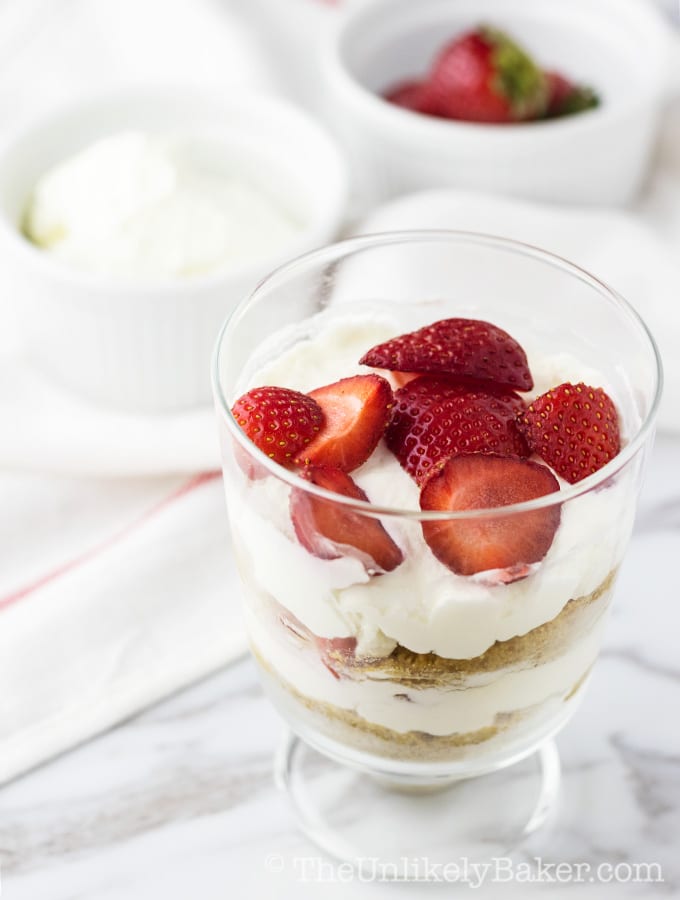 You also have the option of making parfaits or trifles instead of cakes. Saves you the trouble of getting perfect slices. But you do need to crush the graham crackers.
The assembly is similar – start with graham cracker crumbs, followed by cream and end with strawberries. These single-serve desserts are perfect for company!
Ingredients
To make strawberry refrigerator cake Filipino style, all you need are:
Tools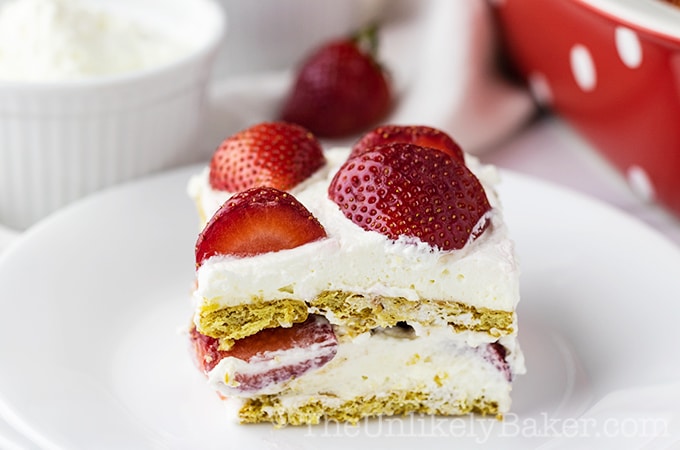 You don't need special tools to make this cake either. A stand mixer
will make whipping the heavy cream a breeze but you can also do that with an electric handheld mixer
.
Slicing the strawberries is my least favourite step but a paring knife
makes it easier.
I typically use a deep 8×8 inch baking dish
but you can use a regular aluminum pan
or even one of those disposable pans
if you're taking this to a BBQ or potluck.
Expert tips and recipe FAQs
Refrigerator cakes are one of the easiest desserts to make. And they're delicious too! Here are some tips and hacks so you can make perfect no bake strawberry icebox cake recipes every time.
How much condensed milk to use
Unlike the typical icebox cake, the Filipino version is sweeter and made with (what I think should be the national dairy – we put it on everything) condensed milk. How much you use depends on how sweet your strawberries are.
Start with a tablespoon and taste. And keep adding a tablespoon at a time until you get the sweetness you like.
I personally won't go more than ½ cup condensed milk (and that's already plenty sweet); you want the strawberries to shine through. More than that and all you'll taste is condensed milk.
This strawberry refrigerator cake works best with sweet strawberries so try and get the best of the season.
How to wash fresh strawberries to make them last longer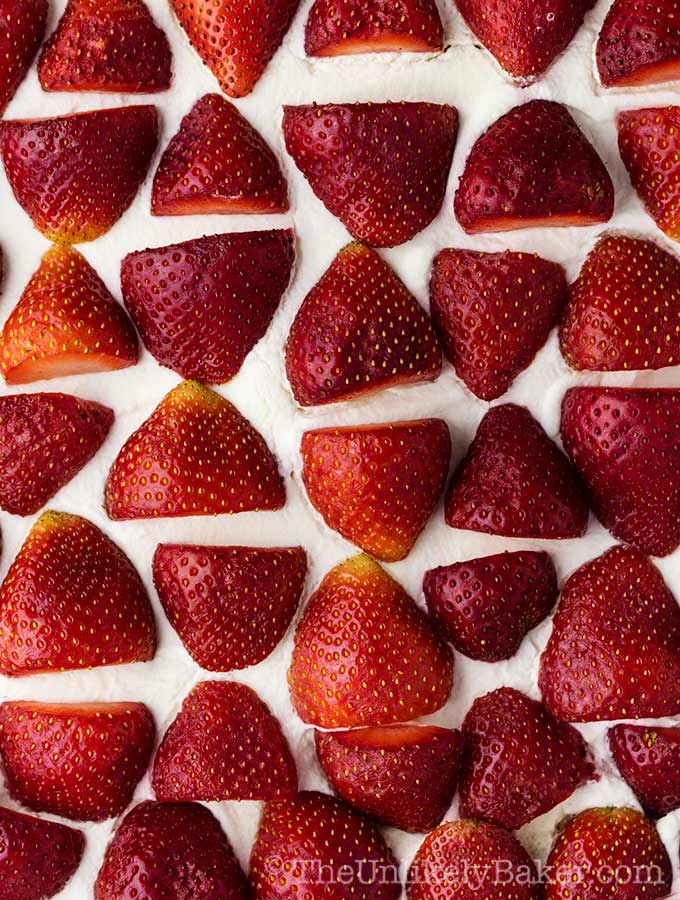 Like I said, I make sure to use the freshest, sweetest strawberries I can find. Sometimes, life happens though and I need to delay my sweet plans for a few days.
It's horrible to see my once-gorgeous strawberries start to look sad after a few days…until I discovered this great new hack to make them last longer!
I wash them with a water and vinegar mixture. Seriously. Read all about it here.
Do you have extra fresh strawberries? Try this delicious strawberry pie from Jennifer over at Mommy Evolution.
Can I use frozen strawberries to make refrigerator cake?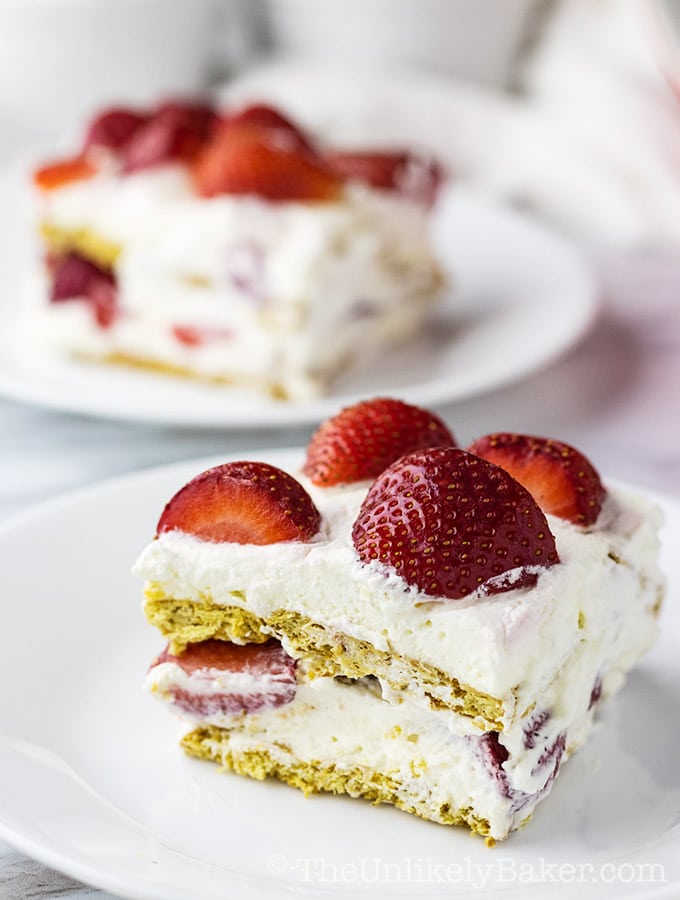 When making strawberry refrigerator cake or any kind of icebox cake, use fresh fruit as much as possible. Frozen fruit has too much moisture in them and you don't want all that extra water seeping into your beautiful cake.
If fresh fruit is not an option, try canned, like peaches. I used fresh peaches for this no bake fresh peach icebox cake but it can be made with canned peaches if fresh peaches are not in season.
Just make sure to drain properly and remember that canned fruit is already swimming in sweet syrup. Adjust the recipe accordingly.
Can I use Cool Whip to make this icebox cake recipe?
Yes, you can use Cool Whip to make this delightful strawberry graham cracker dessert. I personally like the taste and texture of homemade whipped cream though so I always make my own.
If you have 15 minutes you can make your own whipped cream too! Just take heavy cream and whip stiff. You're done! Hope you try it.
Is it better to freeze or chill strawberry refrigerator cake?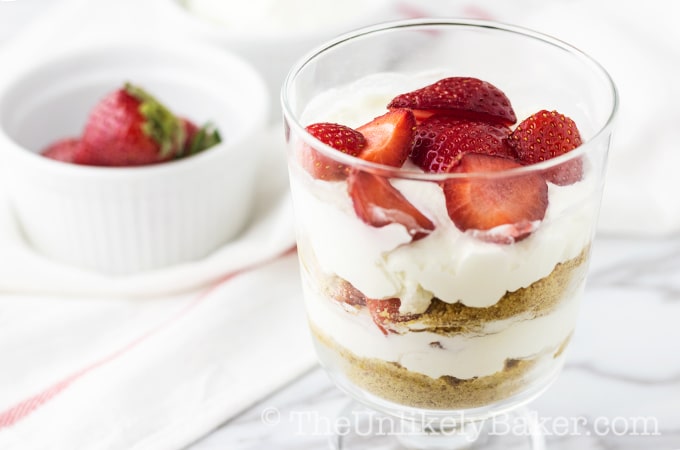 I usually just chill my refrigerator cakes in the fridge overnight. When I'm ready to serve, I just bring the cake out and slice. The cake slices are not perfect but the cake is creamy and delicious.
However, feel free to freeze them. Just note that if you do: treat it like how you would ice cream cake – thaw a little before serving. And note that the fruit will be frozen too.
So take advantage of all these beautiful strawberries. Make a strawberry refrigerator cake!
It's simple, quick, easy and so good. Perfect way to welcome this glorious warmer weather. And a refreshing cake to prepare for Mother's Day too.
Other no bake strawberry desserts
Strawberries are available year round but they're the most scrumptious from late spring to early summer. Let's go strawberry-crazy and make these other no bake strawberry desserts.
This creamy fresh strawberry cheesecake mouse is dreamy and so luxurious. Strawberry mousse sits on an Oreo crust; every bite is so refreshing!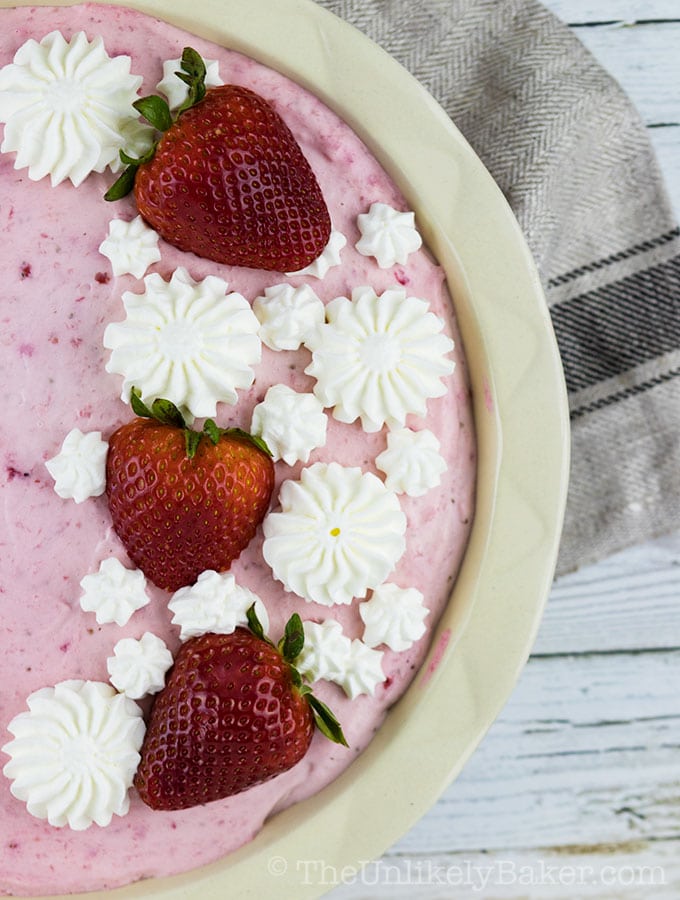 All you need is a blender to enjoy this strawberry mango banana smoothie. It's sure to cool you down on a hot summer day!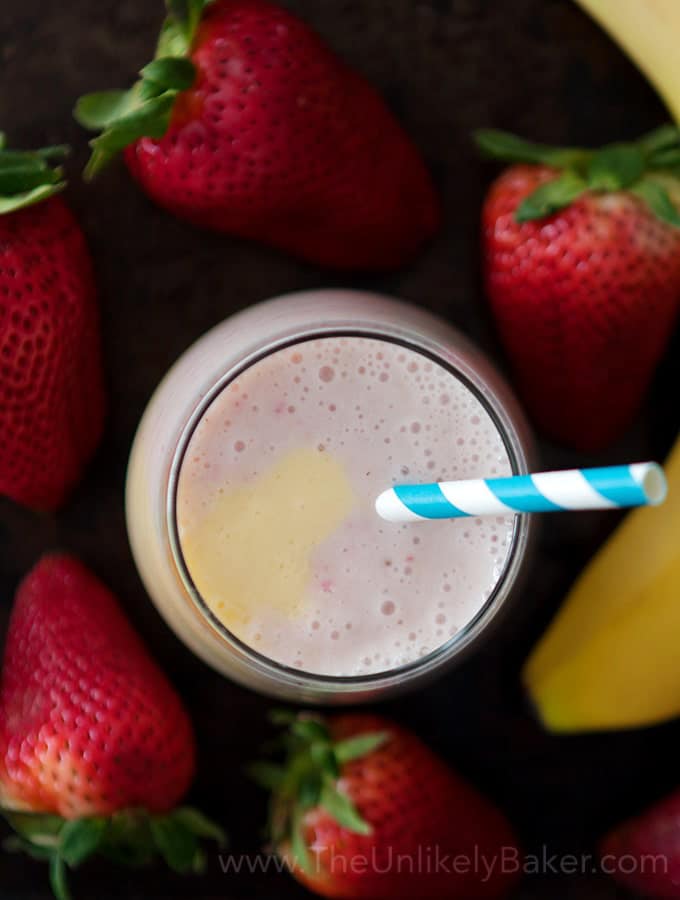 Want to start the day extra special? Make some delicious strawberry cream cheese stuffed french toast. Might just make a morning person out of you.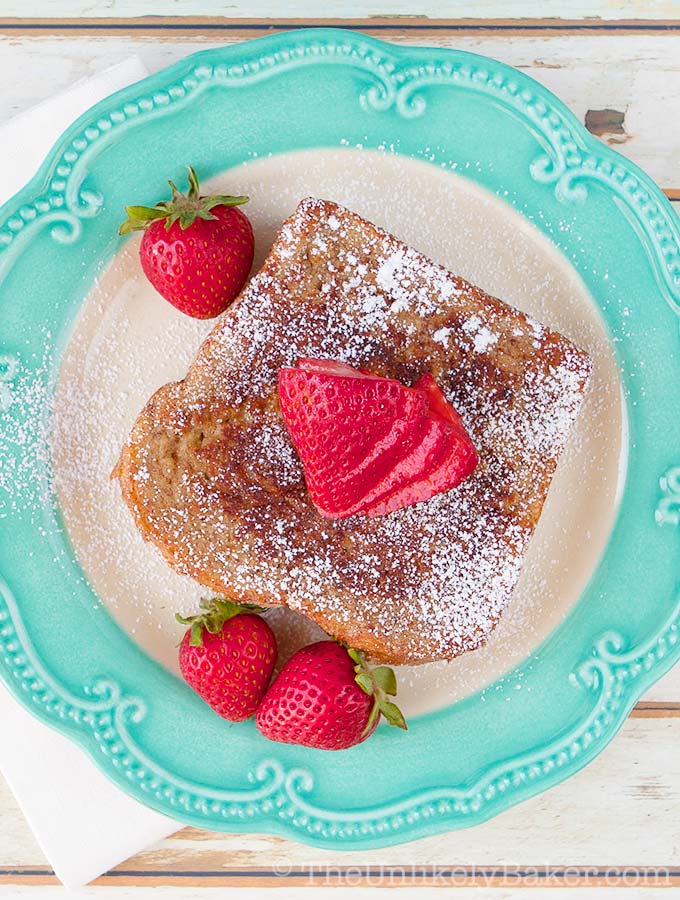 Happy no baking!
Did you make strawberry cake? I'd love to hear from you in the comments section below.
And let's get social! Find me on Facebook, Pinterest, Instagram or Twitter.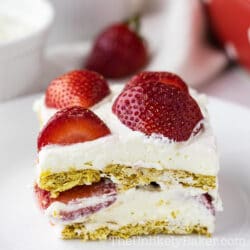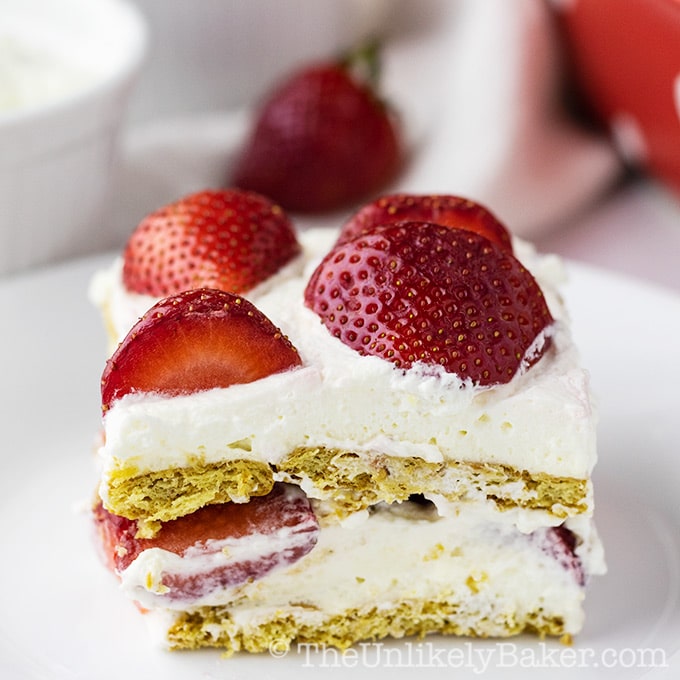 Strawberry Refrigerator Cake (Strawberry Icebox Cake Filipino Style)
This strawberry refrigerator cake (or the Filipino version of strawberry icebox cake) is sweet, creamy and perfect on a warm sunny day.

Instructions
Switch to low-medium speed and drizzle the condensed milk 1 tablespoon at a time. Add more until you get the sweetness you want. Once you're satisfied, switch back to medium-high speed and beat until smooth and stiff.

Place a layer of

graham crackers

at the bottom of a deep

8×8 baking dish

. E

venly spread a heaping cup of cream on top of your graham crackers. Then put a layer of sliced strawberries on top of that.

Repeat by covering the strawberries with graham cracker cookies. Be sure to cover the entire layer; cut the cookies to fit. Then cover with another layer of cream and top with strawberries.

You now have two options: you can either (1) freeze or (2) chill the cake in the fridge overnight. Freezing will result to a more ice cream cake-like end product which you would have to thaw several minutes before serving. Chilling will result to a creamy, ready-to-eat cake out of the fridge (see notes).
Notes
Tip for whipping the cream – put the bowl and the whisk you're going to use in the fridge for about 15 minutes before you plan to start whipping. This way your cream stays cold longer and easier to work with.
How much condensed milk you use depends largely on how sweet your strawberries are and how sweet you want your cake to be. Adjust to taste.
The graham crackers I use are squares (see video). I used a total of 21 cookies to fill my 8×8 inch baking dish.
If you choose to freeze the cake: treat it like how you would ice cream cake – thaw before serving. And note that the fruit will be frozen too.
Nutrition
Calories:
136
kcal
Carbohydrates:
7
g
Protein:
1
g
Fat:
11
g
Saturated Fat:
7
g
Cholesterol:
42
mg
Sodium:
18
mg
Potassium:
127
mg
Fiber:
1
g
Sugar:
5
g
Vitamin A:
455
IU
Vitamin C:
33.7
mg
Calcium:
43
mg
Iron:
0.2
mg
Nutritional information are estimates only.
Tried this recipe? Leave a star rating today!
Also tag @iamtheunlikelybaker I'd love to see your creations.