Looking for something other than pumpkin pie or butternut squash soup to make this fall? Try these kabocha squash fritters. A truly unique and creative way to make use of this season's favourite ingredient!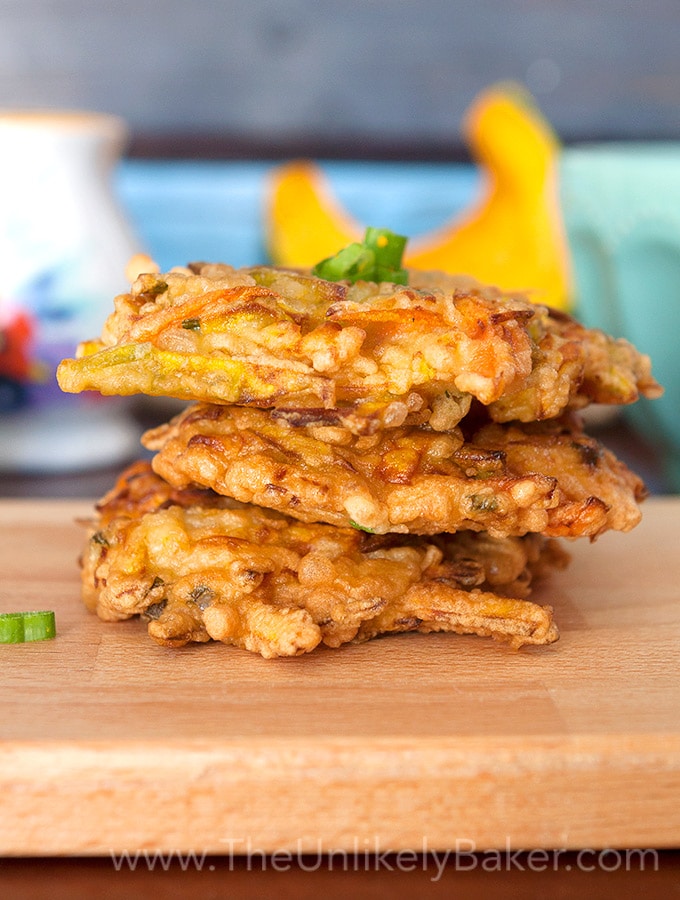 Hey you guys. I tried to ignore it for as long as I can but there's no denying it anymore – fall is here. While some afternoons are still nice and warm, I already feel the crisp fall air in the mornings. This week actually marks the official start of autumn so what the heck, let's just embrace it and forget our silliness that summer will last forever (or was that just me?).
Not your usual pumpkin recipe
I didn't want to go the usual pumpkin and butternut squash route though. There's already a gazillion pumpkin-flavoured things out there for us to enjoy.
Instead, I'm sharing my uncle's recipe for squash fritters. It's not out of this world I know but this uses kabocha squash and I bet that's something you haven't tried before. And the local name for this dish is karamba (or squash okoy). Now who can resist a dish named that?
Kabocha squash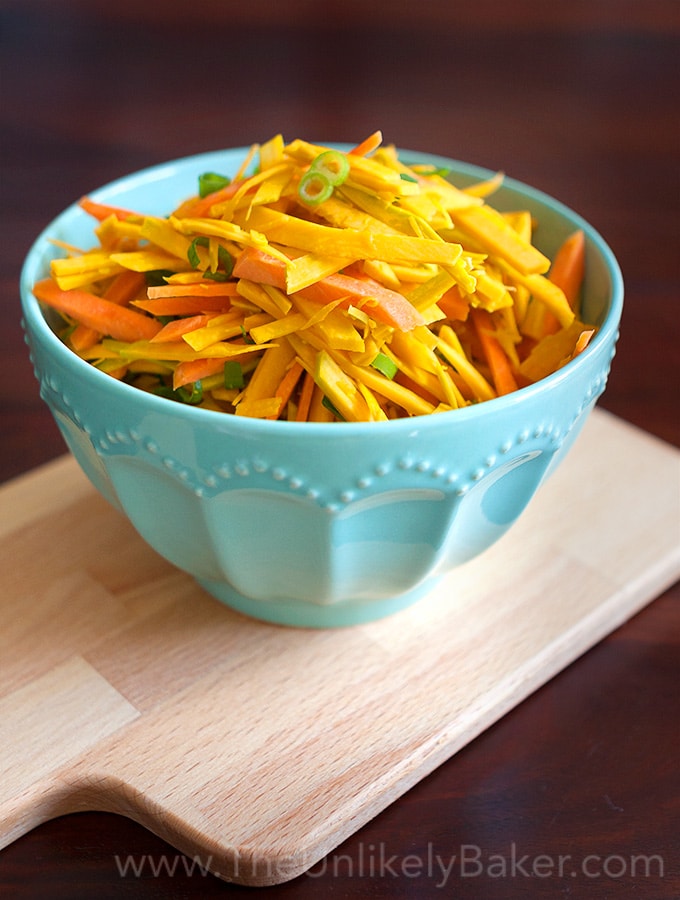 Kabocha squash is squat and sweet and the kind of squash most common in the Philippines. Filipinos call it kalabasa, it's also called a Japanese pumpkin, but here in North America it's known as kabocha. Potato, po-tah-to. Try it, it's great. Read more about it here.
Squash fritters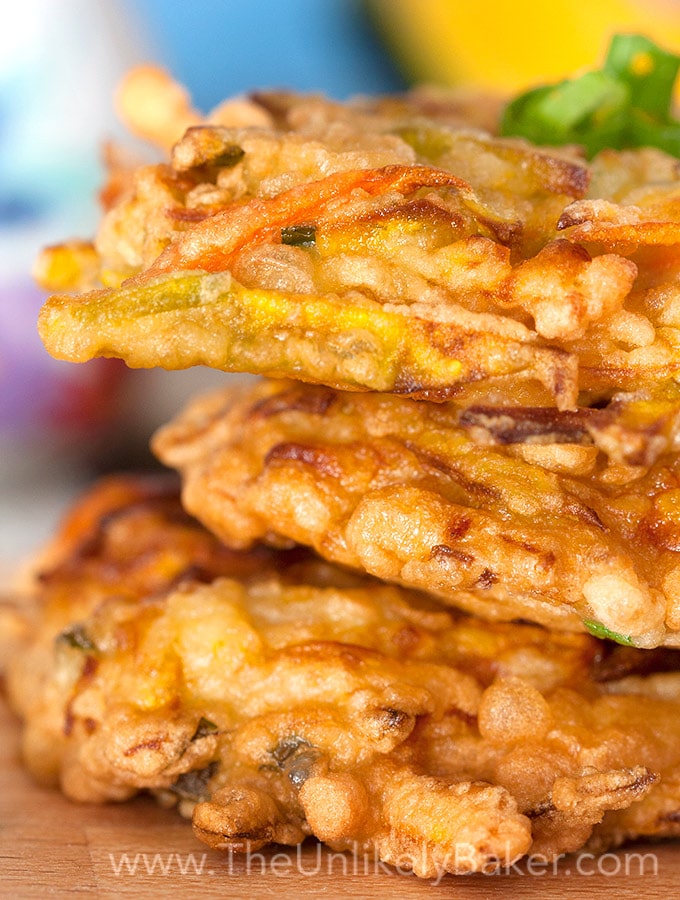 Before we get cooking though, full disclosure. I already said this is my uncle's recipe. Which I squeezed out of my mom (with difficulty as usual).
What I haven't told you is Red cooked it. C'mon you guys, you know my cooking skills are…wanting (ok, non-existent) so we teamed up again – Red did the prep and the cooking while I documented (and maybe went on breaks to check Instagram and Pinterest occasionally).
[clickToTweet tweet="Get creative with fall's favourite ingredient with kabocha squash fritters! http://wp.me/p78RTV-oY" "rel=nofollow" quote="Get creative with fall's favourite ingredient with kabocha squash fritters!"]
Eat like locals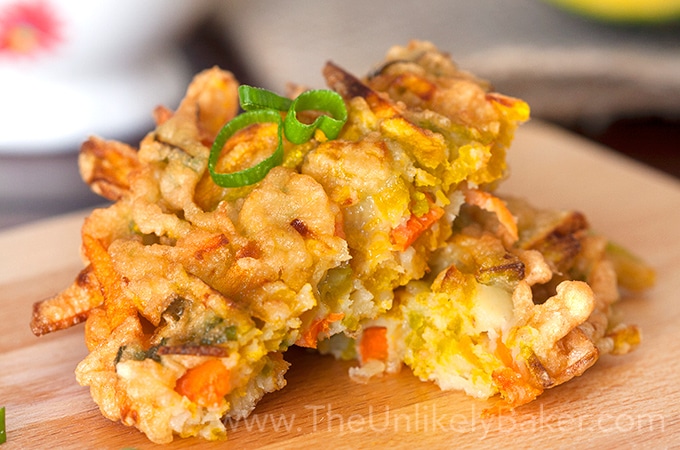 So how do you eat these kabocha squash fritters anyway? Technically this is a snack (or merienda). But because Filipinos are rice-obsessed, many eat it with rice or as a side dish.
What's universal is Filipinos dip it in a mixture of vinegar, soy sauce, red chili, onion, garlic, salt and pepper. There's really no recipe for the dipping sauce as everything is done to taste. Because I'm lazy though, I just mix vinegar, soy sauce and sriracha and call it a day. The sweet, salty, crunchy karamba pairs extremely well with the sour, salty and chili sauce.
So go ahead. Go kabocha crazy. And let's bid adieu to summer together. Aye caramba!
Kabocha Squash Fritters (Filipino Karamba or Squash Okoy)
Kabocha squash fritters (Filipino karamba or squash okoy) are a unique and creative way to make use of this season's favourite ingredient!
Ingredients
1/2 cup all purpose flour
1/4 cup cornstarch
1 large egg
1/3 cup cold water
1 tablespoon fish sauce (see notes)
2 cloves garlic, minced
Salt and pepper to taste
1 cup julienned kabocha squash
1/4 cup julienned carrots
1/4 cup sliced green onions
Oil for frying
Instructions
In a medium bowl, stir 1/2 cup flour, 1/4 cup cornstarch, 1 egg, 1/3 cup water, 1 tablespoon fish sauce, 2 cloves minced garlic, salt and pepper until smooth.
Add 1 cup kabocha squash, 1/4 cup carrots and 1/4 cup green onions and stir until well combined.
Put about a cup of oil in a large skillet and once it's hot enough, scoop about 1/4 cup squash batter into the oil and fry until the bottom turns a light golden brown. Flip and fry until the other side is golden brown too.
Put the fried fritters on a tray lined with paper towels to drain the excess oil. Serve immediately.
Notes
You can find fish sauce in Asian stores. Most people don't like it because it smells fishy (thus the name!) but it's really one of the key ingredients in Asian cooking (you know that flavour you just can't put your finger on? Most likely fish sauce!). You can opt to skip it though - just up the salt.
If your skillet is large enough, you can fry 2 fritters at a time. Not more than 2 though.
The fritters tend to get soggy the longer they sit so best to serve immediately.
https://theunlikelybaker.com/squash-fritters/
This delicious recipe brought to you by www.TheUnlikelyBaker.com | (c) 2016-2017
Happy frying!
Did you make kabocha squash fritters (Filipino karamba or squash okoy)? Tell me about it in the comments section below. I'd love to hear all about it.
Is frying your thing? Here are other fried deliciousness you'd enjoy:
And let's get social! Find me on Facebook,  Pinterest,  Instagram,  Twitter,  Google+  and  Flipboard.
Or subscribe so you don't miss a recipe. I promise I don't spam (I hate spam too).
Do you want to improve your food photography, monetize your blog or start your very own food blog? Check out My Blogging Resources.