You've never really had French toast until you've had strawberry cream cheese stuffed French toast. With a glorious strawberry cheesecake filling then drenched in luxurious custard before frying, it's French toast for days when average just won't do.
(Planning a special breakfast? Try these Classic Buttermilk Scones or these Light and Fluffy Lemon Ricotta Pancakes. They're pretty awesome too!)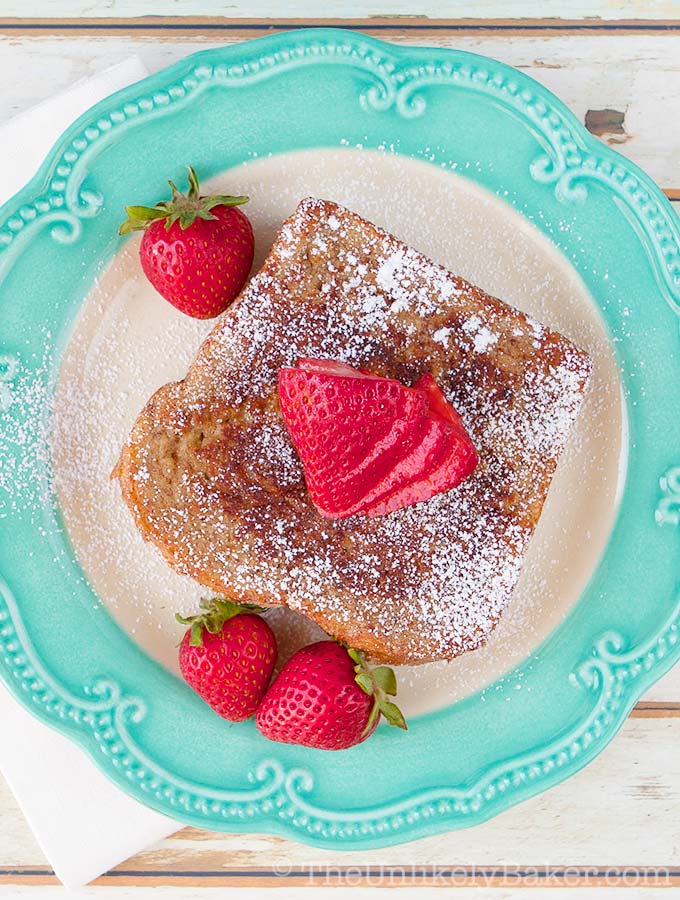 Red and I have this bad habit of eating out when we're very (very) hungry. This is one of the very first lessons in Saving Money When Eating Out 101 – eat a light snack before you go out so you don't end up overeating and overspending.
We know this, but hunger often strikes us when we're already out doing errands with no snacks in sight (Lesson 2: always have snacks in your purse). So we usually end up ordering half the menu.
We bring leftovers home (we're not too proud to carry doggie bags) but still. It's a habit we're trying to get rid of.
So one Saturday, at brunch, we deliberately only ordered one dish each (and of course a mimosa for me).
There was this awesome looking strawberry cream cheese stuffed French toast on the menu that I really, really wanted to order too (the table beside us had it) but being a good soldier, I sadly looked away and just quietly ate my eggs Benedict.
It stayed on my mind though, that French toast. I thought about it for days.
So I finally did something about it and attempted to recreate it at home. I don't know how the restaurant's strawberry cream cheese stuffed French toast tastes like but this homemade one is delicious.
Extra special French toast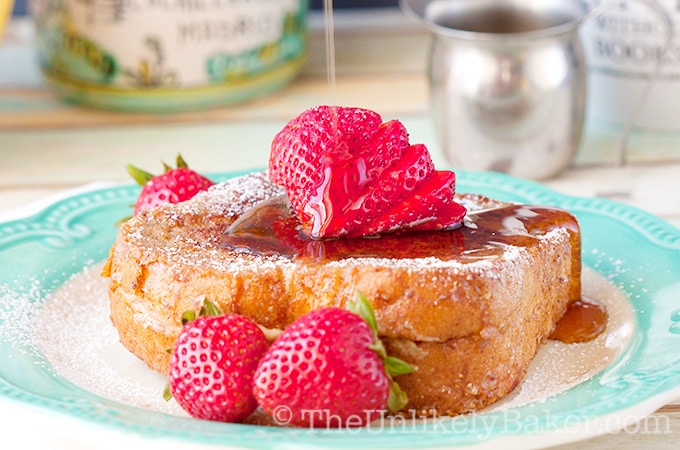 There's French toast. And there's French toast that's filled with cream cheese and strawberries.
This is an indulgence for sure (I felt each bite go straight to my thighs) but hey, we have to reward ourselves sometimes right?
This is the kind of breakfast you make for yourself when you need cheering up, when you have company, if you're celebrating an anniversary and breakfast in bed is in order. It's that kind of French toast.
Related: Chocolate Kahlua Bread Pudding with Pecans and Chocolate Chips
Expert tips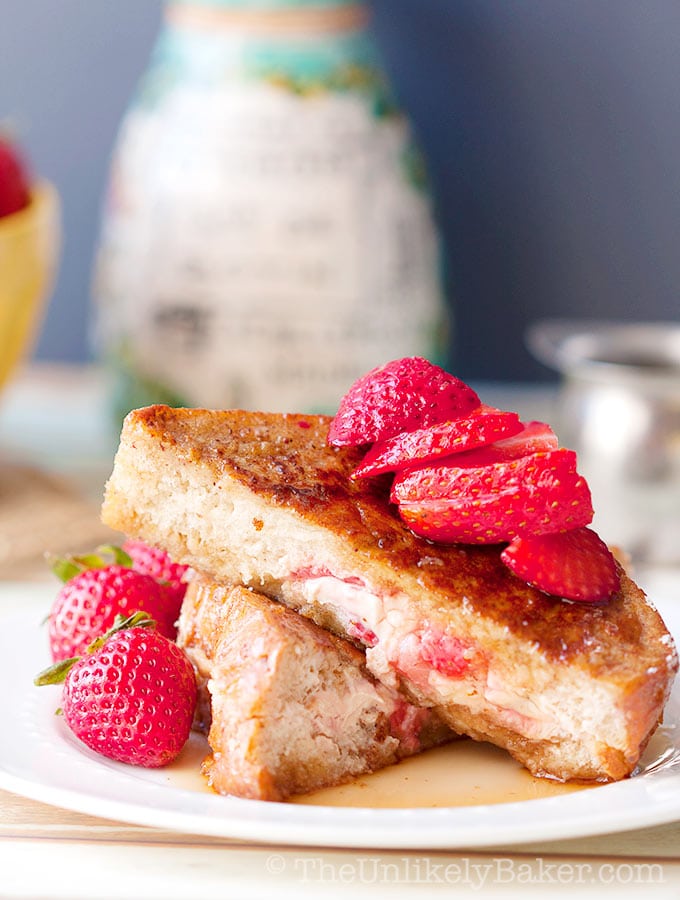 The rules for making stuffed French toast are slightly different from making regular French toast. Though we will still eat this however it looks like, we don't want to serve a soggy mess to our guests or loved ones, yes? So here are some of the things I learned:
Forget about the pre-cut bread slices. Buy a whole loaf (something sturdy and crusty) and slice them at home yourself.
Also forget about spreading the filling on two bread slices then frying them – just leaves too much room for disaster (think: filling oozing out on all 4 sides). Make bread pockets instead. Cut the bread about 1 to 1.5 inches thick then cut along the top to create a pocket inside your bread where the filling will go. Be careful not to cut all the way through.
Stale bread is better but you can still use fresh bread; you just need to dry them out on the counter before using. I laid mine out for a few hours.
Don't over soak the toast before frying. But don't under soak them either. I'd say about 15-20 seconds on each side. And only soak just when you're about to fry. This means don't soak everything at once unless you have a giant pan where you can fry everything at the same time.
Make sure your pan is hot enough. I try to keep mine at medium heat.
Don't use just butter for frying. It burns too fast. You can use a butter & vegetable oil combo.
Change your oil often. You don't want nasty stuff from the previous batch sticking to your new batch.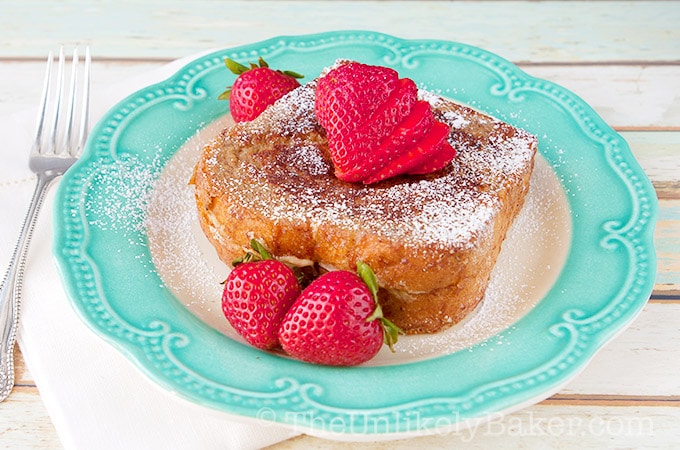 Other brunch recipes for a wonderful morning!
That is it. Just a bit of planning and preparation for a delectable treat. Buy the ingredients today and have a wonderful time making and eating it on the weekend.
Here are other brunch recipes you can try: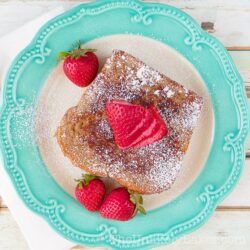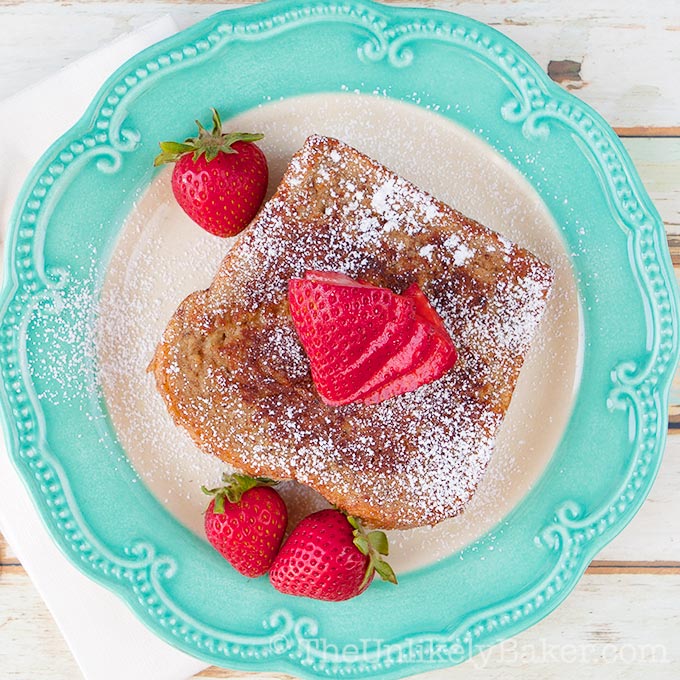 Strawberry Cream Cheese Stuffed French Toast
There's French toast. And there's strawberry cream cheese stuffed French toast. It's French toast for days when average just won't do.
Ingredients
1

loaf

bread

sliced into 1-1.5 inch thick pieces

1

8-oz

package cream cheese

room temperature

2

tsp

vanilla extract

1 ½

cups

strawberries

diced

¾

cup

heavy cream

4

pcs

large eggs

lightly beaten

1

tsp

cinnamon

½

tsp

nutmeg

1

tbsp

granulated sugar

butter and oil for frying

maple syrup for serving
Instructions
Prep your bread by slicing a pocket into each one (see my tips above).

In a large bowl, mash together 1 package of cream cheese and 2 teaspoons of vanilla until well combined. Stir in 1 ½ cups strawberries.

Put a generous amount (I put about 2 heaping tablespoons) of your cream cheese mixture inside each bread pocket and press each slice closed. Set aside.

In a medium bowl, whisk ¾ cup heavy cream, 4 eggs, 1 teaspoon cinnamon, ½ teaspoon nutmeg and 1 tablespoon sugar until fully incorporated.

Soak each bread slice in the custard about 20 seconds each side before frying on medium heat (you can use oil or a combination of oil and butter). Fry until golden (about 2-3 minutes) then flip and continue cooking until the other side is golden too.

Serve with maple syrup. You can also sprinkle with confectioner's sugar and serve with extra strawberries if you have it.
Notes
There is no sugar in the filling, the sweetness comes from the strawberries. If you happen to get hold of bland or sour ones, you can add a bit of sugar to the mix (about ½ teaspoon at a time until you're happy with the taste).
The filling is not supposed to be overly sweet though. This is meant to be eaten with maple syrup and trust me, the combination of flavours – cream cheese, strawberries, custard and maple syrup – is lovely.
The yield depends on the size of the loaf you have but the spread is good for about 6 bread pockets the size of a regular loaf of sliced bread.
Nutrition
Calories:
435
kcal
Carbohydrates:
62
g
Protein:
12
g
Fat:
15
g
Saturated Fat:
7
g
Cholesterol:
43
mg
Sodium:
602
mg
Potassium:
283
mg
Fiber:
5
g
Sugar:
10
g
Vitamin A:
435
IU
Vitamin C:
21.6
mg
Calcium:
186
mg
Iron:
4.2
mg
Nutritional information are estimates only.
Tried this recipe? Leave a star rating today!
Also tag @iamtheunlikelybaker I'd love to see your creations.
(Recipe adapted from Just A Taste).
Happy stuffed French toasting!
Did you make this strawberry cream cheese stuffed French toast? Tell me about it in the comments section below. I'd love to hear all about it.