The mouth-watering flavour trifecta of apple, cinnamon and cardamom bursts in every bite of this apple crumble coffee cake. Crunchy on the outside, tender on the inside, it's perfect with coffee or tea on a crisp fall day.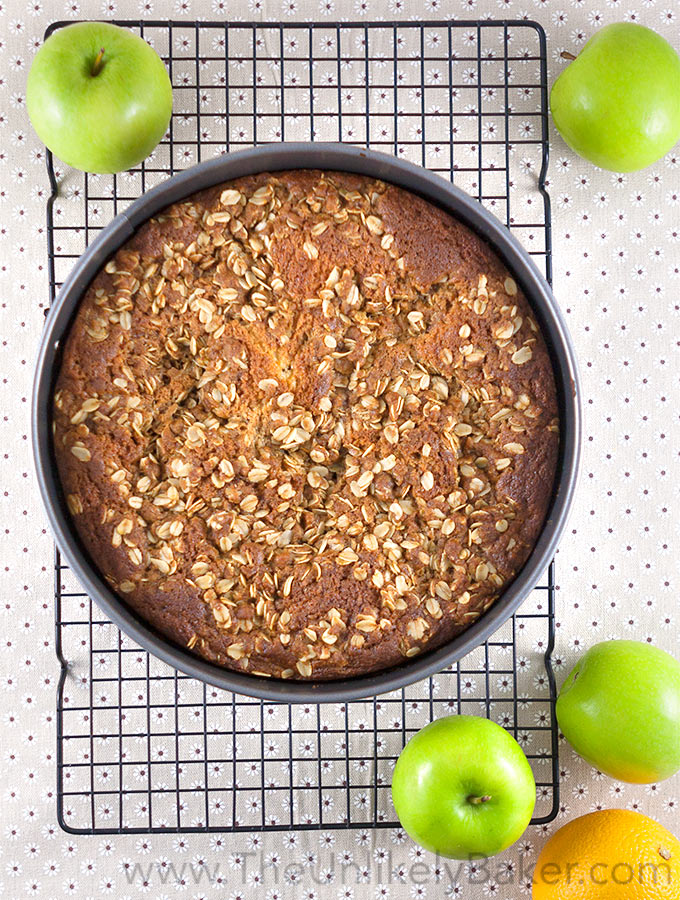 Today is the day people. It's the last day of summer (the first official day of fall is tomorrow at 10:21 AM EST – how precise!). Depending on where you are on the seasons scale, you're either rejoicing or feeling a little blue.
Me, I'm a little blue. Winters are always tough for me to get through (I mean, winters here hurt my eyeballs) and fall kind of ushers that in for me (gotta love fall fashion though!).
Anyway. So there's this cake. It doesn't have frosting. It's not lemon or chocolate. But dang it's one of the most delicious I've ever made and tasted.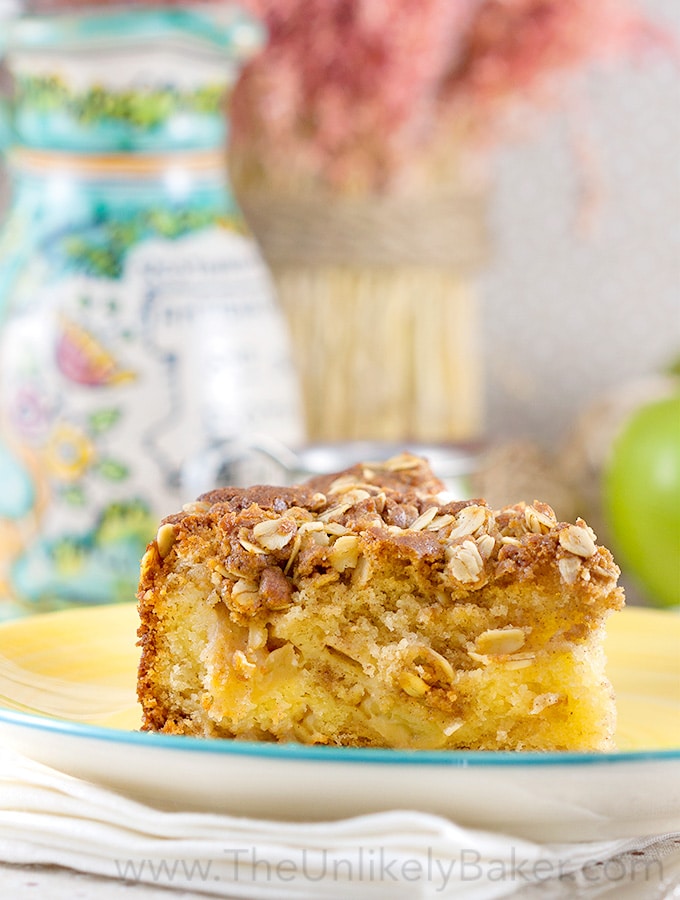 It's so soft and tender on the inside but has this nice crunch on the outside. And it's filled with that delicious apple flavour accented with hints of cinnamon and cardamom. Seriously, every bite tastes like fall but feels warm, like a cozy blanket. You gotta try it.
The cake base
I found the base cake recipe from Williams-Sonoma. It was just a simple cake though and I wanted one where it's all crumbly and meaty on top. So I took that and made it a crumble cake. The result was fantastic.
Apple crumble coffee cake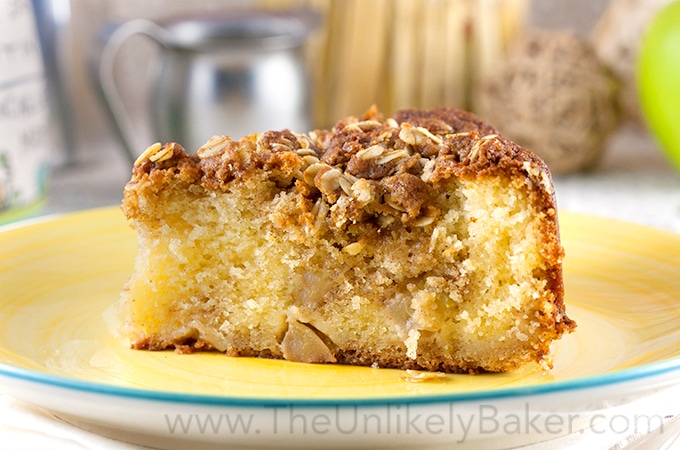 This apple crumble coffee cake will give you the fall feels.
Click To Tweet
This apple crumble coffee cake is everything I love about a coffee cake: lovely tender cake, crunchy oat crumble, amazing taste. It goes so well with coffee (thus, the name) and tea (yay for tea lovers like me). Perfect served warm, fresh from the oven but also still pretty wonderful the next day (all it takes is a few seconds in the microwave).
So whether you're happy fall is here or a little sad summer is over, let's have cake! Apple crumble coffee cake. I promise it is delicious.
Apple Crumble Coffee Cake
Get apple, cinnamon & cardamom in every bite of this apple crumble coffee cake. Crunchy outside, soft inside, perfect with coffee on a crisp fall day.
Ingredients
For the Cake:

1 3/4 cups all purpose flour
1 1/2 teaspoons baking powder
1/4 teaspoon salt
1 pound Granny Smith apples (about 3-4 pieces), peeled, cored and sliced into wedges
2 tablespoons fresh orange juice
1/3 cup firmly packed brown sugar
1 1/2 teaspoons ground cardamom
1 teaspoon ground cinnamon
1/2 cup unsalted butter, room temperature
1 8-ounce block cream cheese, softened
1 1/2 cups granulated sugar
1 teaspoon vanila extract
2 large eggs, room temperature
For the Crumble:

1/2 cup all purpose flour
1/2 cup firmly packed brown sugar
1 cup rolled oats
1/2 teaspoon salt
1/4 teaspoon ground cinnamon
1/4 teaspoon ground cardamom
1/2 cup unsalted butter, melted and cooled
Instructions
Preheat oven to 350F. Lightly grease the bottom and sides of a 9-inch round springform pan.
In a large bowl, mix 1 3/4 cups flour, 1 1/2 teaspoons baking powder and 1/4 teaspoon salt. Set aside.
In a medium bowl, toss 1 pound apples with 2 tablespoons fresh orange juice. Stir in 1/3 cup brown sugar, 1 1/2 teaspoons cardamom and 1 teaspoon cinnamon. Set aside.
Using a handheld electric mixer or a stand mixer fitted with the paddle attachment, beat 1/2 cup butter, 1 8-ounce block cream cheese, 1 1/2 cups sugar and 1 teaspoon vanilla until pale and fluffy (about 3 minutes on medium-high speed). Add the eggs one at a time, beating well after each addition. Scrape the bottom and sides of your bowl.
Switch to low speed and add the flour in 3 stages and beat until smooth and well combined. Again remember to scrape your bowl.
Use a rubber spatula to gently fold in your apples. Do not over mix. Transfer the batter to your springform pan and spread evenly.
For the crumble, mix all ingredients in a small bowl until well incorporated. Sprinkle on top of your batter. Bake for 60 minutes or until golden brown and the edges start to separate from the pan. A toothpick inserted in the middle should come out with minimal crumbs.
Cool in the pan for 10 minutes. Run a sharp knife around the edges of the pan before releasing the sides. Serve warm.
https://theunlikelybaker.com/apple-crumble-coffee-cake/
This delicious recipe brought to you by www.TheUnlikelyBaker.com | (c) 2016-2017
Happy baking!
Did you make apple crumble coffee cake? Tell me about it in the comments section below. I'd love to hear all about it. What are you doing to usher in autumn?
Here are other things you might try this season:
And let's get social! Find me on Facebook,  Pinterest,  Instagram,  Twitter,  Google+  and  Flipboard.
Or subscribe so you don't miss a recipe. I promise I don't spam (I hate spam too).
Do you want to improve your food photography, monetize your blog or start your very own food blog? Check out My Blogging Resources.