Easy vanilla cupcake recipe for light and fluffy vanilla cupcakes every time. This no-fail recipe is simple to follow using the ingredients you already have in your pantry.
(Are you a fan of vanilla? You would love this delicious twist on vanilla cake – light and moist vanilla raspberry cake. It's frosted with the most amazing raspberry buttercream.)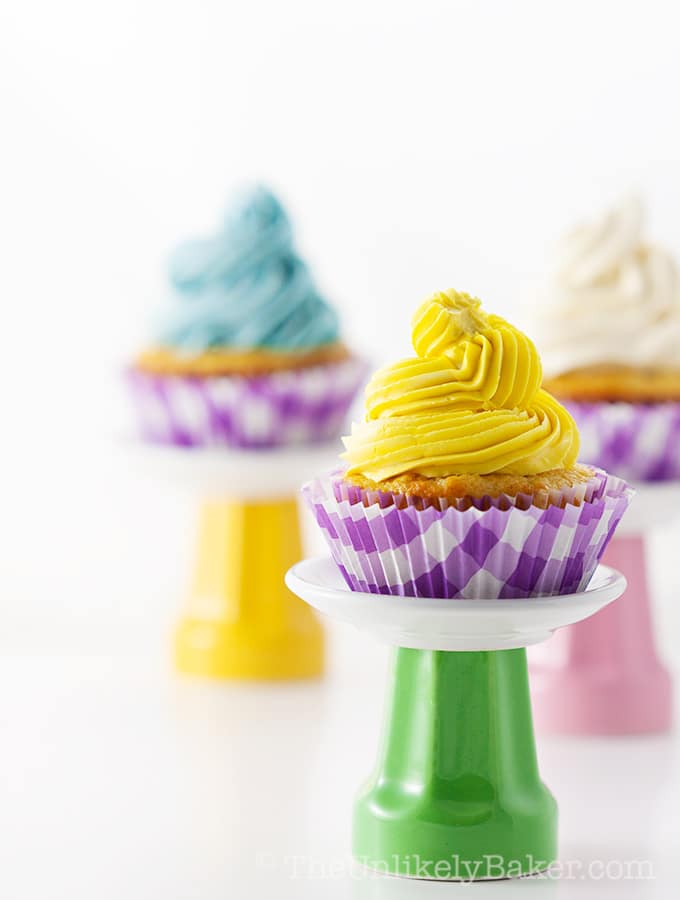 This is everyone's first cupcake love – the uncomplicated but always delightful vanilla cupcake.
I love cupcakes – all kinds – but sometimes, all I want is a simple cupcake recipe like good old-fashioned vanilla. The kind I had when I was a kid.
No complications. No out-of-this-world flavours. Just the perfect vanilla cupcake of my childhood.
How to bake cupcakes from scratch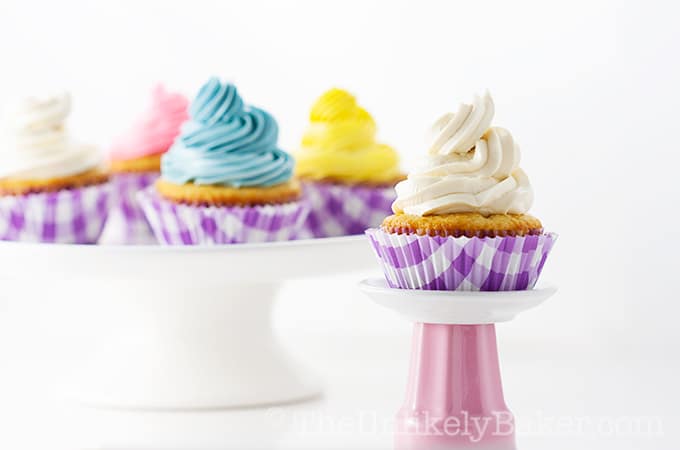 You always hear pro bakers say that baking is a science and it's true. Every ingredient is measured precisely and has a specific role to play in the recipe.
Baking cupcakes from scratch is no exception. Here are some things I've learned over the years that help me (and hopefully help you!) bake the best from-scratch cupcakes every time.
Use room temperature ingredients
Cold wet ingredients (like eggs, butter and milk) don't incorporate well with each other and don't play nice with dry ingredients either. You will end up either over-beating your batter unnecessarily or with grainy clumpy batter or both.
Room temperature butter is especially important. And it applies to all baking, not just cupcakes. This is a great read, if you want to learn more about the science behind it.
Measure your ingredients by weight not by volume
Our digital kitchen scale is the one kitchen gadget that I use every time when I'm baking. When I started out I went by cups but as I baked more I found that I was getting better and more consistent results when I weighed my ingredients.
Best part of it is – kitchen scales are relatively cheap and you can get one from amazon for less than $20
. And you will use it often. And for years to come.
Mix the batter just right
Recipes always say be careful not to over-mix your batter. Easier said than done right? What exactly does that mean?
I'm heavy handed so I'm always conscious about using a lighter, more moderate touch when I'm mixing the batter by hand. If I'm using my mixer
, I watch over it like a hawk.
We're not looking for a smooth, luxurious batter. We want to mix just until everything is incorporated – which means no big lumps or streaks of flour (it helps to scrape the bowl with a spatula) and everything looks evenly distributed.
Use an oven thermometer
Ovens are different, some run hot, some run cold. Which is why it's worth investing in an oven thermometer so you can be sure you're baking at the right temperature every time.
Oven thermometers are pretty inexpensive too
but they will change the way you bake.
Bake in the centre rack of your oven
Even if you have a perfectly calibrated oven thanks to your shiny new oven thermometer, your oven can still have hot spots. So place your cupcake pan on the middle rack – that's the best place to be!
It's also best to only bake with one pan/batch at a time. But if you absolutely must bake 2 batches at once, place one on a rack in the upper third of the oven and the other in the lower third. Then switch and rotate pans halfway through.
And except for this switching and rotating, keep the oven door closed (resist the urge to peek) to avoid fluctuations in oven temperature.
How to make moist cupcakes
Did your cupcakes come out dry and crumbly? It's most likely because there's too much flour in the batter.
There are two ways bakers measure a cup of flour – scoop out the flour from the jar or spoon the flour from the jar into the cup and level off the excess. Each method results in very different amounts of flour in the batter.
The best way is to weigh the flour. I always use 128 g = 1 cup of flour in my recipes.
Another reason for dry cupcakes could be over-baking. And another reason to invest in an oven thermometer!
How to make light and fluffy cupcakes
When a recipe says to beat the butter with the sugar until light and fluffy, what really happens is you're trying to incorporate as much air into your batter as possible. This will help make your cupcake light and fluffy.
Don't overdo it though. Five to seven minutes is usually the sweet spot.
How to make this easy vanilla cupcakes recipe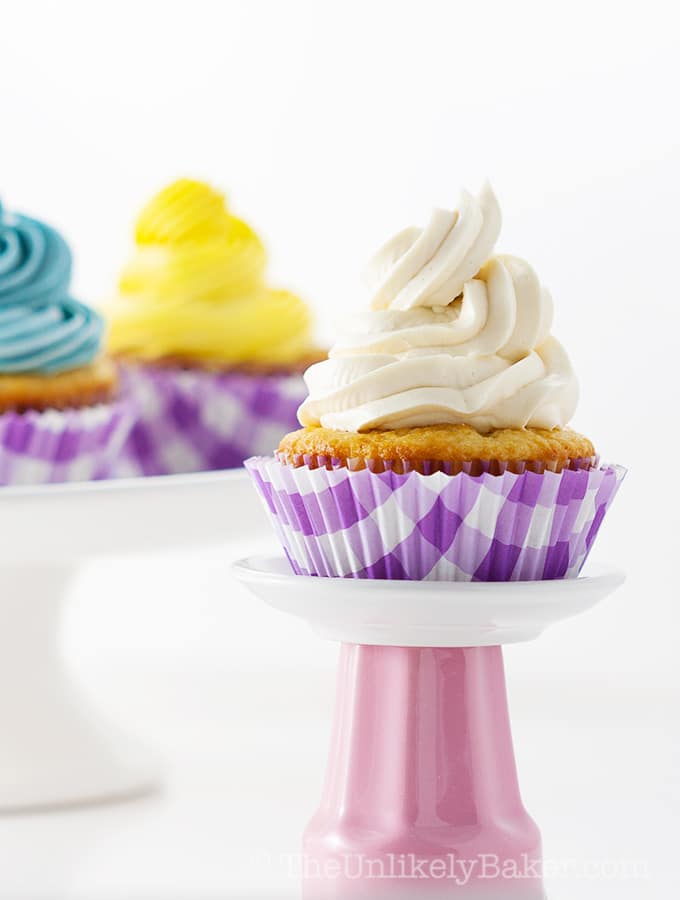 Now that you're armed with all this cupcake knowledge, you're ready to bake some perfect vanilla cupcakes! And it's really easy.
Gather your dry ingredients and sift into a medium-sized bowl. Set aside while you work on your wet ingredients.
Using a handheld electric mixer
or a stand mixer fitted with the paddle attachment
, beat your room temperature butter and sugar on medium-high speed until light and fluffy (5-7 minutes, depending on the mixer you're using).
Switch to low speed then add eggs and vanilla. Then add your flour mixture in thirds, alternating with milk. This is the time you watch how much (or how little) you're mixing the batter.
Mix just until each addition is incorporated and no significant traces of flour can be seen. Again, remember to scrape the bottom and sides of your bowl.
Scoop your batter into cupcake liners (I like filling them ¾ full).
Bake until a toothpick inserted in the centre of a cupcake comes out clean (pick a cupcake from the centre of your pan and another from the edge). You can also gently press down on a cupcake with your finger and if it springs back, you are done.
Make sure to cool the cupcakes completely before frosting and decorating.
Ingredients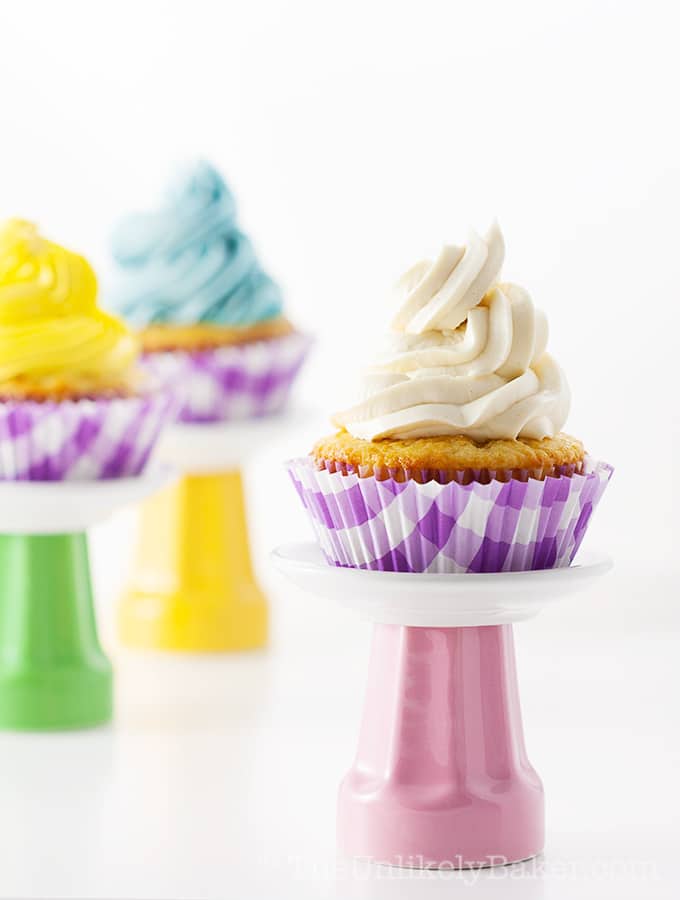 One of the best things about this vanilla cupcake recipe is you probably already have all the ingredients in your pantry!
The key to simple cupcake recipes like this is to use the best ingredients you can find because there's nowhere to hide. So I would stay away from budget butters.
And go ahead and splurge on that nice bottle of vanilla extract. Better yet, treat yourself to some vanilla beans
or vanilla bean paste
!
Baking tools
You probably also already have the basic tools in your baking cupboard to make a batch of these delicious cupcakes, like:
Frosting flavours that pair well with vanilla cupcakes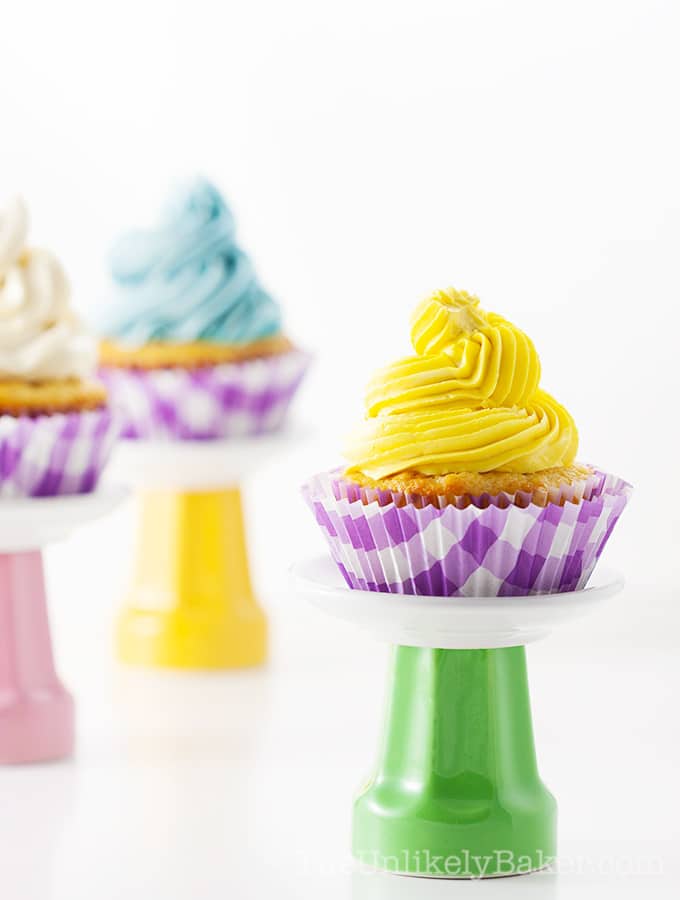 Vanilla cupcakes are so versatile. They're the perfect cupcake to get creative with!
I've filled them with Nutella, peanut butter and homemade salted caramel sauce. I've frosted them with cookie butter
and coconut.
They go with almost everything.
For this batch, I used my all-time favourite frosting – Swiss Meringue Buttercream, which I tinted different colours using gel food colouring
. But you can absolutely use any kind of buttercream frosting you like.
Here's a great collection of buttercream frosting recipes for you to choose from.
Best cupcake recipes
If you love cupcakes, you would absolutely love these cupcake recipes.
White chocolate fans rejoice! These white chocolate cupcakes with raspberry filling topped with white chocolate cream cheese frosting are especially for you.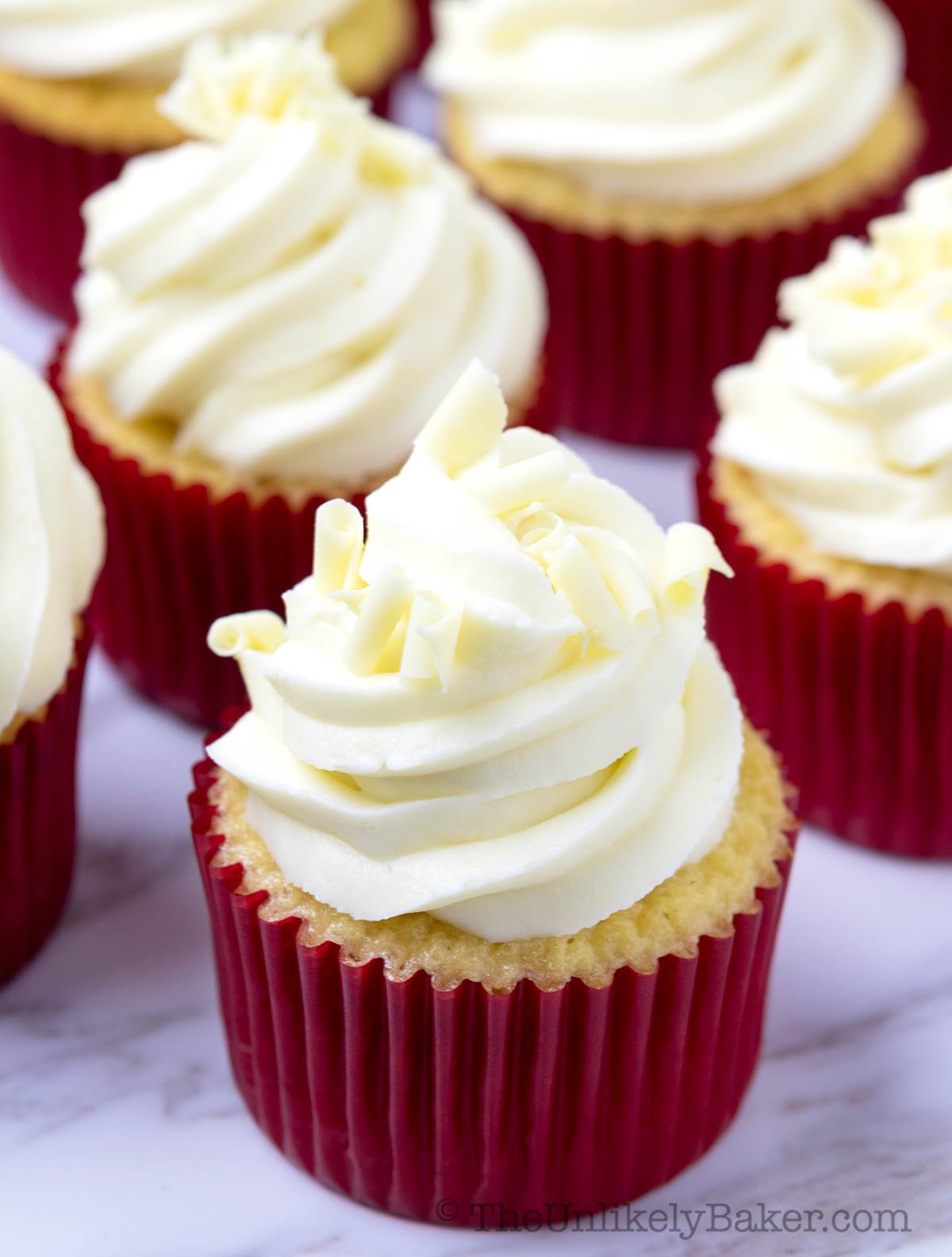 These dulce de leche cupcakes are wonderfully light and frosted with the creamiest dulce de leche frosting.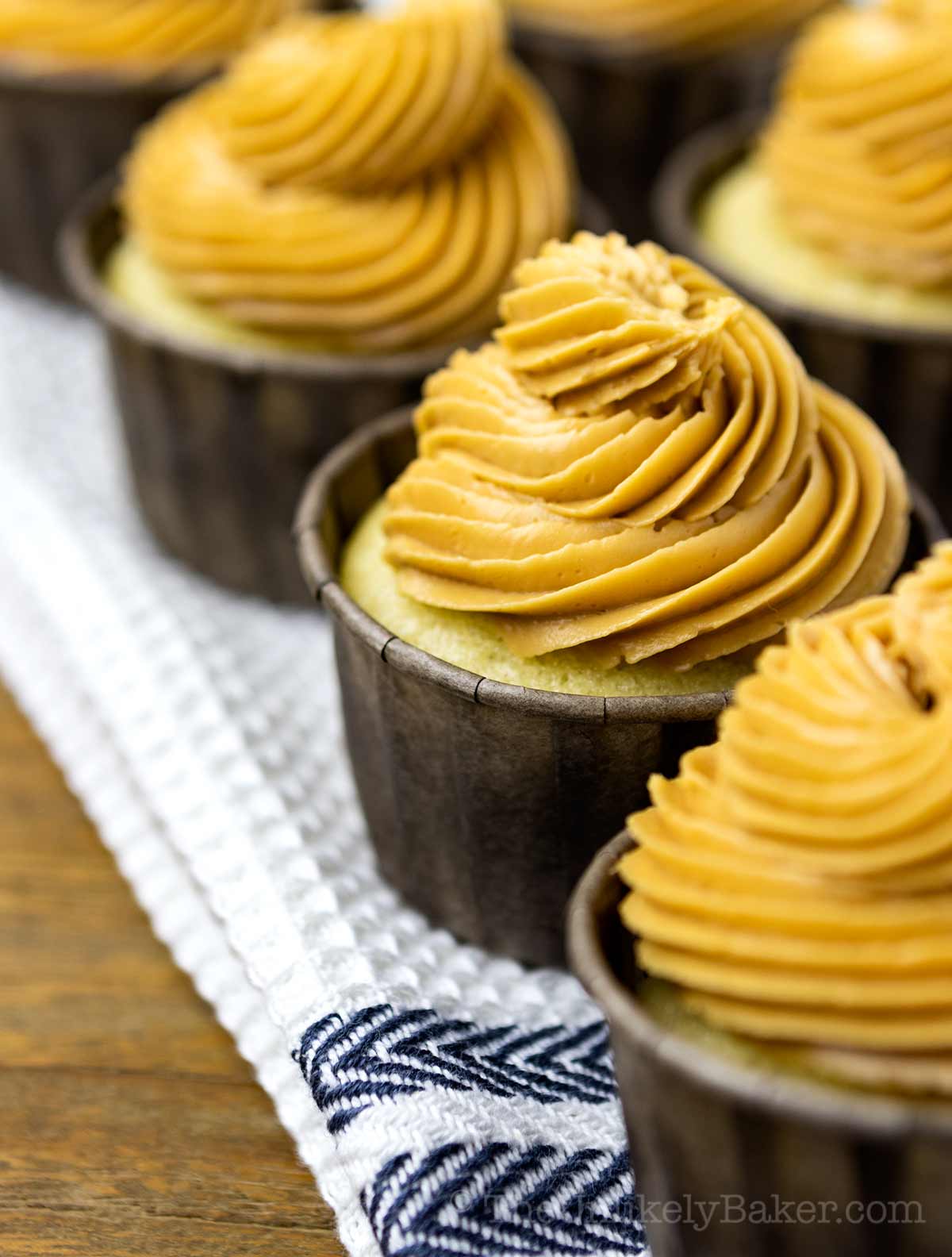 If you love lemon you would adore these soft and moist limoncello cupcakes filled with decadent lemon curd and topped with luxurious limoncello cream cheese frosting. A lemon lover's dream!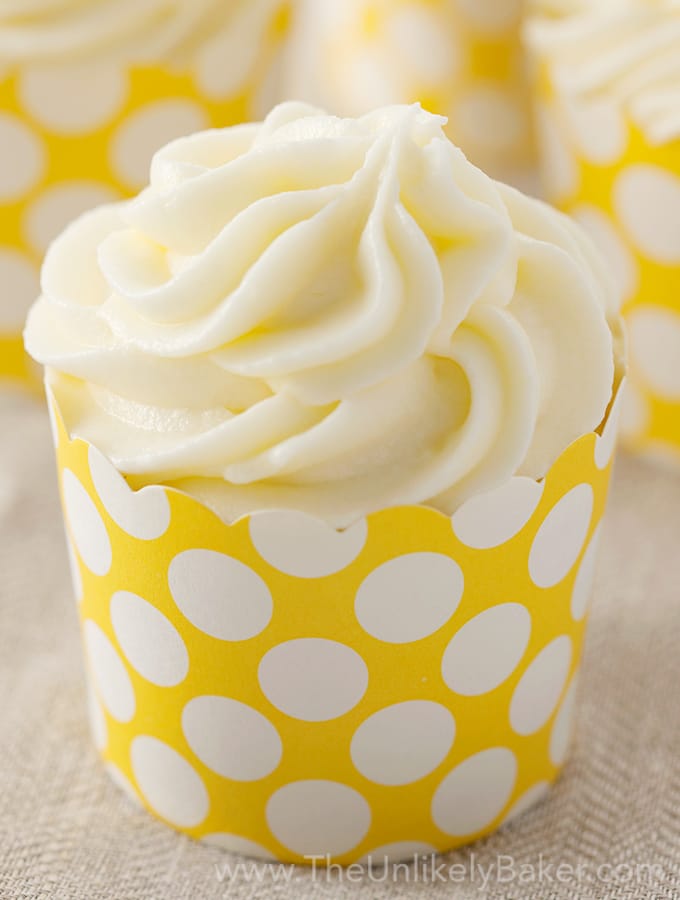 Delicious cupcake recipes without frosting
Sometimes, we just want mini cakes and not have to deal with frosting. I get that. Which is why I also have these delicious cupcake recipes without frosting on the blog: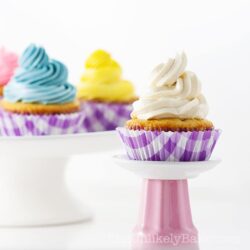 Easy Vanilla Cupcake Recipe
Easy vanilla cupcake recipe for light and fluffy vanilla cupcakes every time. This no-fail recipe is simple to follow using the ingredients you already have in your pantry.
Instructions
Preheat your oven to 350F. Prepare your pan by lining with cupcake liners and set aside.

In a medium-sized bowl, sift 1 ¼ cups flour, 1 ½ teaspoons baking powder and ¼ teaspoon salt. Set aside.

Using a handheld electric mixer or a stand mixer fitted with the paddle attachment, beat the 6 tablespoons butter and ¾ cup sugar on medium-high speed until light and fluffy.

Switch to low speed and add the egg. Once incorporated well, add the egg white. Then add the 1 teaspoon vanilla.

Still on low speed, add a third of your flour mixture then half of your milk. Add another third of your flour, the rest of your milk and finally the rest of your flour. Do not over-beat; just mix until each addition is incorporated and no significant traces of flour can be seen. Remember to scrape the bottom and sides of your bowl.

Scoop the batter into your cupcake liners (about ¾ full) and bake for 18-20 minutes or until a toothpick inserted in the centre comes out clean.

Take out of the oven and let cool in the pan on a wire rack for about 5 minutes. Then take out of the pan and cool the cupcakes on the wire rack completely.

Frost and decorate as desired.
Notes
See post for tips on how to bake cupcakes.
Nutrition
Calories:
154
kcal
Carbohydrates:
23
g
Protein:
1
g
Fat:
6
g
Saturated Fat:
3
g
Cholesterol:
16
mg
Sodium:
54
mg
Potassium:
90
mg
Sugar:
13
g
Vitamin A:
195
IU
Calcium:
42
mg
Iron:
0.6
mg
Nutritional information are estimates only.
Tried this recipe? Leave a star rating today!
Also tag @iamtheunlikelybaker I'd love to see your creations.
(This recipe adapted from Williams-Sonoma).
Happy baking!
Did you make this easy vanilla cupcake recipe? I'd love to hear from you in the comments section below.
And let's get social! Find me on Facebook, Pinterest, Instagram or Twitter.