This is everyone's first cupcake love – the uncomplicated but always delightful vanilla cupcake. This no-fail classic vanilla cupcake recipe is simple and easy to follow using the ingredients you already have in your pantry.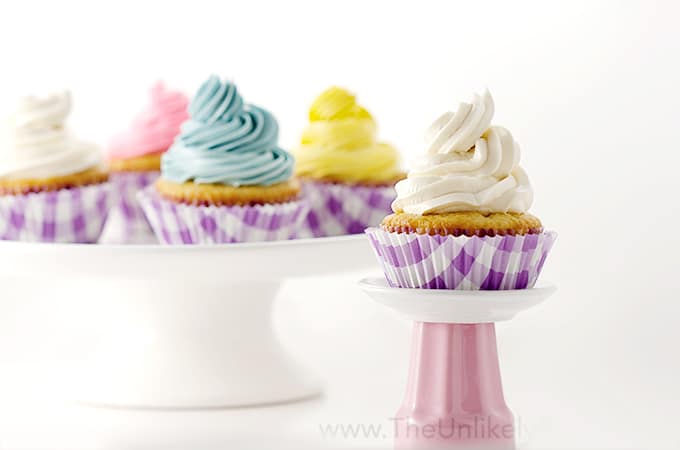 The cupcake industry grew exponentially in recent years and is now a multi-billion dollar industry in the U.S. alone. Cupcakeries (yes, that's a word) started opening shop everywhere and people bought these little cakes for as much as $7 a piece. They started experimenting with all kinds of flavour combinations too and cupcakes started getting more complicated bizarre fascinating.
I love cupcakes – all kinds – but sometimes, all I want is good old-fashioned vanilla. The kind I had when I was a kid. No complications. No exotic flavors. Just plain and simple vanilla cupcake.
Good old-fashioned classic vanilla cupcake recipe
The great news is this simple vanilla cupcake recipe is just that – simple. You use basic ingredients, just your usual pantry staples – flour, eggs, sugar, vanilla. It's straightforward to do – mix, pour, bake. But the result is guaranteed to bring you back to uncomplicated times, when cupcakes meant mom is home or you were celebrating someone's special day.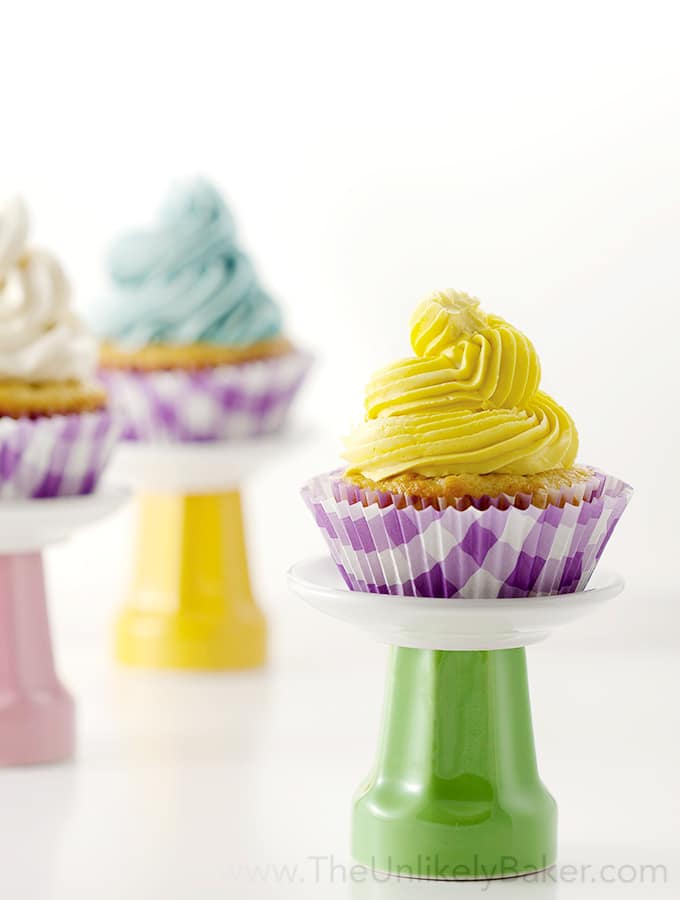 The Great Cupcake Experiment
Not feeling as sentimental as I am about them? You still gotta give vanilla cupcakes some love because they're a great base for a whole lot of flavours you want to experiment with – I've filled them with Nutella and peanut butter, I've frosted them with cookie butter and coconut, I've used them as base for salted caramel. They're so versatile and work with almost everything that they're the perfect cupcake to get creative with.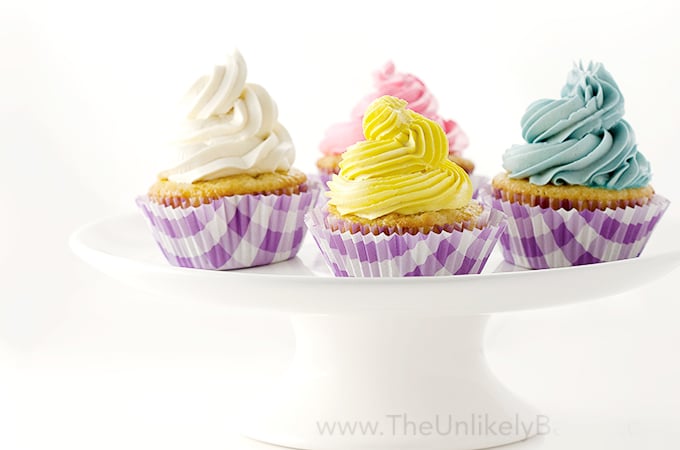 To frost or not to frost
You can have this cupcake plain or top it with your favourite frosting. In this case, I made vanilla Swiss meringue buttercream and the burst of vanilla flavour is just wonderful.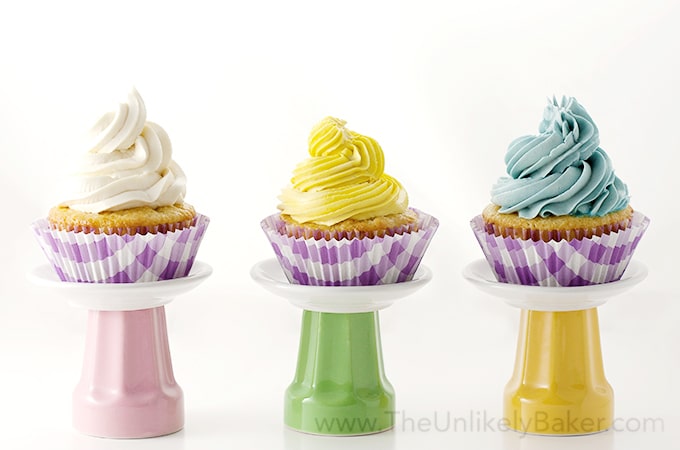 So if you ever need to just step back and have something simple – take this classic vanilla cupcake recipe and reminisce about the good old days. Or if you have this fantastic new cupcake idea – you can use this same recipe as jumping point and onwards and upwards you go.
This is everyone's first cupcake love - the uncomplicated but always delightful vanilla cupcake. This no-fail vanilla cupcake recipe is simple and easy to follow using the ingredients you already have in your pantry.
Ingredients
1 1/4 cups all-purpose flour
1 1/2 teaspoons baking powder
1/4 teaspoon salt
6 tablespoons unsalted butter, room temperature
3/4 cup granulated sugar
1 egg, room temperature
1 egg white, room temperature
1 teaspoon vanilla extract
1/2 cup milk
Instructions
Preheat your oven to 350F. Prepare your pan by lining with cupcake liners (this recipe yields 12 cupcakes).
In a medium-sized bowl, sift 1 1/4 cups flour, 1 1/2 teaspoons baking powder and 1/4 teaspoon salt. Set aside.
Using a handheld electric mixer or a stand mixer fitted with the paddle attachment, beat the 6 tablespoons butter and 3/4 cup sugar on medium-high speed until light and fluffy.
Switch to low speed and add the egg. Once incorporated well, add the egg white. Then add the 1 teaspoon vanilla.
Still on low speed, add a third of your flour mixture then half of your milk. Add another third of your flour, the rest of your milk and finally the rest of your flour. Do not overbeat; just mix until each addition is incorporated and no significant traces of flour can be seen. Remember to scrape the bottom and sides of your bowl.
Scoop the batter into your cupcake liners (about 3/4 full) and bake for 18-20 minutes or until a toothpick inserted in the centre comes out clean.
Take out of the oven and let cool in the pan on a wire rack for about 5 minutes. Then take out of the pan and cool the cupcakes on the wire rack completely.
Frost and decorate as desired.
https://theunlikelybaker.com/vanilla-cupcake-recipe/
This delicious recipe brought to you by www.TheUnlikelyBaker.com | (c) 2016-2017
(This recipe adapted from Williams-Sonoma).
Happy baking!
Did you make this vanilla cupcake? Tell me about it in the comments section below. I'd love to hear all about it. Love cupcakes? Check out this Limoncello Cupcake for a truly unique treat.
And let's get social! Find me on Facebook, Pinterest, Instagram, Twitter and Google+. Or subscribe so you don't miss a recipe (if you missed the pop-up form, there's another form at the bottom of this page).

Do you want to improve your food photography, monetize your blog or start your very own food blog? Check out the awesome resources at the bottom of this page (they are affiliate links).
The products below are affiliate links too – these are products that I actually use and/or think are cool. If you click on them and subsequently make a purchase, please know that I will earn a small percentage from Amazon – at no additional cost to you. (See Terms of Use for more info on privacy and how we collect/use collected data on this site.)