Soft, light and moist vanilla raspberry cake – your favourite vanilla layer cake from childhood meets your new favourite raspberry frosting. If you ever need a cake to welcome spring, this is it!
(Love raspberries? Me too! Check out this delicious – and no-bake – raspberry white chocolate raspberry tart. So much fun to make and eat! Or start your day by drizzling this this super quick and easy homemade raspberry sauce on your waffles or pancakes. It's ready in 15 minutes.)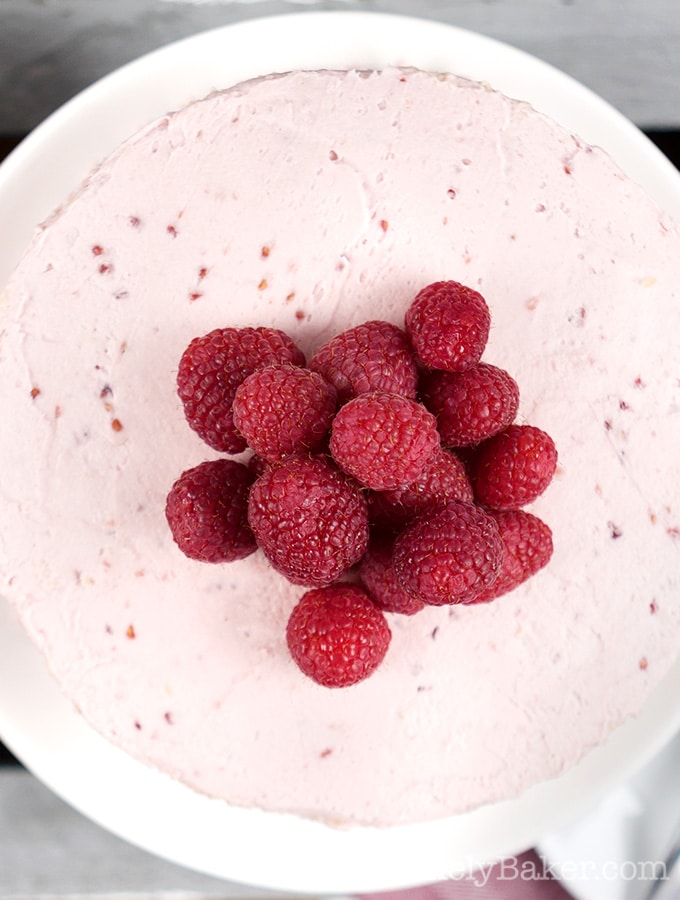 Today marks the official start of spring. Well, at least that's what they say in the news.
Never mind that I still wear my parka out. If it's on TV, it must be true right? Right.
Whatever the weather where you are, you're sure to have a spring in your step (sorry, couldn't help it!) after having a slice of this cake. It's perfect for Easter too. Or Mother's Day. Or I-Deserve-A-Cake Day (a.k.a. everyday).
Raspberry layer cake makes for a fun
birthday cake too!
This vanilla raspberry cake makes for a delightful birthday cake too. Once frosted and decorated, it looks so bright and happy (who can resist that colour?) and just waiting for a birthday song.
(Just so happens it's my brother's birthday today so yay! Happy birthday J! Much love xoxo.)
How to make vanilla raspberry cake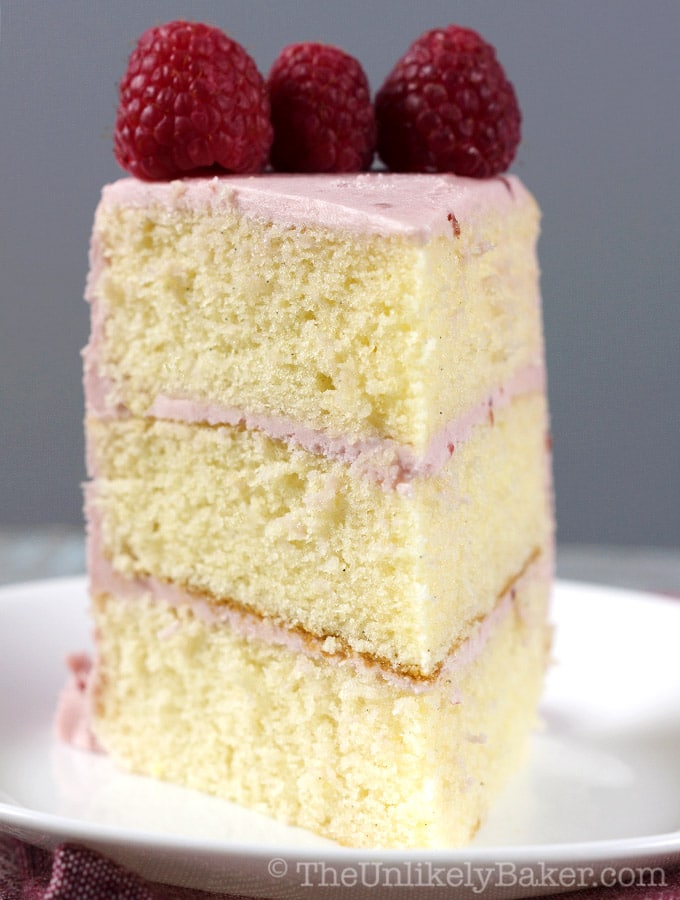 So on to this cake. First the vanilla cake layers. I like a unique cake as much as the next person (ginger matcha persimmon carrot mocha cake anyone?) but I always go back to the classics.
Like chocolate, lemon and, of course, vanilla.
We probably all grew up having a vanilla cake on one of our birthdays and I just love the simplicity of it.
The cake base here is the same one I used for my equally fun and festive rainbow cake but I amped up the vanilla flavour even more.
Making the vanilla cake is straightforward – first combine your dry ingredients, cream your wet ingredients until light and triple in volume, then add back your dry ingredients alternating with milk.
Transfer to pans, bake and cool before frosting.
How to make raspberry frosting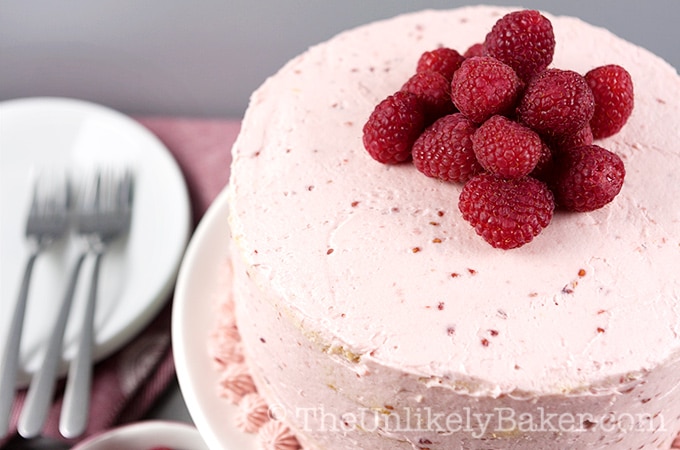 For the frosting, I used ready-made raspberry jam
. It had seeds in it but that didn't bother me one bit. Of course, you can opt for a seedless jam.
Also, you can make your own. I bet that would be incredible.
And making raspberry frosting is even easier than making the cake! Just combine butter and jam until smooth and creamy. Then add the confectioner's sugar
(or powdered sugar or icing sugar). That's it!
Recipe for vanilla raspberry cake
Not only is this raspberry layer cake easy to bake, the ingredients are simple and easily available too:
For the cake layers you would need pantry staples like:
All purpose flour

Baking powder

Salt

Large eggs

Granulated sugar

Vanilla paste (though you can also use use vanilla extract, you just won't get those lovely specks of vanilla)

Canola oil

Milk
The ingredients for the raspberry frosting are just as uncomplicated:
Like I mentioned, feel free to use fresh raspberries to make your own raspberry jam or raspberry puree to make the frosting.
Recommended tools for cake decorating
You don't need special equipment to bake the cake – if you have 8-inch cake pans
and a mixer – handheld
or stand mixer
– you'll be fine.
To be honest, you don't really need special tools to decorate a cake either. If you have an offset spatula
, you can frost a cake.
But let's face it, as bakers, we're kinda sorta hoarders when it comes to cake decorating tools, right? Just me? Only my baking drawer is overflowing with knick knacks I hardly use? Say it ain't so!
To be honest, I have bought so. many. things. over the years. Ninety percent of which I've only ever used once or not at all (shhhh don't tell Red).
These are some of the ones I use all the time though. So next time you're shopping for your next baking toy (which is all the time amiright?), they are definitely worth looking at:
These are technically not cake decorating tools but every baker needs:
Vanilla cake with raspberry frosting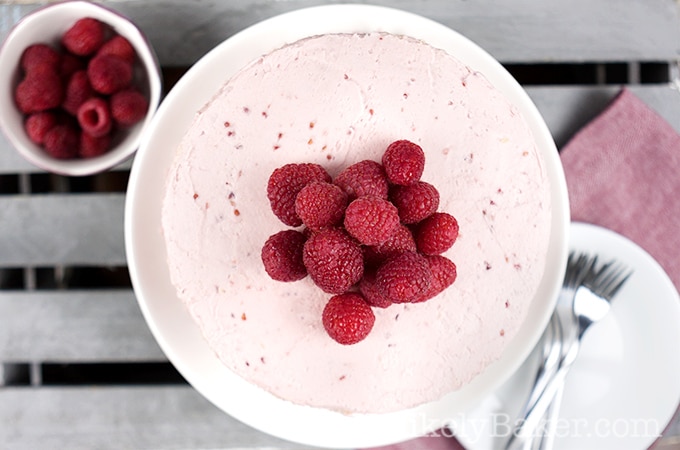 So now that you've baked the perfect cake and made the fluffiest buttercream, it's time to enjoy the fruits of your labour!
The vanilla and the raspberry complement each other so well here. The result is a cake that's bursting with flavour.
The frosting does not bring down the lightness of the vanilla cake. The vanilla flavour does not get overpowered by the raspberry frosting.
It's not overwhelmingly sweet either (and I'm not just saying that so I can eat more than 1 slice at a time). Perfect with coffee, tea or, you know, just because.
So whatever you're celebrating, add this vanilla raspberry cake to your spread. It's delicious, bright, light and just all-around cheerful.
Celebration cake recipes
Got a celebration coming up? Whether it's Easter, Mother's Day, Valentine's Day or someone's birthday, here are more celebration cake recipes that's sure to make everyone smile: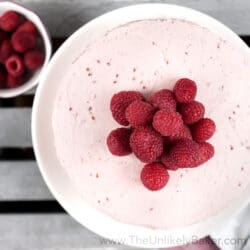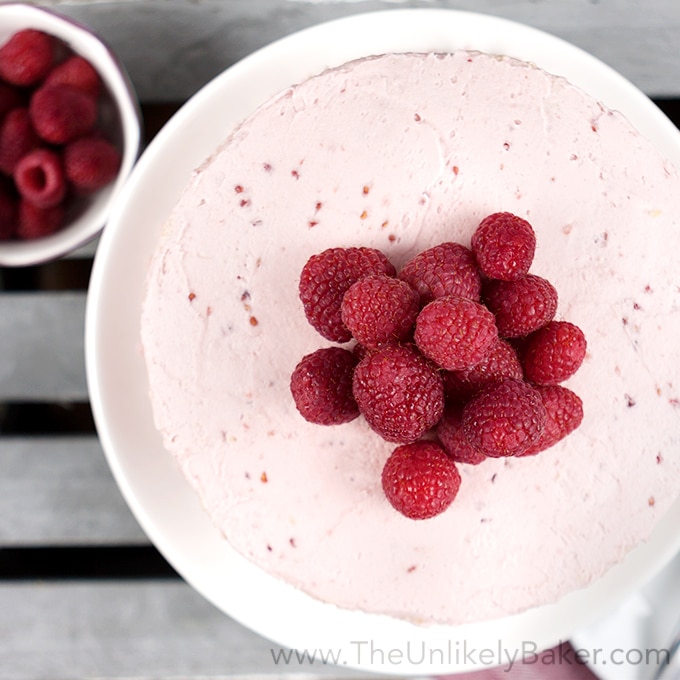 Vanilla Raspberry Cake with Raspberry Frosting
Soft, light and moist vanilla raspberry cake - your favourite vanilla layer cake from childhood meets your new favourite raspberry frosting. If you ever need a cake to welcome spring, this is it!
Ingredients
For the Raspberry Frosting:
1

cup

unsalted butter

softened

½

cup

raspberry jam

3

cups

confectioner's sugar

more may be needed to achieve desired consistency

3

tbsp

milk

more may be needed to achieve desired consistency
Instructions
For the Vanilla Cake Layers:
Preheat oven to 350F and grease the sides and the bottoms of 3 8-inch pans. Line the bottom with parchment paper for easy release.

In a medium bowl, combine 3 cups flour, 1 tablespoon baking powder and 1/2 teaspoon salt. Set aside.

Using a handheld electric mixer or a stand mixer fitted with the paddle attachment, beat the 4 eggs, 2 cups sugar and 1 tablespoon vanilla paste until light and triple in volume (7-10 minutes). Start on low speed then gradually move up to medium-high speed. Drizzle the 3/4 cup canola oil while beating.

Switch to low speed and add a third of your flour then half your milk. Another third of your flour, the rest of your milk and finally the rest of your flour. Make sure each addition is incorporated well. Beat the batter until smooth (3-5 minutes). Remember to scrape the bottom and sides of your bowl.

Transfer your batter into prepared pans and bake for 30 minutes or until a toothpick inserted in the middle comes out clean or with minimal crumbs.

Let cool in the pans for 10 minutes before transferring to a wire rack to cool completely.
For the Raspberry Frosting:
Using a handheld electric mixer or a stand mixer fitted with the paddle attachment, beat 1 cup butter and 1/2 cup raspberry jam on medium-high speed until smooth and creamy (2-3 minutes).

Switch to low speed and add confectioner's sugar a little at a time until well incorporated. Once you've added all the sugar, add 3 tablespoons milk and beat the frosting on high speed for 2 minutes until very smooth and fluffy. At this point, check your frosting and decide if you're happy with the consistency. If not, add more sugar or milk about 1/2 teaspoon at a time and continue beating until you get the consistency you want. Be sure to taste the frosting as you go.
For the Assembly:
Trim the tops of the cake to ensure they are level. Evenly spread frosting on top of first cake layer. Do the same for next two layers. Then proceed to cover the rest of the cake with frosting and decorate as desired.
Nutrition
Calories:
1023
kcal
Carbohydrates:
149
g
Protein:
6
g
Fat:
45
g
Saturated Fat:
17
g
Cholesterol:
67
mg
Sodium:
178
mg
Potassium:
282
mg
Fiber:
1
g
Sugar:
107
g
Vitamin A:
780
IU
Vitamin C:
1.9
mg
Calcium:
133
mg
Iron:
2.4
mg
Nutritional information are estimates only.
Happy baking!
Did you make vanilla raspberry cake or the raspberry frosting? I'd love to hear from you in the comments section below.
And let's get social! Find me on Facebook, Pinterest, Instagram, Twitter and Flipboard.
(This post was updated on 12 February 2019.)