Here's a collection of the best hot drinks for winter that's sure to warm you up and drive the winter blues away. From an epic list of hot chocolate recipes to unique and delicious cocktails, there's something in here for everyone.
(Fan of soups? They're a great way to keep warm and cozy this season too. Check out this collection of the best macaroni soup recipes. You're sure to find your favourite soup there.)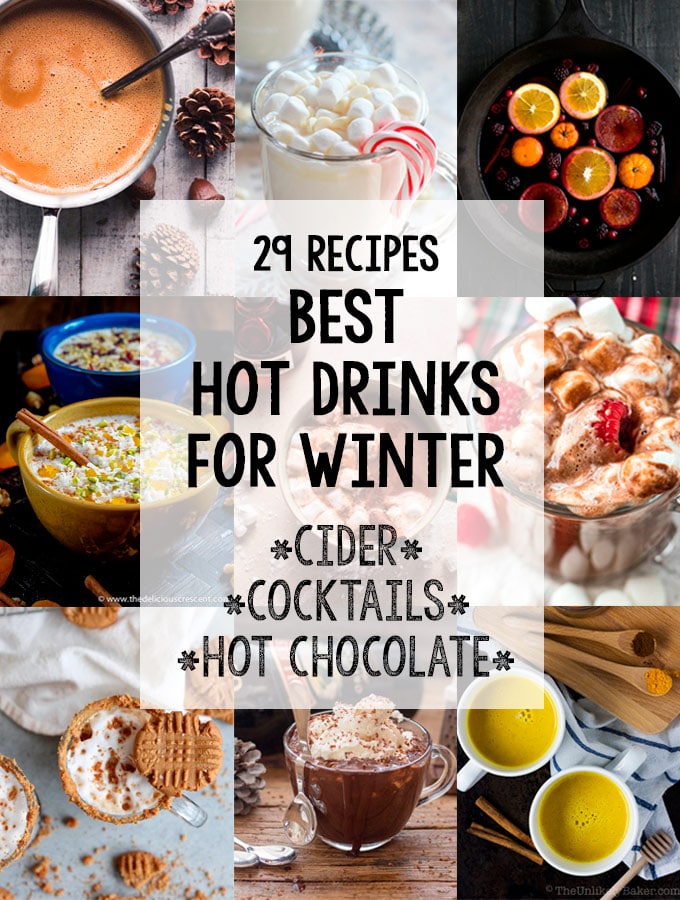 Hi! Merry Christmas! How's your day going? Our schedule has been pretty hectic but (hopefully) will start to slow down soon.
And for NYE, we've decided to hibernate. No parties, nobody coming over, just us in our pajamas in front of the TV, warm drink in hand.
Our default winter drink is Tsokolate (or Filipino Hot Chocolate) but I thought we'd shake things up this year.
So for our quarterly round-up (the last for 2017! Can you believe it?), I reached out to my favourite food bloggers and created this list of 29 of the best hot drinks for winter.
Hope you find something in here to keep you warm and cozy in the coming months!
Best hot drinks for winter: hot chocolate
Of course we're going to start with the universal favourite, hot chocolate. But since I'm shaking things up, I'm starting with white chocolate, which I absolutely love. Bah humbug to those who say it's not real chocolate lol. Lemme see you say no to these:
But ok, since I like you guys, here are amazing hot chocolate recipes that are so good they will make true-blue chocoholics out of me you.
Check these out if you'd like to stick to the classic:
These are perfect if you want berries in your hot chocolate (or beets!):
Here are a couple more fun variations:
Now we're getting to the good stuff…boozy hot chocolate!
Best hot drinks for winter: warm cocktails
Let's continue with boozy drinks with these winter cocktails.
Best hot drinks for winter: apple cider
Of course these has to be apple cider. And these are exceptional!
Best hot drinks for winter: drinks that are good for you
Who says we can't enjoy a warm cozy drink and benefit from it at the same time? These are great examples of healthy drinks:
Best hot drinks for winter: milk and tea
I've got milk and tea recipes for you too.
Hope you enjoyed this quarterly roundup! What would you like to try first?
Before you go, I'd like to thank you for going on this baking and blogging journey with me. I appreciate all of you! Have a wonderful New Year and see you in 2018!
What's your favourite warm winter beverage? I'd love to hear from you in the comments section below.
And let's get social! Find me on Facebook, Pinterest, Instagram, Twitter and Flipboard.
Or subscribe so you don't miss a recipe. I promise I don't spam (I hate spam too).
Do you want to improve your food photography, monetize your blog or start your very own food blog? Check out my Blogging Resources.