Turmeric has been called the spice of life, a superfood, a wonder spice. It's known to have a whole slew of health benefits and turmeric golden milk is a delicious way to incorporate it in your diet.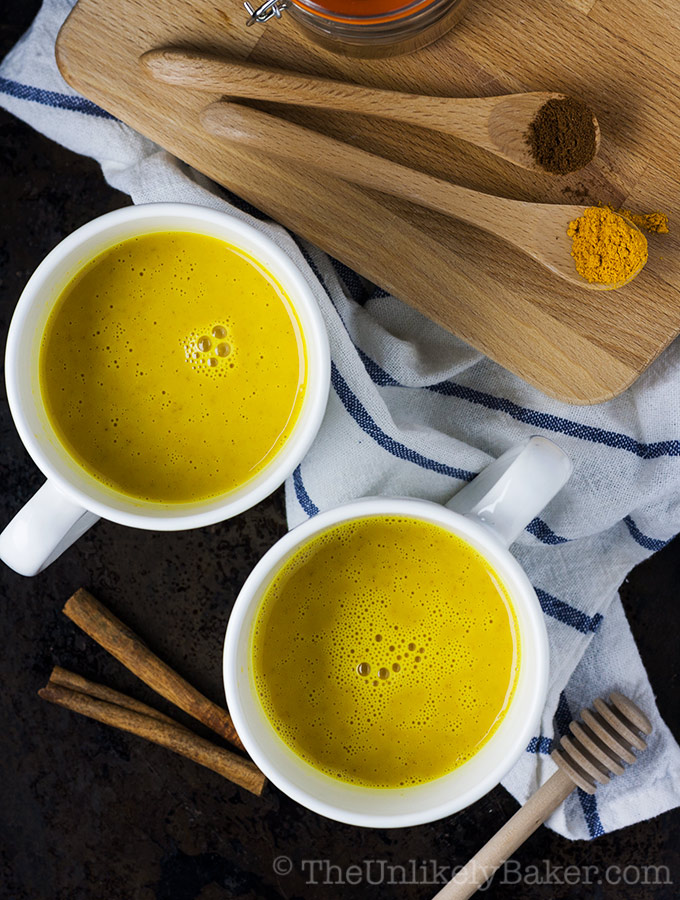 Sorry to interrupt our regular holiday baking programming – I have just been too ill to do any sort of baking lately (but hey, check out this round-up of stunning cake ideas you can serve this Thanksgiving).
I always get sick when the weather gets colder (so that's 8 months in the year up here!) and being allergic to almost all medicine that can help me, I'm usually sick longer and my symptoms a tad bit worse.
I've learned to cope though and believe me when I say I've tried a lot of home remedies and herbal medicine and just outright weird and nasty stuff. Some worked, some didn't, and there are some that are standouts.
Today is about one of those standouts. It has become one of my favourite drinks – turmeric golden milk. I know it sounds weird – turmeric is used for curry after all – and I thought so too at first.
But when I googled the health benefits of turmeric, I thought it was just silly for me not to try it at least once. Haven't looked back since.
Health benefits of turmeric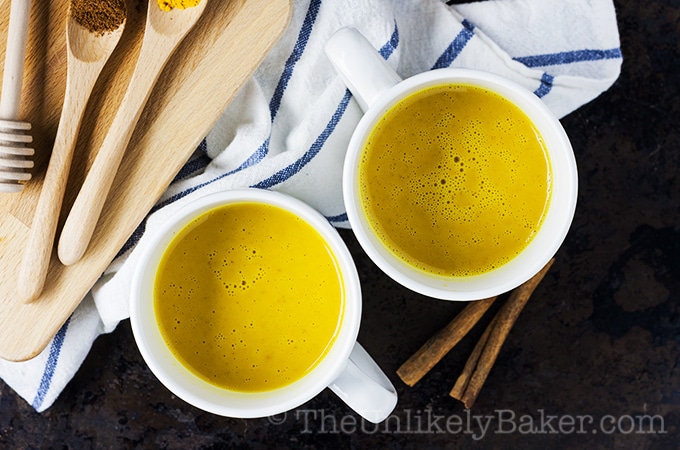 I won't go into much detail here because you would always find different opinions about home remedies like this. What is common in all of them is this: it's good for you.
And a great way to incorporate it in your diet is through turmeric golden milk.
How to make turmeric golden milk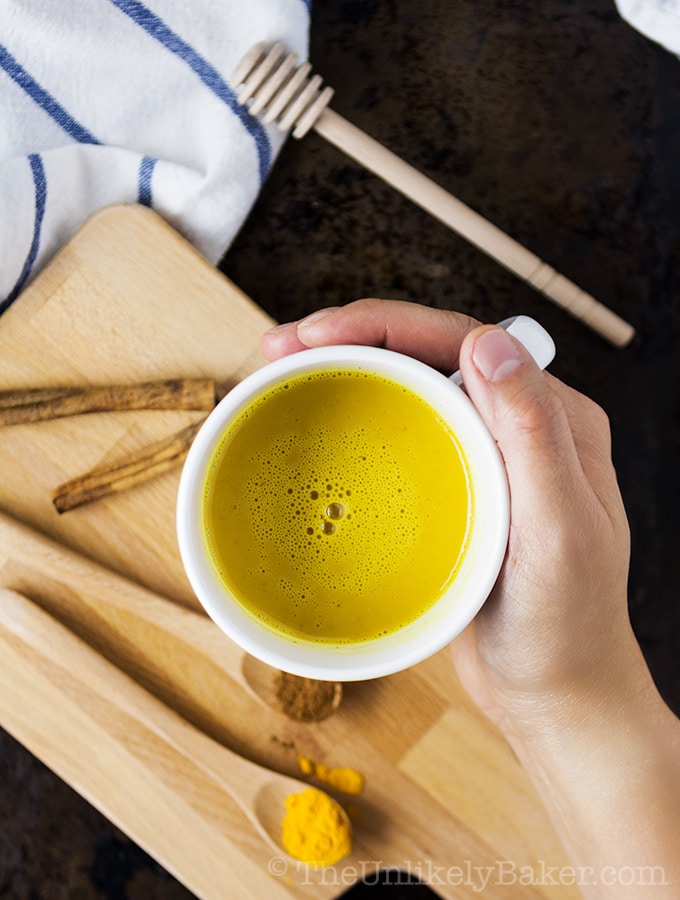 My recipe uses almond milk
though feel free to experiment with milk or even coconut milk.
I picked almond because I like the taste and I read (yes, I like to google stuff) that dairy milk should be avoided when you have a cough (makes phlegm thicker > irritates the throat > makes it harder for you to breathe – lovely picture isn't it?).
So if it's cough & colds you're trying to get rid of, stick to non-dairy milk.
Why do you need black pepper with turmeric?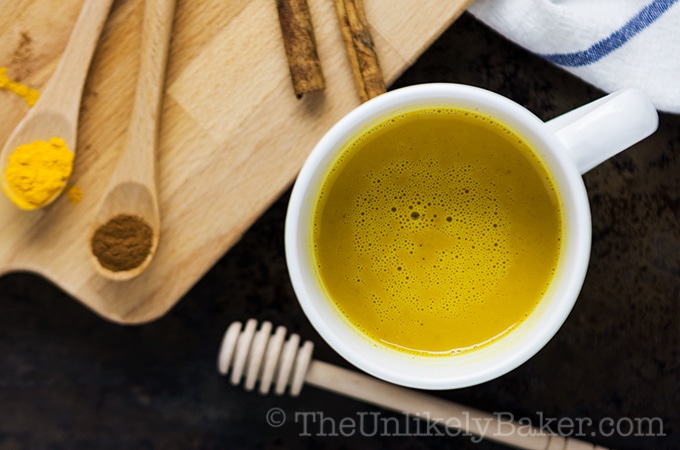 Another unusual thing about this drink is it has black pepper in it. According to google (yup, again!), black pepper helps our bodies absorb turmeric and curcumin, its main active ingredient.
Don't worry, you can hardly taste it; in addition to helping in absorption, it just gives a very subtle spicy kick to your drink which is nice.
Turmeric golden milk is very yellow though. So be careful not to spill it on your sparkling white countertop and you may want to brush your teeth after drinking it. Not the ideal first date drink but perfect for days when you need something warm and comfy to make you feel better.
Other delicious home remedies
If you're looking for other home remedies to fight the winter sniffles, check these out: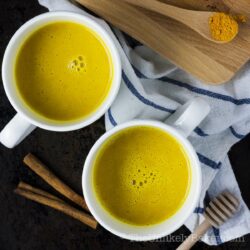 How to Make Turmeric Golden Milk
Turmeric is known as a wonder spice with a whole slew of health benefits and turmeric golden milk is a delicious way to incorporate it in your diet.
Instructions
In small saucepan over medium heat, whisk 1 cup almond milk, ¾ teaspoon ground turmeric, ¼ teaspoon ground cinnamon and honey until the honey is dissolved and ingredients are well incorporated (3-5 minutes).

Remove from heat and add a dash of ground black pepper. Give it a final whisk.

Serve immediately.
Nutrition
Calories:
46
kcal
Carbohydrates:
2
g
Protein:
1
g
Fat:
3
g
Monounsaturated Fat:
2
g
Sodium:
180
mg
Potassium:
217
mg
Fiber:
1
g
Sugar:
1
g
Calcium:
300
mg
Iron:
1.4
mg
Nutritional information are estimates only.
Tried this recipe? Leave a star rating today!
Also tag @iamtheunlikelybaker I'd love to see your creations.
Cheers to your health!
Did you make turmeric golden milk? What are your personal home remedies when you're not feeling well? Tell me about it in the comments section below. I'd love to hear all about it.
Here are some things that make me feel better when I'm under the weather. Hope they cheer you up too!