Blackberry lavender ice cream – wonderfully floral, subtly purple, absolutely refreshing. It's a summer treat you'd want to have all year long. And you don't even have to have an ice cream machine to make it at home.
(Are you a fan of blackberries? Try these white chocolate blackberry muffins. They're great to start the day and perfect to bring to picnics!)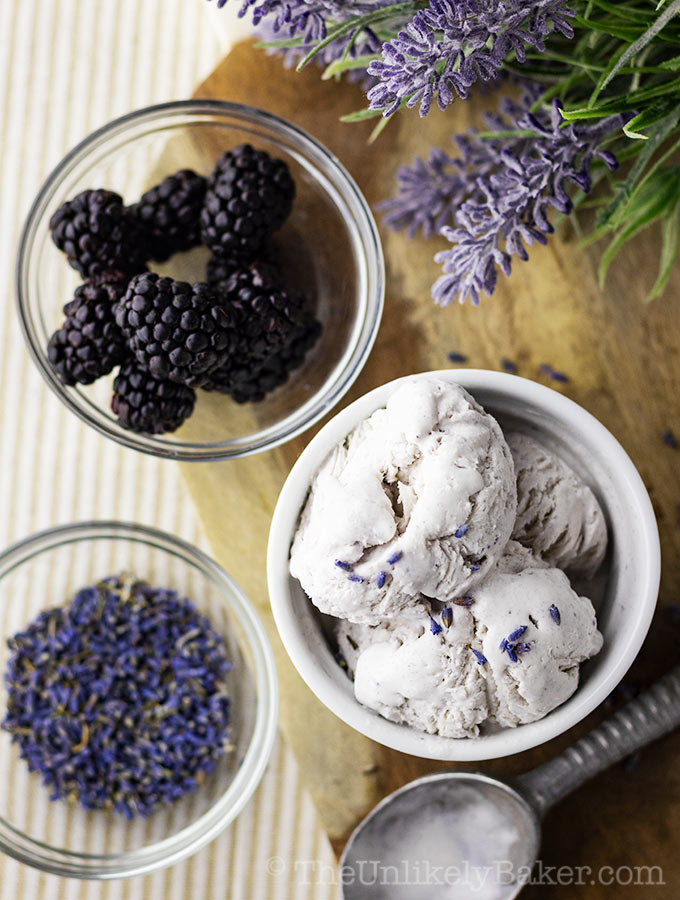 Welcome to our annual No Bake Summer Series, where we enjoy sweet, scrumptious treats without turning our ovens on. We kicked things off with a bright and vibrant collection of no bake lemon desserts.
Today we switch colours and go purple with the most amazing blackberry lavender ice cream.
I know a lot of people are wary of eating lavender-based food. I know because I used to be one of those people. I mean, who wants to eat soap or potpourri?
I've since changed my mind though, after I tasted lavender ice cream from a lavender farm we visited a few summers ago. It's become one of my favourite ice cream flavours!
Lavender, as food, is surprisingly not soap-like at all. It smells great and it tastes even better. I've mostly had it in sweets (surprise, surprise) but I know others use them in savoury food as well.
It's just the right amount of sweet, has hints of floral flavour, delightful. You really have to taste it and see for yourself. And what better introduction to the world of lavender than ice cream?
How to make ice cream without an ice cream maker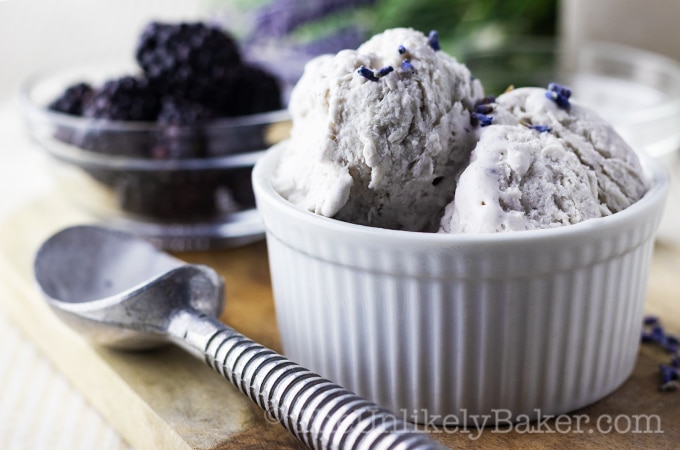 If you're a regular here on TUB (thank you!), you'll hear me say all the time just how much I love making homemade ice cream. And that I do it without an ice cream maker. Just my trusty mixer.
It's really very easy. The basic steps are the same.
First, make your ice cream base. This is usually plain vanilla, which is a great jumping-off point to a universe of ice cream flavours.
To make your base: simply combine sweetened condensed milk, whipped cream and a splash of vanilla. That's it!
Then you can go crazy: add in whatever kind of flavour you want and mix in all your favourite things like chocolate chips and nuts and salted caramel sauce; or strawberries and lemon curd and raspberry sauce.
I get into more detail on how to make no-churn ice cream here ("no-churn" simply means making ice cream without a machine). Check it out.
How to make blackberry lavender ice cream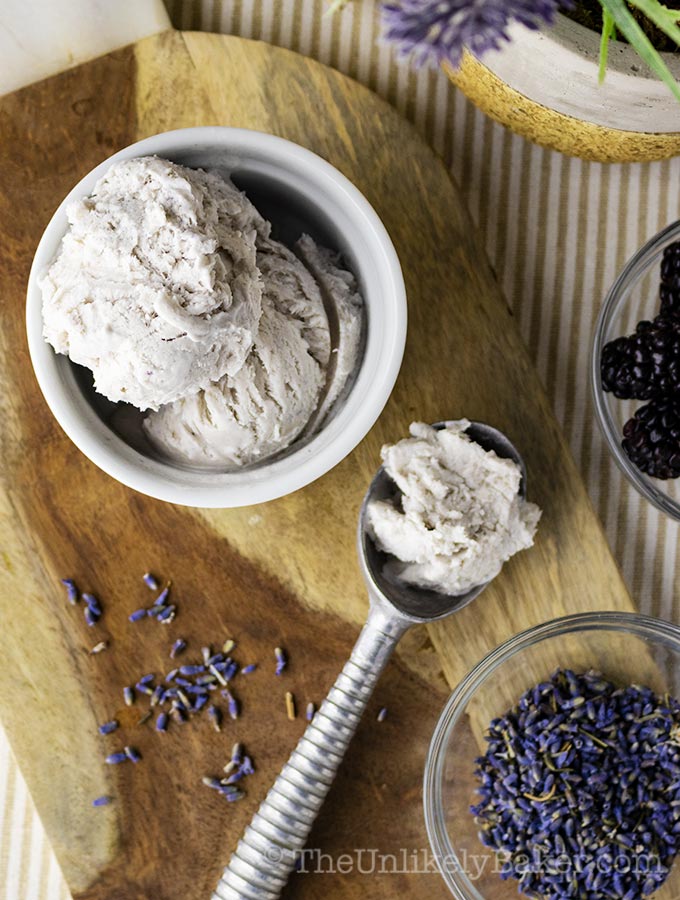 Making this blackberry lavender ice cream is just as easy (for the detailed recipe with specific measurements, scroll to the bottom for a printable recipe card).
First, prep your lavender cream. Microwave heavy cream on high for about 30 seconds or until it's warm (not hot) to the touch.
Add lavender buds / dried lavender and allow it to steep. The longer you steep, the stronger the lavender flavour. I usually steep mine for about 3 hours.
When that's ready, strain and remove the lavender buds and whip the cream stiff. Add to your ice cream base of more whipped cream, sweetened condensed milk and vanilla.
Unlike the very purple lavender flower, culinary lavender (more on this later) when cooked is actually more greyish-white than purple. So to add a little colour, add crushed blackberries (strain to get the seeds out).
The blackberries won't take away from the lavender flavour but lends a nice purple hue. I suppose you can also use blueberries; just be careful because blueberries have a more distinct flavour that might outshine the lavender.
Ingredients for no churn blackberry lavender ice cream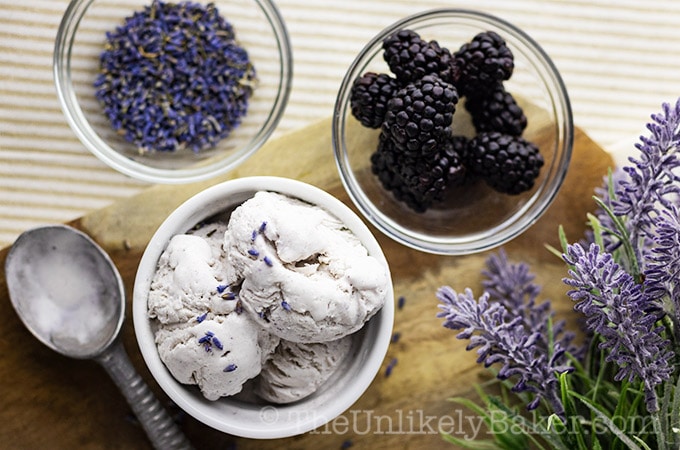 To make no churn lavender ice cream, you need:
Tools you need to make this lavender ice cream recipe
I usually use my stand mixer
when making homemade ice cream but a handheld electric mixer
would work just fine.
Other than that, all you need are some bowls, a spatula and a freezer-safe container.
Homemade ice cream tips for success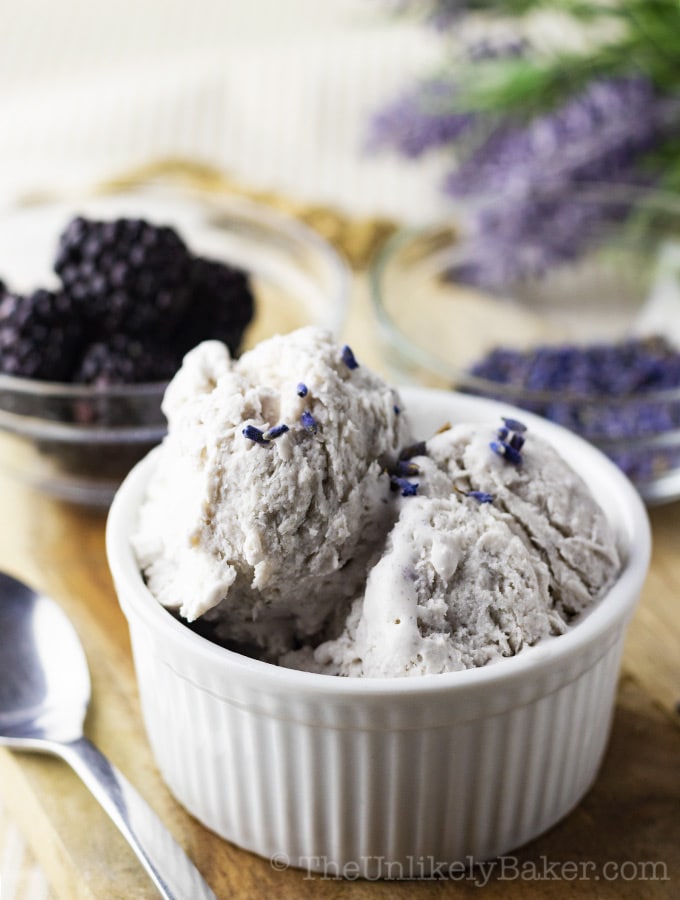 As you can see, making lavender ice cream is a breeze! To make it even easier, here are some tips for you:
Make sure to use culinary-grade lavender
When buying lavender, make sure to ask if they are culinary-grade. Remember, lavender is used for things other than food.
Culinary lavender (as opposed to ornamental lavender) is 100% safe for consumption. I'm sure accidentally eating the ornamental stuff won't be the end of the world but let's just be safe, shall we?
Besides, culinary lavender has the sweetest fragrance among all kinds of lavenders making it the best for cooking and baking.
The best way to bake with lavender
Speaking of which, what's the best way to bake with lavender? I can't speak for others but personally, I hate getting big chunks of lavender buds in my mouth then having to spit them out.
So I usually use a lavender infusion, like in this lavender ice cream recipe. I also chop it as finely as I can if I'm adding it to cookies or cake. Grinding works too.
Of course, to make things pretty you can sprinkle buds on top for garnish, just remove them later.
And remember, lavender has a pretty strong flavour so a little goes a long way.
Go for full-fat heavy cream
When making homemade ice cream, it's best to use full fat heavy cream (and forget about calories for a while lol!). This means fat content is between 36 and 40%.
It whips better and sets better.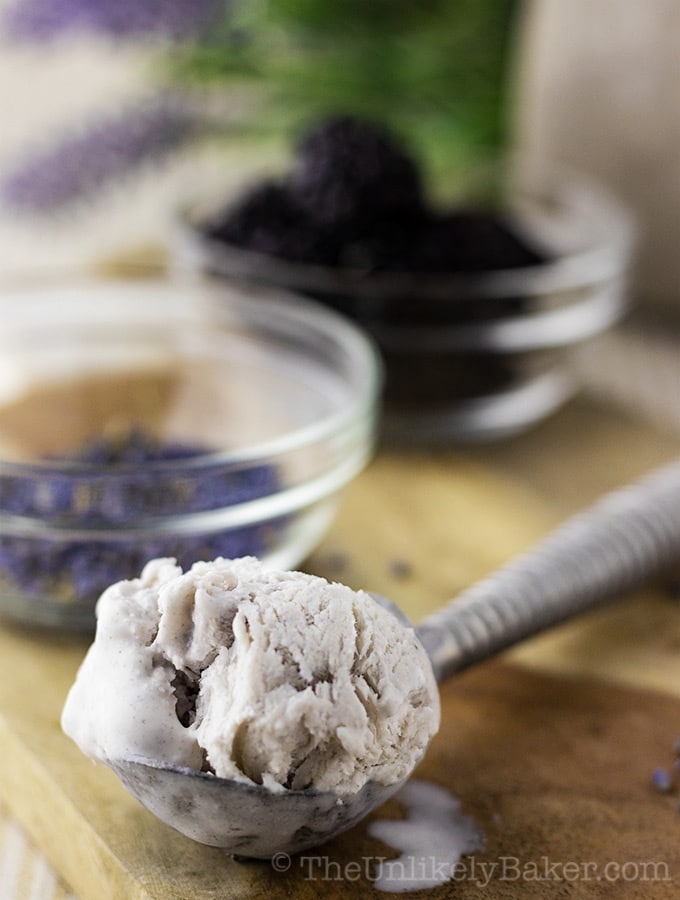 Taste, taste, taste
And since no-churn ice cream has no eggs in it, it's safe to taste as you're making it. So go ahead and taste at every step if you like.
You're making your very own ice cream and you can make it as sweet and as fabulous as you want.
Use freezer-friendly container
Not all containers are created equal. Some would lead to ice forming at the bottom or sides of your ice cream. While others might expand in the freezer.
I've amassed this collection of ice cream tubs since I learned how to make ice cream and I exclusively use them. I've owned them for years and they still look like new!
Cover your ice cream with cling wrap
To be extra sure that ice doesn't form on any part of your ice cream, especially the top, place cling wrap
on it (place it right on the surface of the ice cream) before covering and putting in the freezer.
Then when you're ready to eat, remove the cling wrap and reveal the creamy, ice cream beneath!
Other homemade ice cream recipes
Making ice cream at home has really become one of our favourite summer activities. Simple, fun, delicious! Here are some of our favourite flavours.
Nothing beats homemade ube ice cream. Fellow Filipinos know just how expensive these can get at Filipino or Chinese groceries! So making it at home is awesome. My recipe is richer and creamier too.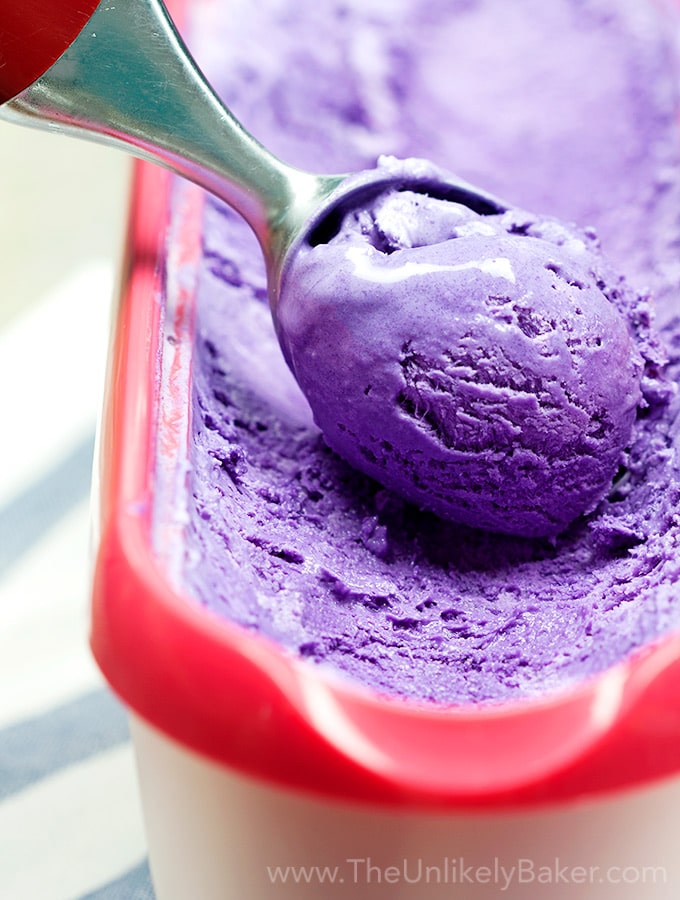 Another summer favourite is bourbon peach ice cream. We love peaches (and bourbon!) and this is a great recipe for all the fresh peaches we get every summer.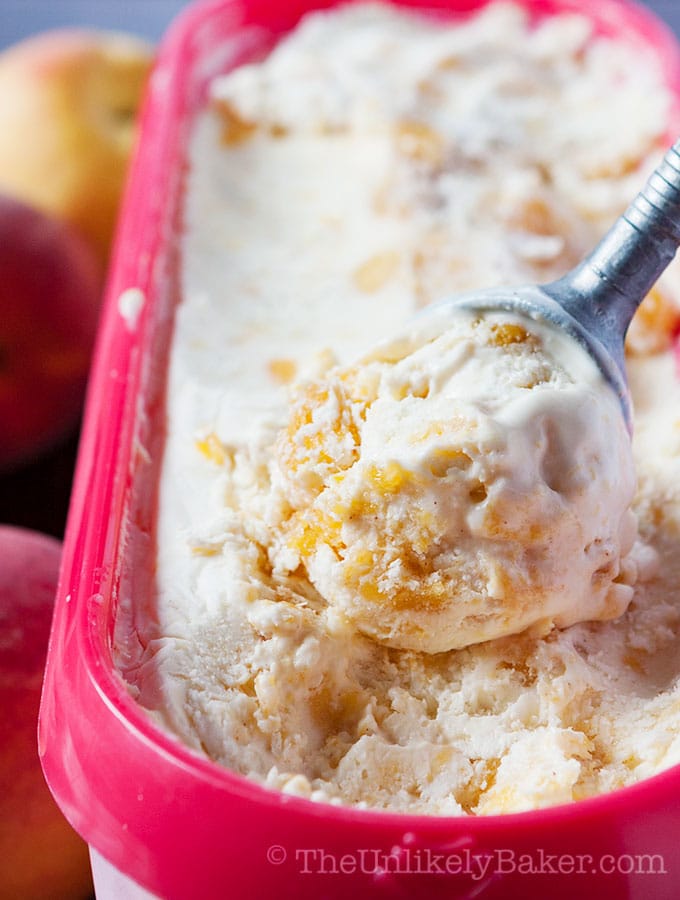 Pistachio chocolate chip ice cream is a classic. Nutty and rich from the pistachio with generous bits of chocolate chips throughout.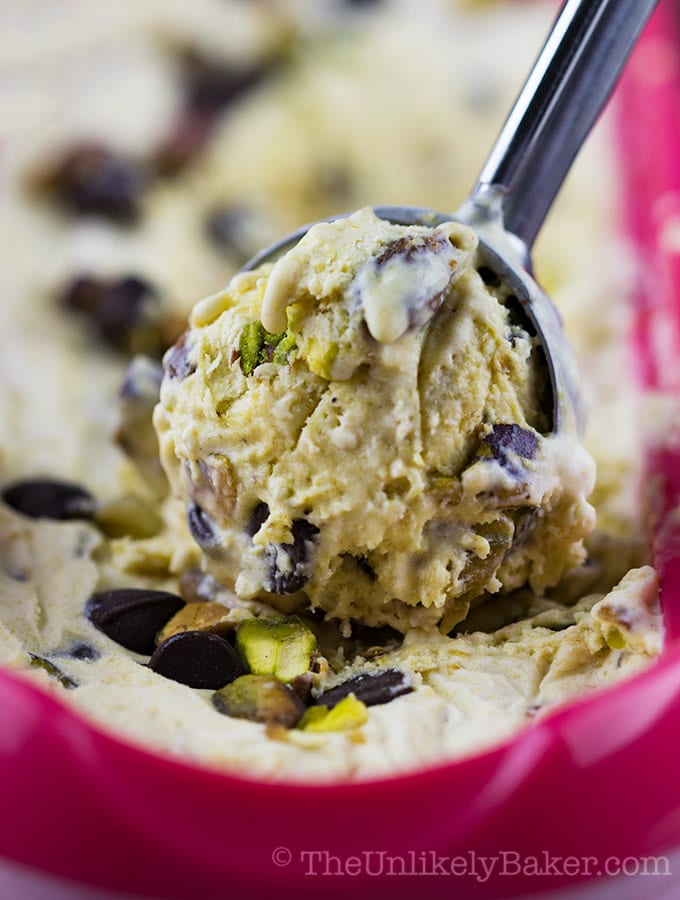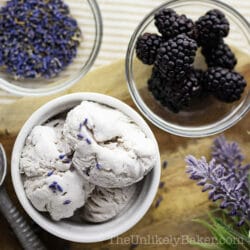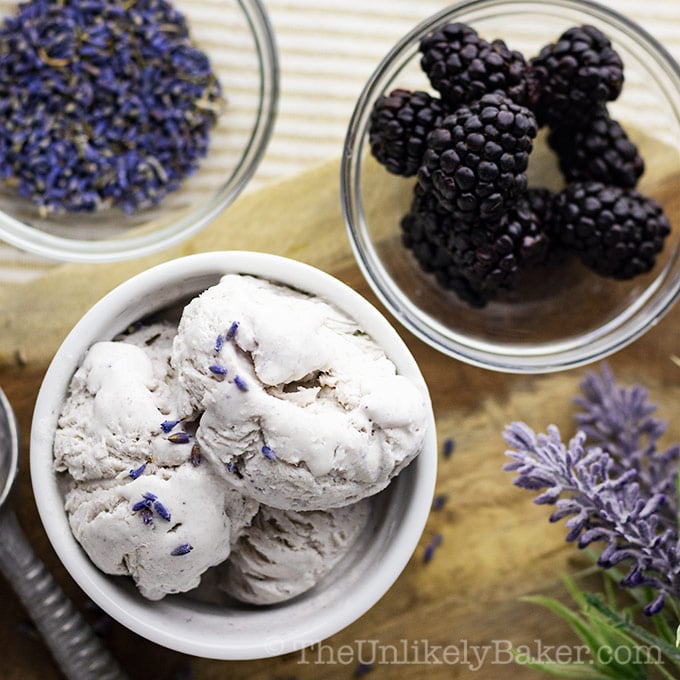 Blackberry Lavender Ice Cream
Blackberry lavender ice cream – wonderfully floral, subtly purple, absolutely refreshing. It's a summer treat you'd want to have all year long. And you don't even have to have an ice cream machine to make it at home.
Ingredients
1 ½

cup

heavy cream

divided

3.5

oz

fresh blackberries

crushed and strained (about 3-4 tsp of blackberry juice)

1 ½

tsp

vanilla extract

pinch

salt
Instructions
Using a microwave-safe cup or bowl, microwave 1/2 cup heavy cream for 30s on high or until the cup is warm (but not hot) to the touch.

Add 2 tsp of dried lavender and allow to steep. Once cool, cover with cling wrap and chill in the fridge for 2-3 hours.

Strain the lavender from the cream. Discard the lavender then add the cream to 1 cup of chilled heavy cream. Whip until stiff.

In a large bowl, combine 5 oz condensed milk with blackberry juice, 1 1/2 tsp of vanilla extract and a pinch of salt.

Stir until fully incorporated.

Add a dollop of whipped cream to your condensed milk mixture to lighten it.

Gently fold in the rest of the whipped cream, careful not to deflate it.

Transfer the mixture to a freezer-safe container, smoothen the top and cover with cling wrap to prevent ice from forming. Freeze overnight.
Nutrition
Calories:
292
kcal
Carbohydrates:
16
g
Protein:
3
g
Fat:
24
g
Saturated Fat:
15
g
Cholesterol:
90
mg
Sodium:
53
mg
Potassium:
159
mg
Fiber:
1
g
Sugar:
14
g
Vitamin A:
975
IU
Vitamin C:
4.6
mg
Calcium:
114
mg
Iron:
0.2
mg
Nutritional information are estimates only.
Happy no-churn ice cream making!
Did you make blackberry lavender ice cream? What's your favourite ice cream flavour? I'd love to hear from you in the comments section below.