This is the best, the chocolatiest chocolate cake ever. The cake is moist, packed with intense chocolate flavour then frosted with the most incredible dark chocolate fudge frosting. If you ever want to win the hearts of the chocolate lovers in your life, this chocolate cake with chocolate fudge frosting is the way to do it.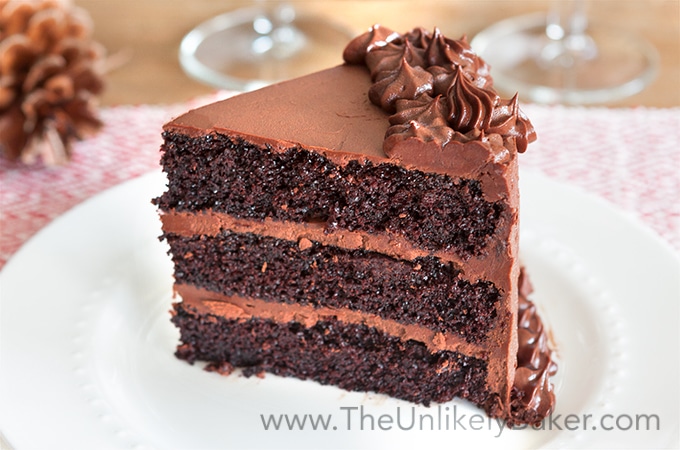 Hey you guys! Welcome to November or, as we like to call it at home, the month diets die are thrown out the window forgotten are put on hold.
There's Thanksgiving (Canadian Thanksgiving was in October so our diets died a month early), Christmas Eve, Christmas Day, New Year's Eve, New Year's Day and all the parties and get-togethers in between.
Phew! That's a lot. We can't serve the same thing over and over, can we? Where's the fun in that?
So starting today it will all be about celebration cakes that you can proudly serve at these delightful gatherings, and goodies that you can make and give out as gifts.
This chocolate cake with chocolate fudge frosting is just the delicious beginning. Let's go!
The holidays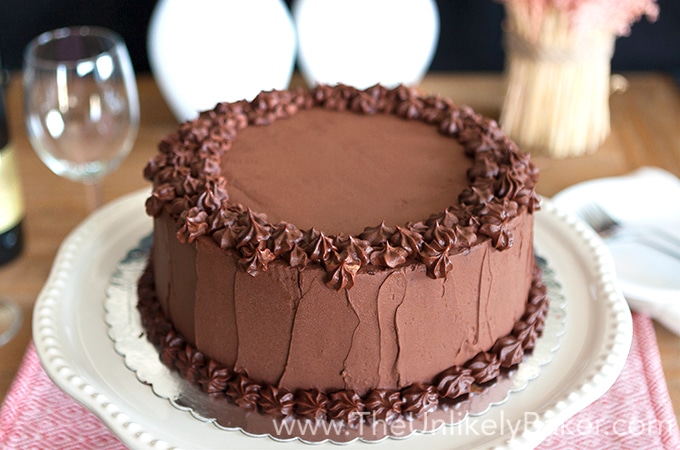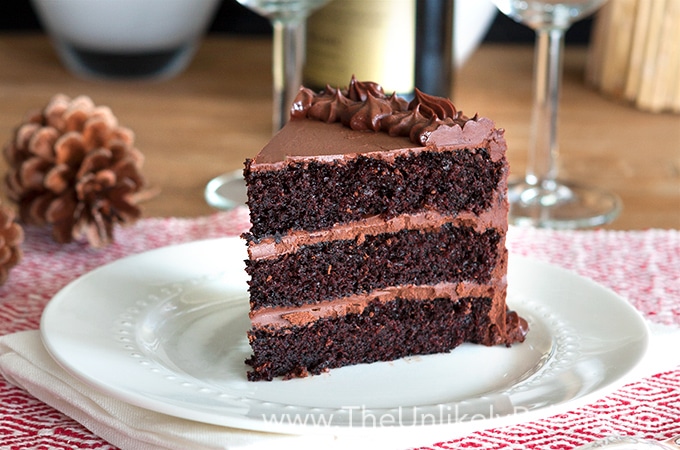 Oh how I love the holidays. Christmas season in the Philippines starts in September (I kid you not) when the weather turns a tad cooler and you start hearing Christmas carols played on the radio.
A lot of people say nothing compares to Christmas there and I tend to agree (and not just because I'm biased!). It's really the most wonderful time of the year!
Streets and homes are lit and decorated, carols are sung everywhere, everybody is just always in a jolly mood.
Christmas here, slightly less intense but I try to make the most of it. Our decorations are up (don't judge me). And we already play Christmas songs. It brightens up my mood instantly (except when "I'll Be Home for Christmas" plays then I get teary so we skip that).
Chocolate cake with chocolate fudge frosting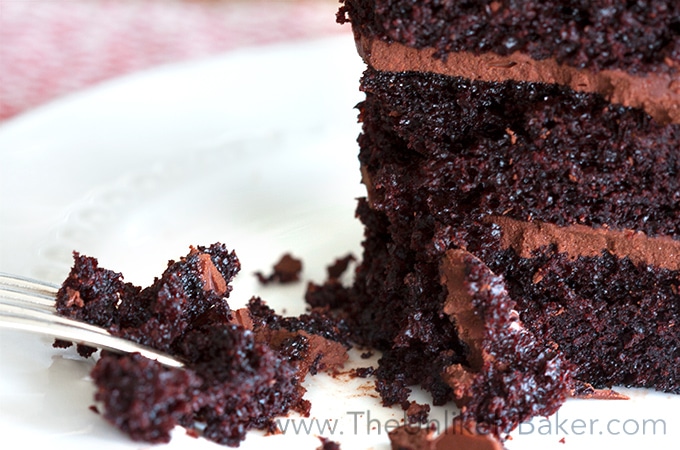 We also love throwing parties, around the holidays especially. Have you ever been to a Filipino party? There is a real danger of dying from overeating there's so much food!
Since I learned to bake, by default we almost always serve a cake that I baked. And this chocolate cake is one of my favourite things to make and eat. It's been tried and tested by our guests and they love it too!
Team Chocolate?
It's incredibly moist and chocolatey; I adapted the recipe from Hershey's so I already knew going in that it would be fantastic (I mean, it's Hershey's!). I did make it even more chocolatey.
I then paired it with dark chocolate fudge frosting – oh my word this chocolate cake makes me question my loyalties to Team Lemon! It's that good.
So if you're already planning your menu for that next party, add this in. It's a great way to end the meal and your guests will adore you all the more for it!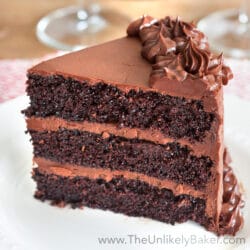 Chocolate Cake with Chocolate Fudge Frosting
Moist chocolate cake with luxurious dark chocolate fudge frosting. This chocolate cake with chocolate fudge frosting is the best chocolate cake. Ever.
Ingredients
For the Dark Chocolate Fudge Frosting:
1 ½

cups

unsalted butter

softened

½

cup

confectioner's sugar

sifted

½

cup

unsweetened cocoa powder

sifted (for the frosting, I used Dutch processed cocoa)

⅓

cup

coffee

hot

¼

cup

sour cream

1

teaspoon

vanilla extract

⅛

teaspoon

salt

15

ounces

dark chocolate

chopped, melted and slightly cooled
Instructions
For the Cake:
Preheat oven to 350F. Grease and flour 3 8-inch round baking pans and set aside (for good measure I also line the bottom with parchment paper but you don't have to).

Using the bowl of your stand mixer (or a large bowl if you're using a handheld electric mixer), sift sugar, flour, cocoa powder, baking powder, baking soda and salt.

Add eggs, milk, oil and vanilla. Beat on low-medium speed until well incorporated (about 2 minutes). Add coffee and stir until combined. The batter will be thin.

Transfer the batter into your prepared pans and bake for 30 minutes or until a toothpick inserted in the centre comes out with minimal crumbs.

Cool in the pans for 10 minutes then on a wire rack to cool completely.
For the Dark Chocolate Fudge Frosting:
Using a handheld electric mixer or a stand mixer fitted with the paddle attachment, beat unsalted butter on medium speed until light and creamy (about 5 minutes using a stand mixer), scraping the bottom and sides of your bowl as you go.

Switch to low speed and add confectioner's sugar, cocoa powder, coffee, sour cream, vanilla and salt until combined (about a minute). Switch to medium speed and beat for another 2 minutes.

Add the melted chocolate and beat until smooth (about a minute).
Assembly:
Trim the tops of your cakes if they are uneven using a serrated knife or a cake leveller.

Take one and place on a platter or cake turntable, smooth side down (trimmed side up). Evenly cover the top with frosting. Repeat with the 2nd and 3rd layers. For your 3rd layer, remember to place it smooth side up (trimmed side down) so that you'll have an even top.

Finish the cake by also covering the sides of your cake with frosting. To help even out the frosting on top and the sides, use a bench scraper and gently scrape away excess frosting.

Decorate as desired.
Nutrition
Calories:
676
kcal
Carbohydrates:
75
g
Protein:
7
g
Fat:
41
g
Saturated Fat:
25
g
Polyunsaturated Fat:
2
g
Monounsaturated Fat:
11
g
Trans Fat:
1
g
Cholesterol:
67
mg
Sodium:
382
mg
Potassium:
516
mg
Fiber:
7
g
Sugar:
48
g
Vitamin A:
787
IU
Vitamin C:
1
mg
Calcium:
98
mg
Iron:
6
mg
Nutritional information are estimates only.
Tried this recipe? Leave a star rating today!
Also tag @iamtheunlikelybaker I'd love to see your creations.
(Cake recipe adapted from Hershey's and frosting recipe adapted from Sweetapolita).
Happy baking!
Did you make chocolate cake with chocolate fudge frosting? Tell me about it in the comments section below. Do you already play Christmas carols too? I'd love to hear all about it.
And check out this fantastic lemon cheesecake recipe for all you lemon lovers!