Baking these chewy ginger molasses cookies will make your home smell like Christmas. They're delicious too! So bake a batch and get into the holiday spirit.
(Are you a fan of ginger? Try this fresh lemon ginger tea. Tastes great and helps with the sniffles too!)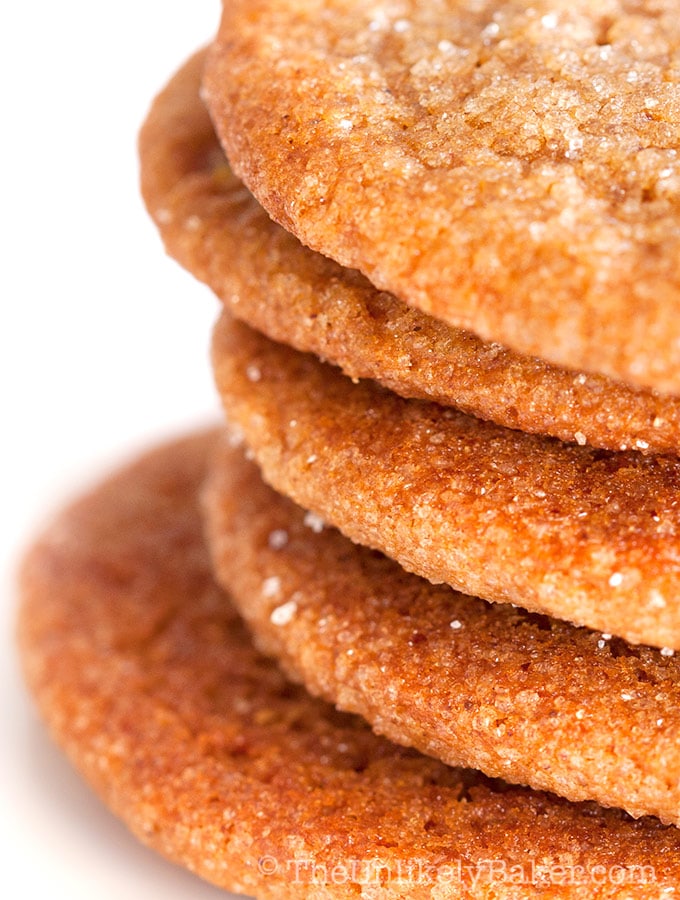 Happy 1st of December everyone! (I cannot believe it either.)
Last Monday we had very chocolatey chocolate crinkles. To continue our Christmas cookie week, today we have chewy ginger molasses cookies, another holiday favourite.
There's just something about these cookies that screams Christmas.
The first time I baked these was in the summer and I immediately got why this is a go-to Christmas cookie. It's sweet, indulgent and the spices used are like a tight hug in cookie form.
Let's get baking!
What are molasses?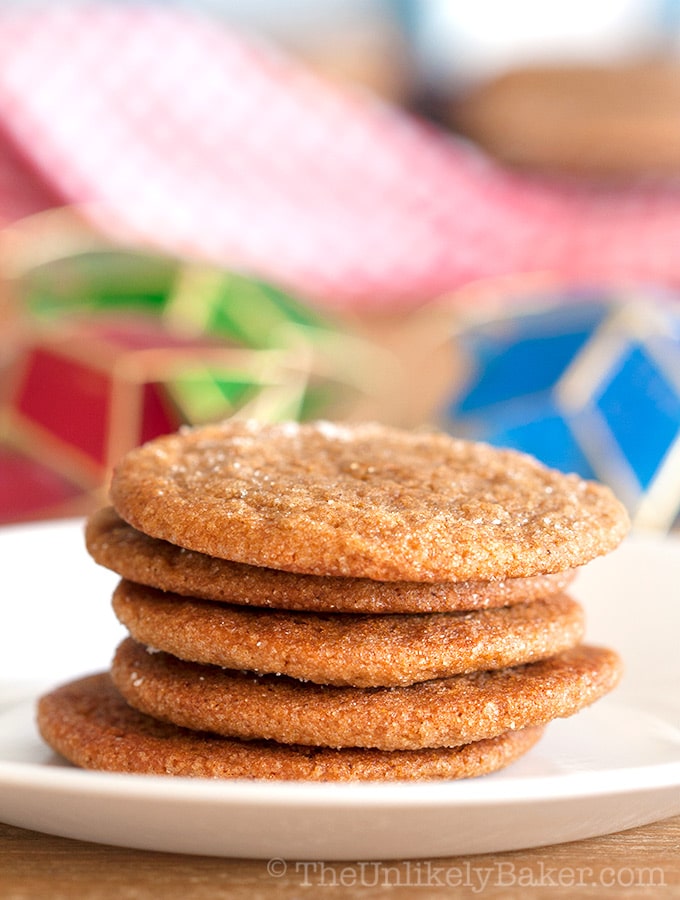 First of all, what are molasses
? Sounds like an alien life form or a really scary chemical, right?
But they are simply (and I'm quoting directly from Google here): a thick, dark brown syrup obtained from sugar cane during the refining process, a version of which is used in baking.
So bottomline: they're sugar syrup.
In this recipe, I used light molasses
which is made from the first boiling of the sugar cane. You can learn more about molasses here.
Substitutes for molasses in baking
If you can't find molasses where you are, it's fairly easy to find substitutes. You can use maple syrup
, honey
, brown sugar
, dark corn syrup
, granulated sugar
and even apple sauce
and yogurt.
Just be aware (and this is true for most substitutions in baking) that there will be slight (sometimes significant) changes in taste, texture and appearance. Here's a great reference about molasses substitutions.
(Another fabulous baking ingredient to try is golden syrup
. I use it for this recipe for treacle tart. Yes, Harry Potter's favourite dessert!)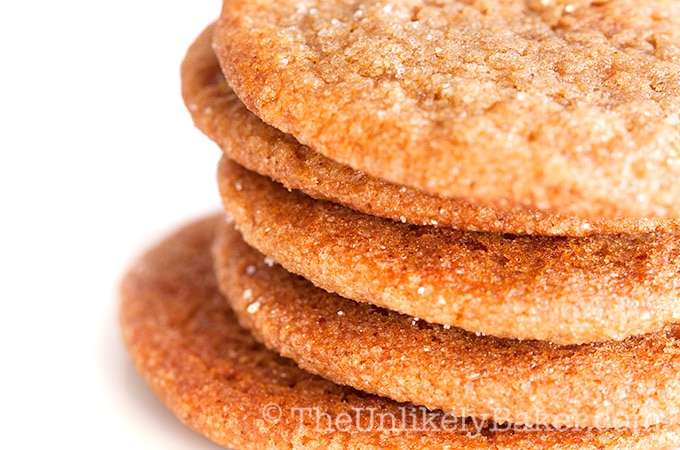 Now that's out of the way, baking these ginger molasses cookies is easy.
You do need to chill the dough for at least an hour though (one time, I left my dough in the fridge overnight and it was still okay). Otherwise, they will be very hard to work with and will spread considerably.
Do you need to chill all cookie batters before baking? Some bakers do it 100% of the time but I don't.
For me, it depends on how soft the batter is. If it's very sticky to begin with and I want to prevent it from spreading too thinly, I pop it in the fridge for an hour or so before baking, like what I did with these White Chocolate Chip Pistachio Cookies.
Otherwise, straight to the oven they go, like these Chewy Double Chocolate Chunk Cookies.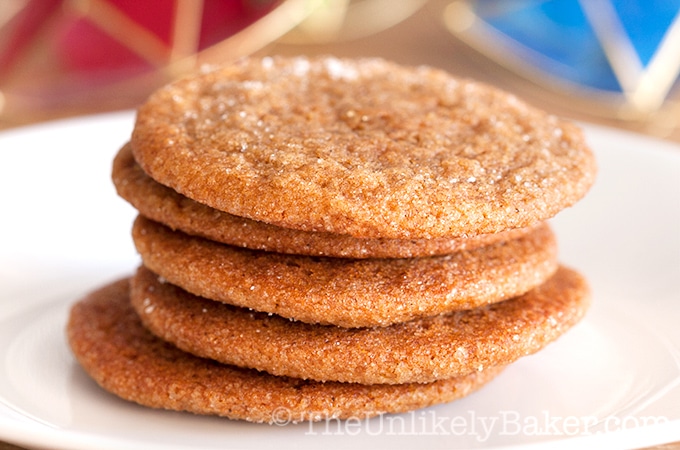 Also, I don't normally flatten my cookies after I scoop
them into my cookie sheet
. I know they will spread and I want my cookies thick and chunky.
So no flattening for me 90% of the time, except for these Healthy Superfood Breakfast Cookies because they do not spread at all.
These ginger molasses cookies spread to kingdom come even after a good amount of time in the fridge so for a meatier cookie, don't bother flattening these cookies at all before baking. No matter what you do they will spread so why help the process?
That's just me though. Experiment with your cookies and see what you like.
Storage and shelf life
A lovely thing about these cookies is they stay fresh for days. I put mine in a regular cookie jar
and 1 week in (I know, what's wrong with us?) they were still good as new. That makes them awesome Christmas presents!
So if you're looking to give cookies away this holiday season, take these chewy ginger molasses cookies for a spin. There's a reason they are a holiday favourite!
Other foodie presents for the holidays
Speaking of foodie presents this Christmas, these are delicious and always appreciated:
You don't need frosting or glaze on this delightful Meyer lemon ricotta pound cake. Sweet and salty, soft and moist, it's perfect to gift your neighbours with!
Think of these Irish cream chocolate truffles as shots you can munch on! Chocolatey, slightly boozy, and highly customizable, your friends will love them on Christmas day or any day.
White chocolate pistachio cookies — delightfully sweet and salty in one delicious bite! Get ready to meet your new favourite cookie.
Sweet and tart, fruity and chocolatey, these dried mango chocolate bites are ridiculously addicting! Give them out as presents or snack on them throughout the day.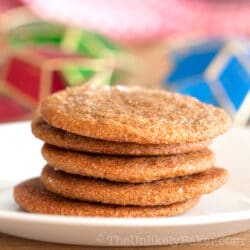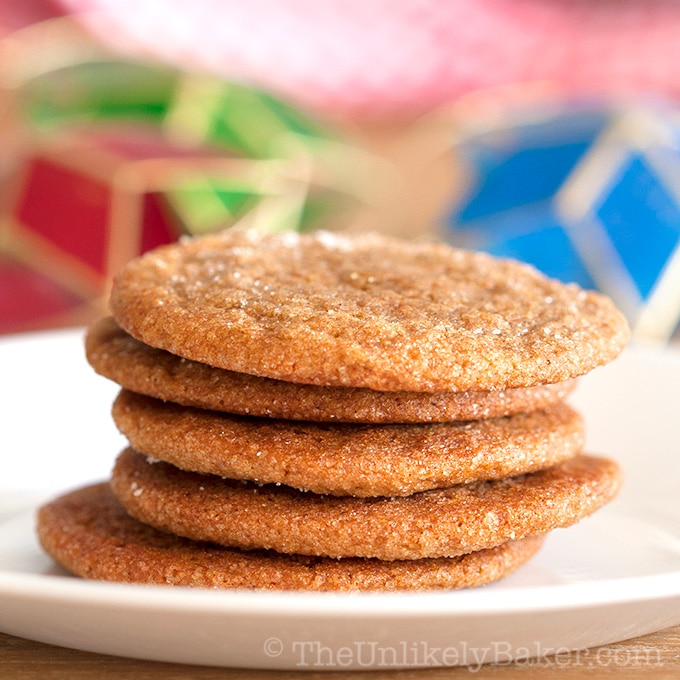 Soft and Chewy Ginger Molasses Cookies
Baking these chewy ginger molasses cookies will make your home smell like Christmas. They're delicious too! Bake a batch and get into the holiday spirit.
Instructions
In a large bowl, sift 2 ¼ cups flour, 1 teaspoon baking soda, ¼ teaspoon salt, 2 teaspoons ground ginger, ¾ teaspoon ground cinnamon and ½ teaspoon ground cloves. Set aside.

Using a handheld electric mixer or a stand mixer fitted with the paddle attachment, cream ¾ cup butter, ½ cup granulated sugar, ½ cup brown sugar until creamy and significantly paler in colour (about 3 minutes on medium-high speed).

Add the egg and beat until well incorporated. Then add 1 tablespoon orange juice, orange zest, ¼ cup light molasses and stir until combined. Scrape the bottom and sides of your bowl as needed.

Add your flour mixture in 3 parts and stir until each addition is incorporated.

Cover your bowl with plastic wrap and refrigerate for at least an hour. When you're ready to bake, preheat your oven to 350F.

Scoop the dough into 1 inch balls and thoroughly coat in granulated sugar before placing on your cookie sheet lined with parchment paper. The cookies will spread so space them about 2-3 inches apart.

Bake for 8-10 minutes or until the edges are starting to get crispy. Cool slightly on the cookie sheet (about 2 minutes) before transferring to a wire rack to cool completely.
Notes
The number of cookies you get from this recipe depends largely on how big (or small) you scoop the cookie dough. I typically get around 24 fairly large cookies using my 1.5 TBSP cookie scoop.
Nutrition
Calories:
142
kcal
Carbohydrates:
21
g
Protein:
1
g
Fat:
5
g
Saturated Fat:
3
g
Cholesterol:
15
mg
Sodium:
80
mg
Potassium:
73
mg
Sugar:
12
g
Vitamin A:
175
IU
Vitamin C:
0.3
mg
Calcium:
15
mg
Iron:
0.8
mg
Nutritional information are estimates only.
Tried this recipe? Leave a star rating today!
Also tag @iamtheunlikelybaker I'd love to see your creations.
Happy baking!
Did you make ginger molasses cookies? I'd love to hear from you in the comments section below.
And let's get social! Find me on Facebook, Pinterest, Instagram or Twitter.