Delightfully sweet and salty in one delicious bite – that's what these white chocolate chip pistachio cookies are all about! Get ready to meet your new favourite cookie.
(Love white chocolate? Start the day with Raspberry White Chocolate Overnight Oats, have some White Chocolate Blackberry Muffins this afternoon or treat yourself to No-Bake Raspberry White Chocolate Tart this weekend!)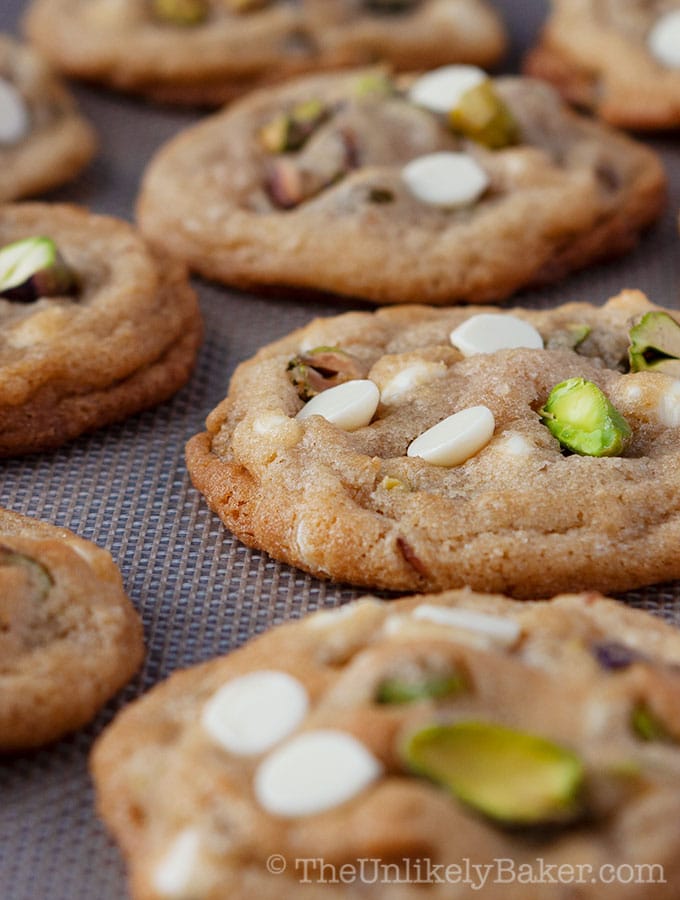 Welcome to March everyone! We made it through the worst of winter (quick, knock on wood with me!) so I think we all deserve a little reward. In the form of cookies. Lots of them.
These white chocolate chip pistachio cookies are delightfully sweet (but not too sweet), salty (but not too salty), and chewy (fantastic attribute in a cookie IMO). They are an awesome way to bid adieu to the cold and say hello to warmth and sunshine.
What is white chocolate anyway?
Chocolate purists scoff at white chocolate. I don't blame them. White chocolate is not chocolate at all; it doesn't contain chocolate solids (or cocoa powder).
What it's made of is a blend of cocoa butter, milk solids, sugar, milk fat and lecithin — a fatty emulsifier that holds it all together.
For me (and I guess other white chocolate fans??) well, potato, po-tah-toh. It tastes good!
What to look for when buying white chocolate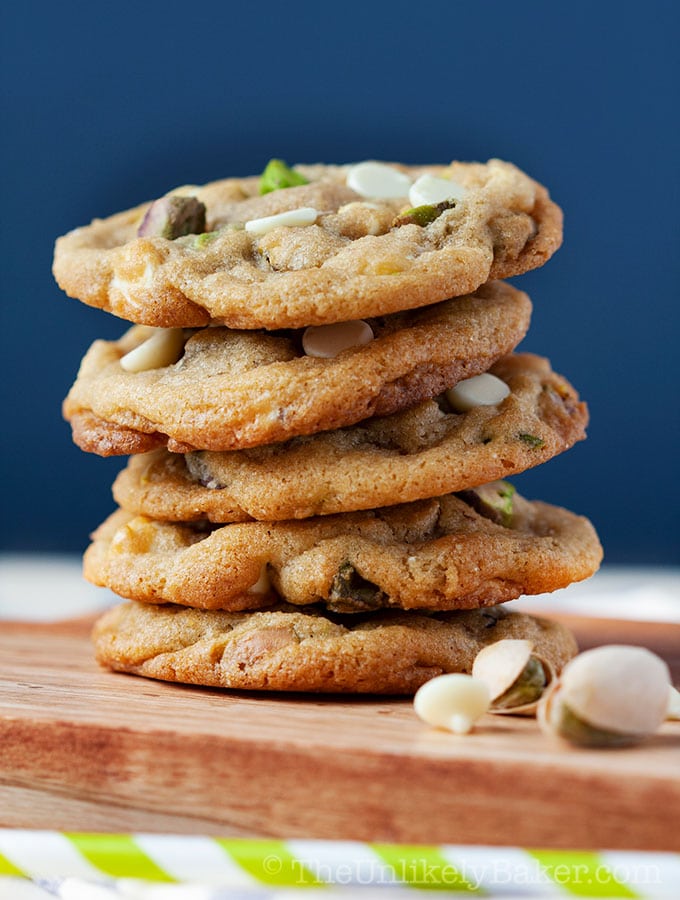 You do need to be a careful when buying white chocolate though because not all white chocolate are made the same.
There are basically two kinds – the good, high-quality white chocolate, typically used for melting and drizzling, and the regular white chocolate chips, what I used here.
I usually spring for the "good" white chocolate
if I know the white chocolate will be the star of the show (for this homemade chocolate bark, for example). For cookies like this, white chocolate chips
do just fine.
Here's a really interesting white chocolate test folks over at Cook's Illustrated did.
But where's the macadamia?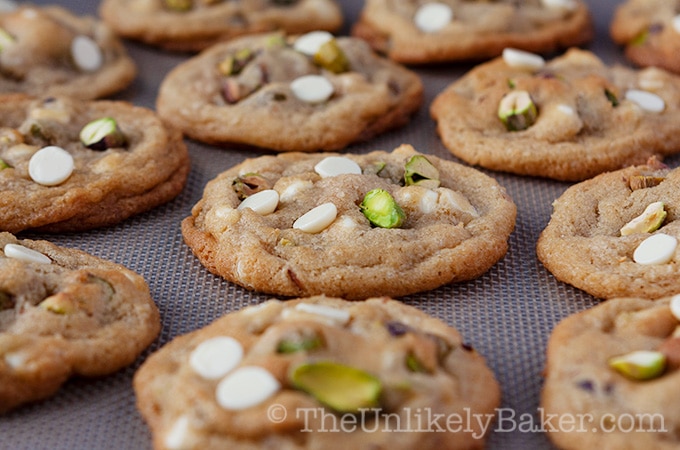 I know white chocolate and macadamia nuts are the default white chocolate cookie combination. And in fact that was my original plan.
I have this cookbook (one of my favourite ones) – Guittard Chocolate Cookbook
– that had a recipe for it but I just could not bring myself to buy macadamia nuts because they're ridiculously expensive in these parts.
We did have a whole bag of pistachios
though. And I do love experimenting. I have to say this was a very delicious one!
What is demerara sugar?
I also switched up the kind of sugar used. Demerara
has a natural toffee, caramel-y flavor which gives warm, caramel notes to baked goods. And I also find it less sweet than brown sugar, which was what the original recipe called for.
Demerara worked wonderfully here. It resulted to a cookie that has a hint of caramel without the overwhelming sweetness caramel is sometimes known for.
(Speaking of caramel, have you tried my Salted Caramel Sauce? Delicious! Perfect for cakes and cupcakes and ice cream and just, you know, eating with a spoon.)
Do you need to chill cookie dough before baking?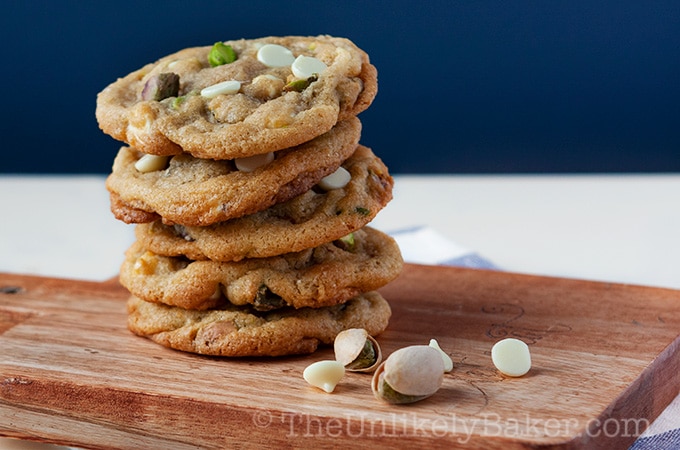 I go into more detail about chilling cooking dough when I shared my recipe for Soft and Chewy Ginger Molasses Cookies.
For this particular recipe though, I always chill the batter before baking to help minimize spreading and to help the cookies keep their shape.
You have two options here (well, three if you're not really a chilled-batter kind of baker, which is perfectly fine too).
One, you can roll the batter into balls, place them on your cookie sheet then chill the whole sheet before baking.
If you don't have fridge space there's option two: chill the batter, roll them into balls then bake (I prefer option 2 – I roll them while I'm preheating my oven).
Option 2 requires some strength and stamina as the batter gets tough (don't worry, it's a nice kind of tough); I just like to think of it as the calories I burn now so I can eat 2 cookies later (The Cookie Workout, you saw it here first!).
White chocolate chip pistachio cookies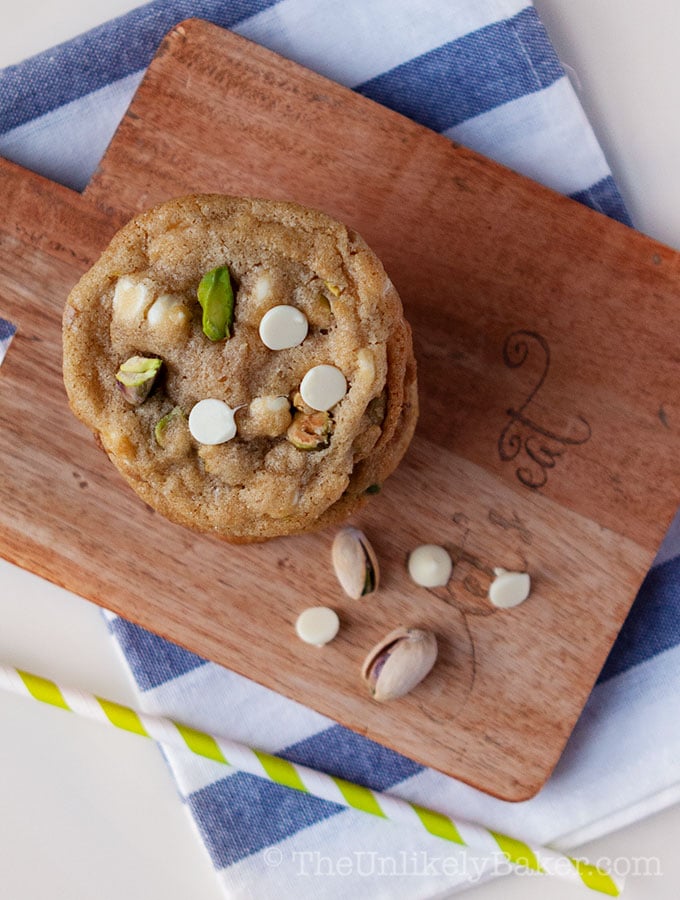 I love how these cookies turn out. Sweet and delicate white chocolate, touch of caramel, salty pistachios. They are so easy to make too!
So let's bake a batch of white chocolate chip pistachio cookies and start counting down to spring!
More recipes to celebrate the arrival of spring
Here are more recipes to welcome warmth and sunshine back into our lives:
Related: How to Take Delicious Food Photos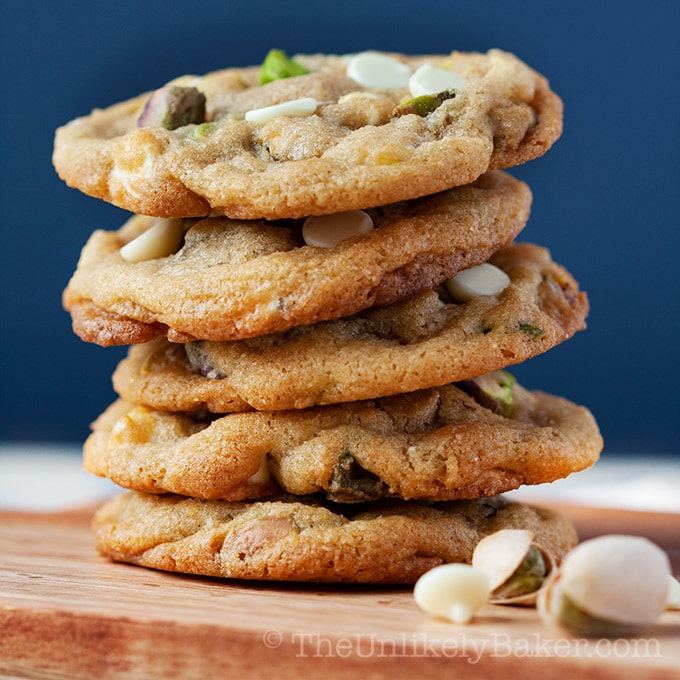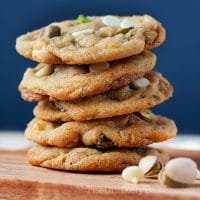 White Chocolate Chip Pistachio Cookies
Sweet & salty in one delicious bite – that's what these white chocolate chip pistachio cookies are all about! Meet your new favourite cookie.
Print
Pin
Rate
Ingredients
1 1/2

cups

all purpose flour

1/2

tsp

baking soda

1/2

tsp

salt

1/2

cup

unsalted butter

room temperature

1/2

cup

granulated sugar

1/2

cup

demerara sugar

packed

1

pc

large egg

room temperature

1/2

tsp

vanilla extract

3/4

cup

white chocolate chips

3/4

cup

shelled salted pistachios

roughly chopped
Instructions
Combine 1 1/2 cups flour, 1/2 teaspoon baking soda and 1/2 teaspoon salt in a medium sized bowl and set aside.

Using a handheld electric mixer or a stand mixer fitted with the paddle attachment, cream 1/2 cup butter, 1/2 cup granulated sugar and 1/2 cup demerara sugar until light and smooth (2-3 minutes on medium high speed). Add the egg and 1/2 teaspoon vanilla and continue beating until incorporated.

Switch to low speed and add your flour mixture a little at a time and stir until combined. Fold 3/4 cup white chocolate chips and 3/4 cup pistachios. The batter will be very sticky.

Cover the bowl with plastic wrap and chill for an hour.

Preheat oven to 375F and line 2 cookie sheets with parchment paper. Scoop a tablespoon of batter into your pan and make sure to space them properly, about 2 inches apart. Do not flatten.

Bake 8-10 minutes or until the edges start to turn a light golden brown. Do not over bake.

Cool in pans for 5 minutes. Transfer to a wire rack to cool completely. This recipe yields 24-30 cookies.
Happy baking!
Did you make white chocolate chip pistachio cookies? I'd love to hear from you in the comments section below.
And let's get social! Find me on Facebook, Pinterest, Instagram, Twitter and Flipboard.
Or subscribe so you don't miss a recipe. I promise I don't spam (I hate spam too).
Do you want to improve your food photography, monetize your blog or start your very own food blog? Check out my Blogging Resources.
(This post was updated on 29 November 2018.)