Soft, chewy and very chocolatey, chocolate crinkles are also ridiculously easy to make. They're on everyone's favourite Christmas cookie list!
And just like that Thanksgiving is over. Hope you had a wonderful one! Did you score any good deals on Black Friday? It's Cyber Monday today so if there are any last-minute things you want to buy, now is the time.
You also know what this all means, right? Everyone's now looking to Christmas! It will be here sooner than we think – Christmas parties, menu planning, gifts (…calories…just sayin').
This week we're doing Christmas cookies. Whether you want to give them out as gifts, bring them to your office potluck or serve them at your next get-together (or for when Santa comes to visit!), these cookies are crowd pleasers at Christmastime (or anytime).
First up are these soft, chewy and so very chocolatey chocolate crinkles.
Chocolate crinkles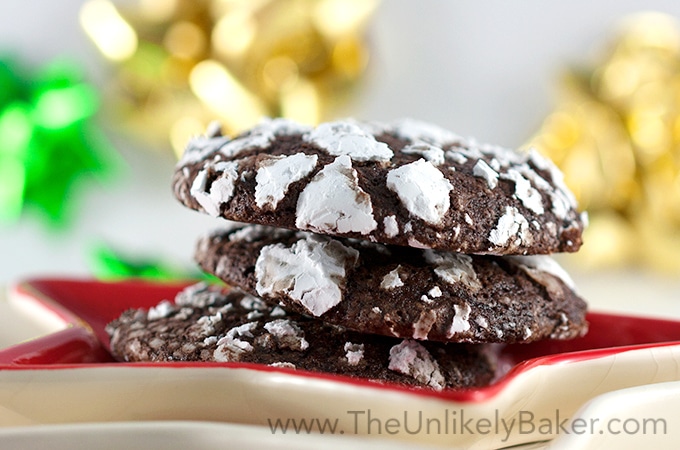 [clickToTweet tweet="Soft, chewy, chocolatey chocolate crinkles. Let the holiday baking begin! http://wp.me/p78RTV-ux" "rel=nofollow" quote="Soft, chewy, very chocolatey chocolate crinkles. Let the holiday baking begin!"]
There's this bakeshop in Manila that sold nothing but chocolate crinkles. Come December, there would be a frenzy around the shop and if you didn't call in to reserve your order, don't even bother showing up because there's little to no chance of you going home with those much sought after cookies.
Thinking about it now, I really couldn't remember what was so special about those chocolate crinkles. Perhaps it was all hype. I don't even know if the shop still exists (and I can't google because even the name escapes me!).
What I do have is a recipe for my own chocolate crinkles, which I can tell you is soft, chewy and very chocolatey.
They are ridiculously easy to make too. You don't even need a mixer.
Easy, breezy cookies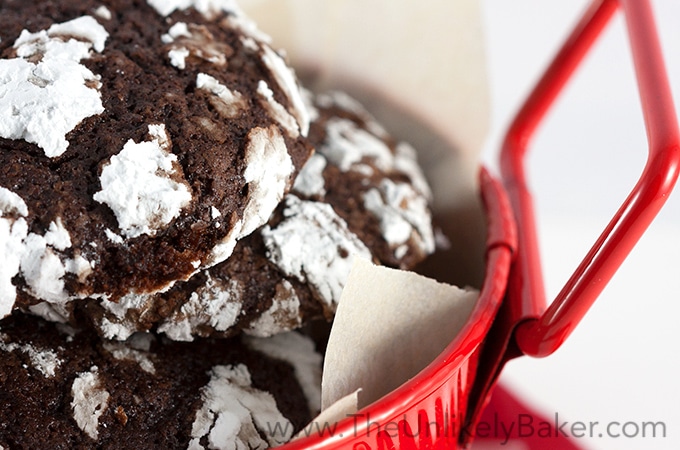 If you follow my blog, you may have noticed that this is only the 2nd cookie recipe I featured (the only other one is this recipe for Chewy Double Chocolate Chunk Cookies). It's because I suck. No shame in that. Because I know I'll get better with more practice.
The thing is,  with these crinkles, I've always had success. That's how easy it is! Fool proof (the fool being me).
My chocolate secret
As with any recipe, it's best to spring for the best ingredients. In this case, because it's the main ingredient, get the best Dutch processed cocoa powder
you can get. Dutch processed has a more intense, deeper chocolate flavour and what gives these chocolate crinkles its dark colour.
So whether they're for you or for someone else, you cannot go wrong with these crinkles. Try them out and let the holiday baking begin!
Very Chocolatey Chocolate Crinkles
Soft, chewy and very chocolatey, chocolate crinkles are also ridiculously easy to make. They're on everyone's favourite Christmas cookie list!
Ingredients
2 cups all purpose flour
2 teaspoons baking powder
1/2 teaspoon salt
1 cup unsweetened Dutch processed cocoa powder
2 cups granulated sugar
1/2 cup vegetable oil
4 large eggs, room temperature
2 teaspoons vanilla extract
1 cup confectioner's sugar
Instructions
In a medium bowl, whisk 2 cups flour, 2 teaspoons baking powder and 1/2 teaspoon salt. Set aside.
In a large bowl, stir 1 cup cocoa powder, 2 cups sugar and 1/2 cup oil until combined. Add the eggs one at a time, beating well after each addition. Then add 2 teaspoons vanilla and stir. Your mixture should be quite thick at this stage.
Add your flour mixture on top of your cocoa mixture and, using a fork, stir to combine until smooth and well incorporated. Cover your bowl with plastic wrap and chill for at least 4 hours.
When your dough is ready, preheat your oven to 350F. Line a cookie sheet with parchment paper and set aside.
Scoop your dough into 1 to 2 inch balls (2-inch balls will give you jumbo cookies like the ones you find in Starbucks). Thoroughly coat each ball with confectioner's sugar before placing it on the cookie sheet. The cookies will spread a bit so space your cookies about 2-3 inches apart.
Bake for 12-15 minutes or until the edges start to brown and the tops start to crack. Cool slightly on the cookie sheet (about 2 minutes) then transfer to a wire rack to cool completely.
https://theunlikelybaker.com/chocolate-crinkles/
This delicious recipe brought to you by www.TheUnlikelyBaker.com | (c) 2016-2017
(Recipe adapted from All Recipes).
Did you make chocolate crinkles? Tell me about it in the comments section below. I'd love to hear how it went. What's your favourite holiday cookie?
Need more holiday baking ideas? Here are some cakes you can try:
There are even more holiday cake ideas here: 32 Stunning Holiday Cakes.
And let's get social! Find me on Facebook,  Pinterest,  Instagram,  Twitter,  Google+  and  Flipboard.
Or subscribe so you don't miss a recipe. I promise I don't spam (I hate spam too).
Do you want to improve your food photography, monetize your blog or start your very own food blog? Check out my Blogging Resources.