These fudgy brownies are the fudgiest and chocolatiest brownies you'll ever taste. And they take less than 60 minutes to bake. Plus, no electric mixer required. So forget those box mixes. Make your own and you'll never look back.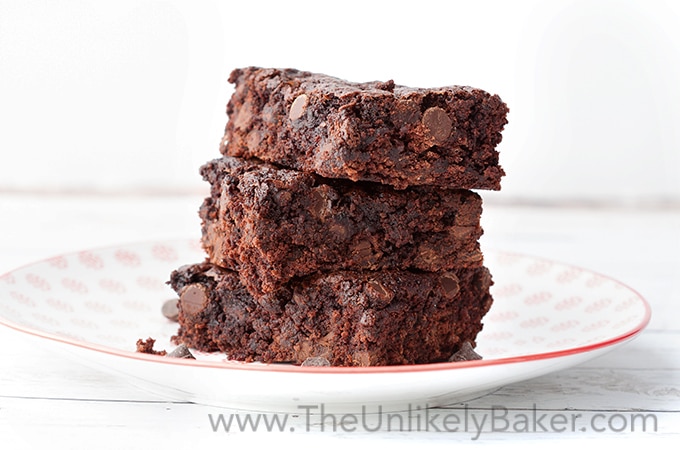 Okay. Confession time. This is the first time I've made brownies from scratch. I know. I know. But Ghirardelli makes this brownie box mix that I just pimp out and it tastes good that I never bothered to learn. Until I received a copy of Annalise Thomas' new cookbook The Make-Ahead Kitchen
.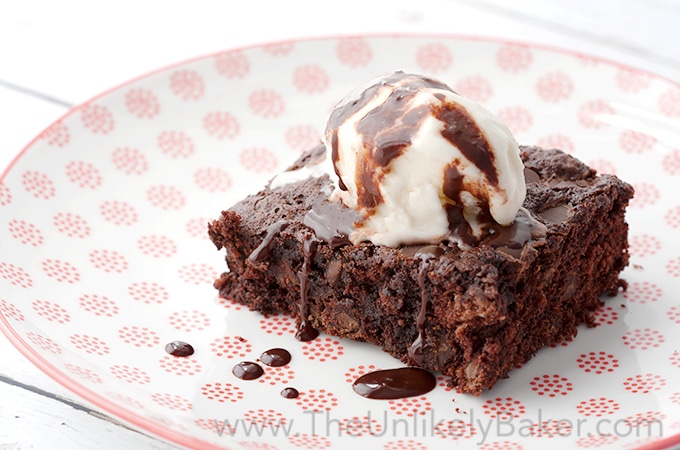 Naturally I looked at the desserts first (naturally) and she has this recipe for The Best Fudgy From-Scratch Brownies that I kept going back to. So I took it as a sign from the universe – time to learn! And am I ever glad I did. These are the best brownies I've ever had (and I'm not just saying that because I ran out of superlative words).
They are fudgy without having that under baked consistency, chocolatey with bits of chocolate chips you can bite into, not overly sweet, can be made ahead, and just so good. 
Tips for success
Annalise provides lots of helpful tips in her book so you have all that you need to re-create her dishes successfully. From how she measures flour to what kind of butter to use. And I love that there's something in here for everyone – from the beginner to the intermediate, from the cook to the baker. She marks which recipes are gluten-free too.
There are recipes for breakfast, soups, appetizers, main dishes, desserts and even drinks. And of course there are full-page pictures so you know exactly what you're aiming for.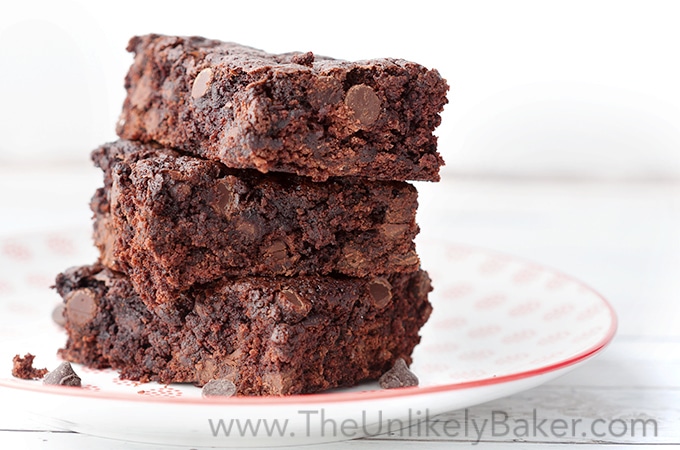 Yield
A lot of the recipes here are big batch recipes that you can make ahead, freeze and just do the final prep for when you need them. That's really useful and practical when you're expecting company or even for everyday family menu management (saves you a lot of time on a hectic weekday).
If you're a two-person household like us who might not need or have the freezer space for several dozen cookies though, you'd need to do a bit of math to cut recipe measurements. That or earn the love of your neighbors forever by sharing the loot (we prefer the latter).
Fudgy brownies heaven
According to the book, the fudgy brownie recipe serves 20 to 24 but we finished it in 4 days. Just the 2 of us. (We're horrible gluttons!) It just tastes so fantastic. We made brownie à la mode with it too and it just blew us away. I'm sorry, my ex-favourite box mix brownies (which I kind of used to worship BTW) – these fudgy brownies are infinitely better.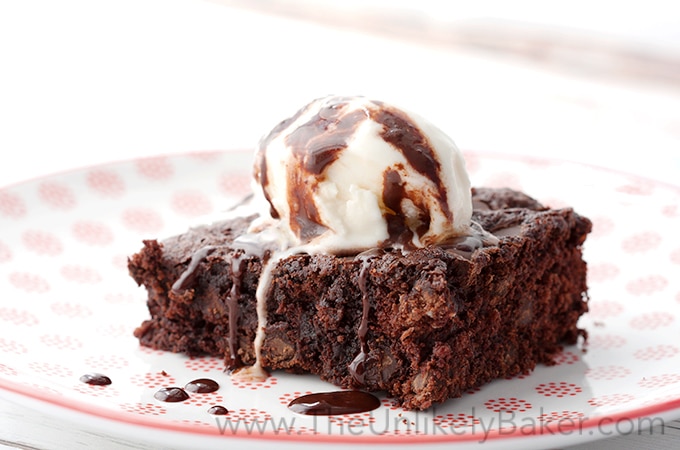 [clickToTweet tweet="Anybody here like chocolate?" quote="Anybody here like chocolate?"]
Other recipes we tried
We also tried her Best Tuna Salad for Sandwiches and Melts and her Creamy Sesame Salad Dressing. Those were phenomenal. Next up is her Easy Baked Mac & Cheese, which I predict is also  going to be a big hit. So go check it out. It's available on Amazon now (see the link below).
Disclosure: I received a copy of The Make Ahead Kitchen from Cedar Fort, Inc. for review but all photos, words and opinions on this post are mine.
These fudgy brownies are the fudgiest and chocolatiest brownies you'll ever taste. They take less than 60 minutes to bake and no electric mixer required!
Ingredients
3/4 cup Dutch processed unsweetened cocoa powder
1/2 teaspoon baking soda
2/3 cup salted butter, melted
1/2 cup boiling water
1 1/2 cups granulated sugar
1/2 cup firmly packed brown sugar
2 teaspoons vanilla extract
1 teaspoon salt
2 large eggs, room temperature
1 1/3 cups all purpose flour
1 1/2 cups chocolate chips, divided into 1 cup and 1/2 cup
Instructions
Preheat the over to 350F. Grease a 9x13 inch glass baking dish. Set aside.
In a large bowl, whisk together the 3/4 cup cocoa powder and 1/2 teaspoon baking soda. Whisk in half of the melted butter until smooth, and then whisk in the 1/2 cup boiling water until smooth and thick.
Whisk in the 1 1/2 cups granulated sugar, 1/2 cup brown sugar, 2 teaspoons vanilla, 1 teaspoon salt, 2 large eggs and the remaining melted butter until smooth.
Sprinkle 1 1/3 cups all purpose flour over the top of the batter and then 1 cup of the chocolate chips on top of that. Use a fork to gently mix in the flour and chocolate chips until just blended.
Spread the batter into the prepared baking dish, sprinkle evenly with the remaining 1/2 cup chocolate chips and then bake for 35-40 minutes, until just set in the middle and starting to pull away from the sides of the pan (always better to under bake than over bake brownies).
Let cool completely before cutting into squares.
Notes
These brownies freeze beautifully for several weeks. Cool completely, cut into squares then wrap well in plastic wrap and foil before placing in a freezer bag. Pull them out as you need them - they will thaw quickly on the counter (and taste great still partially frozen too).
Serves approximately 20-24.
https://theunlikelybaker.com/fudgy-brownies/
This delicious recipe brought to you by www.TheUnlikelyBaker.com | (c) 2016-2017
(This recipe used with permission from the author. Copyright Cedar Fort, Inc. 2016.)
Happy baking!
Did you make these fudgy brownies? Tell me about it in the comments section below. I'd love to hear all about it.
Here are more chocolatey treats for you:
And let's get social! Find me on Facebook, Pinterest, Instagram, Twitter, Google+ and Flipboard.
Or subscribe so you don't miss a recipe. I promise I don't spam (I hate spam too).
Do you want to improve your food photography, monetize your blog or start your very own food blog? Check out my Blogging Resources.