Easy ensaymada recipe that's simple to follow so you can make soft, sweet, cheesy ensaymada at home. Enjoy with your morning coffee, your afternoon tea or with that steaming cup of hot chocolate you deserve tonight!
(Enjoy baking bread? Try these sweet and lemony rolls or these ube rolls packed with delicious ube jam and topped with toasted coconut.)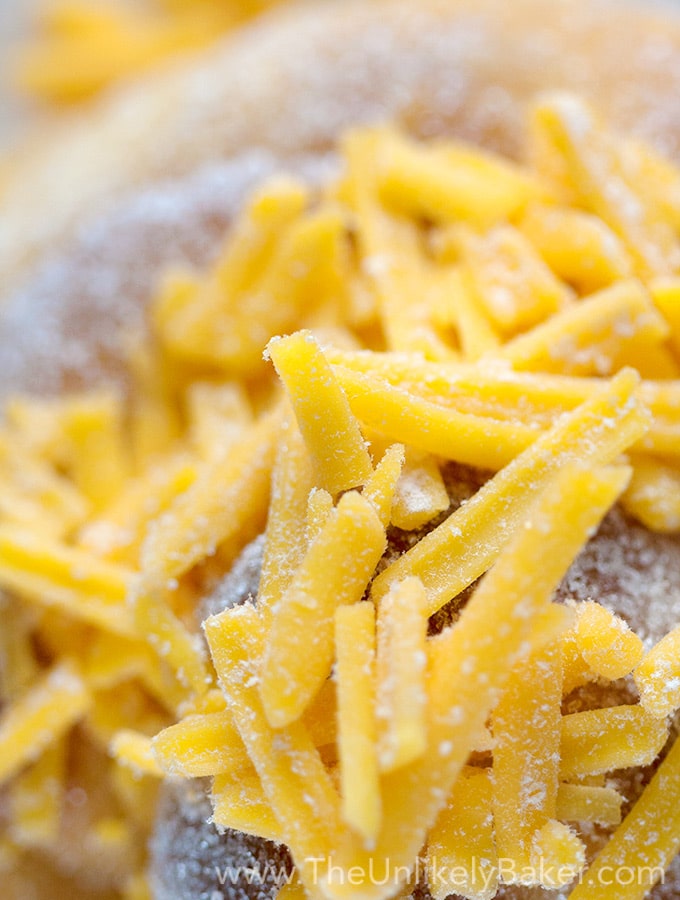 Happy new year everyone! Did you have a nice holiday break? Ready to take on the new year? Have you decided on a resolution yet?
I did, I am, I haven't.
I have been trying to get better at working with dough since the latter part of last year though. Does that count? Conquer dough? Well, there's no New Year's Resolution Police so I guess that'll be ok.
It's been a challenging – albeit delicious – process but I've already perfected a few recipes (yay). This ensaymada recipe is one of them (and this delicious pandesal recipe is another). It's a cherished Filipino snack so it's extra special; I'm excited to share the recipe with you!
What is ensaymada bread?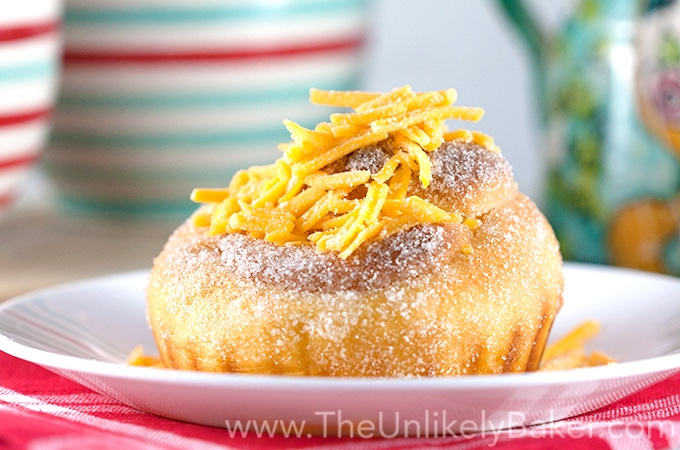 Think of ensaymada bread as a cinnamon bun – soft and tender – but without the cinnamon and the frosting.
Instead, the lovely brioche is generously brushed with butter, dunked in sugar and again generously sprinkled with cheddar cheese. That's what Filipino ensaymada is (pronounced n-sigh-ma-duh…don't you just love how I spell these things out lol!).
Some people call it Filipino sweet buns, soft sweet bread or cheesy bread. They're all true, though ensaymada is most likely the word you're looking for!
If you google what ensaymada means, you'll find that its roots can be traced back to a pastry from the Spanish island of Majorca. The Philippines was under Spanish rule for almost 400 years after all so a lot of our food, culture and even language have strong Spanish influence (like these churros!).
Bottom line: ensaymada is delicious.
How to make ensaymada – the easy way!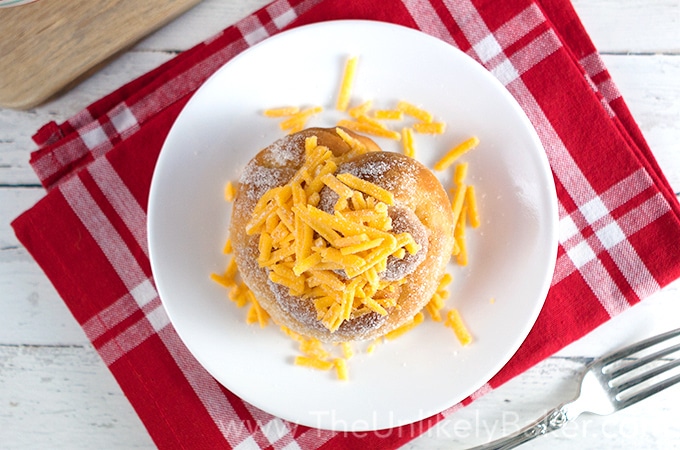 Full disclosure: making ensaymada is a lengthy process (as is typical of homemade breads).
If you look around for recipes for ensaymada, you'll find that most have about a thousand steps. Who has the patience? (Evidently not me.)
So I decided to make it simpler – if you take a peek at the recipe below, each step is short and easy. I broke it down into pain-free, manageable parts (my brain is wired that way).
There are 5 "phases" – from activating the yeast to sprinkling the cheese on the finished product. Follow each phase and you'll do great!
It's not exactly the same as the ensaymada you'll find at a local Filipino bakeshop but it's a darn good one if I say so myself! One hundred percent easier to make too.
Ensaymada recipe ingredients
Plus, you probably already have the recipe ingredients in your pantry:
Sugar

Milk

Salt

Butter

Eggs

Flour

Oil

Cheddar cheese
You also need 1 package of active dry yeast
.
Tools you need to make this easy ensaymada recipe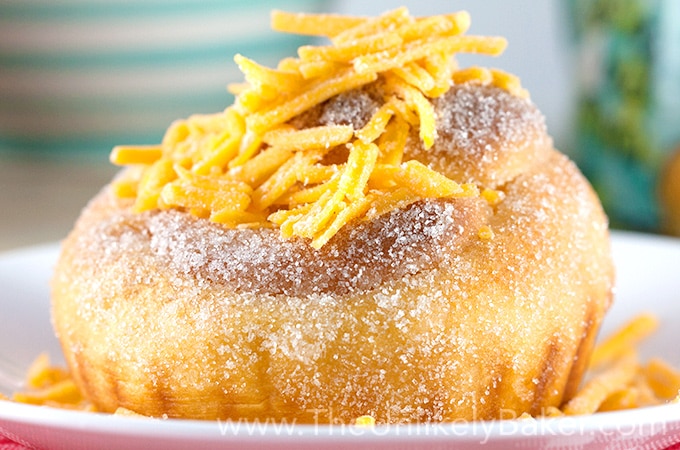 To make ensaymada bread, I used my ensaymada moulds which my sister brought for me when I was in Manila. Here, they're called brioche moulds
and you can find them at your local baking supplies store and Amazon.
You don't need to buy them though. If you have a muffin pan
, you're good to go.
Other tips for making ensaymada
For the fluffiest ensaymada, allow your dough to rise in a warm, dry place. I use my oven for this. I usually preheat it to about 100F then turn it off just when I'm about to knead my dough. This way, the temperature would have gone down to 90F when I put my dough in.
For evenly sized ensaymada that won't only look pretty but bake evenly as well, use a kitchen scale to make sure the dough is evenly divided.
Then you're all set! Eat ensaymada for breakfast or, like most Filipinos, as merienda or afternoon snack. Dunk it in tsokolate or hot chocolate while you're at it! Enjoy!
Baked goods that go well with coffee
Here are other goodies you can bake to enjoy with your morning coffee:
Meyer lemon ricotta pound cake is sweet, lemony, you can't stop at just one slice!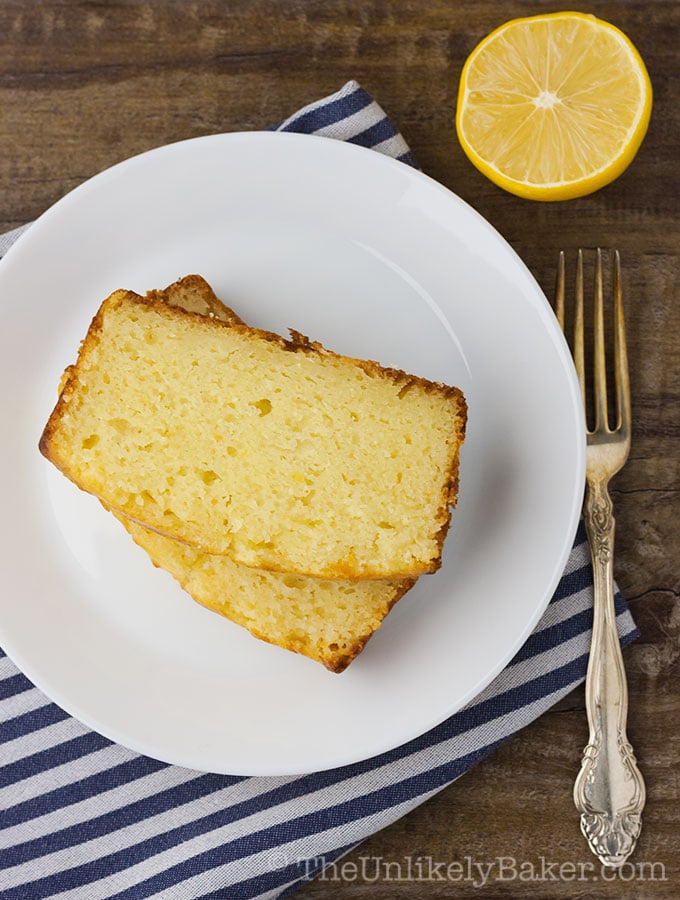 For an extra special breakfast, try making a batch of strawberry cream cheese stuffed french toast.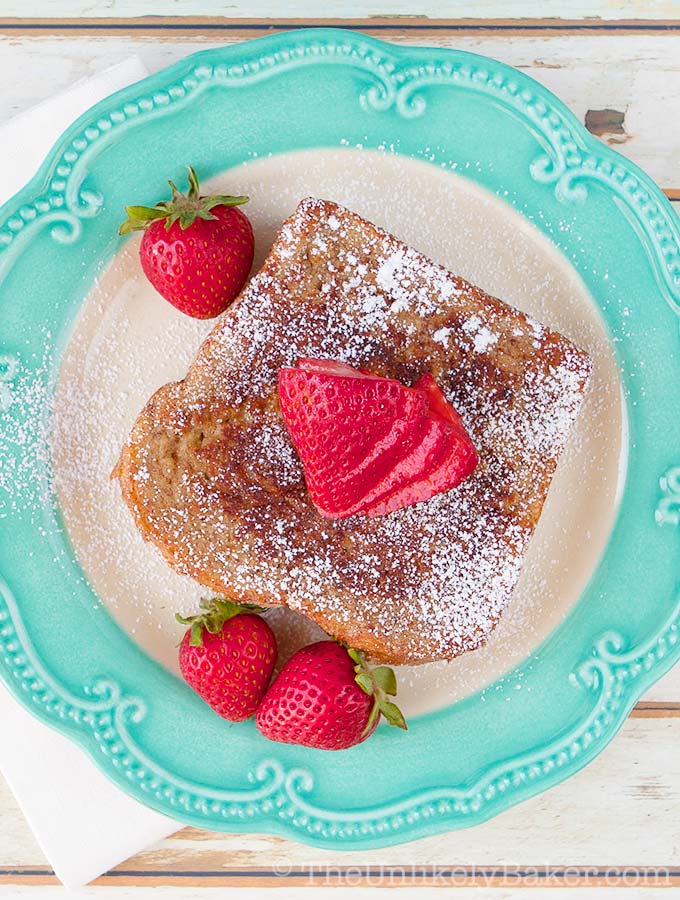 And if you're looking for something quick and easy but still delicious, these buttermilk scones are for you.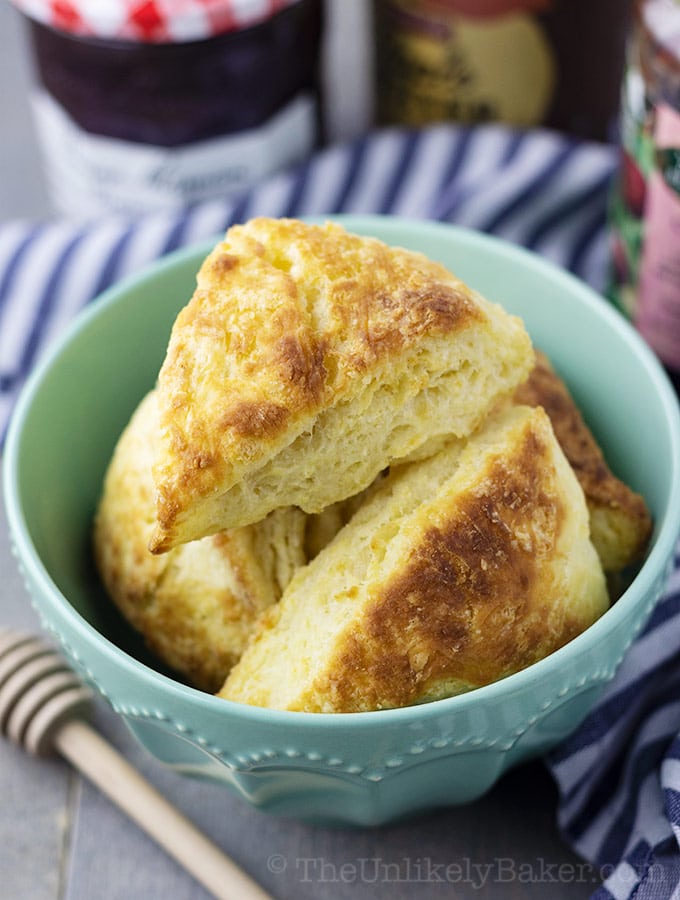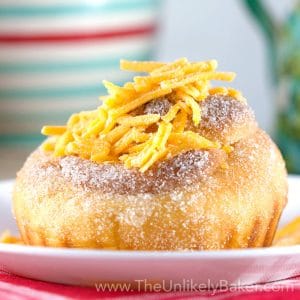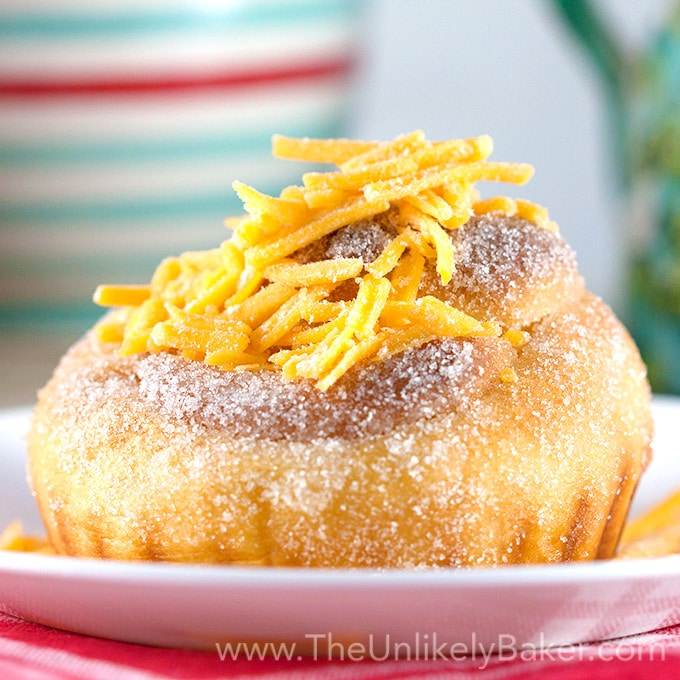 Easy Ensaymada Recipe (Filipino Sweet Cheesy Brioche)
Easy ensaymada recipe that's simple to follow so you can make soft, sweet, cheesy ensaymada at home.
Ingredients
Phase 1:
1/2

cup

warm water

approx 110F

1

package

active dry yeast

0.25 ounces

1

tsp

granulated sugar
Phase 2:
1/2

cup

milk

1/4

cup

granulated sugar

1

tsp

salt

1/4

cup

unsalted butter

room temperature
Phase 3:
2

pcs

large eggs

room temperature, lightly beaten

4

cups

all purpose flour

1

tbsp

canola oil

or vegetable oil
Phase 4:
1/2

cup

unsalted butter

melted and allowed to cool slightly

1

cup

shredded sharp cheddar cheese
Phase 5:
Melted butter

Granulated sugar

Shredded sharp cheddar cheese
Instructions
Phase 1:
In a measuring cup, stir 1/2 cup warm water, 1 package active dry yeast and 1 teaspoon sugar until dissolved. Set aside and let stand until bubbly (about 10 minutes).
Phase 2:
In a medium saucepan on medium heat, warm 1/2 cup milk until you see bubbles forming at the edges. Remove from heat and stir 1/4 cup sugar, 1 teaspoon salt, and 1/4 cup butter until the butter has melted.

Set aside and let cool until lukewarm.
Phase 3:
In a large bowl, combine your yeast mixture, your milk mixture, eggs and 1 1/2 cups flour. Stir until combined. Proceed to add the rest of your flour 1/2 cup at a time combining well after each addition.

Once the dough starts pulling and sticking together in a ball, transfer it into a lightly floured surface and knead until smooth and elastic (8-10 minutes). When in doubt, knead some more.

Oil a large bowl with 1 tablespoon canola oil. Place your dough in the bowl and turn to ensure the whole dough is coated. Cover with a damp cloth and allow to rise in a dry warm place (about 90F - see notes) until it doubles in size (about 1 hour).
Phase 4:
When your dough is ready, transfer it into a lightly floured surface and roll out slightly. Evenly divide the dough into 12 pieces (see notes) and flatten each one into a 4x6 inch rectangle.

Brush each piece with melted butter and sprinkle with cheddar cheese. Roll the dough tightly up and pinch the edges to seal. Then roll each one into itself (like a spiral) and place onto your ensaymada moulds (see notes). Brush the tops of each ensaymada with butter, cover with damp cloth and let rise for another 30 minutes.

Preheat your oven to 375F and bake for 20 minutes or until golden brown. Do not over bake. Let cool in the mould and when it's cool enough to handle, put your toppings.
Phase 5:
Brush the still warm ensaymada with melted butter then dip in a bowl filled with granulated sugar. Sprinkle with cheddar cheese. Serve warm.
Notes
I keep my dough in my oven to rise. I usually preheat it to about 100F then turn it off just when I'm about to knead my dough. This way, the temperature would have gone down to 90F when I put my dough in.
I use a kitchen scale to make sure my dough is evenly divided.
If you don't have ensaymada moulds, you can use a muffin pan instead.
Nutrition
Calories:
327
kcal
Carbohydrates:
37
g
Protein:
7
g
Fat:
16
g
Saturated Fat:
9
g
Cholesterol:
42
mg
Sodium:
260
mg
Potassium:
72
mg
Fiber:
1
g
Sugar:
5
g
Vitamin A:
465
IU
Calcium:
89
mg
Iron:
2
mg
Nutritional information are estimates only.
Happy baking!
Did you try this easy ensaymada recipe? I'd love to hear from you in the comments section below.
And let's get social! Find me on Facebook, Pinterest, Instagram, Twitter and Flipboard.
(This post was updated on 30 January 2019.)