The London fog cake is inspired by the London fog – an Earl Grey tea latte made with steamed milk and vanilla. The cake version is divine – layers of rich, moist, chocolate cake covered with luxurious Earl Grey Swiss meringue buttercream then topped with decadent salted caramel sauce. The components work perfectly together for one amazing cake.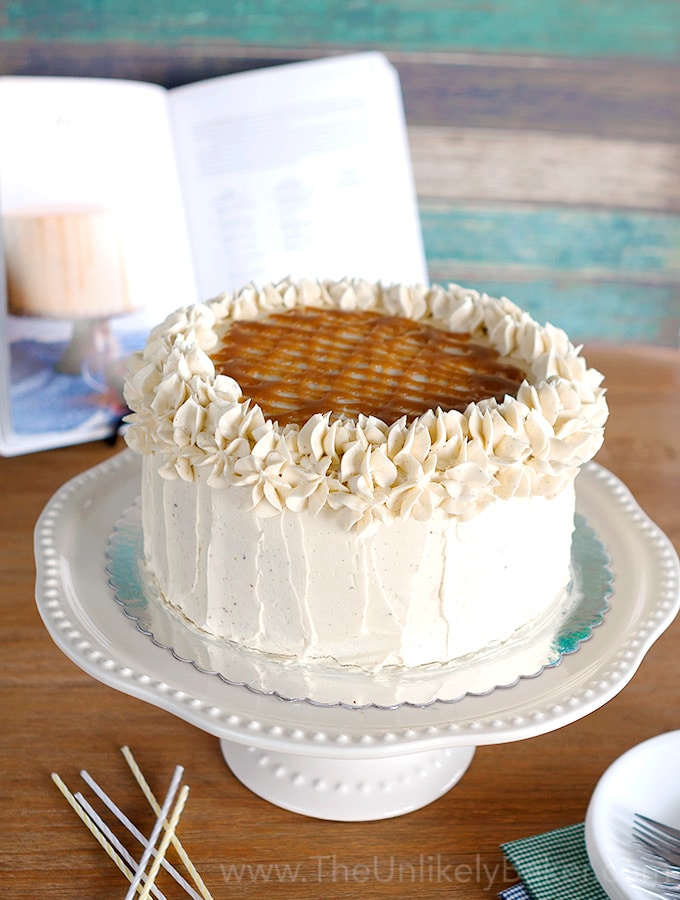 I'm ridiculously lucky at promos and giveaways. I win at company lucky draws, I win small amounts in the lottery (I'm really just waiting for my jackpot prize to come around), I've even won a consolation prize at the Canadian Heart and Stroke Foundation's annual sweepstakes.
Layered: Baking, Building & Styling Spectacular Cakes
But my favourite so far is winning Coco Cake Land's giveaway for Tessa Huff's cookbook, Layered
. I love baking cakes and this book is all about them.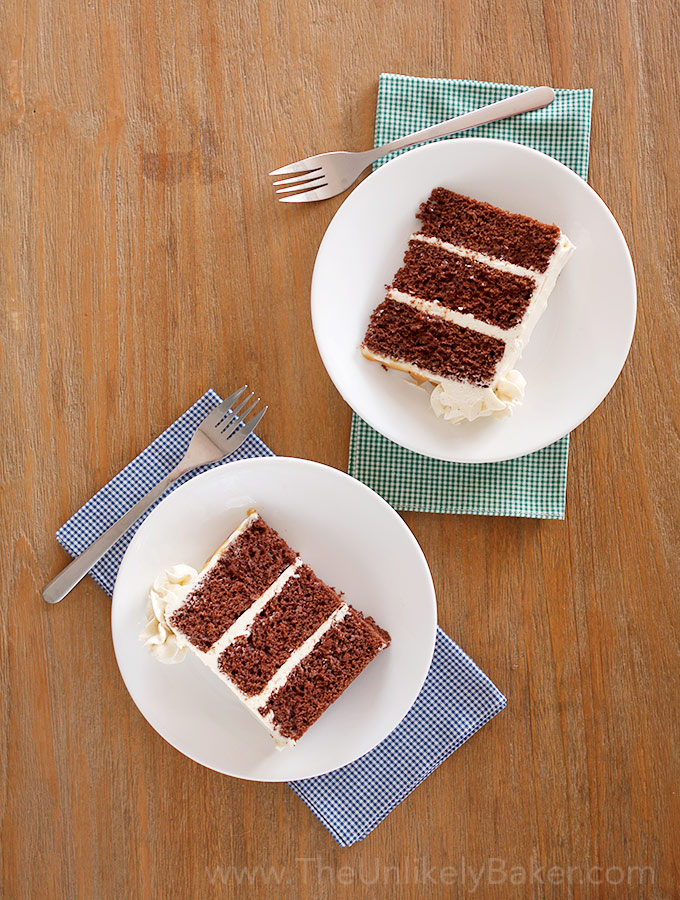 There are a lot of tips on how to bake them successfully and how to make them pretty. The pictures are phenomenal and though they intimidated me at first, Tessa's tips and instructions boosted my confidence – that even a beginner baker like me can create showstopper cakes too.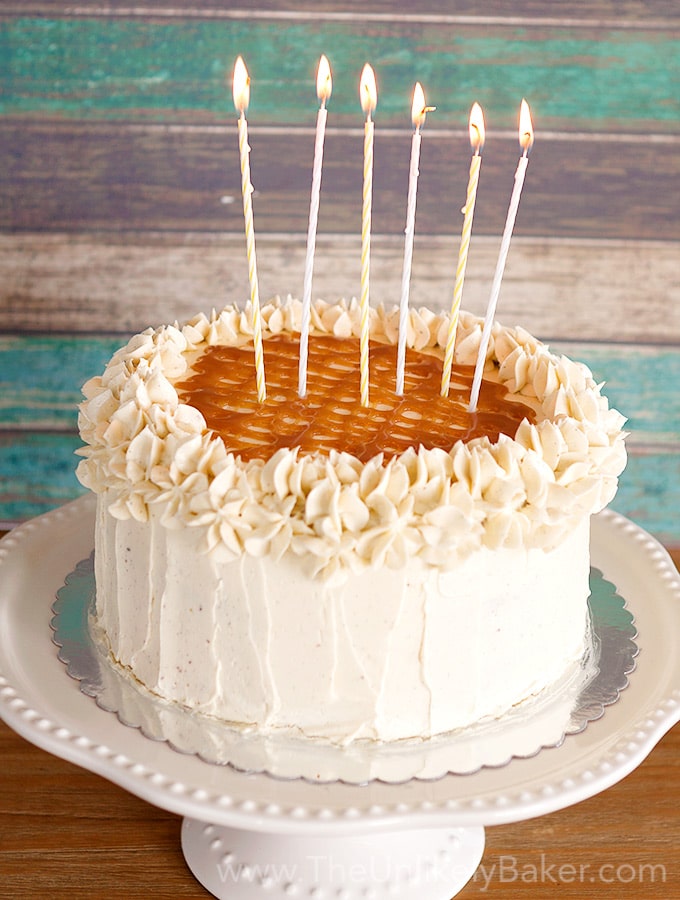 Enter Red. Her birthday was coming up and I promised that I'd bake her a birthday cake. I went further and said she can go ahead and pick any cake from Layered (who is this person I've become?). So she did and picked the London Fog Cake. Ok then. Challenge accepted.
Armed with Layered and my newfound confidence, I proceeded to make one of the most amazing cakes I've ever made and tasted in my life.
Chocolate cake
The London fog cake is at its heart a chocolate layer cake. And the chocolate cake is great on its own. Soft, moist and bursting with chocolate flavour – the way all chocolate cakes should be. I'm definitely going to use this as a base for all chocolate layer cakes from now on.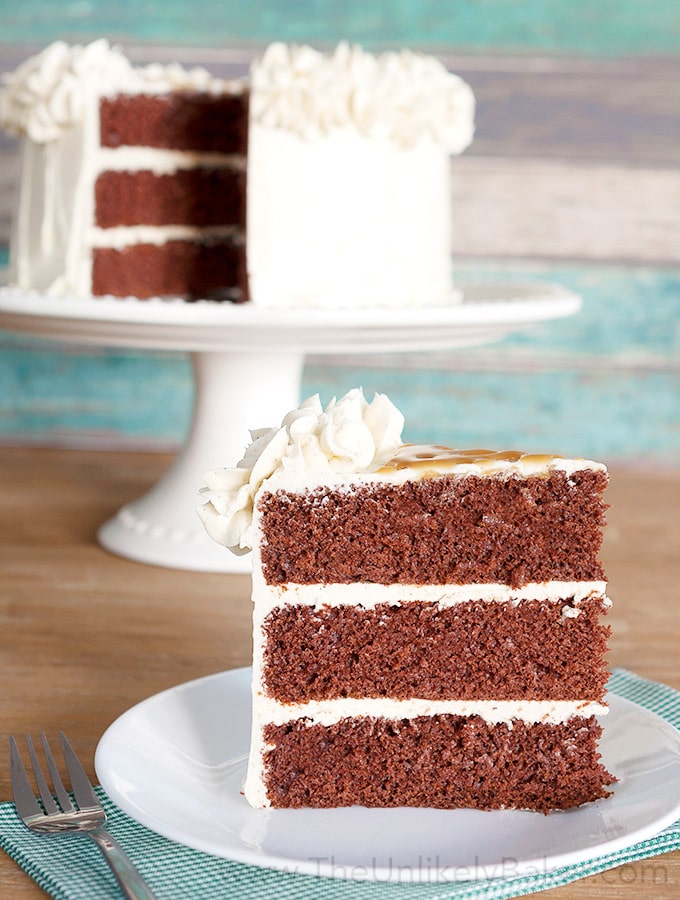 Earl Grey Swiss meringue buttercream
The star of the show is the Earl Grey buttercream though. I always wondered how people cooked or baked with tea…now I know. And the Earl Grey butter incorporated into the silky Swiss meringue buttercream results to a flavour so unique, so complex, so brilliant that you wonder why you never thought to do it before.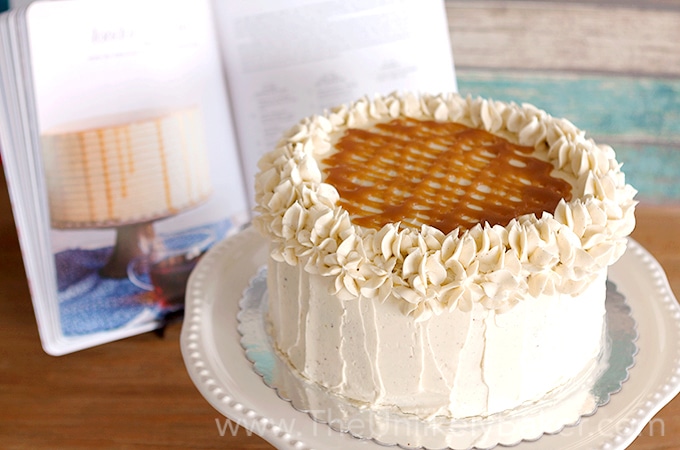 Salted caramel sauce
What completes this sophisticated trifecta of flavours is the salted caramel sauce. There's a salted caramel sauce recipe provided in the book but I made a rookie mistake – I forgot to buy one key ingredient – so I went with my go-to salted caramel sauce recipe instead. It still worked but I will definitely try the one in the book the next time I bake this cake. And there will definitely be a next time.
 The London Fog Cake
Because I couldn't be happier with the end result. Not only does the cake look pretty (despite my sad pitiful heartbreaking less-than-ideal decorating skills), it tasted fantastic. Imagine your favourite chocolate cake getting superpowers. That's what this cake is like. Best of all, my birthday celebrant was over the moon.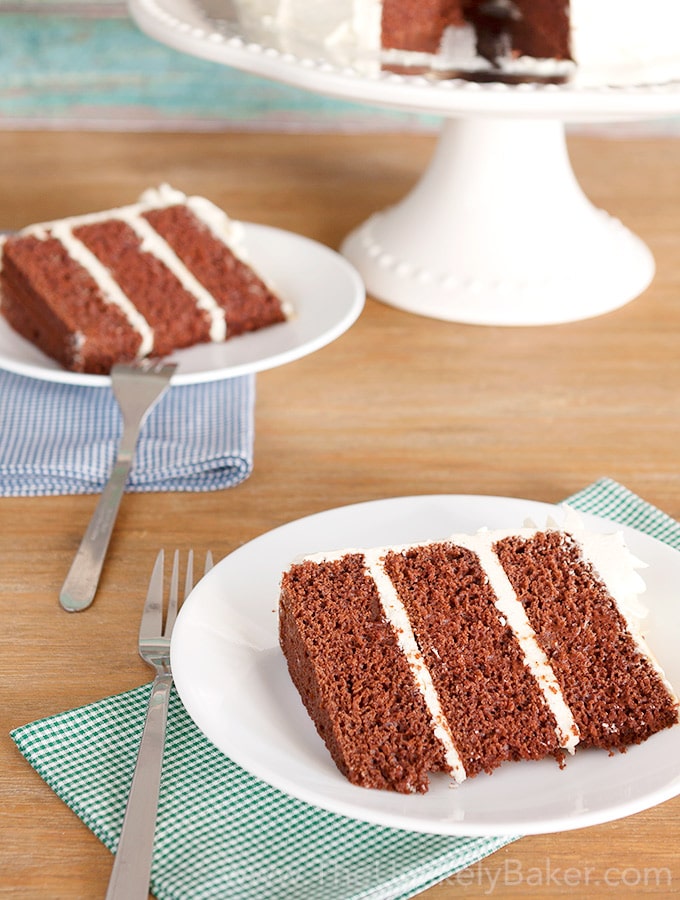 Baking this successfully the first time feels a lot like winning. I couldn't believe it either but yes, it only took me one try. Me! So I cannot wait to try the other recipes in the book.
Go ahead and try this one. It is very good and seriously, if I can do it, anybody can.
(And happy birthday Red! Thanks for everything xoxo)
London Fog Cake with Earl Grey Buttercream
The London fog cake is a chocolate layer cake frosted with luxurious Earl Grey buttercream and topped with salted caramel sauce. It is divine.
Ingredients
For the Chocolate Cake:

2 1/2 cups all purpose flour
1 cup unsweetened, natural cocoa powder
2 1/2 teaspoons baking powder
3/4 teaspoon baking soda
1 teaspoon salt
1/2 cup + 2 tablespoons canola oil (or any other neutral oil)
2 cups granulated sugar
2 large eggs, room temperature
1 large egg yolk, room temperature
2 teaspoons vanilla extract
1/2 teaspoon almond extract
1 1/2 cups milk, room temperature
1 cup strong-brewed coffee, hot
For the Earl Grey Buttercream:

2 cups unsalted butter, room temperature
1/4 cup loose Earl Grey tea
1/2 cup + 2 tablespoons egg white, room temperature
1 1/4 cups granulated sugar
1 1/2 teaspoons vanilla bean paste
For the Salted Caramel Sauce:

You can use this recipe or your own.
Instructions
For the Chocolate Cake:

Preheat oven to 350F. Grease and flour the bottom and sides of 3 8-inch baking pans. For good measure, I also always line the bottom with parchment paper but you don't have to. Set aside.
Sift 2 1/2 cups all purpose flour, 1 cup cocoa powder, 2 1/2 teaspoons baking powder, 3/4 teaspoon baking soda and 1 teaspoon salt. Set aside.
Using an electric hand mixer or a stand mixer fitted with the paddle attachment, beat 1/2 cup + 2 tablespoons oil and 2 cups sugar on medium speed for 2 minutes. With the mixer still running, add the 2 eggs, the egg yolk, 2 teaspoons vanilla and 1/2 teaspoon almond extract. Remember to scrape the bottom and sides of your bowl.
Switch to low speed and add a third of your flour mixture then half of your milk. Add the next third of your flour, the rest of your milk and the last of your flour. Make sure each addition is incorporated well. Again remember to scrape for rouge batter.
Still on low speed, gradually drizzle in the coffee (be careful, it will splatter). Mix on low-medium speed speed for no more than 30 seconds or until combined.
Evenly divide the batter into your 3 pans and bake for 23-27 minutes or until a toothpick inserted in the middle of the cakes comes out clean or with minimal crumbs.
Cool on a wire rack for 15 minutes then remove cakes from pans and cool on rack completely.
For the Earl Grey Buttercream:

In a medium saucepan, place 1 cup butter and 1/4 cup Earl Grey tea and cook on medium heat until the butter melts. Switch to low heat and simmer for 5 minutes. Remove from the heat and let the tea steep for another 5.
Strain the butter through a fine-mesh sieve into a bowl and refrigerate until the butter becomes solid again but only until the consistency of softened butter.
In the meantime, put 1/2 cup + 2 tablespoons egg whites and 1 1/4 cups sugar in the bowl of your stand mixer. Using your stand mixer's whisk attachment, manually whisk the mixture until combined. Place the bowl over a saucepan filled with a few inches of simmering water (make sure the water doesn't touch the bottom of the bowl) and whisk until the mixture reaches 160F (if you don't have a candy thermometer, you can check for doneness by rubbing the mixture between your fingers. If the sugar is fully dissolved and the mixture is smooth, it's ready).
Attach the bowl onto your stand mixer and whisk on medium-high speed until you reach medium-stiff peaks (about 8-10 minutes). At this point, when you touch the bowl it should not be hot anymore (should feel more like room temperature).
Switch to the paddle attachment and on low speed add the 1 1/2 teaspoons vanilla bean paste. Also proceed to add your tea butter and the rest of your butter a couple of tablespoons at a time until the mixture is well combined and incorporated.
Switch to medium-high speed again and beat the buttercream until smooth, glossy and creamy (about 3-5 minutes).
For the Salted Caramel Sauce:

See this salted caramel sauce recipe
Assembly:

Trim the tops of your cakes to make them level and of equal height. Place the first piece on a cake turntable and spread frosting evenly. Repeat with the next layers until the cake is covered with buttercream.
Decorate as desired and top with salted caramel sauce.
https://theunlikelybaker.com/london-fog-cake/
This delicious recipe brought to you by www.TheUnlikelyBaker.com | (c) 2016-2017
(Recipe adapted from Layered and used with permission from the author).
Happy baking!
Did you make this London fog cake? Tell me about it in the comments section below. I'd love to hear all about it.
Obsessed with layer cakes? Here's more:
And let's get social! Find me on Facebook, Pinterest, Instagram, Twitter, Google+ and Flipboard.
Or subscribe so you don't miss a recipe. I promise I don't spam (I hate spam too).
Do you want to improve your food photography, monetize your blog or start your very own food blog? Check out my Blogging Resources.