This strawberry mango banana smoothie is summer in a glass! Delicious, refreshing, easy to make and full of summer's favourite fruits. It's the perfect drink to enjoy on a warm summer day or everyday.
(Love smoothies? Try this orange smoothie with bananas and yogurt. So good!)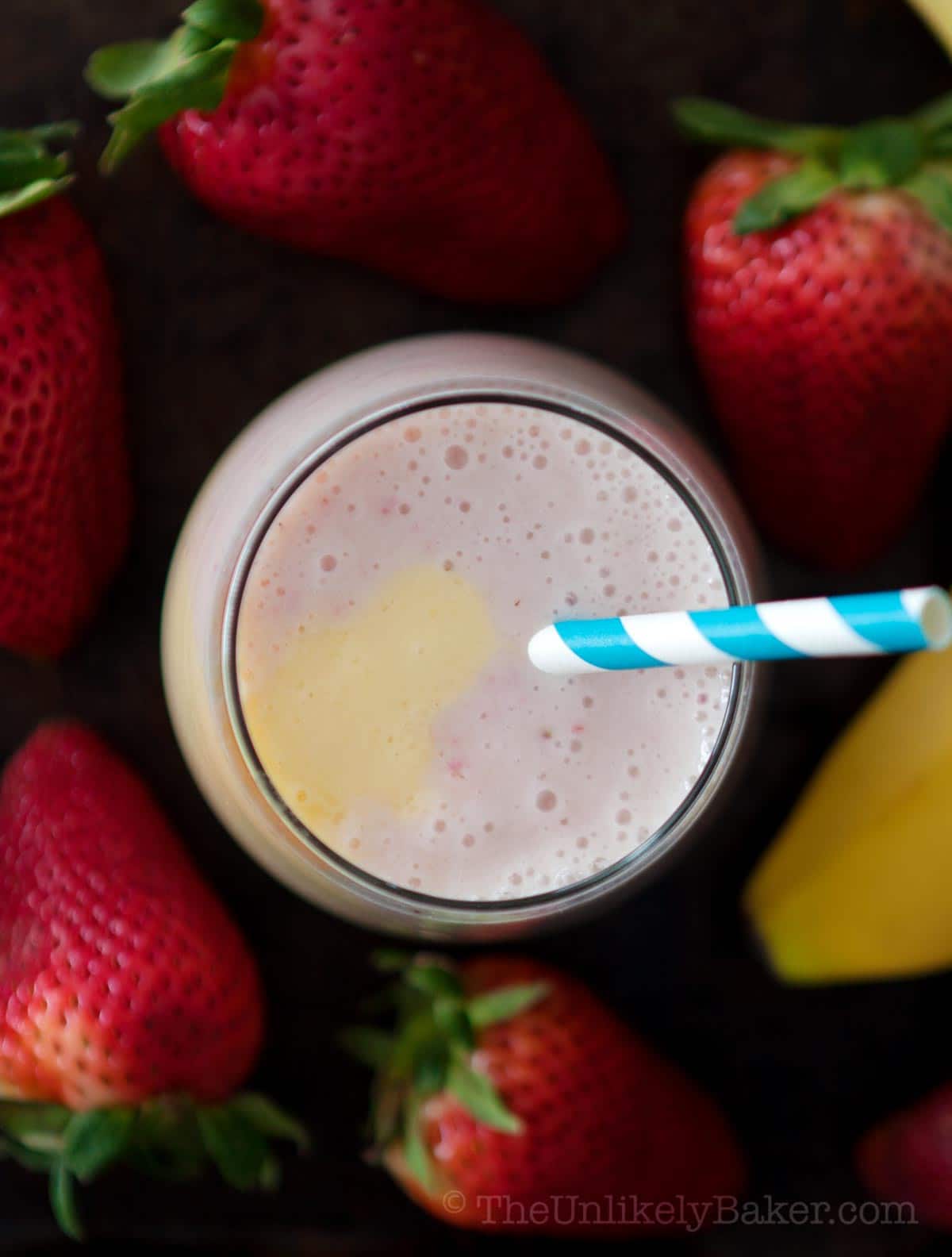 Summer is finally here! Time to bust out that grill…and that blender.
I almost didn't share this smoothie recipe because it's so simple. Just mangoes, strawberries and bananas in a blender.
I found that a lot of people wanted to know how to make their smoothies creamy, rich and thick though.
So I decided to share our family's favourite smoothie and lots of tips as well. Let's get to it.
Why you'll love making your own smoothies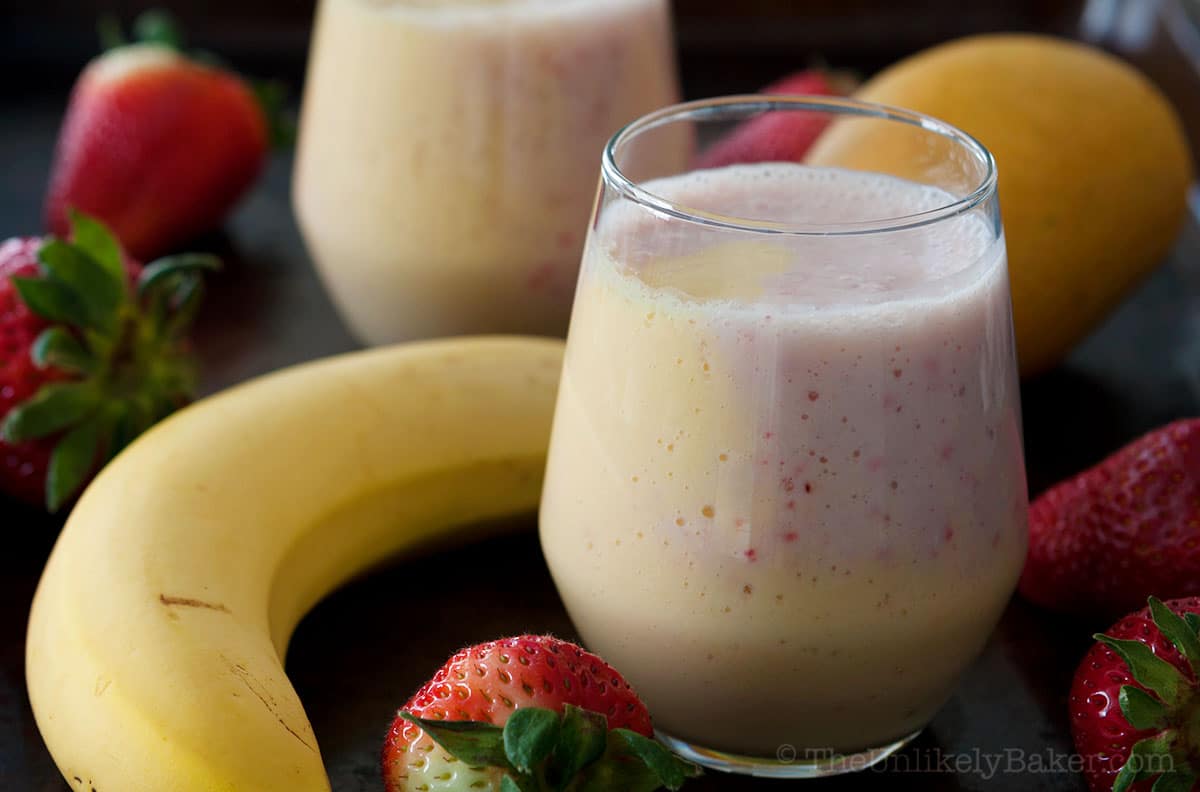 If you're still not on the smoothie train, this mango-strawberry-banana combo might just be the one to get you on it!
Delicious and refreshing. First off, the combination of mango and strawberries, plus creamy bananas, is just delicious and so refreshing.
Easy to make. It's a breeze to make too.
Cheaper. And it's cheaper to make compared to smoothies you buy at the mall. Bonus: you know exactly what's in it!
Easy to customize. Speaking of what's in it, this smoothie recipe is very easy to customize. I give lots of suggestions below.
Great use for fruits about to go bad. And my favourite thing about making smoothies at home? It's a great way to use those forgotten fruits that nobody wants to eat anymore. No food wasted.
How to make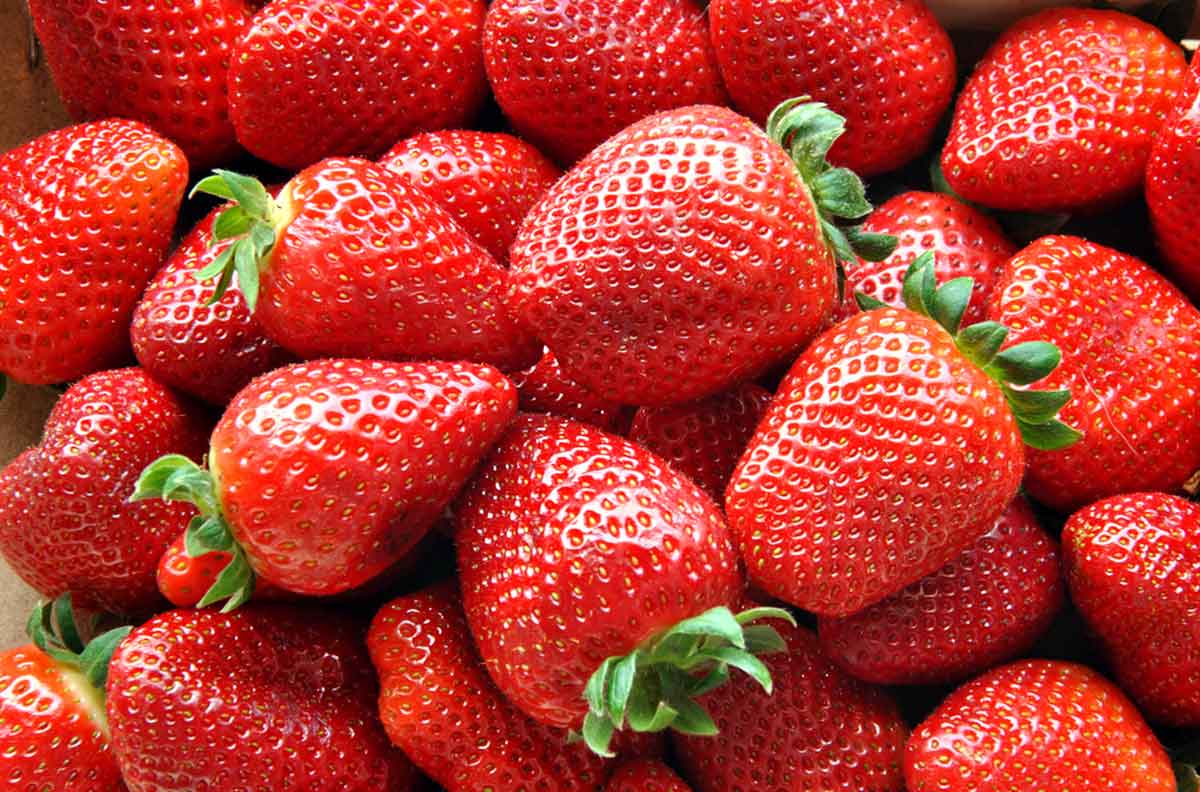 You only need 6 ingredients to make strawberry mango banana smoothies. You don't need a high-tech blender either.
Frozen strawberries
Frozen bananas
Frozen mangoes
Milk — I usually make smoothies with almond milk but any kind of milk will do
Greek yogurt — if you prefer a smoothie with no yogurt, I give lots of suggestions for alternatives below
Honey — you can also use maple syrup or skip this altogether if your fruits are already very sweet and ripe
I like to layer my smoothies (I'm fancy like that lol) so I make each layer separately then pour them in a glass.
If you don't want a layered smoothie, simply blend all ingredients together. That easy!
Smoothie making tips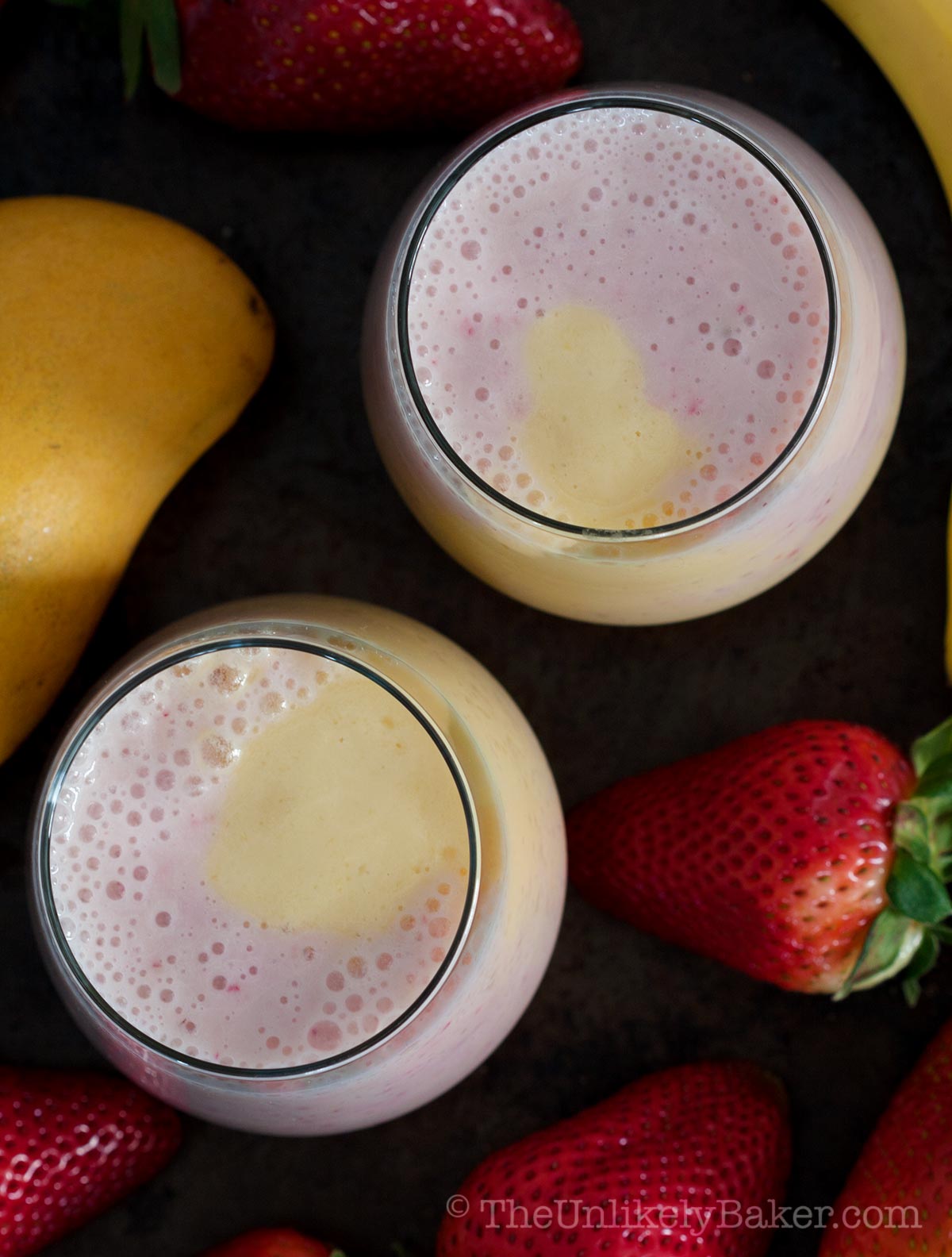 Secrets to a creamy smoothie
I prefer a rich, creamy smoothie. And one way I achieve that is by using frozen fruits instead of ice.
I find that ice tends to thin out the mixture so using frozen fruits helps me get that ice-cold, creamy smoothie I like.
Other things you can do:
Add yogurt. Yogurt not only adds protein and a depth of flavour to your smoothie, it also helps make it creamy.
Include fruits that blend creamy not runny. Fruits like bananas and mangoes, as opposed to oranges and watermelons.
Other healthy ingredients. You can also add chia seeds or oatmeal to your smoothies. They're a nutritious thickening agent.
Adjusting the consistency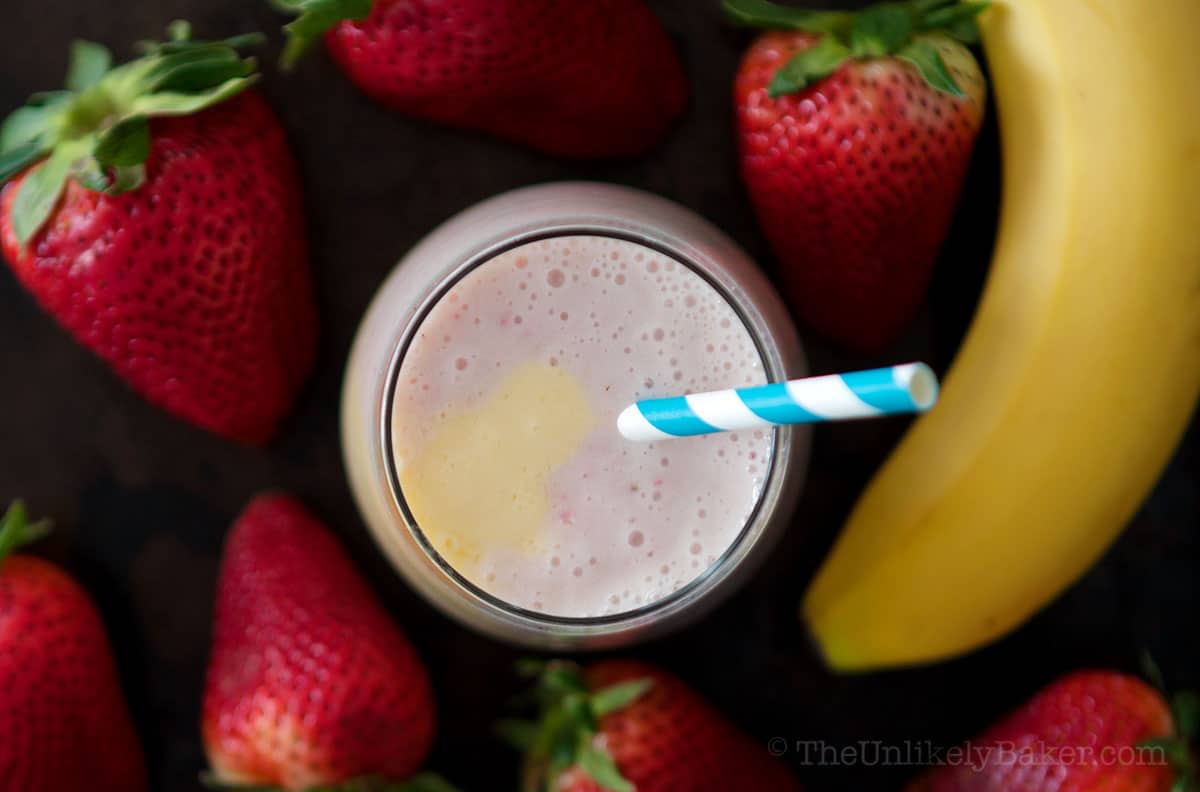 If you're on the opposite end of the smoothie spectrum and prefer a lighter smoothie, simply add ice to your mixture to thin it out.
Or if you accidentally made your smoothie too thick, add liquid — milk or juice or even water — a little a time until you get the consistency you like.
Best liquid to use when making smoothies
Speaking of liquids, what's the best kind to include in your smoothie?
This is really a matter of personal preference. When making banana strawberry mango smoothie, my base is always milk. But you can definitely swap this out for:
Fruit juice, like orange and pineapple, or even peach
Coconut water
Or simply water
Experiment and discover all the delicious combinations!
How to make a creamy smoothie without yogurt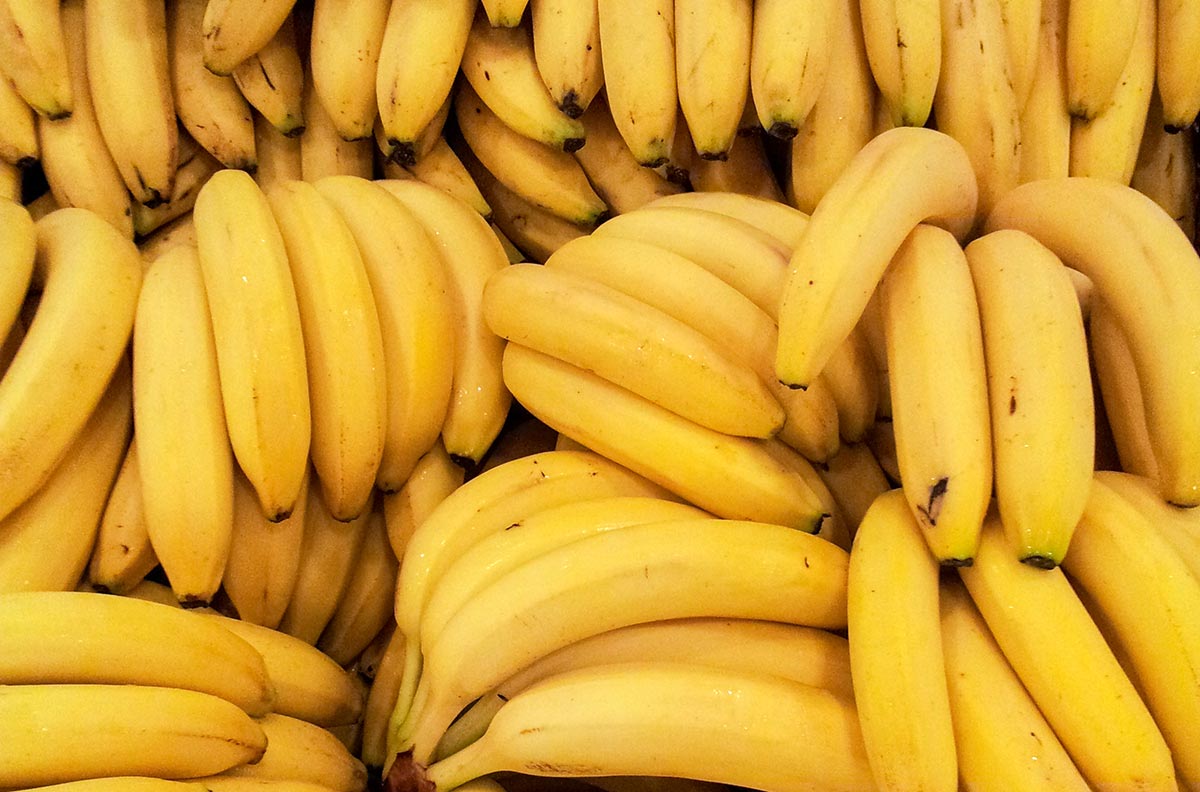 If you're not a fan of yogurt or ran out of it, you can still make your smoothies rich and creamy by using one or a combination of the following:
Avocado
Coconut cream
Protein powder
Oatmeal or chia seeds
Nut butters
Or simply add more bananas and mangoes.
Best way to freeze fruit
We buy frozen fruits but when it's summer and there's an abundance of produce, we freeze our own.
I usually just grab a cup of sliced strawberries, sliced mangoes and sliced bananas (or whatever your favourite fruits are), put them in Ziploc bags and freeze.
When you're smoothie ready, just place them in your blender and off you go.
If you want to freeze fruits separately and not in one bag, it's best to place the individual pieces on a baking pan lined with parchment paper first, then freeze.
Once each piece is frozen, you can place them in a Ziploc bag. This way, you can avoid the chances of them sticking together in one frozen fruit ball.
Variations and substitutions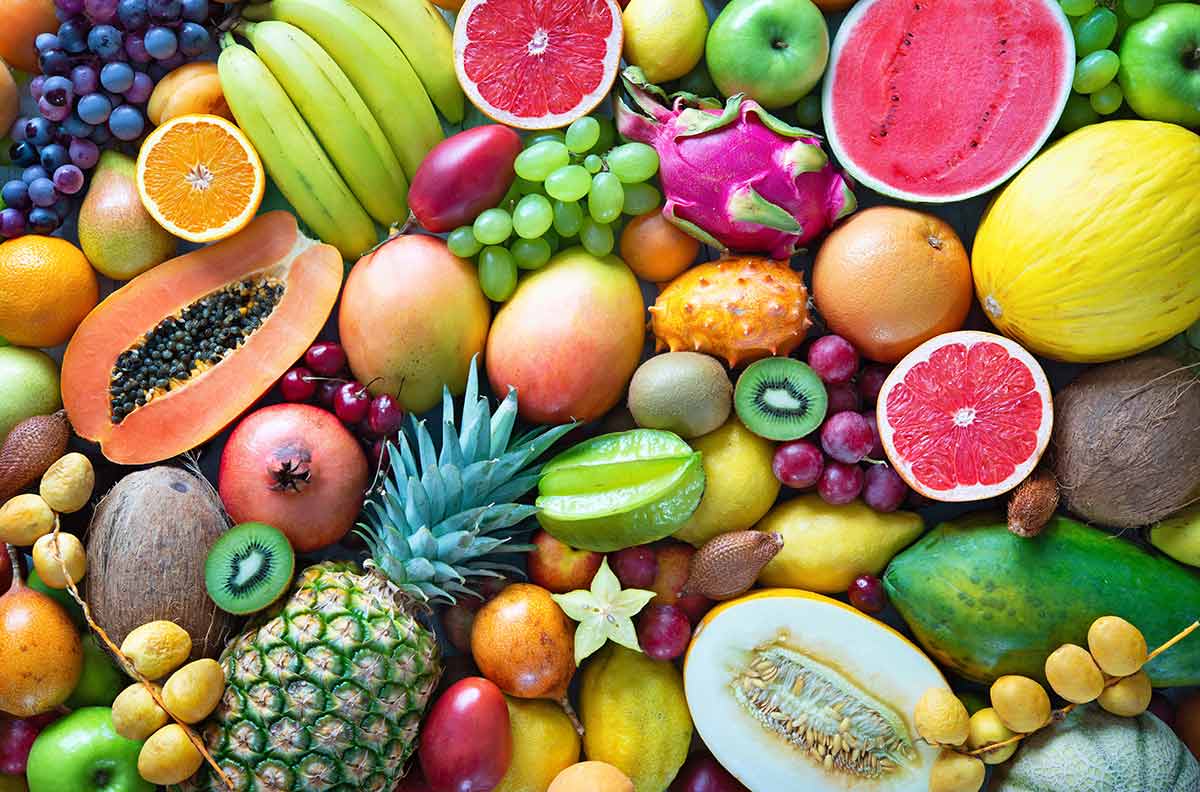 When making strawberry smoothies, I almost always stick to strawberries, bananas and mangoes. That's not to say you can't shake things up!
Fruits that go well with strawberries: kiwi, oranges and other berries
Fruits that go well with mangoes: apples, melons and pineapples
Add avocados or greens like kale and spinach
And instead of yogurt, you can use any of the alternatives in the previous section.
Recipe FAQs
Can I use this recipe to make a smoothie bowl?

Yes, you can! Just make sure to make your smoothie real thick, then top with your favourite things like nuts, dried fruit, granola and fresh berries.
What's the best mango to use for smoothies?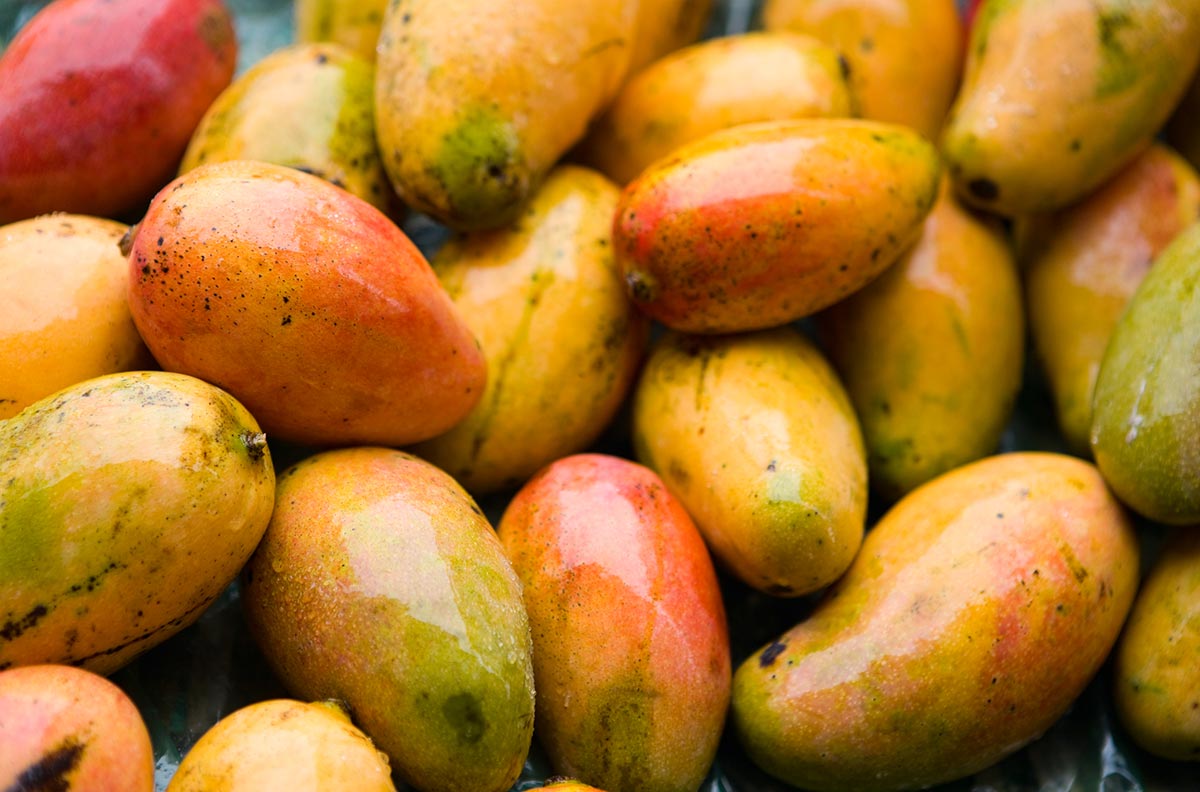 We usually get ataulfo mangoes and red mangoes here. While both are great, I prefer the silky and buttery texture of ataulfo mangoes in smoothies.

There really is no right or wrong choice though. Just make sure the mangoes you're using are ripe and sweet.
Can I make this ahead?

Absolutely. Just prepare as directed, pour into a freezer-safe container, then freeze. Thaw in the fridge overnight to enjoy the next morning.
Shelf life

While frozen smoothies can last for months in the freezer, the consistency will change the longer they sit, which I'm not a huge fan of.

The fruit might also oxidize, changing its colour.

So I personally prefer to make smoothies fresh, else chill it in the fridge.

They should be good as new until the next day, though you may need to stir it again if separation occurs.
Other summer drink recipes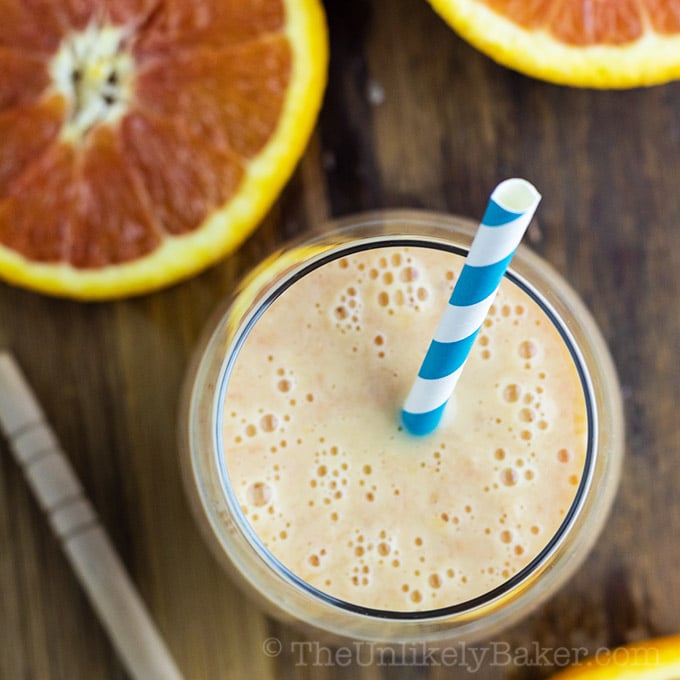 If you need more recipes to help you stay cool this season, try:
Also check out this refreshing collection of more than 80 summertime drinks!
Enjoy!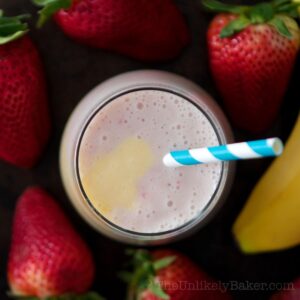 Strawberry Mango Banana Smoothie
This strawberry mango banana smoothie is summer in a glass! Delicious, refreshing, easy to make and full of summer's favourite fruits.
Ingredients
Layer 1:
1

cup

sliced strawberries

about 5-6 pieces, frozen

1

ripe banana

sliced and frozen

1

cup

almond milk

you can substitute with your milk of choice

¼

cup

greek yogurt

Honey

to taste
Layer 2:
Flesh from 1 ripe mango

frozen

1

cup

almond milk

¼

cup

greek yogurt

Honey

to taste
Instructions
Starting with layer 1, blend all ingredients (except the honey) until smooth and creamy.

Add honey to taste (I usually put 2-3 tablespoons) and blend to incorporate. Repeat for layer 2.

Pour into a glass one layer at a time.

Enjoy cold.
Notes
If you don't want a layered smoothie, simply blend all ingredients together and add honey at the end to taste.
See post for lots of smoothie making tips, variations and FAQs.
Nutrition
Calories:
140
kcal
Carbohydrates:
22
g
Protein:
7
g
Fat:
4
g
Saturated Fat:
1
g
Polyunsaturated Fat:
2
g
Monounsaturated Fat:
2
g
Cholesterol:
3
mg
Sodium:
344
mg
Potassium:
392
mg
Fiber:
4
g
Sugar:
13
g
Vitamin A:
48
IU
Vitamin C:
47
mg
Calcium:
369
mg
Iron:
1
mg
Nutritional information are estimates only.
Tried this recipe? Leave a star rating today!
Also tag @iamtheunlikelybaker I'd love to see your creations.
Did you make this strawberry banana mango smoothie? I'd love to hear from you in the comments section below.
And let's get social! Find me on Facebook, Pinterest, Instagram, Twitter and YouTube.