Warm, delicious and boozy, the classic hot toddy is a favourite winter drink. With honey, lemon and whiskey, what's not to love? It's proven effective against coughs and colds too.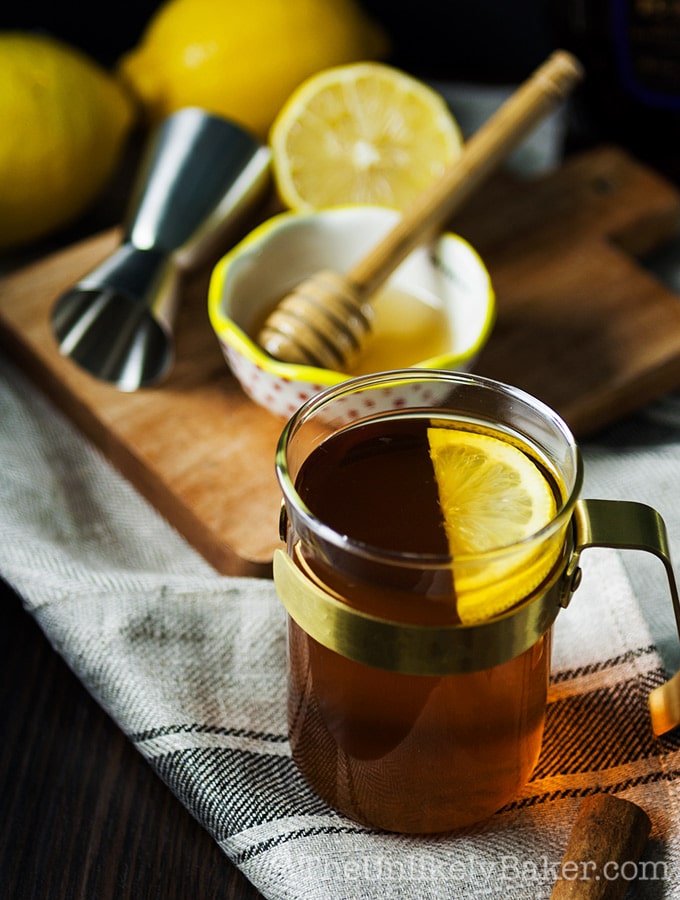 We've had one heck of a start to 2018 weather-wise. With the windchill averaging at -30C/-22F, we've been hibernating and I'm sure we're not the only ones! Happily, we have a short break from all that arctic air – it only feels like -12C/10F as I'm writing this – but the brutal cold is expected to return sooner rather than later (of course it will).
With all that cold comes the sniffles. Which I just always happen to get. And as you guys might remember, I'm allergic to most medicines so I rely on home remedies to get me through.
This classic hot toddy is a favourite. Not only is it quick and easy to make, it's delicious too. Oh and did I mention it's boozy? With a shot of whisky (or bourbon or rum or brandy), a glass (or two, you decide) of hot toddy on a cold winter night won't only warm you up. It will also help with those colds and give you a good night's sleep.
Disclaimer: I'm not a doctor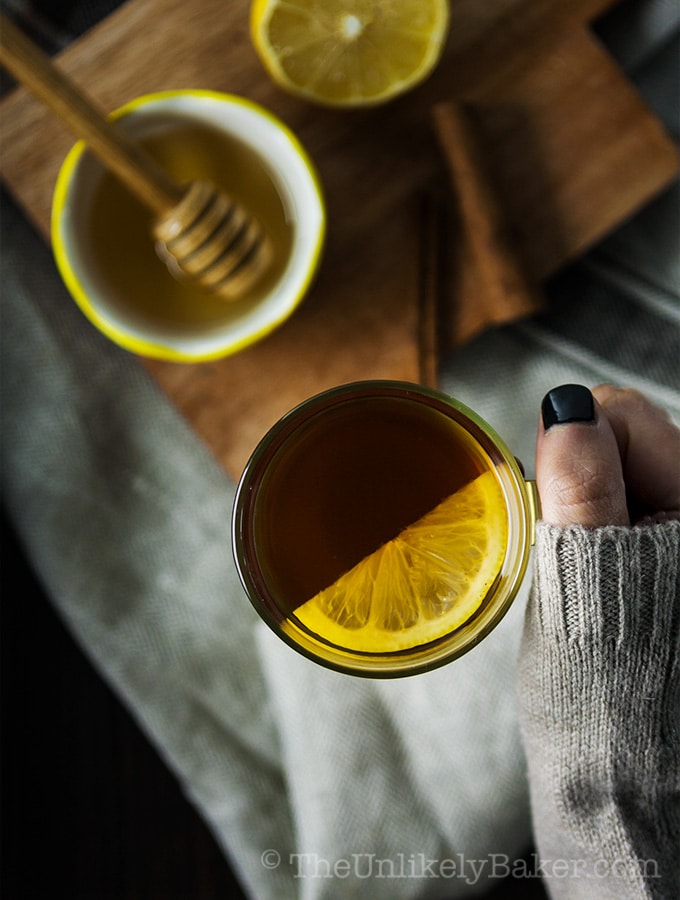 I wish I was some kind of doctor. A famous surgeon maybe. The kind that TV shows are based on. But I'm deathly afraid of blood. And needles. I'm just a girl who's been allergic to medicine all her life so I've tried my fair share of herbal and alternative medicine.
I know these work wonders for me. Have you tried them?
Classic hot toddy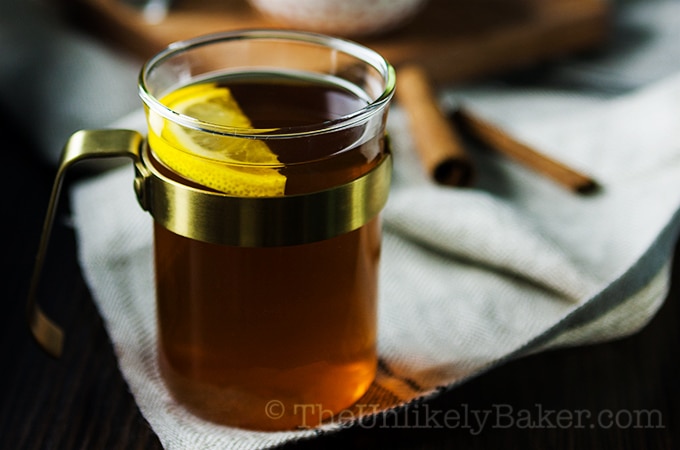 The classic hot toddy is another favourite in my home remedy arsenal (thanks to my friend T who forced me to make some one year that I was sick!). Like turmeric golden milk and fresh lemon ginger tea, it's super simple to make and tastes delicious.
If you have tea, whiskey (or booze of choice), honey, lemon, cinnamon (we deserve a little treat when we're not feeling well!) and 5 short minutes, you can make yourself a nice cup of hot toddy to drive those winter blues away.
Favourite winter drink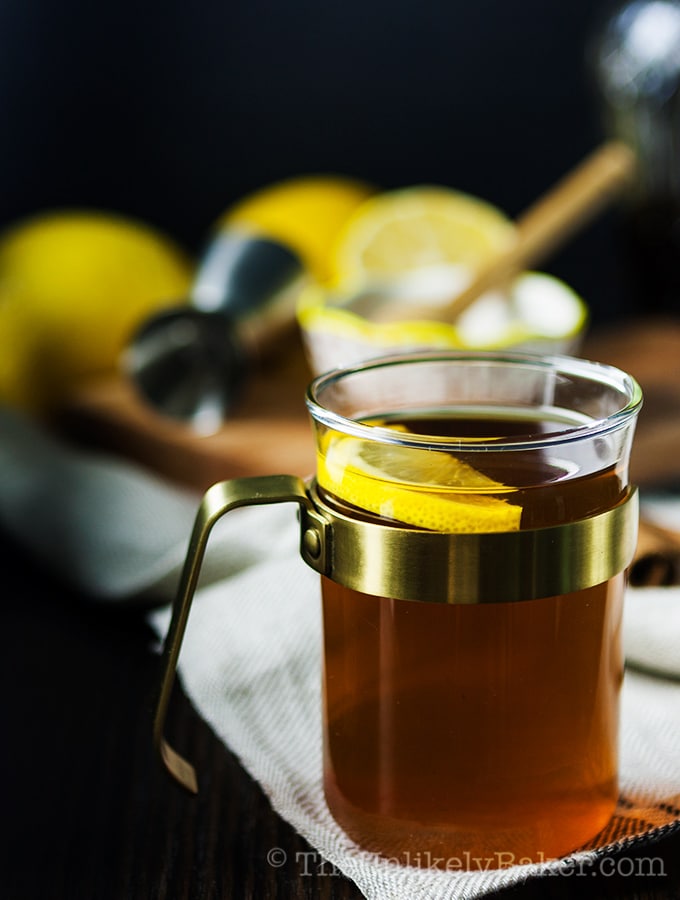 Not sick? Much better! You can enjoy this lovely little cocktail by the fire (or space heater) while grudgingly lovingly watching the snow fall (try not to think about all the shovelling you'll need to do tomorrow). Enjoy and keep warm!
Related: How to Take Stunning Food Photos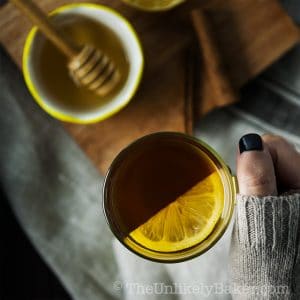 Classic Hot Toddy
Warm, delicious and boozy, the classic hot toddy is a favourite winter drink. With honey, lemon and whiskey, what's not to love? It's proven effective against coughs and colds too.
Print
Rate
Ingredients
1

cup

hot water

1

tea bag

Earl Grey or any tea of your choice

see note 1

2

oz

whiskey

see note 2

2

tbsp

honey

see note 3

2

tsp

lemon juice

Pinch

ground cinnamon
Instructions
Steep your tea in 1 cup hot water for 3-5 minutes.

Meanwhile, put 2 oz whiskey and 2 tbsp honey in a mug or a cup.

Pour the tea into your mug. Add 2 tsp lemon juice and a pinch of cinnamon. Stir and enjoy while warm.
Notes
Don't have tea? No problem. You can make hot toddy with just hot water.
Apart from whiskey, you can also use bourbon, rum or brandy. You can also adjust the quantity depending on how strong you like your drink.
You may need more (or less) honey; again, it depends on how you sweet you like your drink.
Cheers!
Did you make classic hot toddy? What's your favourite home remedy for colds and flu? I'd love to hear from you in the comments section below.
Winter blues getting to you? Here are some recipes that's sure to brighten up your day and make your tummy happy:
And let's get social! Find me on Facebook, Pinterest, Instagram, Twitter, Google+ and Flipboard.
Or subscribe so you don't miss a recipe. I promise I don't spam (I hate spam too).
Do you want to improve your food photography, monetize your blog or start your very own food blog? Check out my Blogging Resources.