This orange smoothie with bananas and yogurt is made with Cara Cara oranges, some of the best of the winter citrus season. But you can use your favourite orange for the best orange smoothie any time of the year.
(Love citrus? Get ready to pucker up with these perfectly sweet and tart creamy lime bars. Got a stash of Meyer lemons? Make the easiest, creamiest, Meyer lemon pie with condensed milk. And if you can't get enough of Cara Cara oranges, try making this 10-minute orange curd.)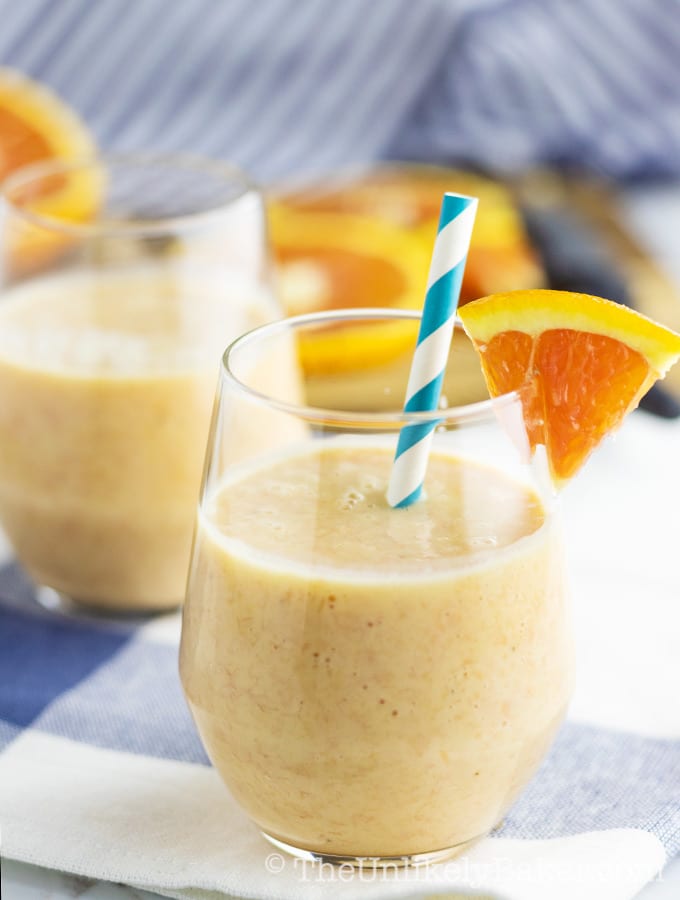 You know how many times I shovelled today? Too. Many. And we're not even close to spring! (It's funny how Canadians complain about winter all the time, eh? Sorry.)
You know one of the few things I like about the winter though? Citrus fruits.
We get an abundance of Meyer lemons and oranges and I think this year I'm on track to consuming a record number of them – from blood oranges to sumo oranges to Cara Cara oranges.
This orange smoothie is made from Cara Cara oranges because I just happened to buy a whole bag from Costco but you can use whatever kind of orange you like.
And it doesn't even have to be winter! It's refreshing and delicious any time of the year.
How to make banana orange smoothie with yogurt
Making this banana orange smoothie is easy. You don't even need to follow a strict recipe. Taste and adjust as you go.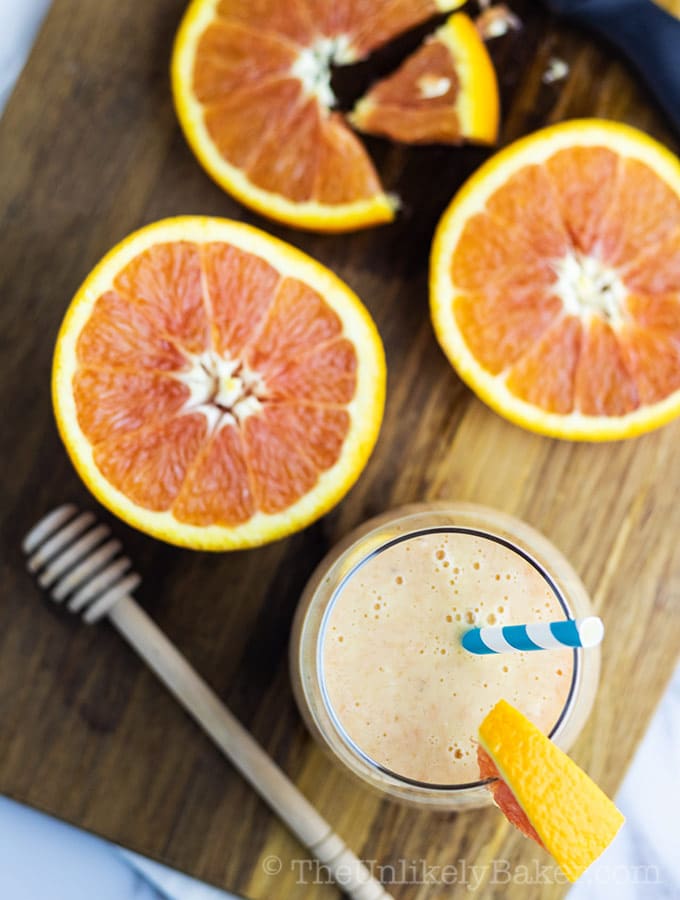 Ingredients
Yup, you read that right. We're not going to use any juice concentrate in this smoothie.
Just fresh oranges. And bananas. Plain Greek yogurt. A splash of vanilla. And some honey. That's it!
Ok that's not entirely true. You may need to add a splash of milk too if you want to thin your smoothie out a little bit.
Tools
A blender. There are a whole lot of blenders out there, we own the most basic one
.
Usually it struggles blending large amounts or if we put lots of frozen fruit in, so we have to work around that by putting some liquid in first, or not putting the frozen fruit all at once.
One day we'd love to upgrade to a Ninja
or a Vitamix
but it'll do for now. Work with what you have, right?
How do I make my orange smoothie creamy?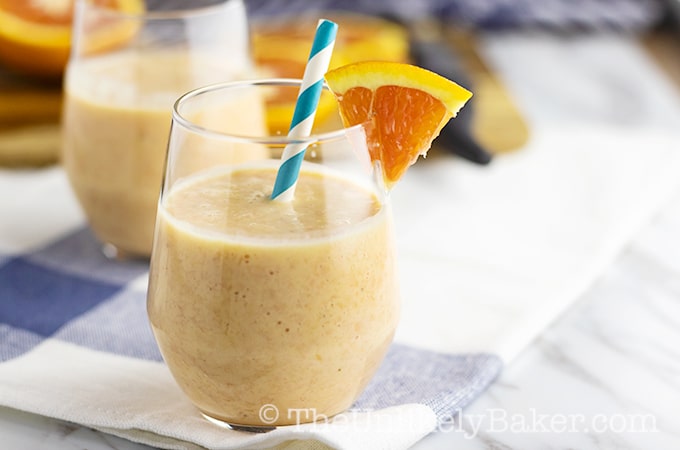 I love my smoothies thick and creamy. Like this ultra luxe strawberry mango banana smoothie.
If you're like me, here are some tips for you:
Use frozen fruit instead of ice cubes. In my experience, ice cubes just dilute the smoothie by adding unnecessary water. Frozen fruit gives me the frostiness I need without watering it down. Also, instead of buying already-frozen fruit, I typically buy fresh fruit and just freeze them myself. Especially in the summer when fruits are abundant.
I always add yogurt. Specifically, plain Greek yogurt. We try to stay away from flavoured yogurt and all that added sugar. This delicious peach smoothie uses unsweetened yogurt as well.
You also have the option of adding chia seeds or flax seeds. I did not add them in this recipe but they not only thicken your smoothies, they're also packed with super nutrients that are good for you (speaking of chia, we love chia pudding. Try this tropical mango or this perfect-for-spring rhubarb).
Check this out for more tips on how to make a smoothie thicker from Liz over at I Heart Vegetables.
How to supreme oranges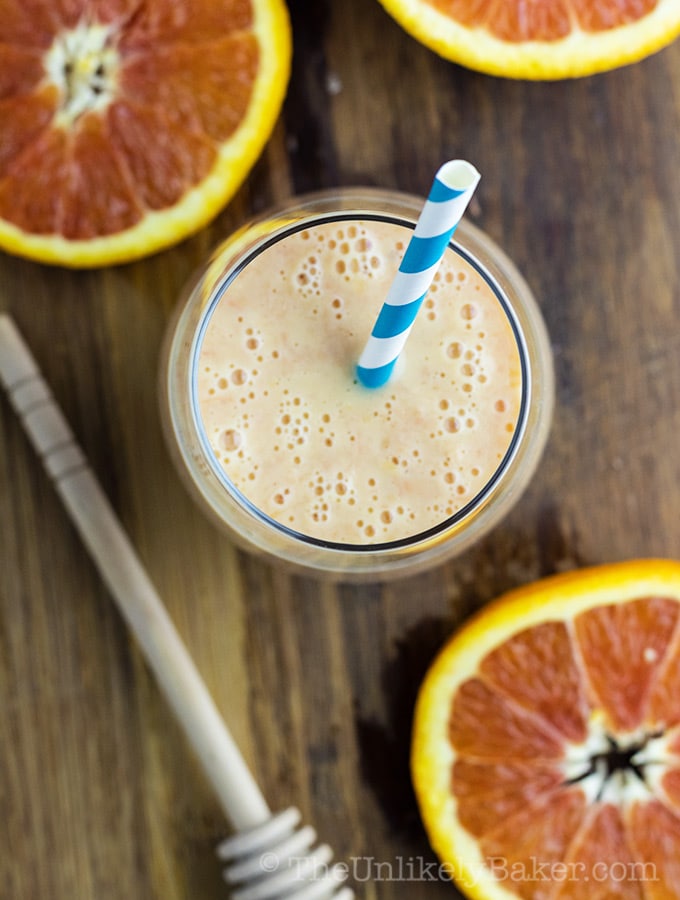 If you scroll to the recipe below, you'll notice that I put whole orange wedges/slices into my smoothie. Cara Cara oranges have a very subtle flavour and I wanted it to shine through.
So instead juicing it and missing out on the pulp, I supremed (or at least I tried to supreme) the slices to remove as much of the pith and membranes as possible.
I may have butchered my orange slices, I will never tell, but here's a great tutorial on how proper supreming should look like.
Worst case scenario: you leave some pith in there and there's a slight bitter aftertaste in your smoothie. It didn't bother me at all though it did bother my mom just a little bit.
If you can't be bothered with this whole supreming thing and don't want to risk that aftertaste, no worries. Just juice the living daylights out of your oranges instead.
More pick-me-upper recipes
Hope you enjoy this orange smoothie! Winter is in full swing up here but a glass of this is like drinking liquid sunshine.
Need more pick-me-uppers amidst all this winter doom and gloom? Try these delicious recipes:
First, there's chocolate. Always a great idea! And with champorado, you have a perfectly good excuse to eat chocolate for breakfast.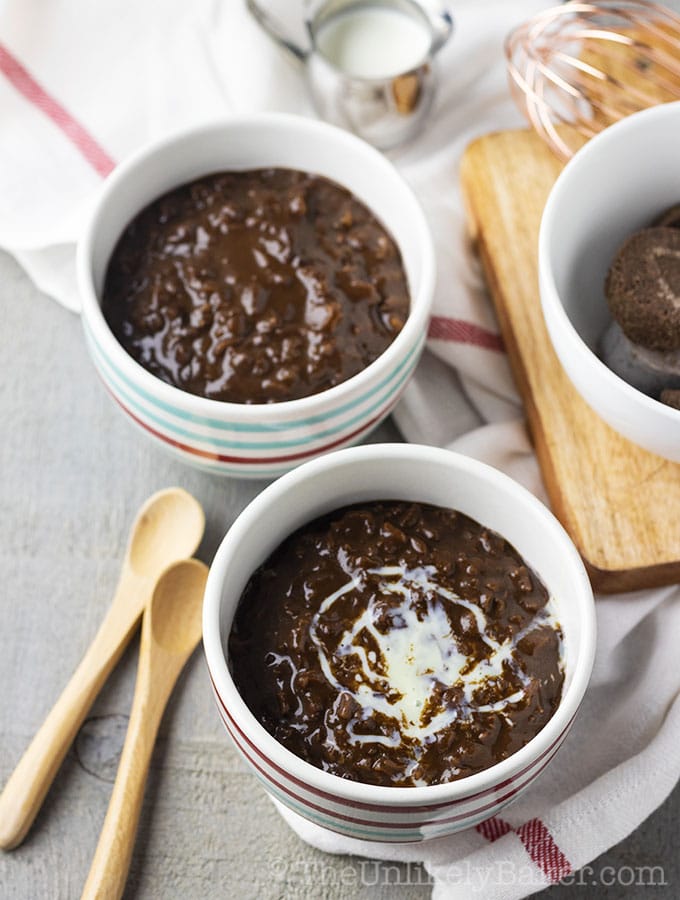 If you prefer something light and lemony, these soft and and sweet lemon rolls will do the trick.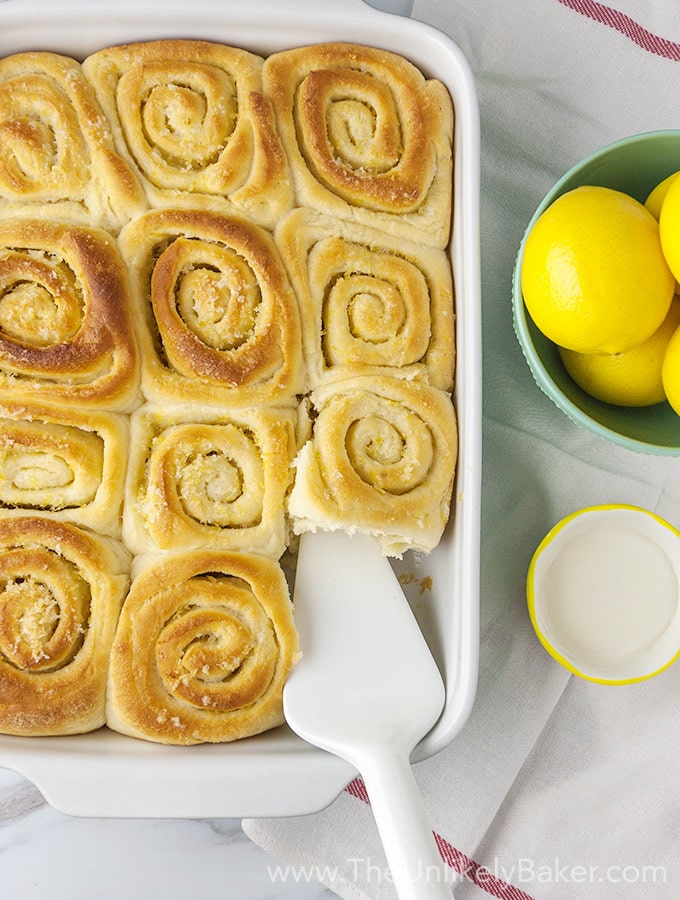 Need something warm, delicious and comforting to sip at night? Try a cup of this classic hot toddy. You'll sleep like a baby too!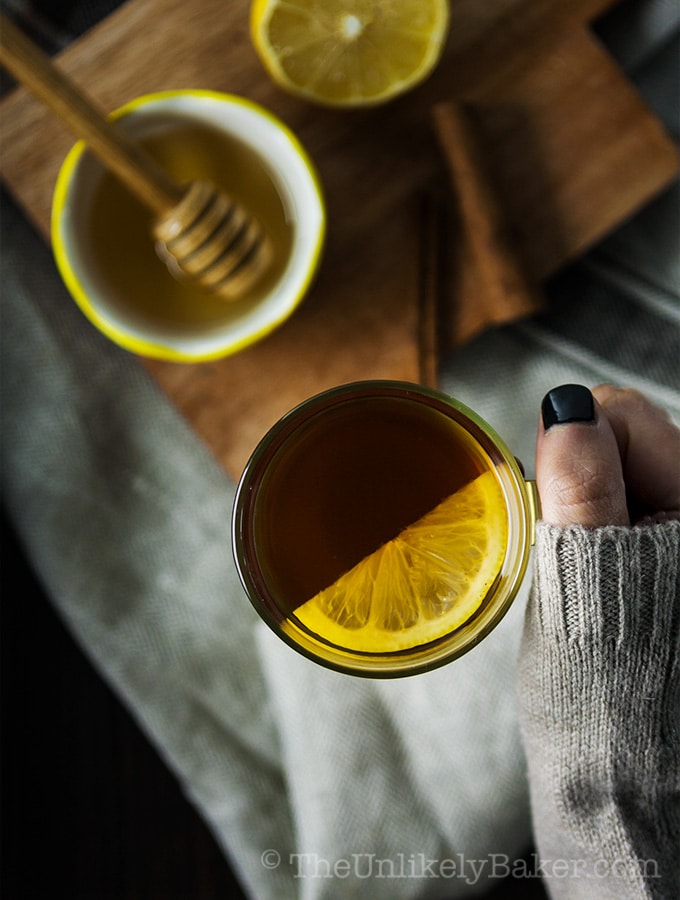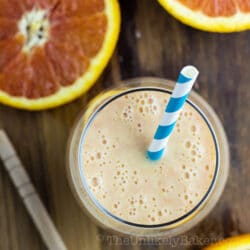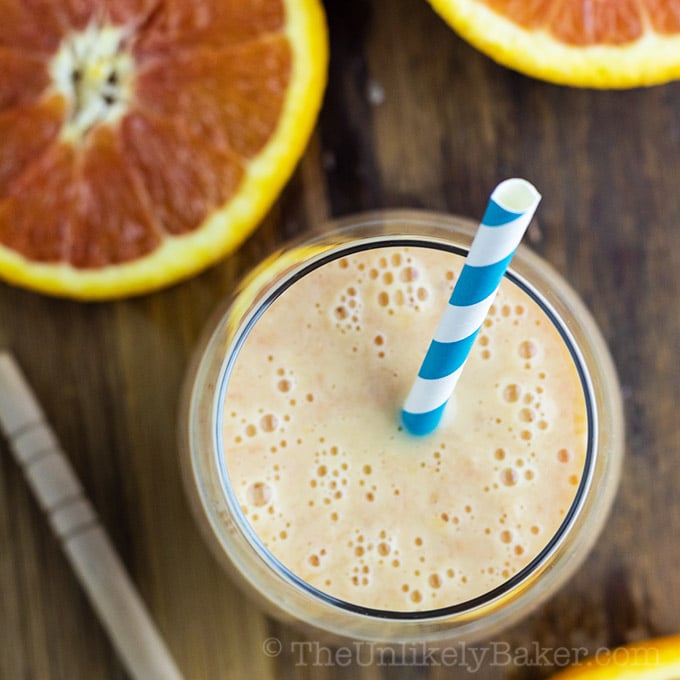 Orange Smoothie with Bananas and Yogurt
You can use your favourite orange to make this orange smoothie with bananas and yogurt for the best orange smoothie any time of the year.
Ingredients
½

regular size

banana

frozen, see notes

3

regular size

oranges

supremed and frozen, see notes

½

cup

Greek yogurt

milk

optional

splash

vanilla extract

honey

to taste
Instructions
In a blender, blend ½ banana, 3 oranges and ½ cup Greek yogurt until smooth and incorporated. Taste and add more bananas, if you want your smoothie creamier or sweeter. If you want to thin it out, add a teaspoon (or more) of milk.
Notes
To freeze bananas, I slice them into 1-inch thick pieces, put them in a Ziploc bag and store them in the freezer until I'm ready to use them. I label the bags – how many bananas there are (e.g. ½ or 1 whole) and the date I froze them.
Bananas have a very strong flavour and tend to overwhelm other fruit flavours in a smoothie. For this recipe, start with ½ of a banana and add 1-2 slices depending on the flavour and texture you want.
For this recipe, I used Cara Cara oranges but you can use whatever kind of orange you like. Just remember that different oranges have different flavour profiles. Taste and adjust as you build your smoothie.
Oranges tend to dry up when frozen for too long. So to freeze oranges for this recipe, simply put the supremed slices in a Ziploc bag and place them in the freezer about an hour before you plan to use them. This is enough time to chill them while still preserving their wonderful juices.
You can also choose to just juice the oranges instead of putting in whole wedges/slices.
Nutrition
Calories:
15
kcal
Carbohydrates:
1
g
Protein:
2
g
Cholesterol:
1
mg
Sodium:
9
mg
Potassium:
35
mg
Vitamin C:
0.4
mg
Calcium:
28
mg
Nutritional information are estimates only.
Tried this recipe? Leave a star rating today!
Also tag @iamtheunlikelybaker I'd love to see your creations.
Happy blending!
Did you make banana orange smoothie? I'd love to hear from you in the comments section below. What's your favourite kind of smoothie to make?
And let's get social! Find me on Facebook, Pinterest, Instagram and Twitter.