Learn how to make crispy baked chicken wings in the oven. You don't even need to use baking powder to make them extra crispy. Then drizzle them with optional — but highly recommended — Asian garlic sauce for the ultimate game day and party food.
(Prefer baking to frying? Me too! Check out this recipe for turon or Filipino banana lumpia that's baked not fried. Same delicious crunchy taste, less unnecessary calories from cooking oil.)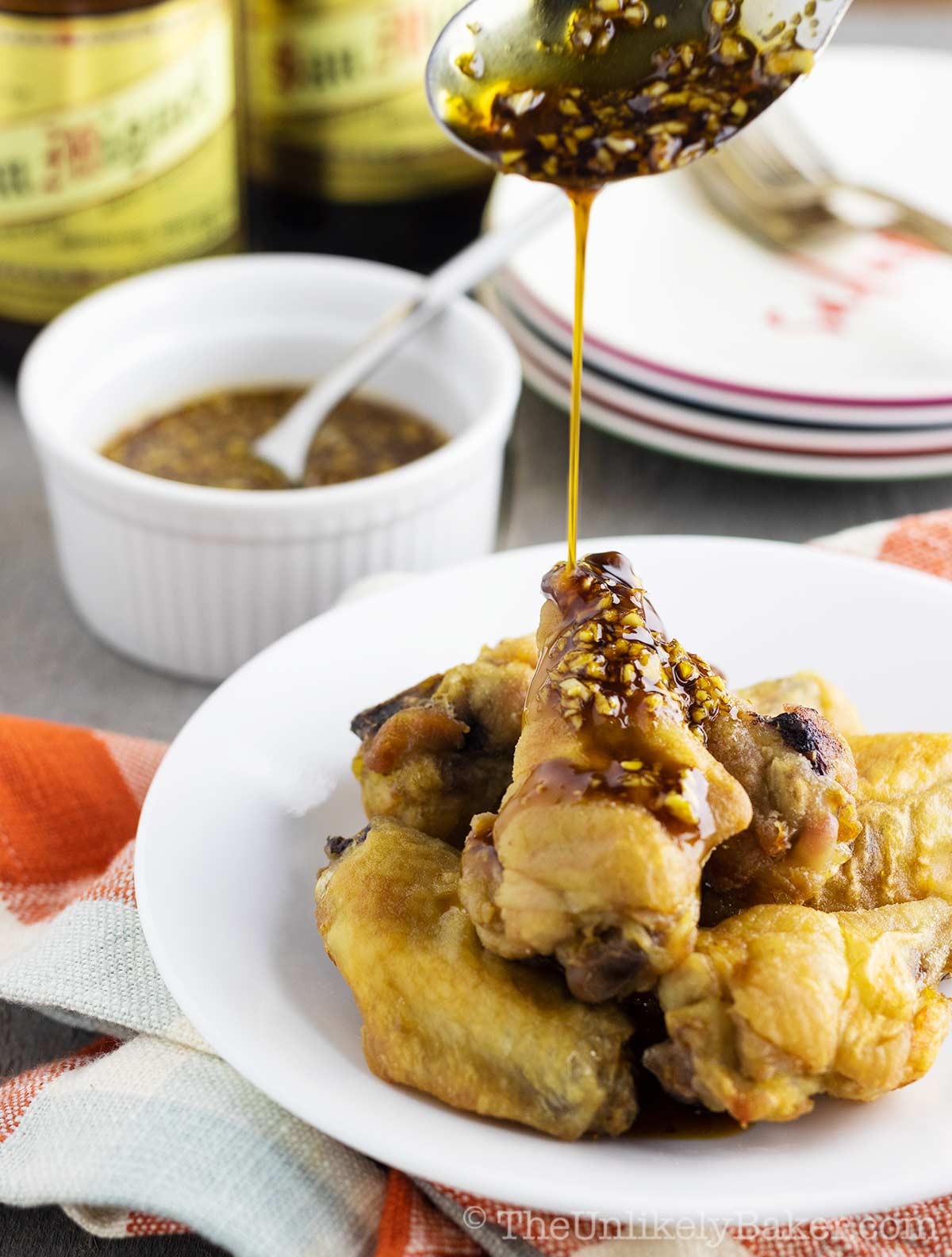 I love game day — from the Super Bowl to hockey night, from the World Series to March Madness — and game day food and drinks, of course (try these pisco cocktails!)
There's just something about eating pizza and ultimate nachos all day and all night, right? People show up for them as much as for the games themselves.
Chicken wings are a favourite too. And these ones are special.
You don't have to fry them to make them nice and crispy.
Drizzled with an Asian-style sauce made of soy sauce, minced garlic and brown sugar, they're deliciously sticky too!
Why you'll love baking chicken wings
These chicken wings are quick and easy to make and so good. And you'll want to make them all the time because:
Baked not fried. I'm not a fan of deep-frying and if you're the same, you'll love how crispy these get in the oven. You simply prep them, lay them out on your baking sheet, then bake. No hot oil required.
Crispy without baking powder. And you don't even need to use baking powder. In this recipe, the wings are lightly coated in just flour, then baked.
Easier to customize. Not only are they unbelievably easy to make, they're even easier to customize. You can drizzle them with any kind of sauce you like.
Looking for more variety? Try baked Spanish chicken wings!
How to make baked asian chicken wings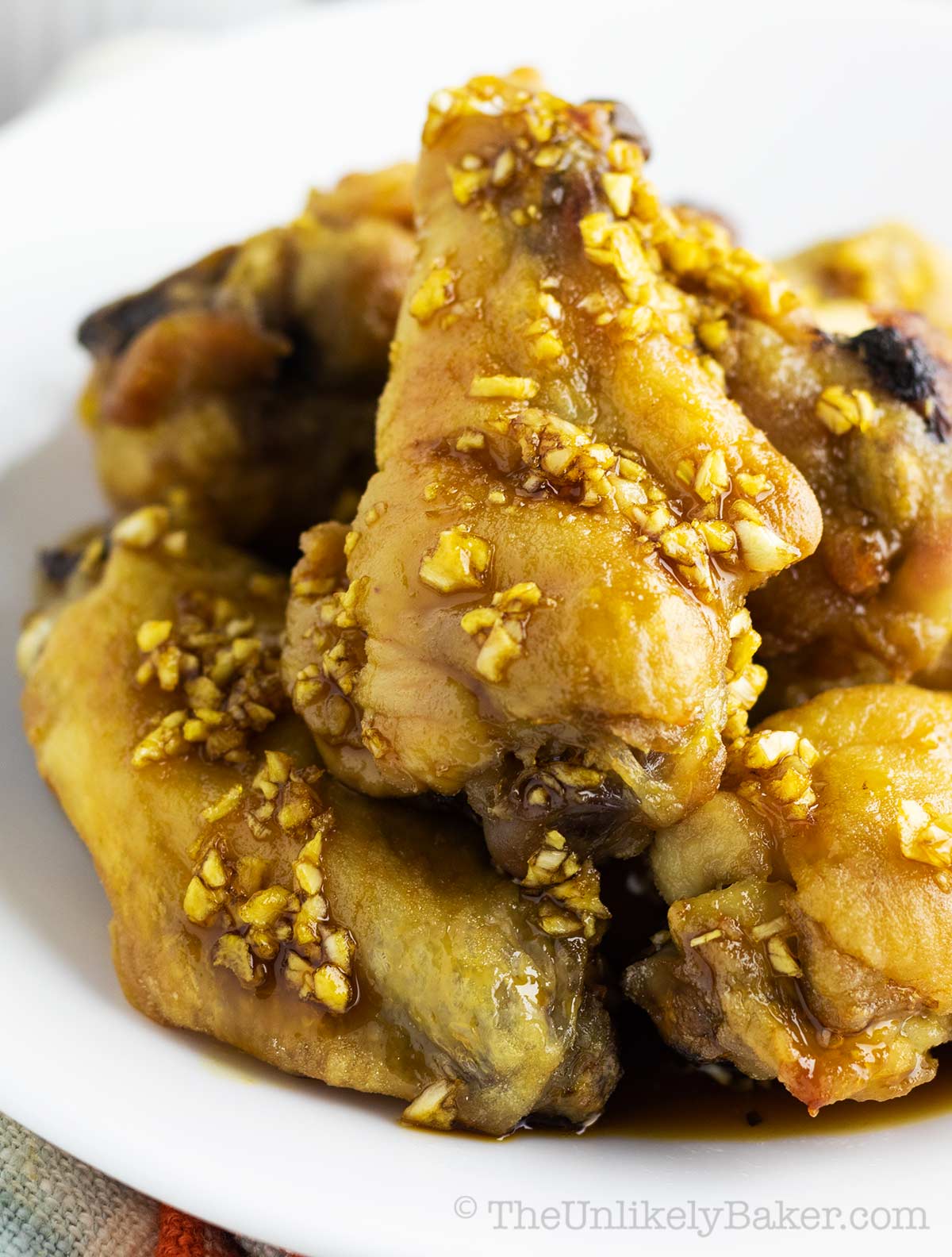 Ingredients
To make this baked chicken wings recipe, you would need just 5 ingredients:
3 lbs chicken wings — we get them with the tips already cut off and each individual wing already cut into two pieces. Here's a great reference if you need to do the trimming and the cutting yourself at home.
Minced garlic, lots of it — we like to use our mini food processor to make mincing easier. Or sometimes we use the pre-minced garlic you can buy in a jar at Costco.
Soy sauce — we use regular soy sauce but you can use light soy sauce if you like.
Brown sugar — I do recommend using dark brown sugar and not light brown sugar, though. Otherwise you may end up putting more sugar than necessary to get the sweetness just right.
You'll notice that there's no salt or pepper in this recipe. All the flavour comes from the soy sauce-based sauce.
See the FAQs below if you're skipping that, or would like a different sauce.
Tools
You don't really need specialized tools to make crispy chicken wings. Just the baking sheet and the cooling rack I mentioned earlier.
Metal tongs would help too, for flipping the wings. Plus a small whisk for preparing the sauce.
Procedure
Line a rimmed baking sheet with aluminum foil or parchment paper.
Place a greased cooling rack (I use baking spray) on top of the parchment paper or foil and set aside.
Pat dry your chicken wings then lightly coat with flour (don't drench in flour, we don't want them breaded, just lightly coated).
Place them on the cooling rack and bake for 45 minutes at 425F.
Then flip each piece so the other side can brown too. Continue baking for another 10-15 minutes.
How to make crispy chicken wings in the oven without baking powder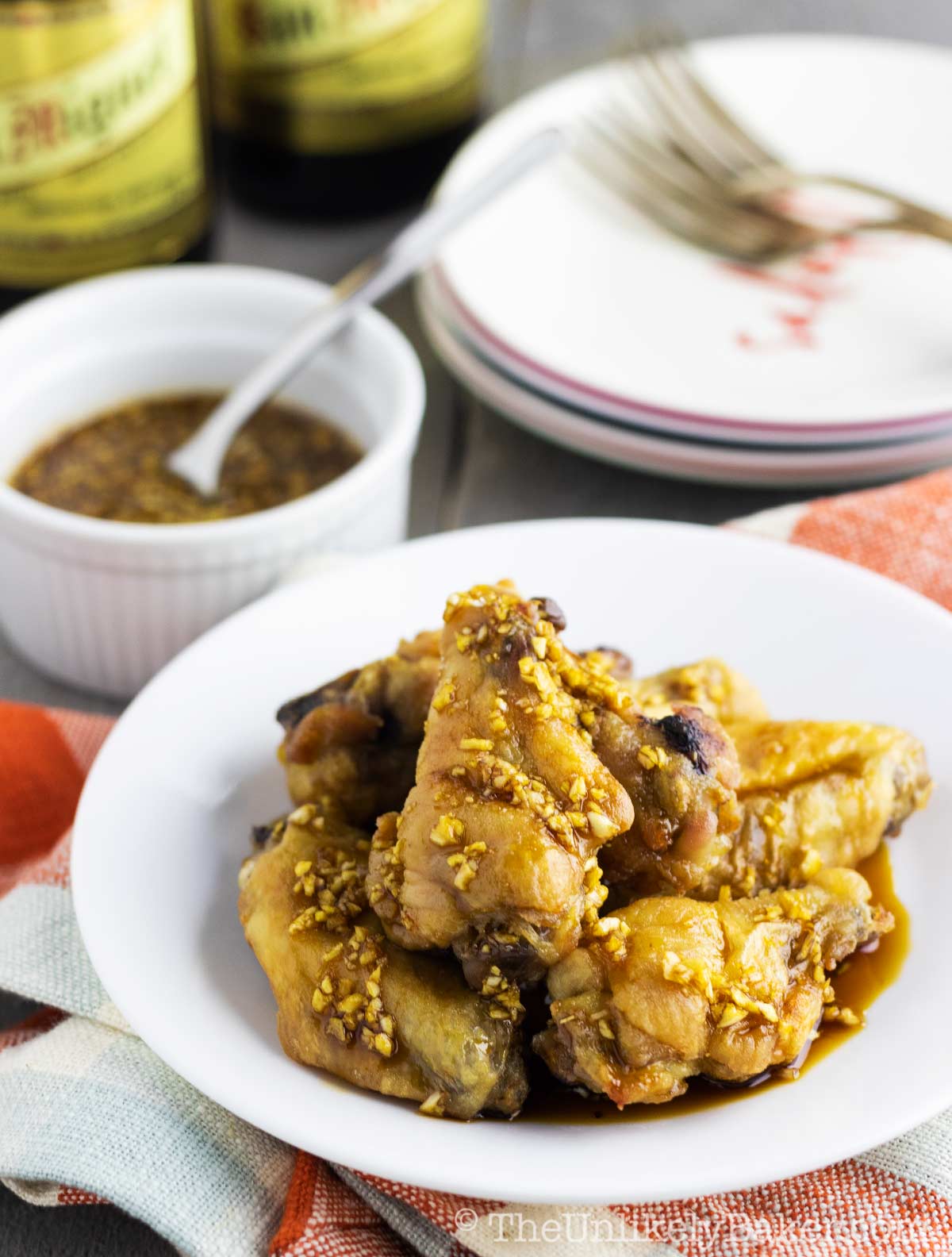 If you've been on the fence about making chicken wings in the oven because you're concerned they won't turn out as crispy as you'd like, just follow these tips and you won't look back. You won't even need baking powder.
Pat dry. Make sure to dry each chicken wing with a paper towel. Have doubts? Do it again. The less moisture there is on your wings, the crispier they will be.
Cook in high temperature. Bake them at 425F. This is a pretty high temperature and it is what's needed to get that nice crunch. So make sure you preheat your oven and, for good measure, invest in an oven thermometer so you know you're baking at the correct temperature.
Bake on a wire rack or cooling rack. Placing the pieces of chicken on a baking rack allows air to circulate inside the oven and around your wings, and any liquid to simply just drip off of them.
Grease the rack. It's also important to grease the wire rack before placing your chicken wings on them so they don't stick to the rack and you end up losing all that nice outer skin.
Space them out. When placing your wings on the rack, ensure they're spaced out properly as well. I usually give each piece about half an inch of space around. This helps them cook evenly and prevents them from sticking to each other.
Line baking sheet. Lining your baking sheet with aluminum foil or parchment paper doesn't necessarily affect crispiness but makes for one heck of an easier clean-up after.
Recipe FAQs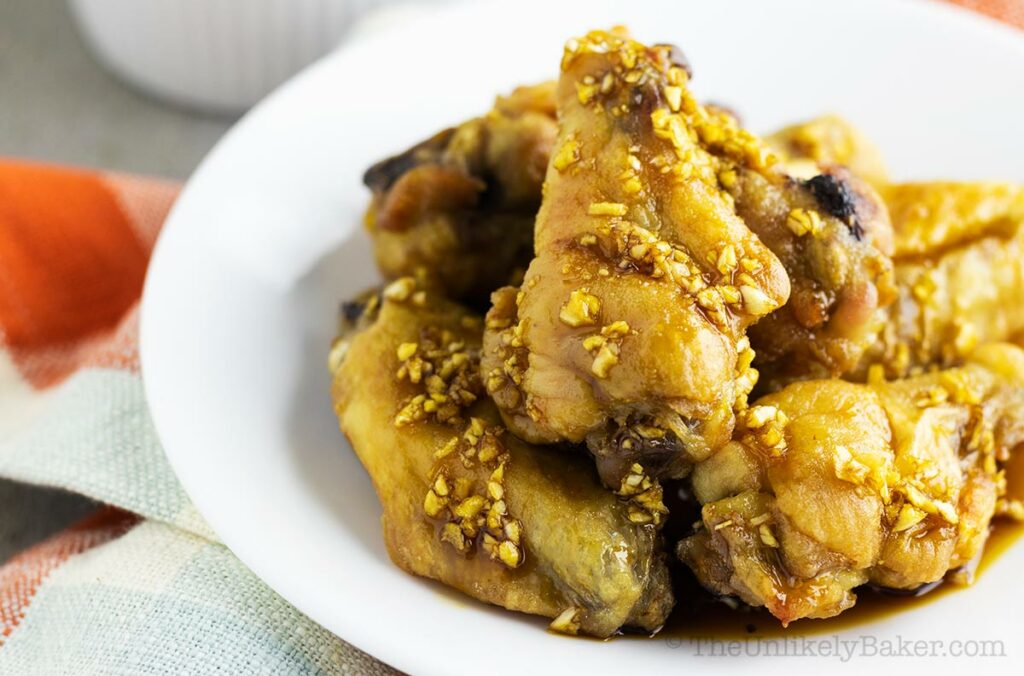 Can I use frozen chicken wings?

If using frozen chicken wings, make sure to allow enough time for them to thaw, then pat them dry thoroughly. Don't use chicken straight out of the freezer.
How to ensure they don't stick

To make sure the wings don't stick to your wire rack, grease the rack before placing the wings on it. Also allow enough space between each piece of chicken so they don't stick to each other.
Do I need to flip chicken wings while baking?

Yes, when baking chicken wings you need to flip them so that the bottom gets the chance to brown and get crispy too. This usually happens in the last 15 minutes of baking.
What temperature to bake chicken wings in

In this recipe, the wings bake at 425F. Make sure to preheat your oven because baking the wings at the right temperature is key to making them crispy.

An oven thermometer is also great to ensure that the temperature of your oven is accurate.
How long does it take to cook?

Baked at 425F, these chicken wings take about an hour to cook.
Can I use garlic powder instead of minced garlic?

We always use minced garlic in this recipe because it has a stronger, fresher flavour.

You can use garlic powder in a pinch, just know that the flavour profile would change slightly and the substitution ratio is not 1:1.

The best way is to taste your sauce as you add garlic powder about ⅛ teaspoon at a time. Then adjust to your liking.
Can I skip the garlic Asian sauce?

These chicken wings are so flavourful and tasty they don't need a dip.

They're spicy from all that minced garlic, salty from the soy sauce, and sweet from the brown sugar. So if you're a sweet and salty fan like me, these asian chicken wings are right up your alley.

Not into that? You can skip the garlic soy sauce altogether and go for simple, unbreaded wings. Just make sure to properly season the wings with salt and pepper before baking.

Or you can drizzle and dip them in your favourite chicken wing sauce, from buffalo to blue cheese to ranch, and make them perfect just for you.
How to reheat chicken wings in the oven

You can store leftovers in the fridge.

To reheat, you can either microwave them for a minute or, if you want to get that crispiness back, you can pop them in an oven toaster for several minutes or in an oven preheated to 350F.
What to serve with oven-baked chicken wings on game day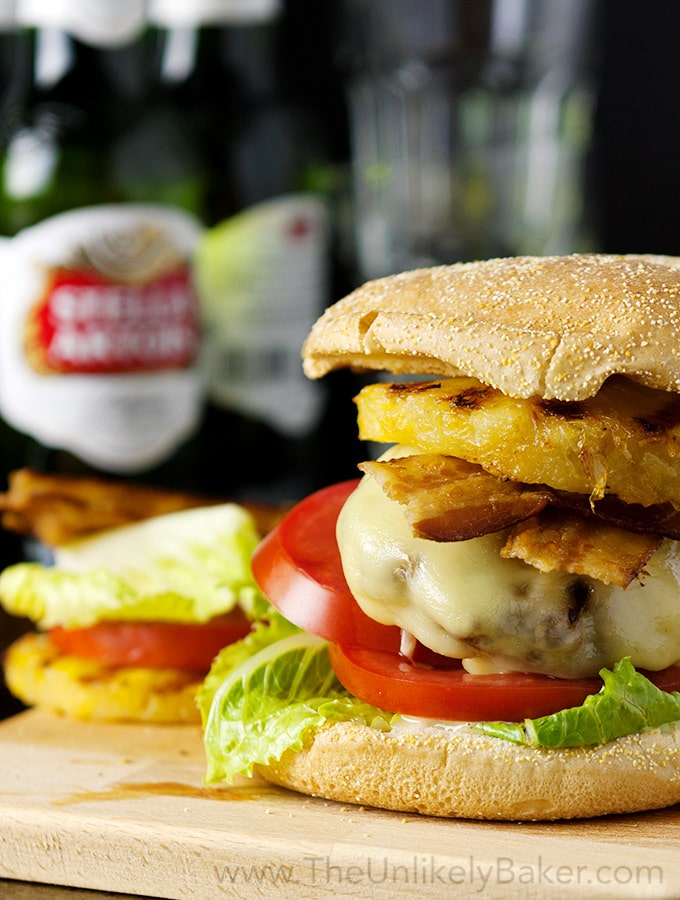 Crispy chicken wings are a universal favourite; they're usually the first thing people reach for at parties! Wondering what goes well with them?
You cannot go wrong with aloha burger— juicy cheeseburger with grilled pineapple and crispy bacon. Make it more exciting by setting up a build-your-own burger station!
And here are other recipes I found from some of my favourite food bloggers that's sure to be a hit with everyone:
Enjoy!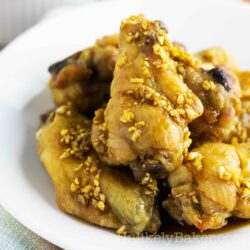 Crispy Baked Asian Chicken Wings (No Baking Powder)
Learn how to make crispy baked chicken wings in the oven without using baking powder. Drizzled with Asian garlic sauce, it's the ultimate game day and party food.
Instructions
Grease a wire rack or cooling rack and place it on top of the parchment paper or foil. Set aside.

Pat dry each piece of chicken with a paper towel then lightly coat with flour on each side.

Place the chicken wings on the cooling rack and bake for 45 minutes or until cooked through and golden brown.

Take out of the oven (keep oven on) and flip each piece. Return the pan to the oven and bake for another 10-15 minutes until that side turns golden brown as well.

While your chicken wings are baking, make your sauce by whisking minced garlic, soy sauce and brown sugar in a small bowl until thick, sticky and fully incorporated. Taste and adjust as you go (see notes).

Drizzle sauce over the chicken wings before serving.
Notes
Space your chicken pieces evenly so they don't stick to each other.
You can adjust the amount of soy sauce and brown sugar to add to the sauce, to taste.
Remember though that you want the sauce saltier than you would normally have it. If you hold back on the salt too much, the sauce may lose its flavour when you drizzle it over the chicken wings.
See post for more tips and FAQs.
Nutrition
Calories:
347
kcal
Carbohydrates:
17
g
Protein:
24
g
Fat:
19
g
Saturated Fat:
5
g
Cholesterol:
94
mg
Sodium:
931
mg
Potassium:
258
mg
Sugar:
11
g
Vitamin A:
180
IU
Vitamin C:
2.4
mg
Calcium:
37
mg
Iron:
1.9
mg
Nutritional information are estimates only.
Tried this recipe? Leave a star rating today!
Also tag @iamtheunlikelybaker I'd love to see your creations.
Happy baking!
Did you make this recipe? How'd you find baking the wings instead of frying them? I'd love to hear from you in the comments section below.
And let's get social! Find me on Facebook, Pinterest, Instagram and Twitter.