The ultimate nachos: tacos ground beef, served with fresh Pico de Gallo and drizzled with chipotle cream. We haven't even talked about the whole toppings shebang yet. Delicious.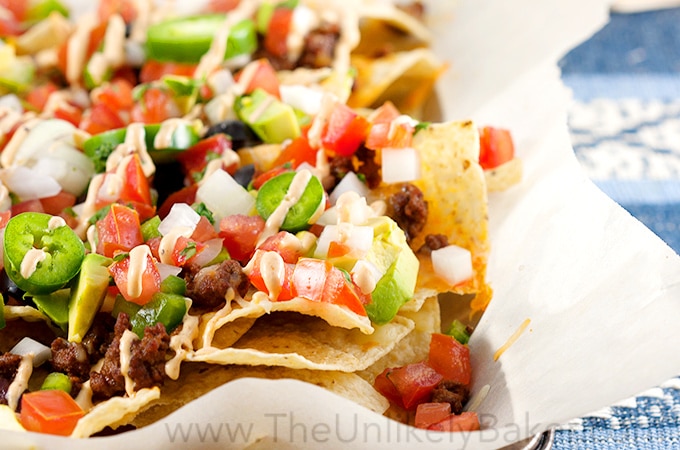 I'm not into sports. Growing up, I got good grades except in Phys Ed. One time playing softball, the teacher had to come very (very) near me just so I can hit the ball, get out of line and give others a chance to bat.
Red is a big sports fan though. To be more specific, a huge Toronto Raptors fan and the team got into the second round of the play-offs for the first time in 15 years (I was told this was a big deal). To celebrate, I'm sharing Red's recipe for the ultimate nachos (which I assume we'll be having for the rest of the play-off series).
The definitive game day snack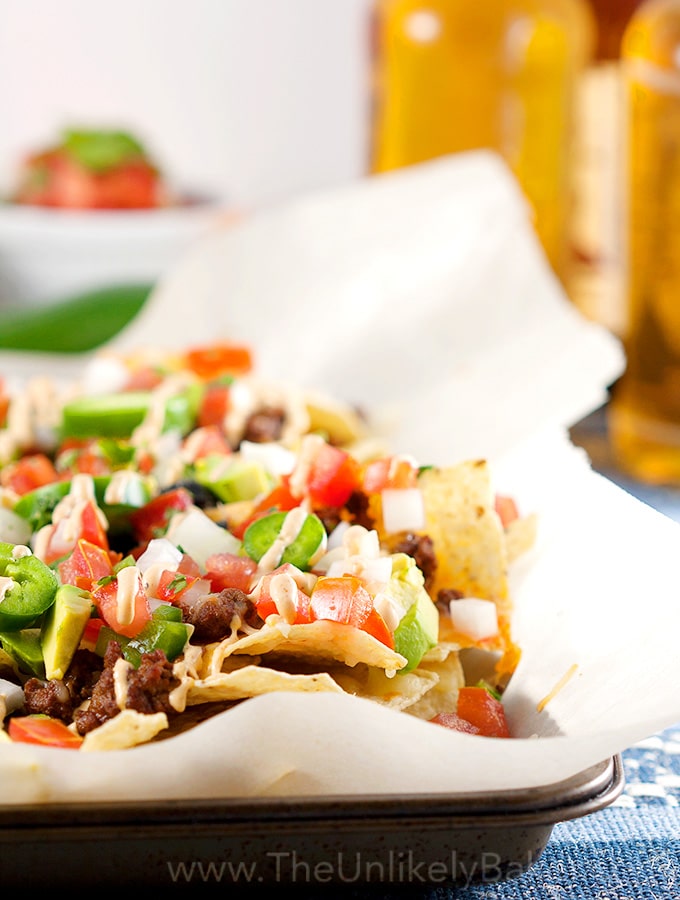 These are perfect with ice-cold beer. While watching your favourite team. Or for I-don't-know-anything-about-sports people like me, for everyday snacking, to serve when friends come over, whenever you're hungry. These nachos are filled with all the good stuff including 3 kinds of cheese, jalapeño, chipotle and avocado. It's seriously dee-licious.
Taco Beef
First there's the beef. You get your favourite taco seasoning, mix it in with the ground beef, cook them together and you're done.
You can use your favourite homemade seasoning mix too but taco seasoning is very convenient in a pinch (as in you've run out of cumin, it's out of stock at the store and the game starts in 30 minutes. It happens).
Pico de Gallo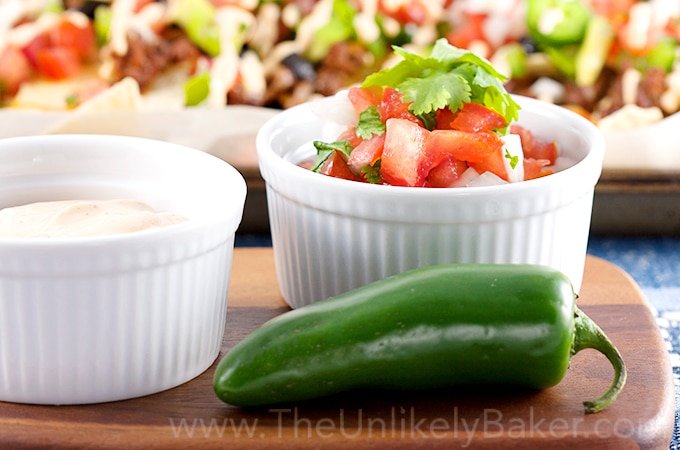 Ironically, Red won't make any concessions about using ready-made salsa and insisted on making her own Pico de Gallo because it tastes "infinitely better and fresher" (I didn't question it, she gets very cranky before game time). But yes, you can use ready-made salsa (don't tell) if you don't want to be bothered with chopping.
Chipotle Cream
Chipotle in adobo sauce is one of Red's secret ingredients but is admittedly hard to come by (at least where we are). So whenever we see it (usually in Latin American groceries or there's always Amazon – see the link below for the exact brand we use), we buy a couple (or more, I'm not counting) because you never know when you might need some chipotle awesomeness. And this chipotle cream brings a unique smoky flavour to your nachos that makes it that much better.
The ultimate nachos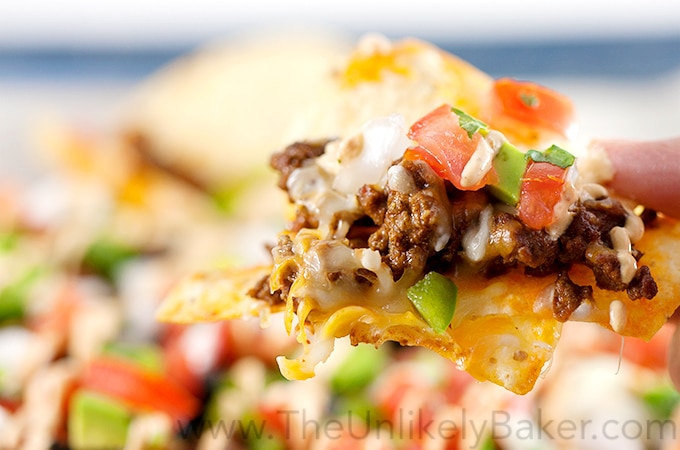 Now you put them all together. Get your favourite restaurant-style tortilla chips, your taco beef, lots of cheese, black olives and put them in the oven.
Then top with your favourite things (ours is listed in the recipe but you can customize this however you want…isn't that great?), fresh jalapeño slices, homemade Pico de Gallo, drizzle with chipotle cream and voila – the ultimate nachos you can enjoy while watching your favourite team (or in my case, while reading my favourite sci-fi book…what? Told you I'm not into sports).
I have a confession to make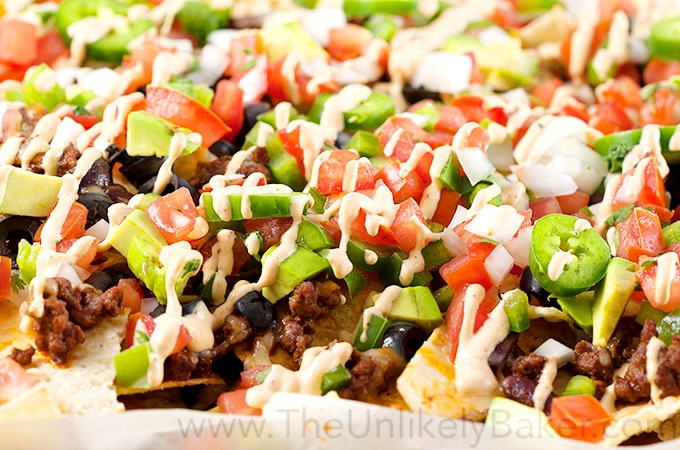 I had nothing to do with this at all. I just took pictures. As you know I cannot cook to save my life which is ok because Red is an excellent cook so thankfully I will not starve. She made all this and I just documented the process.
Family and friends ask for these nachos all the time so I thought it's time I share it here too. Enjoy! And let's go Raptors! #WeTheNorth
How to Make the Ultimate Nachos
The ultimate nachos: tacos ground beef, served with fresh Pico de Gallo and drizzled with chipotle cream. We haven't even talked about the whole toppings shebang yet. Delicious.
Ingredients
For the Pico de Gallo:

3 cups seeded and diced plum tomatoes (about 4 medium sized tomatoes)
1/4 cup diced jalapeño (about 1 large jalapeño)
1/3 cup chopped cilantro (about 1/2 bunch)
1/2 cup diced sweet onion (about half an onion)
Juice from 1 regular-sized lime
Salt to taste
For the Chipotle Cream:

2 chipotle chilis in adobo sauce
1 cup sour cream
For the Taco Beef:

1 pound lean ground beef
1 cup red kidney beans (we used canned ones)
1 package taco seasoning (we used Old El Paso 35g)
Assembly:

2 cups grated cheddar cheese
2 cups grated mozzarella cheese
2 cups grated monterey jack cheese
1 party-size bag tortilla chips (we used a 380g one)
1 cup sliced black olives
1 regular sized green bell pepper, diced
1 regular sized avocado, diced
1 regular sized jalapeño, sliced
Instructions
Preheat your oven to 350F. Prep a baking sheet by lining it with parchment paper.
For the Pico de Gallo:

Mix all ingredients (except the salt) in a medium sized bowl. Add salt to taste.
Cover and refrigerate while preparing the rest of the ingredients to allow the flavours to develop.
For the Chipotle Cream:

Put the 2 chipotle chilis and the cup of sour cream in a blender and blend until well combined (you would still see specks of the chili but the mixture should be smooth).
Set aside.
For the Taco Beef:

Put the 1 pound ground beef in a skillet on medium heat until it turns brown (approximately 7-8 minutes).
Add the cup of kidney beans and cook for another 2 minutes.
Add the taco seasoning and follow the instructions on the package. Set aside.
Assembly:

Mix all your cheese in a bowl.
Assemble your nachos in layers: 1 - half your tortilla chips 2 - half your cooked beef 3 - half your mixed cheese and 4 - half your black olives. Repeat using the other half of your ingredients.
Bake for 5 minutes or until the cheese has melted.
Remove from oven and sprinkle with green peppers, avocados, and fresh Pico de Gallo. Top with jalapeño slices and drizzle with chipotle cream.
https://theunlikelybaker.com/ultimate-nachos/
This delicious recipe brought to you by www.TheUnlikelyBaker.com | (c) 2016-2017
Happy nacho-ing!
Did you make these ultimate nachos? Tell me about it in the comments section below. I'd love to hear all about it. What's your favourite game day snack?
And if you're expecting company, these peanut butter cupcakes are also always a hit.
And let's get social! See the sidebar (if on your desktop) or the bottom of this page (if on your mobile) to see how we can connect.
Or subscribe so you don't miss a recipe. I promise I don't spam (I hate spam too).
Do you want to improve your food photography, monetize your blog or start your very own food blog? Check out my Blogging Resources.