Who says healthy can't be delicious? Here are 15 healthy homemade snacks for work and for school that are absolutely scrumptious and totally good for you!
(If you'd rather drink your way to health, check out How to Make Turmeric Golden Milk and How to Make Fresh Lemon Ginger Tea. Both drinks are perfect for winter too!)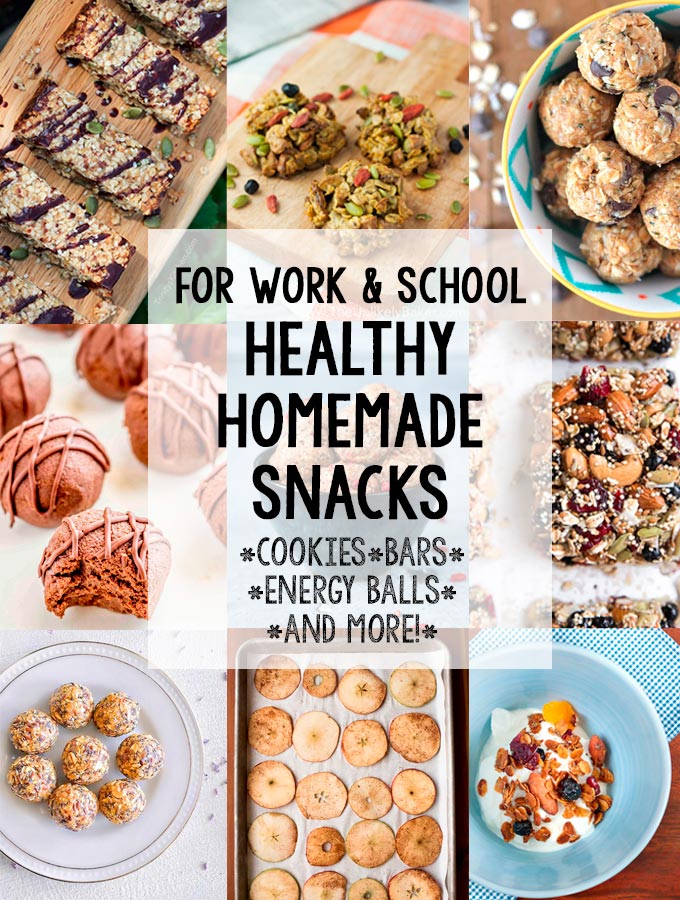 And just like that, it's 2019. I can almost hear our collective "how did that happen?" sigh! A new year, a new me, or maybe just the same old me but a little wiser?
I don't do resolutions anymore; I just start little things that I hope turn into habits..character…destiny…you know how that goes.
So let's end the year on a high note and start the new year right, shall we?
For our last quarterly roundup of 2018, I have a round-up of recipes for you that are delicious and won't make you feel guilty about having more than 1 (or 2) – healthy homemade snacks for work, for school, for road trips, for when you're watching TV or reading a book or online shopping or just about any time you're hungry!
Healthy Homemade Snacks for Work and School: Cookies
Who doesn't love cookies? I bet we all had our fair share of cookies over the holidays but these cookies are packed with the good stuff; you'd want them all year-round:
Healthy Homemade Snacks for Work and School: Bars
I've always seen bars as cookies but lower maintenance lol. They are easier to make (no scooping or rolling) but just as good!
Healthy Homemade Snacks for Work and School: Energy Balls
When I first saw energy balls I thought they were going to be a fad that people are going to forget in a few months. But they are definitely here to stay! And for good reason.
Energy balls are very easy to make and packed with so much nutrients – who knew so much goodness can come out of a 1-inch ball?
Healthy Homemade Snacks for Work and School: Other Goodies
Still not convinced? Try making your own granola – I promise you won't look back.
And let me see you say no to these you-can't-stop-at-just-one apple chips.
Which one of these healthy homemade snacks are you trying first?
Happy New Year!
This year had its ups and downs, happily mostly ups, and we consider ourselves blessed beyond measure. I wish you and yours a most wonderful year ahead!
See you in 2019. Thank you for coming along on this ride with me.
Happy new year!
Did you make any of these healthy homemade snacks? Which one is your favourite? I'd love to hear from you in the comments section below.
The rest of our recipe round-ups live here.
And let's get social! Find me on Facebook, Pinterest, Instagram, Twitter and Flipboard.
Or subscribe so you don't miss a recipe. I promise I don't spam (I hate spam too).
Do you want to improve your food photography, monetize your blog or start your very own food blog? Check out my Blogging Resources.