No bake lemon desserts you'd want to make all summer long. From no bake lemon cheesecake to homemade lemon ice cream, these quick and easy lemon desserts are sure to satisfy all your lemony cravings.
(Looking for more ways to beat the heat? Check out this ultimate collection of summertime drinks – there's more than 80 recipes!)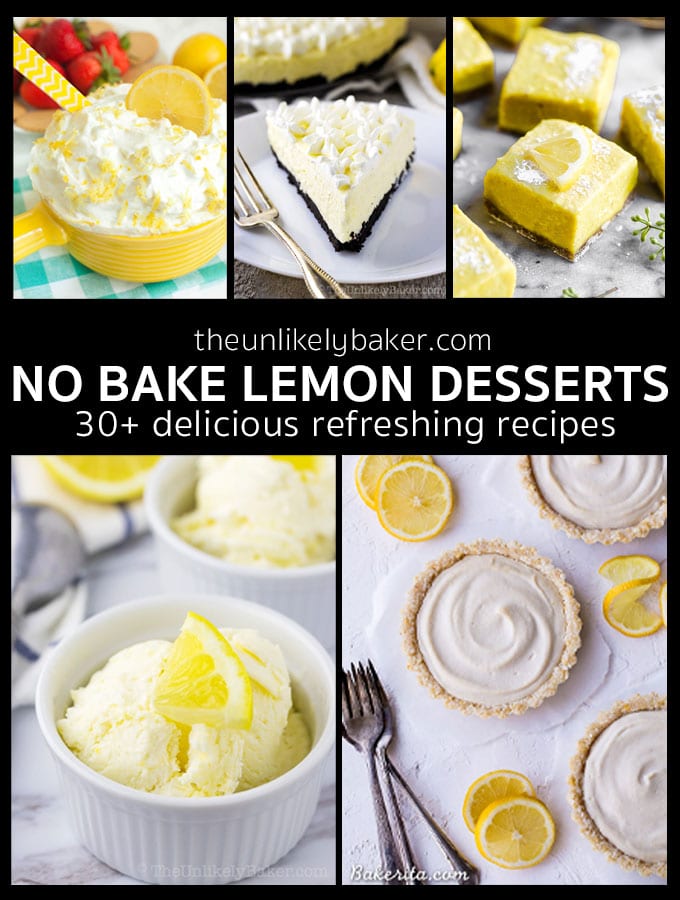 Hello my fellow lemon lovers!
Craving for lemon desserts but don't want to turn the oven on? I got you.
For our quarterly recipe round-up, let's kick off summer with a refreshing collection of cold lemon dessert recipes that don't need any baking!
From lemon pie to lemon pudding, the hardest part is waiting for these sweet treats to set in the fridge. Let's get to it!
What are no bake lemon desserts I can make with cream cheese?
You'll notice when making no bake lemon desserts, cream cheese is usually one of the ingredients.
These other ingredients usually pop up too: sweetened condensed milk, whipped cream or whipped topping, and gelatine or Jello. They help set the dessert and are delicious too!
Check out the recipes below and discover all the no bake lemony possibilities.
What lemon desserts can be made without an oven?
So what lemon desserts can be made without an oven? A lot!
Hope you found inspiration to make your next no-bake lemon dessert here. There's so many delicious recipes!
Whether you're in the mood for lemon ice cream or lemon fudge, lemon cheesecake or lemon pie, your day's sure to be brighter with a lemon dessert.
Happy no-baking!
Did you make any of these no bake lemon desserts? What are your go-to no-bake desserts?
I'd love to hear from you in the comments section below.