This delightfully rustic apple galette recipe is quick and easy to pull off – you'll have a delicious apple tart full of the cozy, comforting flavours of fall quicker than you can say apple pie!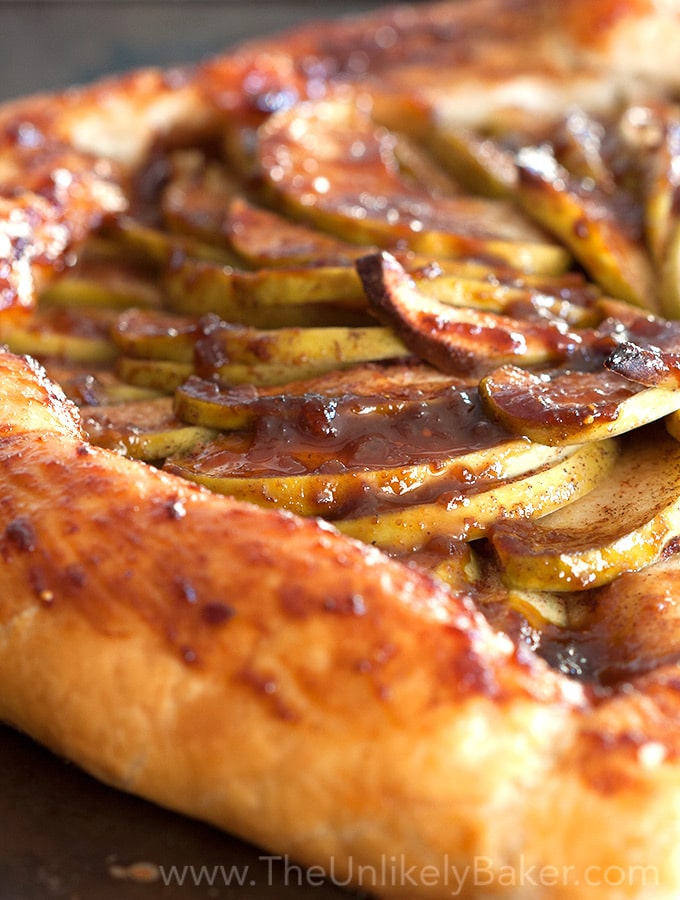 Just like in the summer when I went a little nuts over summer fruit, I am now going slightly crazy over apples. So thought I'd go and make us some apple pie.
But then I thought – why? The mini cherry galettes that I made in the summer were a big hit so I figured, surely I can make an apple version for fall. And it turned out great!
Rustic (which is really another way of saying not perfect is ok), easy to put together (I made my own crust using this recipe but you can absolutely use ready-made puff pastry) and so delicious (the warm, cozy flavours of fall in every bite).
Rustic apple galette
You won't believe how easy to make this galette is. That's the thing with galettes – it doesn't have to be perfect. And I think that's where its charm comes from.
I did challenge myself by making my own dough because I really need to get better at it.
But if you've already mastered that or don't feel like dealing with flour all over your face (or was that just me?), you can certainly buy ready-made puff pastry and just roll it out when you're ready to use it.
The hardest thing about this recipe? Slicing the apples evenly so it comes out pretty – but hey, you can even skip the prettification (yes it's a word) and the galette will taste as delicious.
The flavours of fall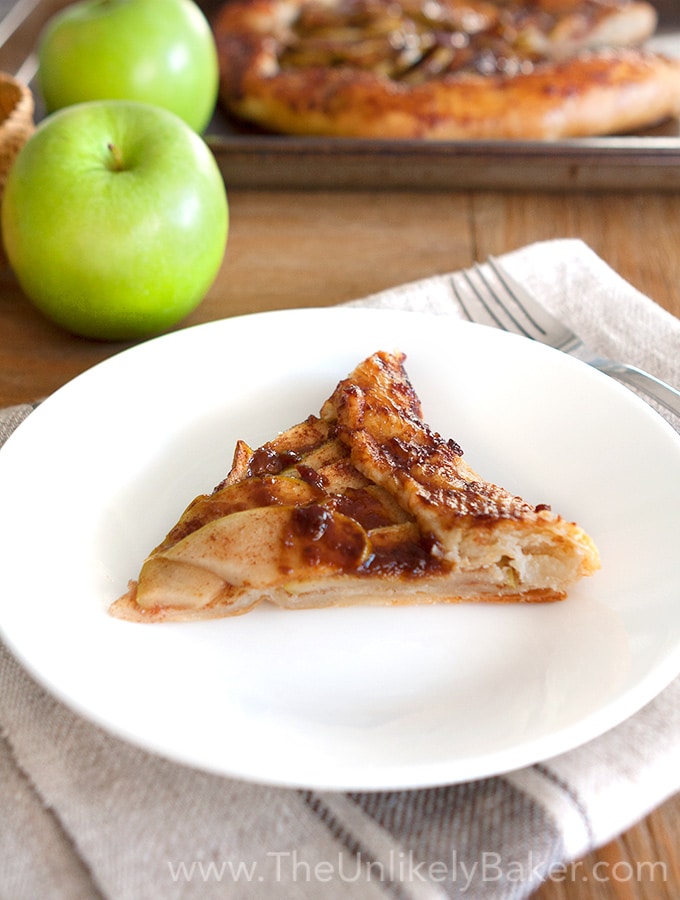 [clickToTweet tweet="Delightfully rustic apple galette bursting with the warm, cozy flavours of fall http://wp.me/p78RTV-r0″ "rel=nofollow" quote="Delightfully rustic apple galette bursting with the warm, cozy flavours of fall."]
I usually associate apples, cinnamon and cardamom with fall because the combination results in a warm, comfy flavour. I added fig to this apple galette to further accentuate the fall feels (and it gave the galette a nice, rich colour too).
We ate this warm with tea but the cooler weather certainly does not mean ice cream is out of the question!
So go ahead and put a scoop (or 2) of your favourite ice cream on top of this rustic apple galette and enjoy.
Delightfully Rustic Apple Galette
This delightfully rustic apple galette recipe is so easy to pull off. Have delicious apple tart full of the warm, cozy flavours of fall in no time.
Ingredients
1 pound Granny Smith apples (about 2-3 pieces), cored and thinly sliced
2 tablespoons fresh orange juice
2 tablespoons cornstarch
1/8 teaspoon salt
1/4 cup packed brown sugar
1 teaspoon ground cinnamon
1 teaspoon ground cardamom
1 12-inch round prepared pie crust
1 egg beaten with 1 tablespoon of water
2 tablespoons fig jam mixed with 1 tablespoon of water
Instructions
Preheat oven to 400F. Prep a rimmed baking sheet by lining with lightly floured parchment paper.
Put your apples, 2 tablespoons fresh orange juice, 2 tablespoons cornstarch, 1/8 teaspoon salt, 1/4 cup brown sugar, 1 teaspoon cinnamon and 1 teaspoon cardamom in a large bowl and toss until well combined. Set aside while you prepare your crust.
On a lightly floured surface, gently roll out your dough into a 12-inch circle (about 1/4 inch thick). Transfer your dough into your baking sheet.
Now transfer your apple mixture onto your dough making sure to leave about 1.5 inches of dough around. Fold the dough over your apples. Brush the edges of your dough with the egg/water mixture then bake for 30 minutes or until the crust is a golden brown and the apples are soft and juicy.
Take out of the oven and let cool on the pan.
While the galette is cooling, microwave your fig jam/water mixture on high for 30 seconds or until it liquifies into a glaze. Brush this on top and on the sides of the galette while it's still warm.
© 2020 This delicious recipe brought to you by www.TheUnlikelyBaker.com | (c) 2016-2017
Happy baking!
Did you make this rustic apple galette? Tell me about it in the comments section below. I'd love to hear all about it. Do you have a favourite galette recipe?
Here are other recipes that will give you the fall feels:
And have you seen my unique pumpkin and squash recipes roundup? Check it out! There are pretty awesome recipes in it. I promise you will not be disappointed.
And let's get social! Find me on Facebook, Pinterest, Instagram, Twitter, Google+ and Flipboard.
Or subscribe so you don't miss a recipe. I promise I don't spam (I hate spam too).
Do you want to improve your food photography, monetize your blog or start your very own food blog? Check out my Blogging Resources.