Strawberry ricotta cake is soft, melt-in-your-mouth, creamy and delicious! It's like cheesecake but without all the work. And it's just what we need to bring us out of winter and into spring.
(Love strawberries? Start the day with these strawberry chocolate chip waffles. Crunchy outside, tender inside, so good!)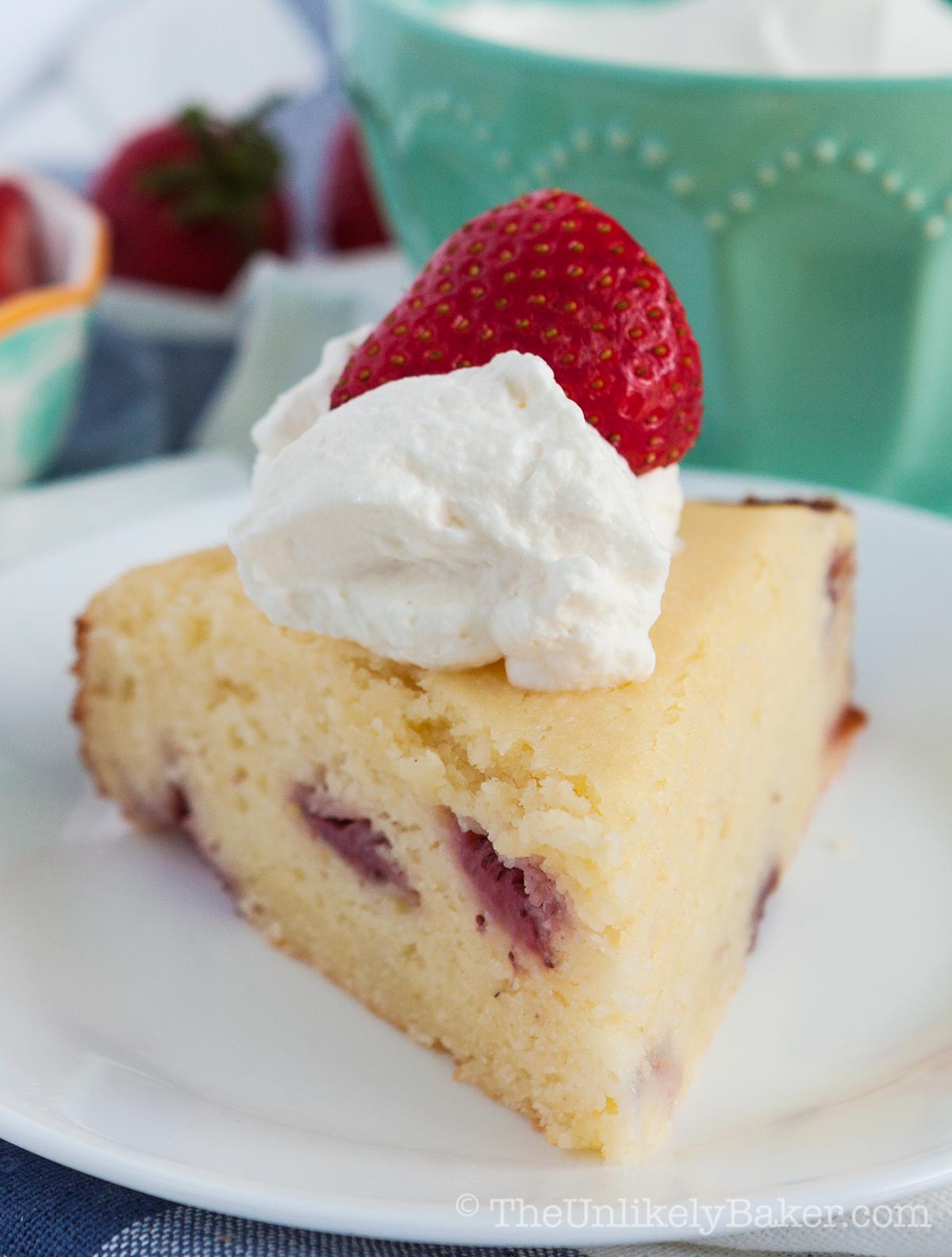 I love baking with ricotta cheese. It's more commonly used in making lasagnas and other savoury Italian dishes but it makes baked goods moist and tender as well.
Although not as smooth and creamy as cream cheese (in fact it results to slightly grainier cheesecakes), I like that cakes made with ricotta are lighter and not as rich.
This strawberry ricotta cake has the consistency of cheesecake — tender, melts in your mouth, creamy — but without all the work that comes with baking one.
Isn't that awesome?
Why you'll love making strawberry ricotta cake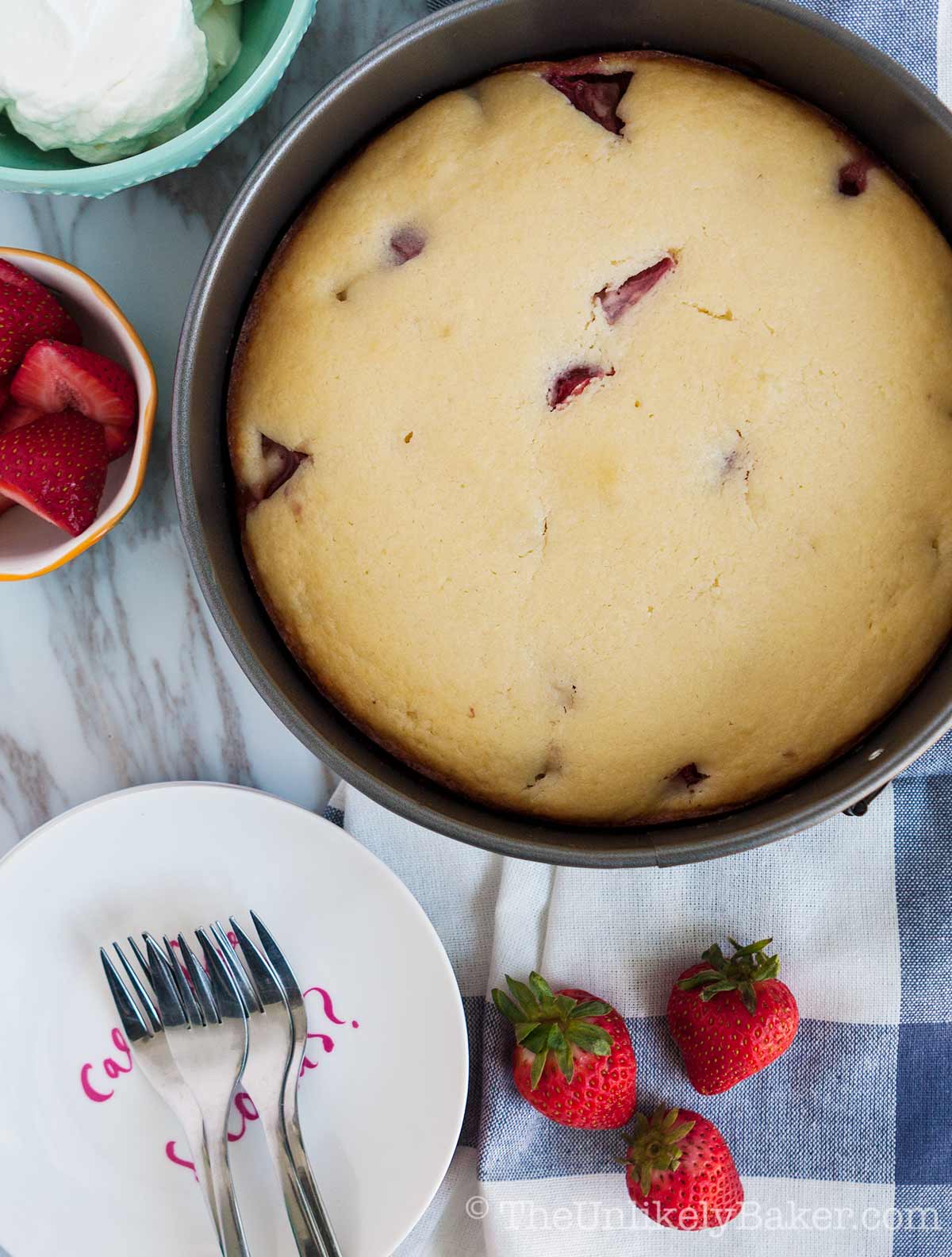 Once you give it a try, I bet you'll become a fan of baking with ricotta, too. This strawberry cake is a great recipe to try because:
It's easy to make. You won't even need a mixer! All you need to do is whisk, fold, bake, eat. Just watch the video to see how easy it is to make.
It's a very forgiving recipe. Unlike traditional cheesecakes where you worry about cracking and water baths, baking this cake is straightforward. And it's meant to look charmingly rustic.
Strawberries shine. They are the star of this show, which makes it a perfect spring cake! It's great for Easter and Mother's Day too.
How to make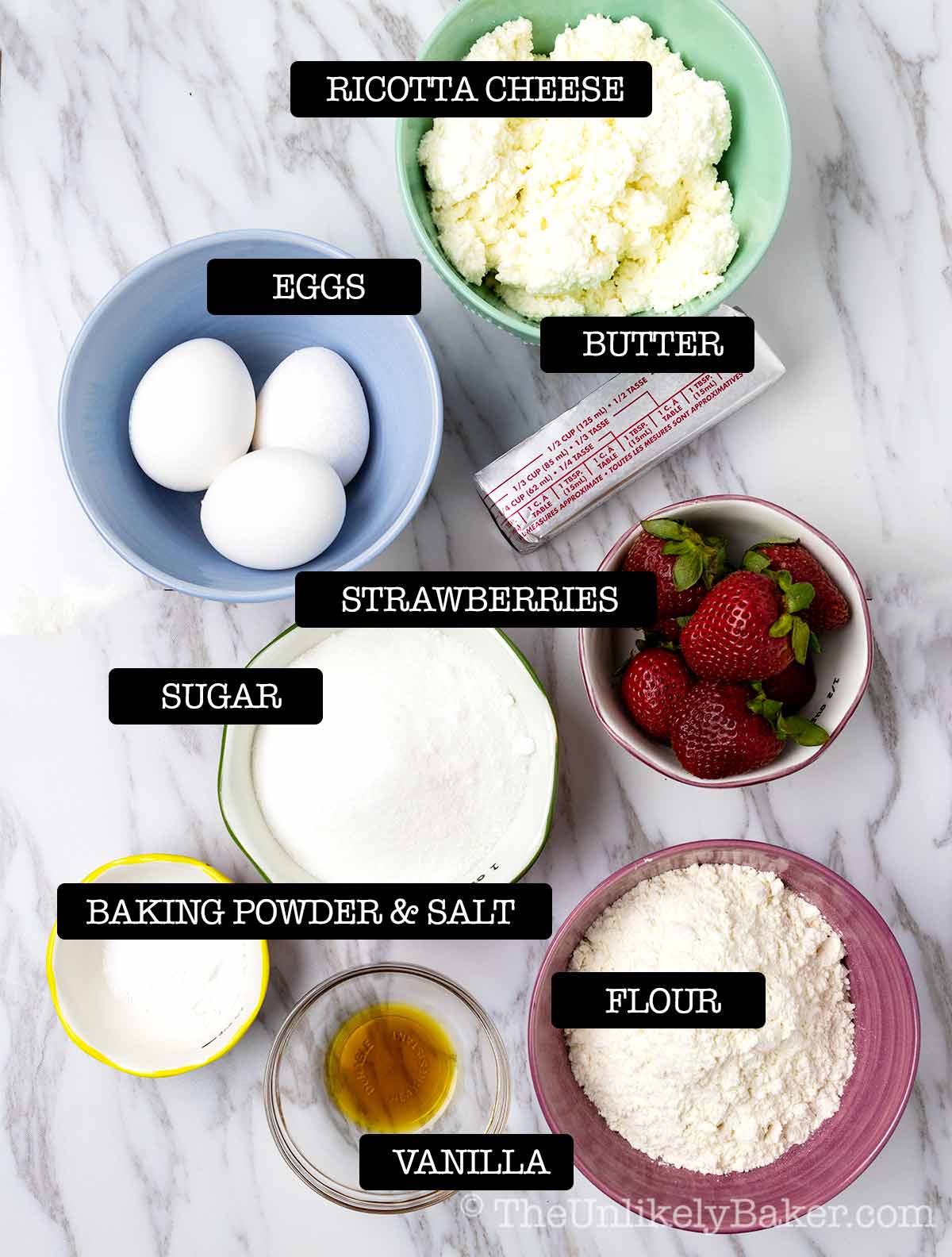 Making this cake is simple and easy!
Ingredient notes
This recipe has less than 10 ingredients. Most of what you'll need are pantry staples like flour, baking powder, sugar and salt.
Key things to note about some of the others:
Eggs — we use large eggs and make sure they're room temperature. This means you'll want to set them on the counter at least 30 minutes before you intend on using them.
Ricotta cheese — I always use full-fat ricotta cheese. I've been asked if I strain it and my answer has always been no because the cheese I get doesn't really have a lot of excess moisture. If you think you need to strain yours, go ahead but be careful not to dry it out too much.
Butter — we use melted butter. Make sure to allow time for the butter to cool so that it doesn't crystallize once we add it into our batter.
Strawberries — it's best to use sweet strawberries for this cake. Taste your berries before using.
Baking tools
You won't need an electric mixer to make this ricotta cake. Just the following:
Balloon whisk
Mixing bowls
Measuring cups and spoons
Rubber spatula
And an 8-inch springform pan (see FAQs below for alternatives)
Easy recipe with step-by-step photos
First you'll want to preheat your oven to 350F. Then lightly grease the bottom of your pan and line it with parchment paper.
In a large bowl, whisk all your dry ingredients until combined: flour, sugar, baking powder and salt. Set aside.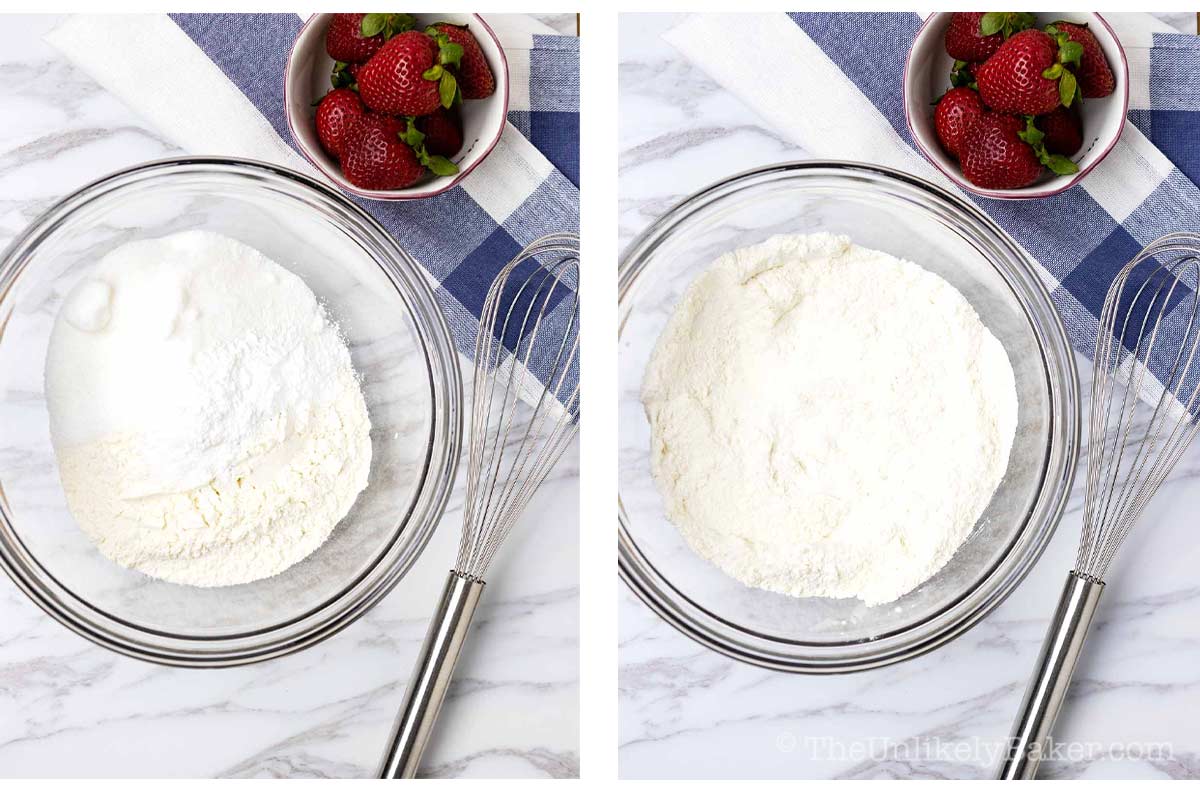 In another bowl, whisk your wet ingredients until incorporated: eggs, ricotta cheese and vanilla extract. Your mixture won't look perfectly smooth and that's ok.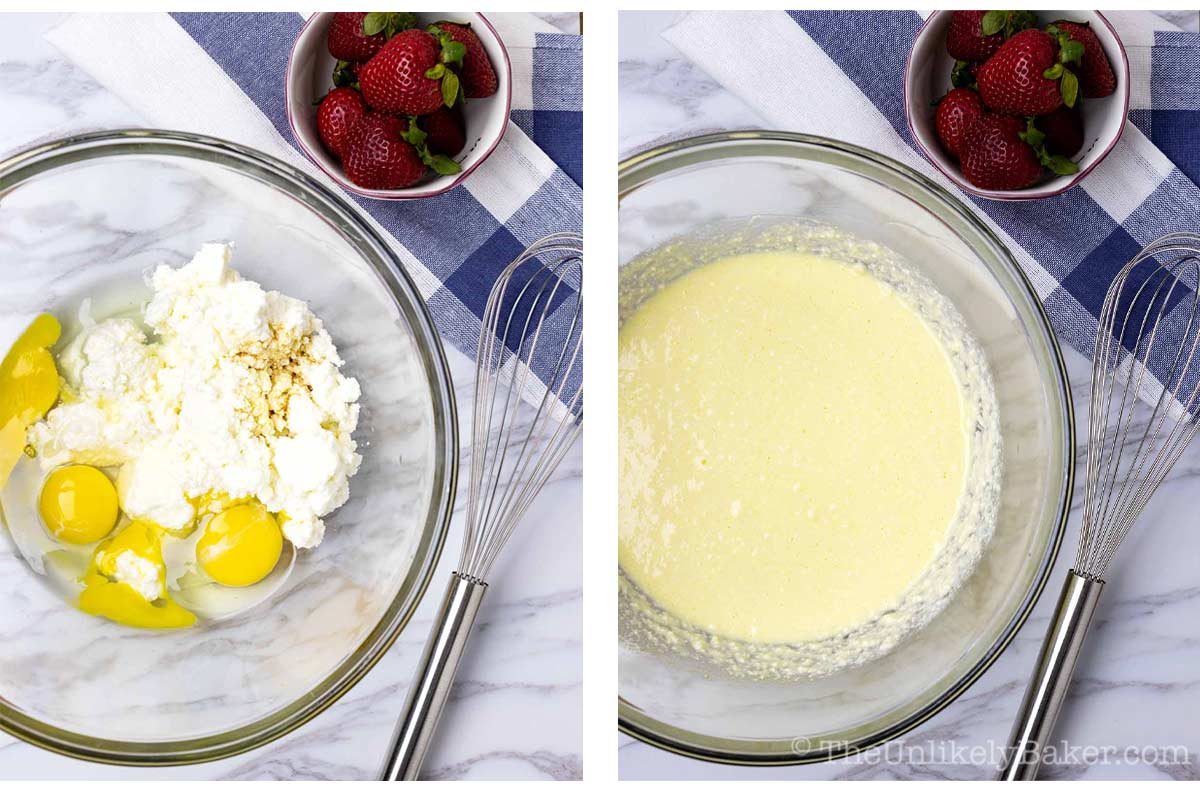 Fold your wet ingredients into your dry ingredients and stir just until combined. Do not over mix the batter at this point. Your batter should look grainy and crumbly, not smooth.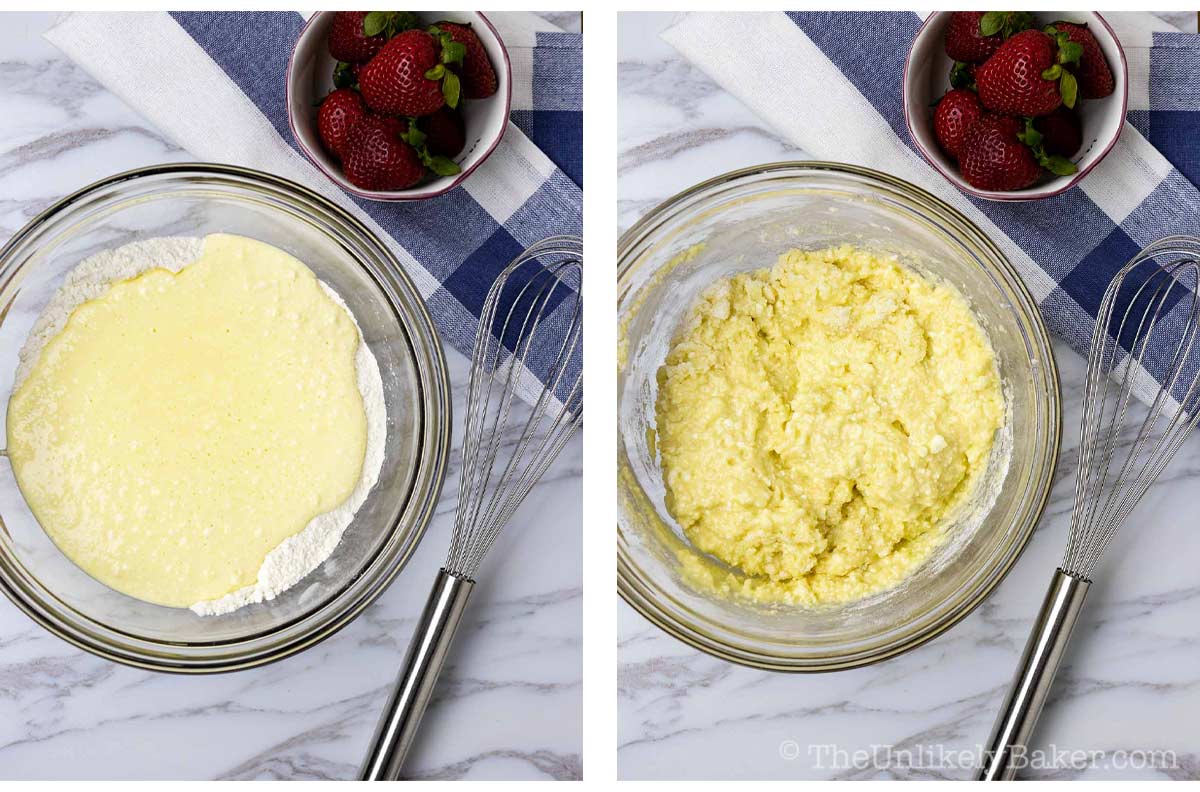 Add the melted butter and strawberries and fold until combined.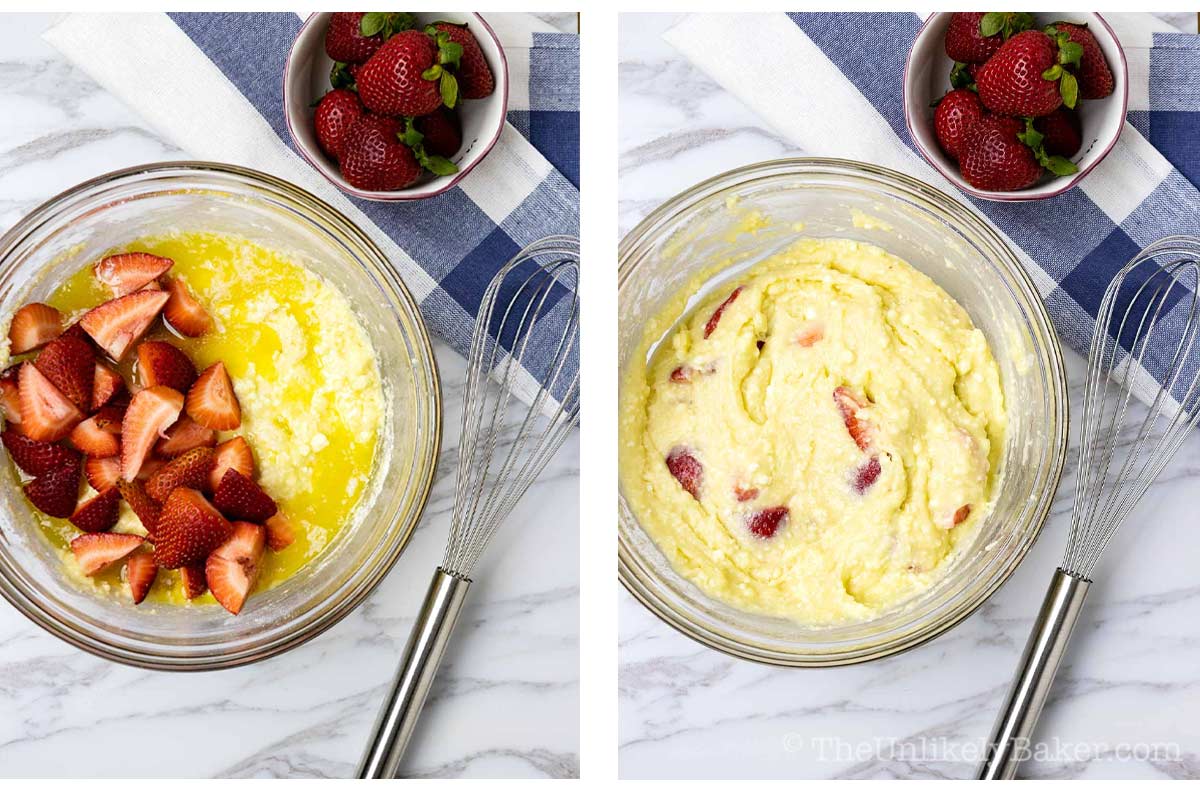 Transfer the cake batter to your prepared pan and bake for 35-40 minutes or until the cake starts to brown at the edges and a toothpick inserted in the centre comes out clean. Allow to cool for 20 minutes on the counter before releasing from pan.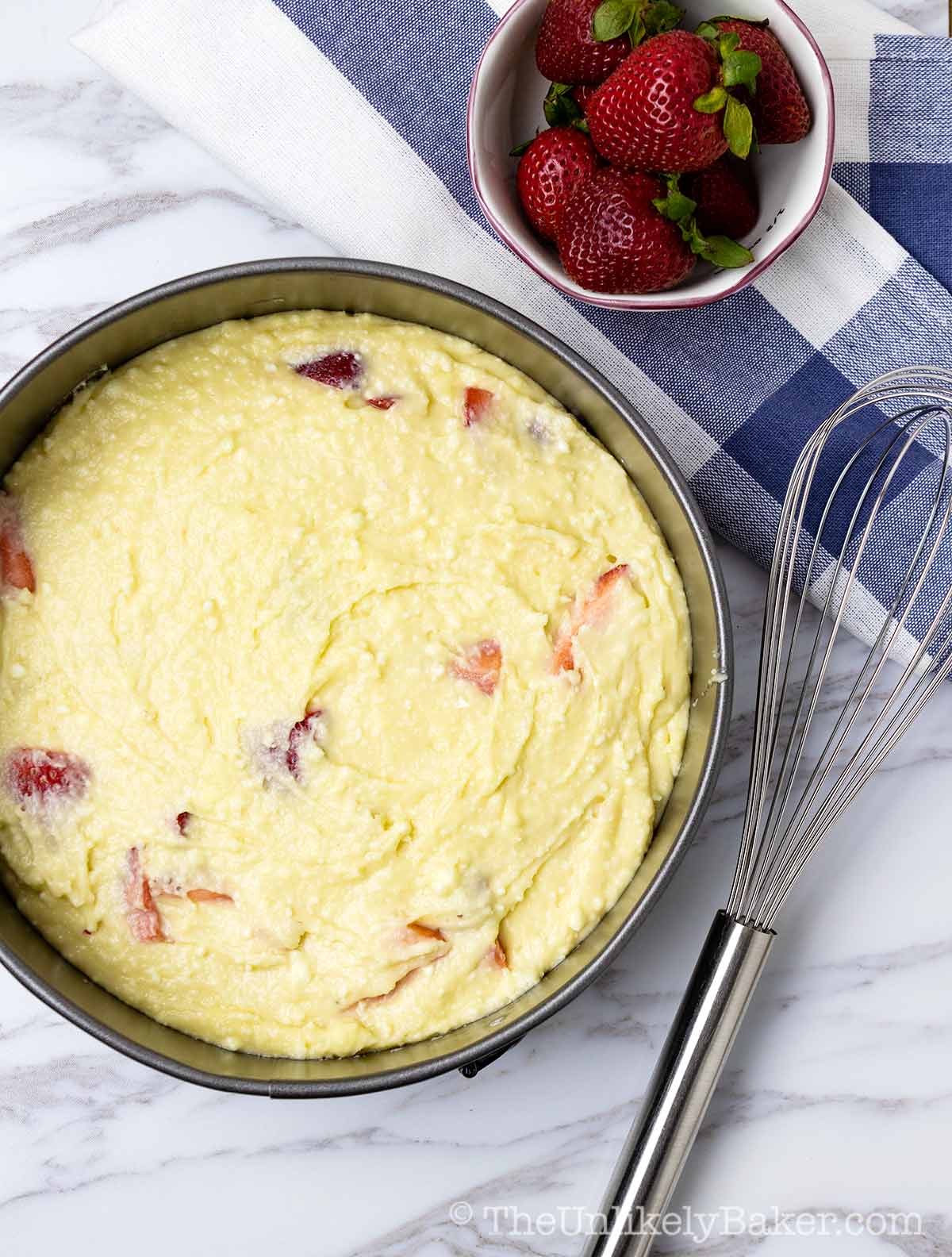 Expert baking tips
Use sweet strawberries. Using sweet strawberries is key to the success of this cake. Strawberries that are on the sour side would leave a tart aftertaste. Some people may like the sweet-sour combo but I prefer this cake to be sweet all the way (don't worry, it's not overly sweet).
Use room temperature ingredients. And this is true for all baking. Room temperature ingredients are easier to combine and incorporate and helps you avoid over-mixing the batter.
Don't over-mix. Stop just as soon as the flour mixture is incorporated into the batter. Over-mixing will result to an unnecessarily dense and tough cake.
Frequently asked questions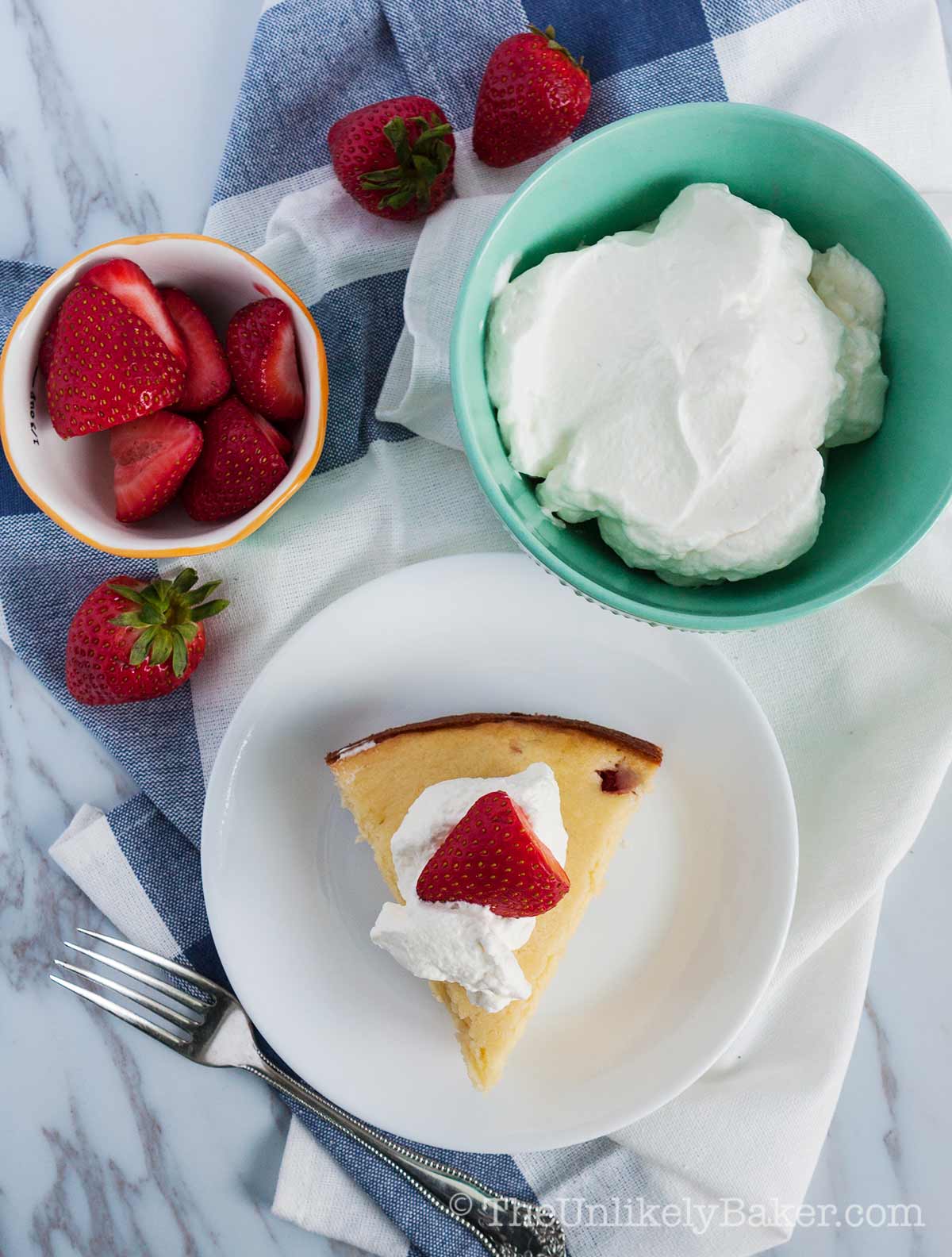 Can I use other berries or frozen berries?

You can absolutely use other berries if strawberries are not available. Raspberries would work especially well here.

Frozen berries can work too but be wary about the extra moisture they'll bring into the cake.
What to use if I don't have a springform pan

I like using a springform pan because it releases the cake so easily. If you don't have one, you can use a similar-sized round pan that's greased and lined with parchment paper.

You can even use a square pan and make a mini sheet cake or bars. Again, just make sure to line it with parchment so you won't have trouble releasing the cake later.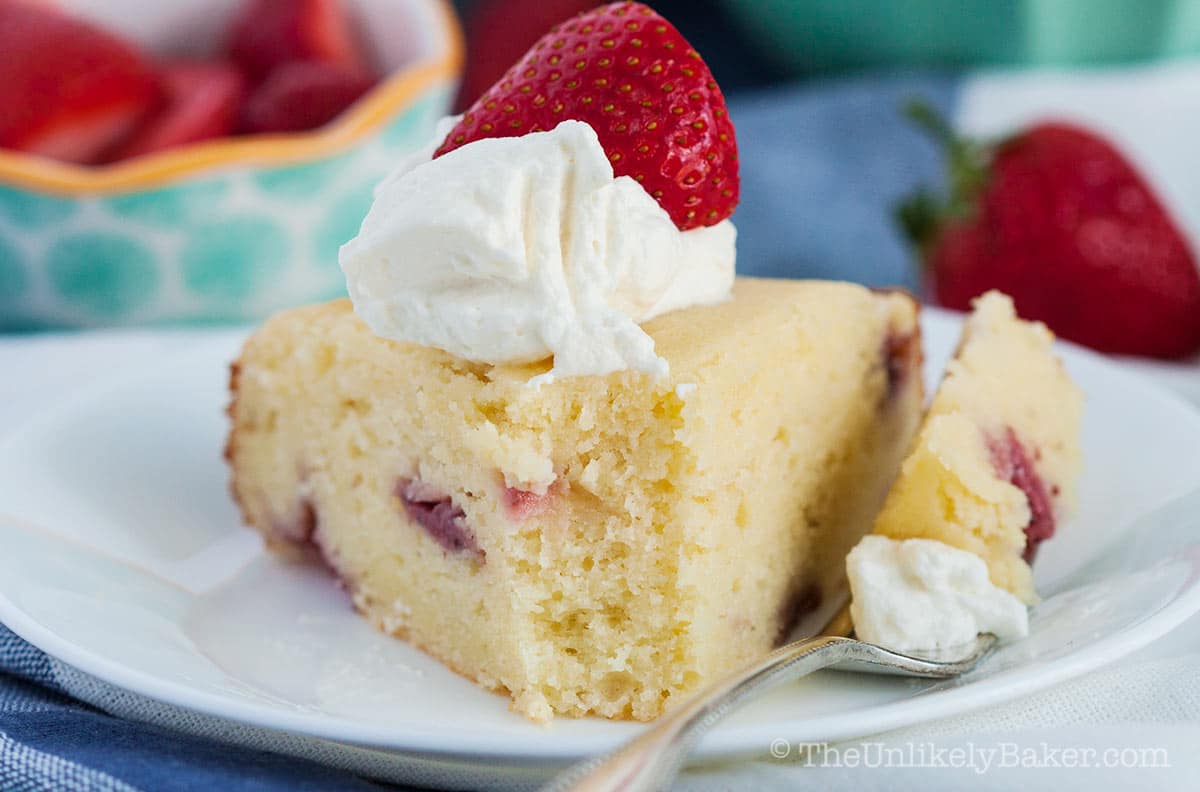 Can I make this cake ahead?

Yes, you can make this cake up to 2 days ahead of when you're planning to serve it. Keep it in the fridge in the meantime and bring it down to room temperature before serving, though we personally love it chilled.
Storage and shelf life

You can store leftovers in an airtight container in the fridge. They should be good for up to a week.
Dessert recipes using ricotta cheese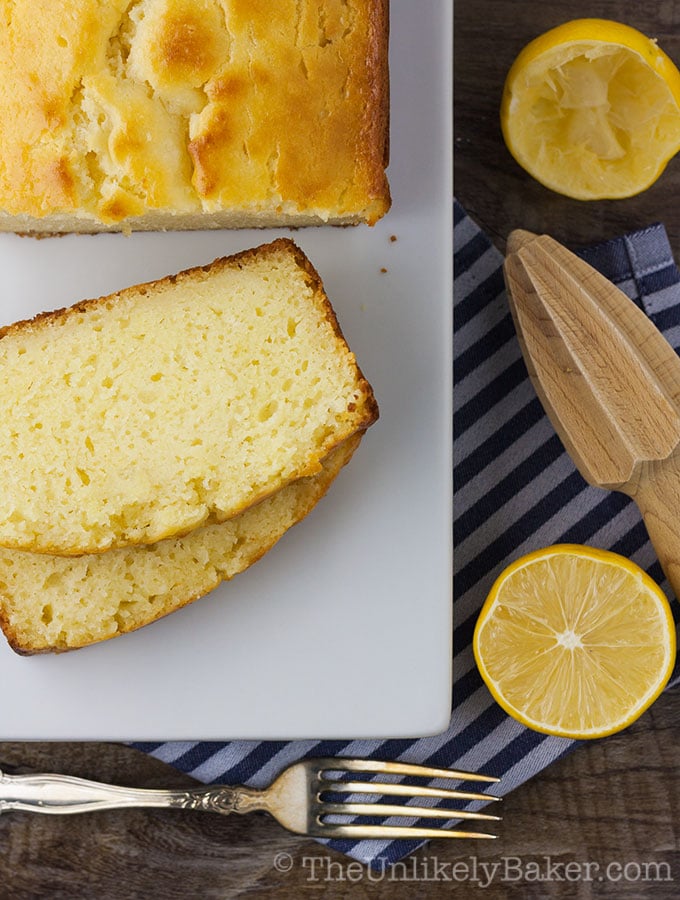 If you love ricotta cheese as much as I do, you would love these desserts made with ricotta cheese.
This Meyer lemon ricotta pound cake is a family favourite. Sweet and salty, soft and moist, you don't need frosting or glaze to enjoy it!
The chocolate fans in your life will be forever grateful when you make a batch of these delightful chocolate chip ricotta muffins. It's the perfect excuse to eat chocolate for breakfast!
And you'll need less than 10 ingredients and just 30 minutes to make this delicious chocolate ricotta cake.
Plus, check out this delicious collection of recipe ideas for what to do with that leftover ricotta cheese in your fridge.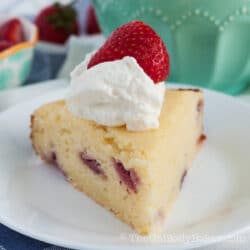 Strawberry Ricotta Cake
Strawberry ricotta cake – soft, melt-in-your-mouth, delicious! It's just what we need to bring us out of this chill and into spring!
Instructions
In a large bowl, whisk flour, sugar, baking powder and salt until combined.

In another bowl, whisk eggs, ricotta cheese and vanilla until incorporated. It will a little grainy and that's OK.

Fold into your dry ingredients just until combined (do not over mix). You're not looking for a smooth batter; it should look rough and crumbly.

Fold the melted butter and strawberries into batter until combined.

Transfer the batter into your prepared pan and bake for 30-40 minutes or until the cake is starting to brown at the edges and a toothpick inserted in the centre comes out clean.

Allow to cool for 20 minutes before removing from pan. Serve with whipped cream and extra strawberries on top (optional).
Notes
The yield depends on how big your cakes slices are. The estimated nutrition information is based on 12 servings.

You can use raspberries or blackberries if they're your favourite.

You can also make this cake up to 2 days ahead.

Just store tightly wrapped in the fridge then bring down to room temperature just before serving (though it's also delicious chilled!).

See post for more tips, FAQs and step-by-step photos.
Nutrition
Calories:
241
kcal
Carbohydrates:
31
g
Protein:
5
g
Fat:
11
g
Saturated Fat:
7
g
Polyunsaturated Fat:
0.5
g
Monounsaturated Fat:
3
g
Trans Fat:
0.3
g
Cholesterol:
35
mg
Sodium:
170
mg
Potassium:
140
mg
Fiber:
1
g
Sugar:
18
g
Vitamin A:
355
IU
Vitamin C:
10
mg
Calcium:
90
mg
Iron:
1
mg
Nutritional information are estimates only.
Tried this recipe? Leave a star rating today!
Also tag @iamtheunlikelybaker I'd love to see your creations.
Happy baking!
Did you make strawberry ricotta cake? I'd love to hear from you in the comments section below.
And let's get social! Find me on Facebook, Pinterest, Instagram, Twitter and YouTube.
(First published on The Unlikely Baker on 12 March 2018. Updated on 23 March 2022 with a more comprehensive baking guide.)