Delicious homemade raspberry sauce in 15 minutes! Made with ingredients you already have in your pantry. Drizzle on waffles and pancakes, pour over ice cream, make raspberry buttercream, the possibilities are endless.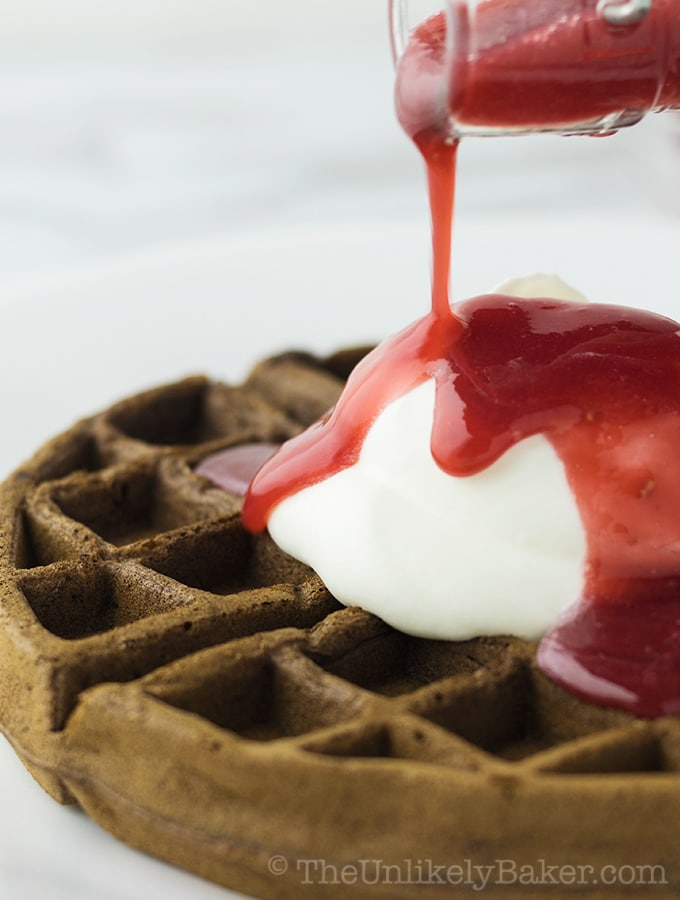 This whole baking and blogging business has been quite an adventure.
I've learned to make bread (still at it), I've met fellow foodies (Hi, Natanja!) and had my fair share of sprinkle explosions (remember my Funfetti Cake? So many sprinkles, so little time).
I've also learned that we both love the simple recipes.
You like baking special cakes for your loved ones on their birthdays (I do, too) but the recipes you keep coming back to are the simple, everyday ones that make our lives easier (for example: how to make your own whipped cream or that quick and easy recipe for classic buttermilk scones).
And I love that! I'm the same way.
Today I have another simple recipe which I hope you'll love.
This homemade raspberry sauce cannot get any simpler. And with ingredients you can pronounce! Your pancakes and waffles and ice cream will never be the same again.
Frozen raspberries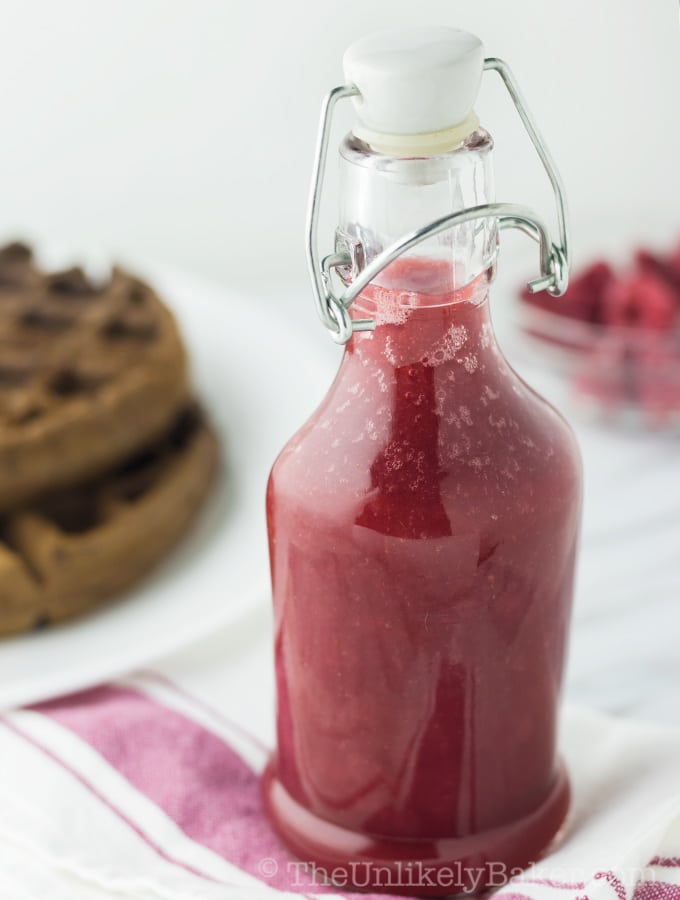 For this recipe, I used frozen raspberries, which I froze myself when I was hoarding fruit in the summer (that was when I was on major smoothie mode – check out my Strawberry Mango Banana Smoothie).
I'm sure you can use fresh raspberries too.
Homemade raspberry sauce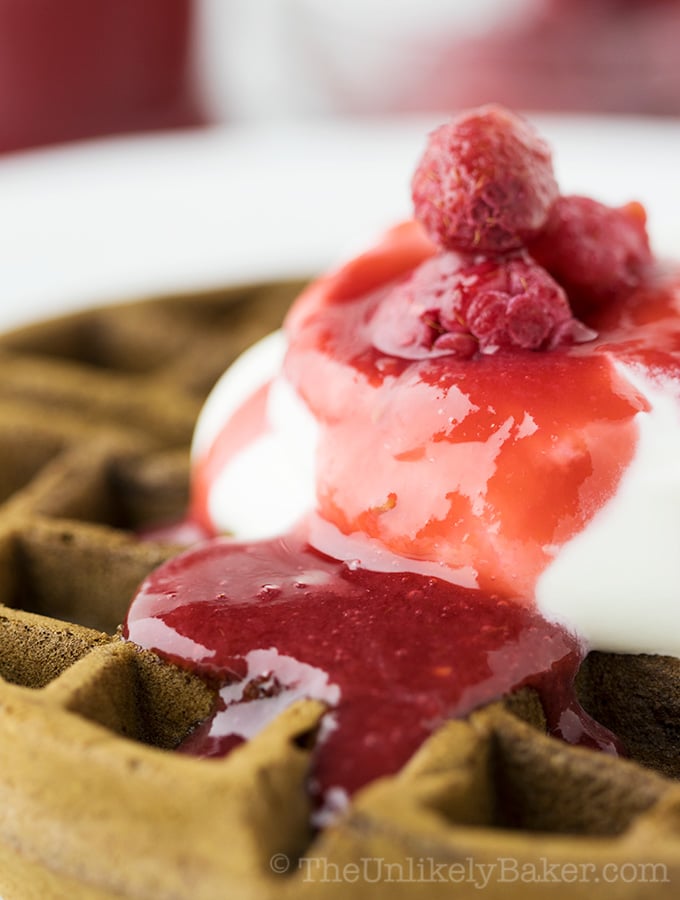 Now that's out of the way, all you need is water, sugar, cornstarch and vanilla.
A quick 15 minutes on the stove and you got yourself homemade raspberry sauce.
It cannot get any simpler than that.
Seeds or no seeds?
I strained my sauce through a mesh sieve to get most seeds out (mine is not fine enough to get them all out) but this is totally up to you.
If they don't bother you, by all means skip this step and go straight to drizzling!
Drizzle on everything!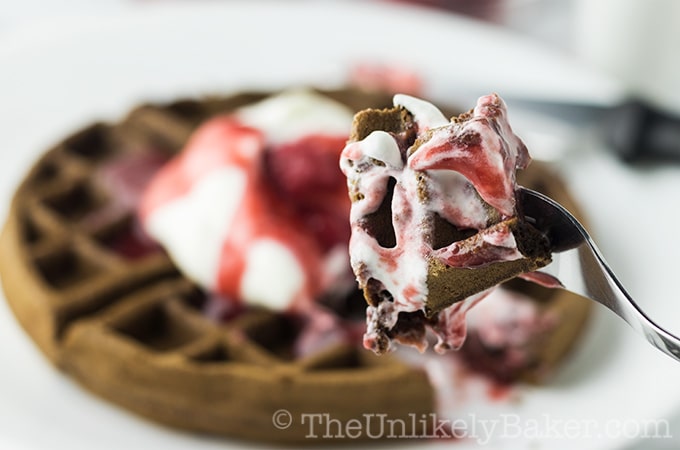 And you can drizzle this on everything – pancakes, waffles, ice cream. You can use it to flavour your whipped cream or your buttercream. Darn it I even eat it on its own. It's so good!
So next time you find yourself with an extra tub of raspberries or you're on the raspberry syrup aisle at the store (they exist) and wondering if you should buy that bottle – you know what to do!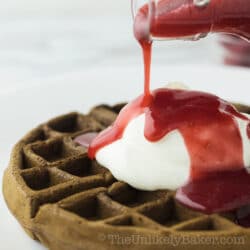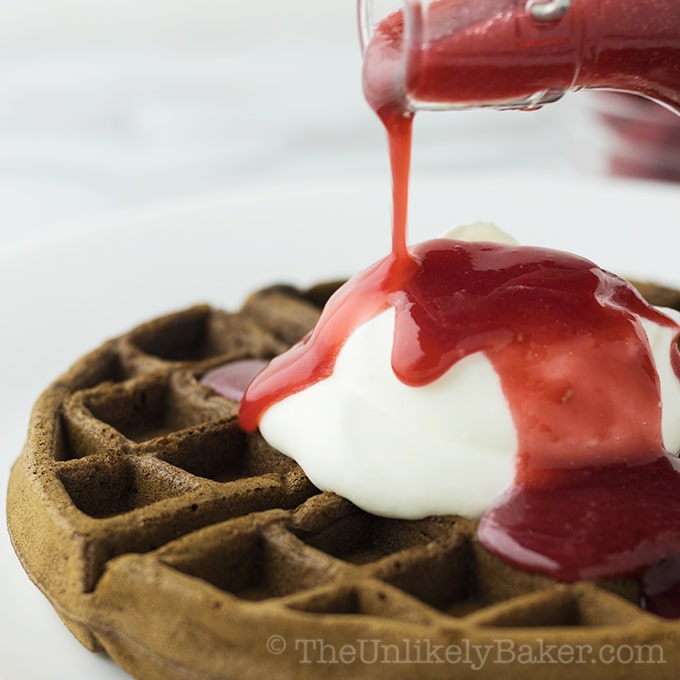 15-Minute Homemade Raspberry Sauce
Delicious homemade raspberry sauce in 15 minutes! Drizzle on waffles and pancakes, pour over ice cream, make raspberry buttercream, the possibilities are endless.
Instructions
In a small saucepan on medium heat, combine all ingredients except vanilla and bring to a boil. Stir regularly to break up the raspberries and to prevent sugar crystals from forming.

Once it boils, bring it down to a simmer and cook for another 2-3 minutes until it thickens slightly.

Add the 1 tsp vanilla, give the sauce another good stir and remove from heat. Strain through a fine mesh sieve to remove the seeds (optional). Best served warm.
Nutrition
Calories:
25
kcal
Carbohydrates:
6
g
Potassium:
22
mg
Sugar:
4
g
Vitamin A:
5
IU
Vitamin C:
4
mg
Calcium:
4
mg
Iron:
0.1
mg
Nutritional information are estimates only.
Tried this recipe? Leave a star rating today!
Also tag @iamtheunlikelybaker I'd love to see your creations.
Happy sauce-making!
Did you make homemade raspberry sauce? I'd love to hear from you in the comments section below.
And let's get social! Find me on Facebook, Pinterest, Instagram or Twitter.