Lemon sweet rolls – buttery, lemony bread rolls glazed with a scrumptiously lemony glaze. Light, fluffy, a perfect springtime treat.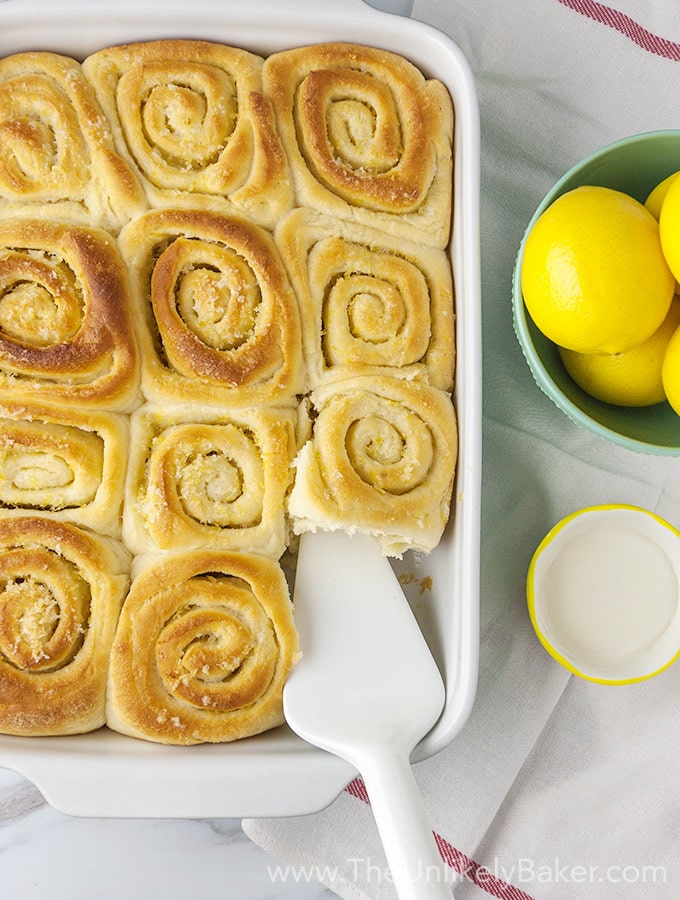 Hi! Hope spring is treating you well.
If it's still chilly and snowing like where we are, these lemon sweet rolls are sure to bring some much-needed warmth and sunshine into your kitchen.
It's bright, light, lemony, a perfect spring (or year-round!) treat.
The best lemon desserts
I just love lemons and everything lemony.
I love it so much I consciously decide not to bake lemony things all the time. Otherwise, it will be lemon expo here every week!
I may have gone overboard this time though because I haven't made anything lemony lately.
I shot a new video for my Meyer Lemon Ricotta Pound Cake a few weeks ago and shared my recipe for Light Fluffy Lemon Ricotta Pancakes a few months ago but that's it.
(You know what else I apparently like? Ricotta cheese. Lol!)
That changes now. Today we're having these delightfully light and fluffy lemon sweet rolls. I made a lemony glaze to go with it but it's really quite delicious on its own.
Lemon sweet rolls vs. lemon bread rolls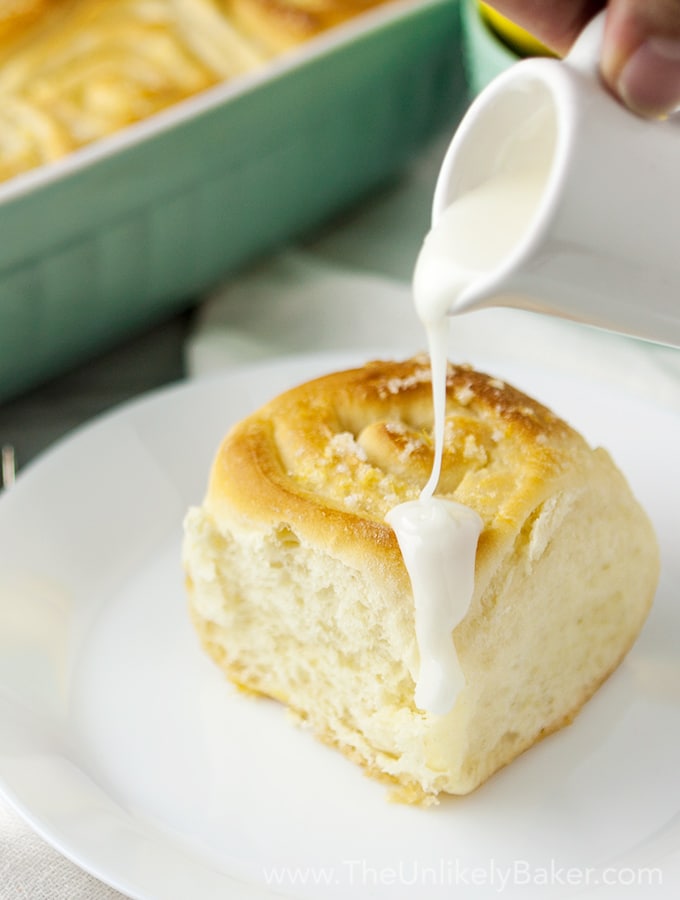 I actually couldn't decide what to call this recipe. It's really not a lemon cinnamon roll because there's no cinnamon in it.
And according to Google, lemon bread rolls is not a thing (seriously). So I went with lemon sweet rolls. Whatever you call it, it's delicious! Light and fluffy and just the perfect lemony flavour.
But, do you want it lemony-er?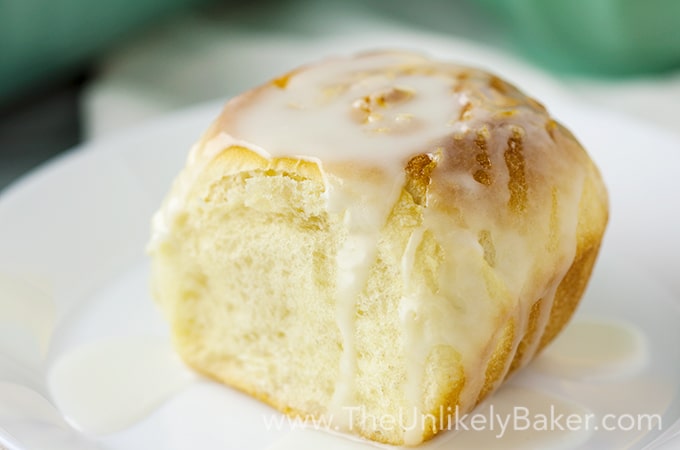 Some of my most popular recipes on The Unlikely Baker are lemony things, like:
Looks like there are lots of lemon fans out there like me! I think it's that delicate balance of sweet and tart.
I do get feedback from you guys saying how you added more lemon juice or zest to a recipe to amp up the lemon flavour even more.
And I think that's awesome.
First, I love hearing from you. And more importantly, baking is fun! So go and make it the perfect cake or pie or cookie for you.
Same basic, versatile bread dough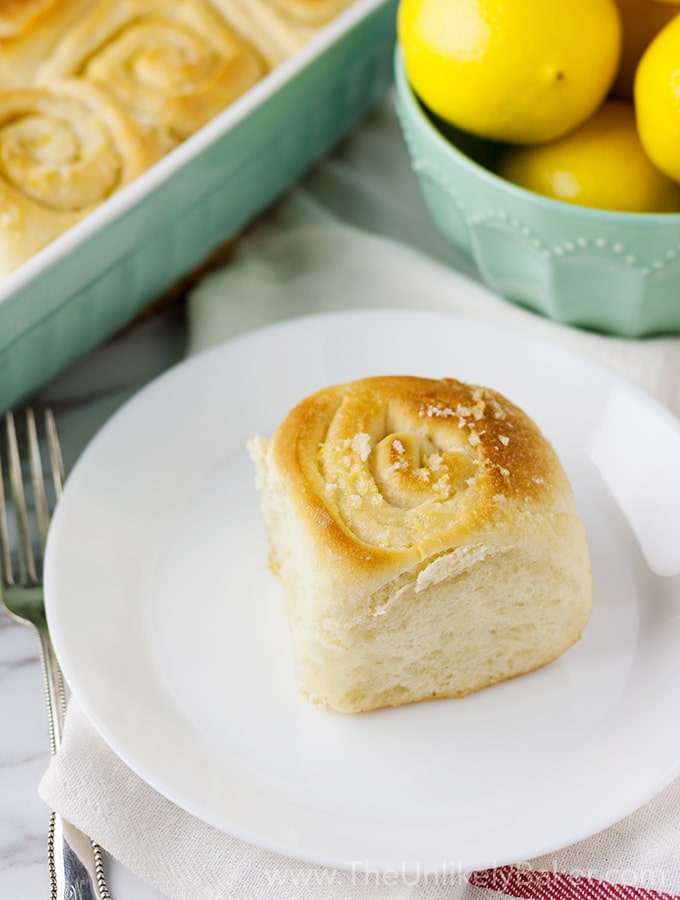 So back to this bread recipe.
You'll notice that this is the same basic dough recipe that I've used in my Ube Bread Rolls with Toasted Coconut and Easy Ensaymada Recipe (Filipino Sweet Cheesy Brioche).
It's a fantastic recipe to have around. It's a great base for all your bread experiments.
Don't be intimidated by all the steps, it's really quite simple – just a little planning is all it takes. And before you know it, you'll be baking your own bread and these lovely little lemon treats will be in your oven.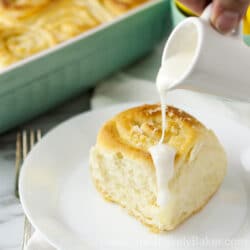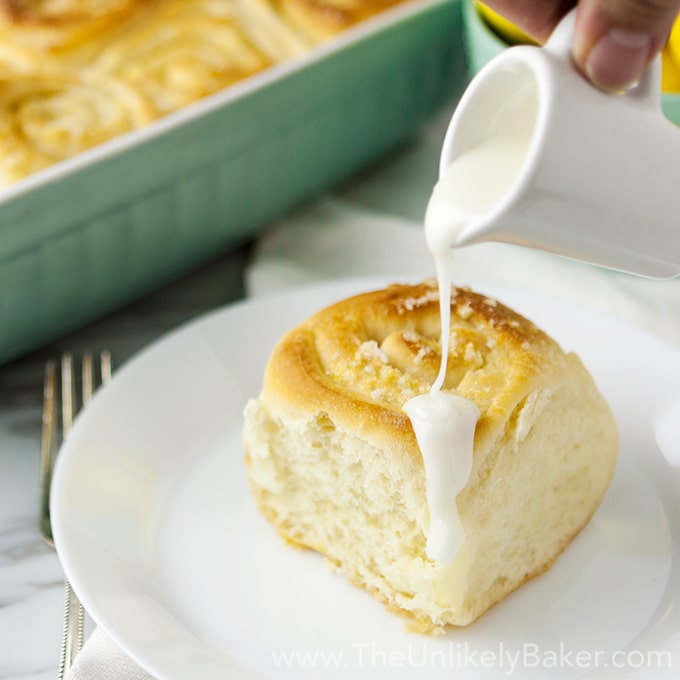 Light and Fluffy Lemon Sweet Rolls
Lemon sweet rolls – buttery, lemony bread rolls glazed with a scrumptiously lemony glaze. Light, fluffy, a perfect springtime treat.
Instructions
Phase 1:
In a measuring cup, stir ½ cup warm water, 1 package active dry yeast and 1 teaspoon sugar until dissolved. Set aside and let stand until bubbly (about 10 minutes).
Phase 2:
In a medium saucepan on medium heat, warm ½ cup milk until you see bubbles forming at the edges. Remove from heat and stir ¼ cup sugar, 1 teaspoon salt, and ¼ cup butter until the butter has completely melted.

Set aside and let cool until lukewarm.
Phase 3:
In a large bowl, combine your yeast mixture, your milk mixture, eggs and 1 ½ cups flour. Stir until combined. Proceed to add the rest of your flour ½ cup at a time combining well after each addition.

Once the dough starts pulling and sticking together in a ball, transfer it into a lightly floured surface and knead until smooth and elastic (8-10 minutes). When in doubt, knead some more (see note 1).

Oil a large bowl with 1 tablespoon canola oil. Place your dough in the bowl and turn to ensure the whole dough is coated. Cover with a damp cloth and allow to rise in a dry warm place (about 90F, see note 2) until it doubles in size (about 1 hour).
Phase 4:
Using your fingertips, rub ½ cup sugar and 3 tbsp lemon zest together until the zest releases some of its oil and the mixture becomes fragrant. Set aside.

When your dough is ready, transfer it into a lightly floured surface and roll into a 12×14 inch rectangle. Brush the dough with melted butter then sprinkle ¾ of your lemon sugar, leaving a half inch border around.

Tightly roll the dough and pinch the seams to seal. Brush with more melted butter. Cut the roll into 12 pieces and place cut side down on your 9×13 inch baking dish. Space them out evenly to allow the dough space to rise. Cover and let rise for another 30 minutes to 1 hour.

When your rolls are just about ready, preheat your oven to 375F. Sprinkle the rest of your lemon sugar over the rolls and bake for 20 minutes or until golden brown.
Phase 5:
To make the glaze, simply whisk all ingredients together until smooth and incorporated. Taste and adjust the tartness (by adding more lemon juice) or sweetness (by adding more sugar) as desired.

Pour over the rolls before serving.
Notes
You can certainly use the dough hook attachment in your stand mixer or the dough blade in your food processor when making bread. I just prefer doing the mixing and kneading by hand so I have more control and I have less chance of over-kneading it.
When making bread, I use my pre-heated oven as my "dry warm place". What I do is turn it on for a few minutes then turn it off so that it'll be about 90F when I'm ready to put my dough in to rise. Just remember to remove the dough from the oven when you're ready to actually preheat for baking.
Nutrition
Calories:
362
kcal
Carbohydrates:
55
g
Protein:
5
g
Fat:
13
g
Saturated Fat:
7
g
Cholesterol:
32
mg
Sodium:
202
mg
Potassium:
67
mg
Fiber:
1
g
Sugar:
23
g
Vitamin A:
370
IU
Vitamin C:
3.4
mg
Calcium:
23
mg
Iron:
1.9
mg
Nutritional information are estimates only.
Tried this recipe? Leave a star rating today!
Also tag @iamtheunlikelybaker I'd love to see your creations.
Happy baking!
Did you make lemon sweet rolls? I'd love to hear from you in the comments section below.
And let's get social! Find me on Facebook, Pinterest, Instagram or Twitter.