No churn peach ice cream is a great way to enjoy all the fresh peaches that come with summer. Sweet and refreshing, easy to make, you can add bourbon for an optional kick too!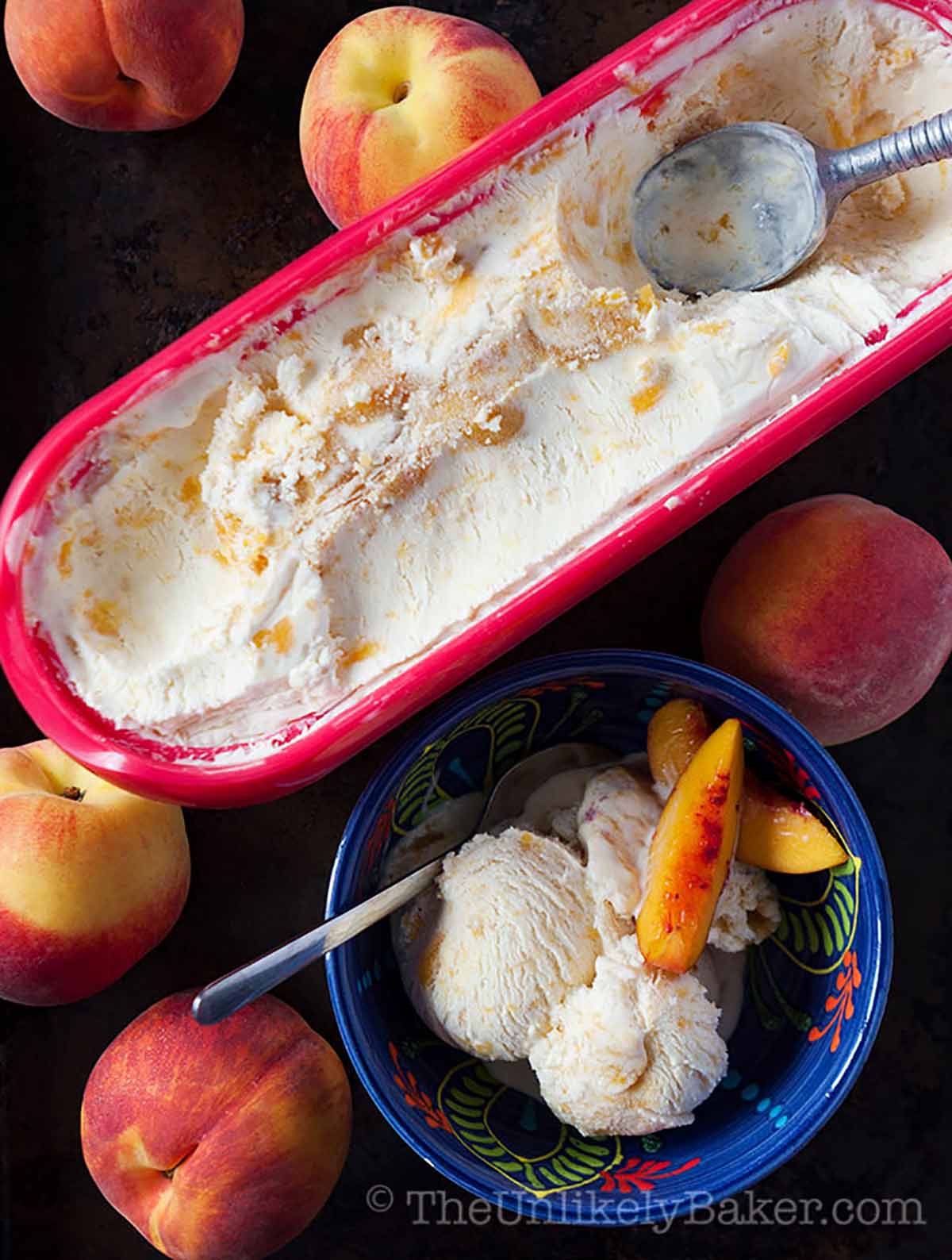 Once I learned how to make no-churn ice cream (or ice cream that you can make at home without a machine), I haven't stopped experimenting with lots of different flavour combinations.
That's the beauty of homemade ice cream — it's really about taking your favourite things and making them into your favourite ice cream flavour.
Some of the ice cream recipes I love include:
(Check out all the ice cream recipes on the blog.)
This no-churn peach ice cream is a summer staple. It's a delicious way to take advantage of summer's best peaches. Let's get to it.
Why you'll love making homemade peach ice cream
If you haven't tried making homemade ice cream yet, this is a wonderful recipe to try.
Simple ingredients. When you make homemade ice cream, you know exactly what goes in it. In this case, you'll only need peaches, cream, condensed milk and spices. Nothing in here that you can't pronounce.
Easy recipe. All you'll need to do is cook down the peaches then combine with condensed milk and whipped cream. No eggs for the custard, no churning in the ice cream machine.
Customizable. You can add all your favourite things too, like almonds and even white chocolate chips. I usually add a splash of bourbon in mine.
How to make peach ice cream without a machine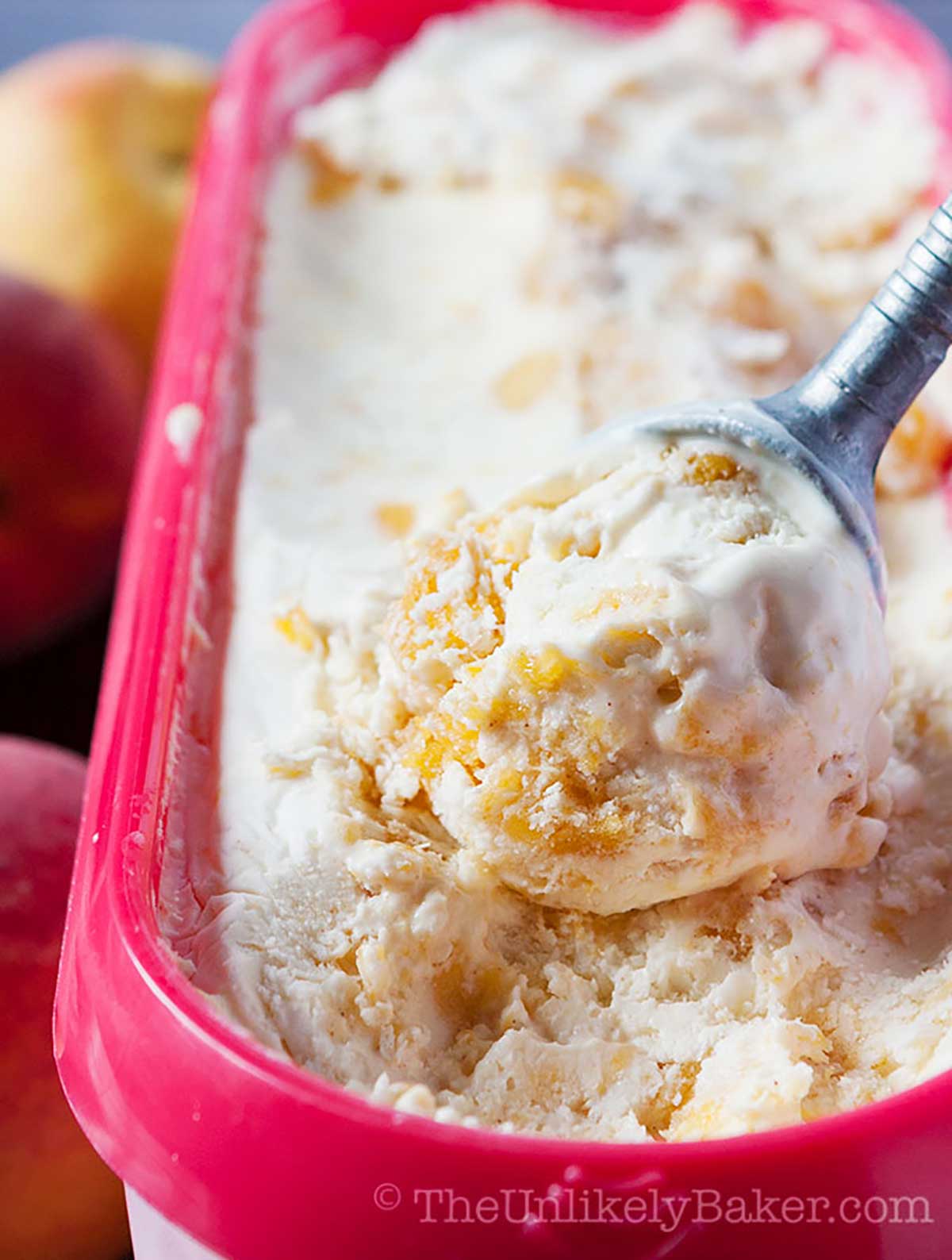 The steps to making no-churn ice cream are very simple.
You start with a base — I always use condensed milk — then you add in your flavour.
In this case, I cook some peaches with cinnamon and brown sugar to break it down. And add bourbon at the end (optional).
Next you whip some heavy cream.
Put the two together (plus mix-ins if you like), freeze, and in a few hours you have peaches and cream ice cream.
It's really that easy!
Check out this video of how I make Cherry Chocolate Chip Ice Cream to see how easy.
Ingredient notes
You'll need the following for this recipe:
Ripe peaches — you'll want to use ripe peaches here. To know if they are: they should give easily when gently pressed and should smell sweet and fragrant.
Brown sugar, ground cinnamon, salt, vanilla extract — unlike other peach ice cream recipes, I opted to cook and break down my peaches instead of using them fresh. I find that this results to a more flavourful ice cream and allows that lovely peach flavour to shine through and not get overwhelmed by the condensed milk.
Bourbon (optional) — I also sometimes add a splash of bourbon because, well, I like bourbon lol and it goes so well with peaches but you can skip this and just stick to vanilla extract.
Condensed milk — this homemade peach ice cream is made with sweetened condensed milk. It's what gives it that creamy and smooth consistency.
Heavy cream — it's called different names in different countries but you want cream that has 36-40% milk fat content. It whips better and sets better.
Tools you'll need
Like I mentioned, "no-churn" simply means no ice cream machine is needed, vs ice cream that's churned in a machine.
And it's awesome because for people like us who lack the counter space (or the budget) for yet another kitchen gadget, no-churn ice cream is a dream.
All you'll need are:
A stand mixer or handheld electric mixer to whip your cream
A small saucepan to cook your peaches
Mixing bowls
Measuring cups and spoons
Rubber spatula
I also highly recommend freezer-safe containers with tight-fitting lids to store your ice cream in. I love these ice cream containers and own several in different sizes.
Expert tips and tricks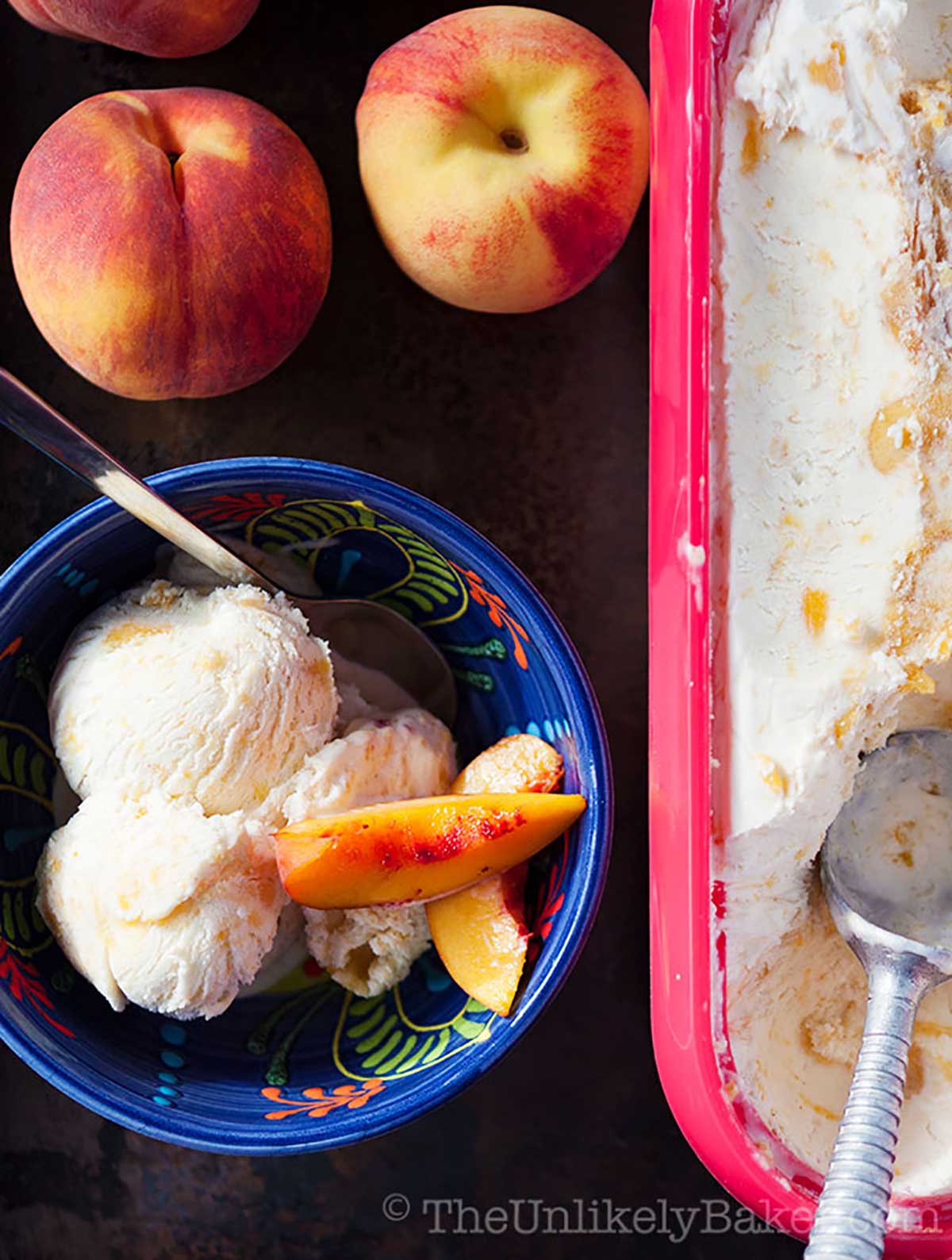 Such an easy recipe, right? Here are more tips for perfect no churn peach ice cream every time.
Taste, then taste some more. Since no-churn ice cream has no eggs in it, it's safe to taste as you're making it. So go ahead and taste at every step if you like. You're making your very own ice cream and you can make it as sweet and as fabulous as you want
Use freezer-friendly container. Not all containers are created equal. Some would lead to ice forming at the bottom or sides of your ice cream. While others might expand in the freezer. It's best to use tubs especially made for ice cream, like these ones. I've owned them for years and they still look like new!
Cover ice cream with cling wrap. To be extra sure that ice doesn't form on any part of your ice cream, especially the top, place cling wrap on it (place it right on the surface of the ice cream) before covering and putting in the freezer.
Recipe

FAQs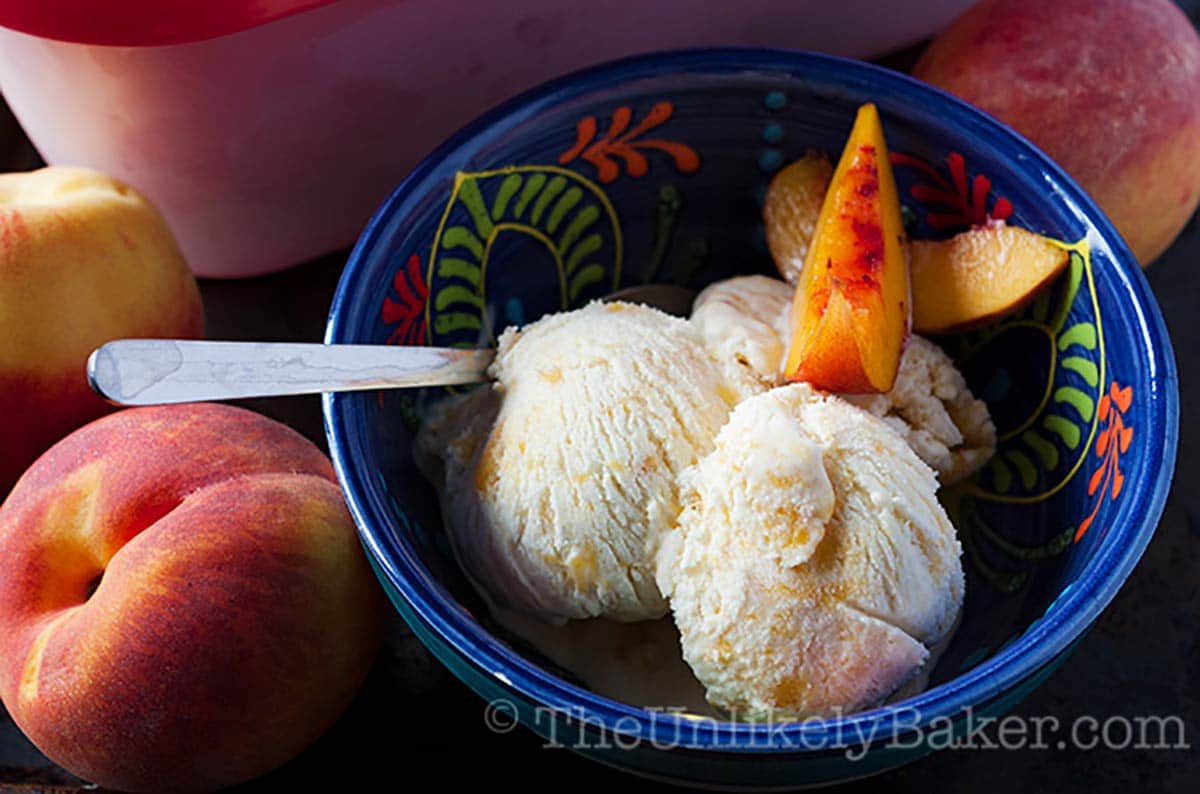 Can I use frozen peaches or canned peaches?

I personally haven't tried substituting frozen or canned for fresh peaches in this recipe but I think you can use them if that's what you have available.

If using frozen peaches: you probably need to add 5 to 10 minutes to your cooking time.

If using canned peaches: remember that they are sweeter and have a more concentrated flavour than fresh so taste and adjust sugar as needed.
Can I use whipping cream instead of heavy cream?

Homemade, no-churn ice cream has two main ingredients: sweetened condensed milk and whipped cream.

You want heavy cream to make your whipped cream, which has 36 to 40 percent milk fat, because it results to firmer, more stable whipped cream with stiff peaks that hold their shape longer. This is what gives your homemade ice cream that smooth texture and creamy taste.

In a pinch, you can use whipping cream (30 to 35 percent milk fat) but it will result to a lighter, softer texture.
How can I prevent homemade ice cream from getting freezer burn?

To prevent your homemade ice cream from getting freezer burn or forming ice crystals:

– Place a piece of plastic wrap directly on the ice cream's surface before placing the lid. This also helps prevent freezer smells from seeping into your ice cream.

– Make sure you use a freezer-safe container with a proper, tight-fitting lid.

It's still safe to eat ice cream with a few ice crystals. It's going to affect the texture and the taste though so you really want to protect it from air (its main enemy) and eat it within 2 weeks of making it.
How long does homemade ice cream last?

Homemade ice cream lasts about 2 weeks in the freezer.

Because it doesn't have the same preservatives as store-bought ice cream, when it comes to homemade ice cream, the fresher the better.

Some tips to keep it fresh for longer:

– Cover the top with plastic wrap (see above).
– Store in a relatively shallow and flat container vs. a deep dish. Ideally, you want a container that's meant to store ice cream, like these ones.
– Store towards the back of your freezer so that its temperature can remain fairly constant, away from the door and never on the freezer door shelf.
What does no-churn ice cream taste like?

No-churn ice cream tastes exactly like ice cream! And the texture is just as creamy IMO.

Some people say you can't beat the creaminess of ice cream made in an ice cream machine and that may be true but we really have not been able to tell the difference between our no-churn ice cream and store-bought ice cream.
Peaches are one of our favourite summer fruits and even though we love to eat it as is, we also love to incorporate it in desserts such as this one.
Hope this inspires you to start making your own ice cream this summer, peach or any flavour!
It's fun and easy; involve the kids and make a day of it. Enjoy!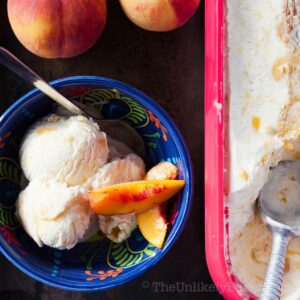 No Churn Peach Ice Cream
No churn peach ice cream is a great way to enjoy all the fresh peaches that come with summer. Sweet and refreshing, easy to make, you can add bourbon for an optional kick too!
Instructions
In a medium saucepan on low-medium heat, combine peaches, 1 tbsp brown sugar, ¼ tsp cinnamon and a pinch of salt. Cook until the mixture is juicy and mushy (15-20 mins). Stir occasionally to help break down the fruit.

Stir in 1 tsp vanilla and (optional) 2-3 tbsp bourbon. Remove from heat and allow to cool completely.

In a large bowl, combine 1 can condensed milk with your peach mixture. Stir until fully incorporated.

Take about a cup of your whipped cream and fold into your condensed milk to lighten it up a bit.

Then fold your lightened condensed milk into your whipped cream.

Transfer the mixture into a freezer-safe container, smoothen the top and cover with plastic wrap to prevent ice from forming. Freeze 6-8 hours, preferably overnight.

Notes
See post for lots of tips and FAQs.
Nutrition
Calories:
162
kcal
Carbohydrates:
5
g
Protein:
1
g
Fat:
14
g
Saturated Fat:
9
g
Cholesterol:
54
mg
Sodium:
15
mg
Potassium:
101
mg
Sugar:
4
g
Vitamin A:
705
IU
Vitamin C:
2.7
mg
Calcium:
28
mg
Iron:
0.1
mg
Nutritional information are estimates only.
Tried this recipe? Leave a star rating today!
Also tag @iamtheunlikelybaker I'd love to see your creations.
Happy ice cream making!
Did you make this easy peach ice cream recipe? How did it go? I'd love to hear from you in the comments below.
And let's get social! Find me on Facebook, Pinterest, Instagram, Twitter and YouTube.
Love peaches? Check out these easy and delicious peach recipes: