Taho is soft tofu (sometimes called silken tofu) that's sweetened with brown sugar syrup (arnibal) and topped with sago or tapioca pearls. It's a popular breakfast treat in the Philippines but it's also served as a snack and dessert.
(Craving for more Filipino favourites? Try this champorado recipe. So good! And make tsokolate with your extra tablea while you're at it.)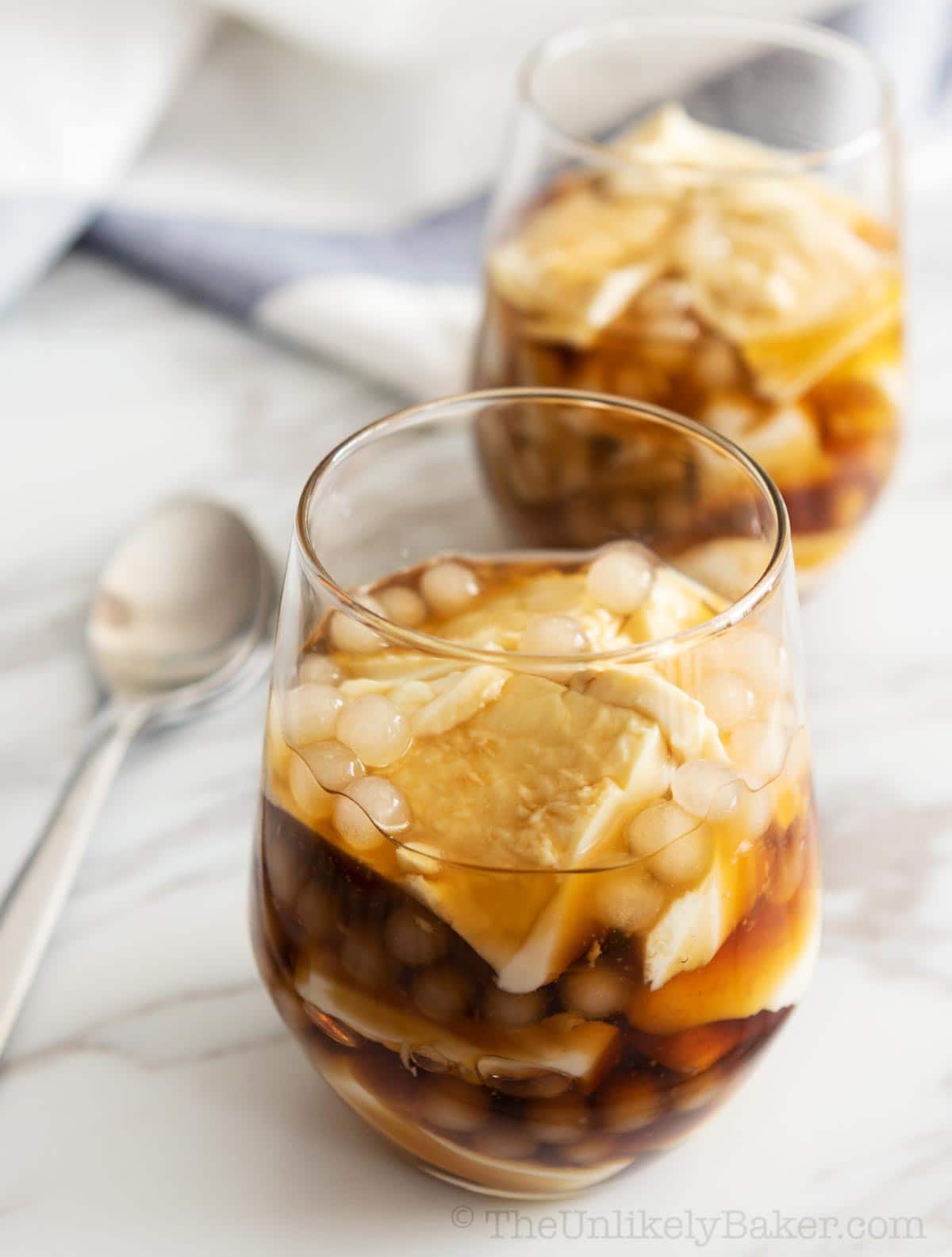 This recipe will transport you back to the Philippines – early mornings just before school, enjoying a warm mug of taho from your favourite taho vendor. Extra arnibal and sago for me, please.
Never had it before? Read on, you're in for a treat!
Pinoy childhood favourite
When we were kids, we had a favourite taho vendor who would go around the neighbourhood in the mornings yelling tahoooo, which is the signal for everyone to come rushing out with their mugs in hand, eagerly awaiting their favourite breakfast treat.
He went around our neighbourhood for years. I don't remember what he looked like anymore but I do remember he always had a friendly chat with my dad and he always knew which kid liked extra syrup and sago (me!).
We never bought taho from anyone else; one stays loyal to one's taho vendor in those days.
I've been blogging and sharing recipes for a while now and I always get embarrassingly emotional and sentimental when I'm sharing recipes from home.
There's really just something so special when you're able to recreate something from a simpler time. The smell, that first bite.
Who would have known something as simple as a tofu dish can get me bawling my eyes out? But I suppose food is never just food for immigrants like me. It will always be our connection to home.
Now you can find all kinds of variations like strawberry, ube and even drinks and milk tea.
This taho recipe is the one we grew up eating and tastes exactly as I remember it. Enjoy.
Ingredients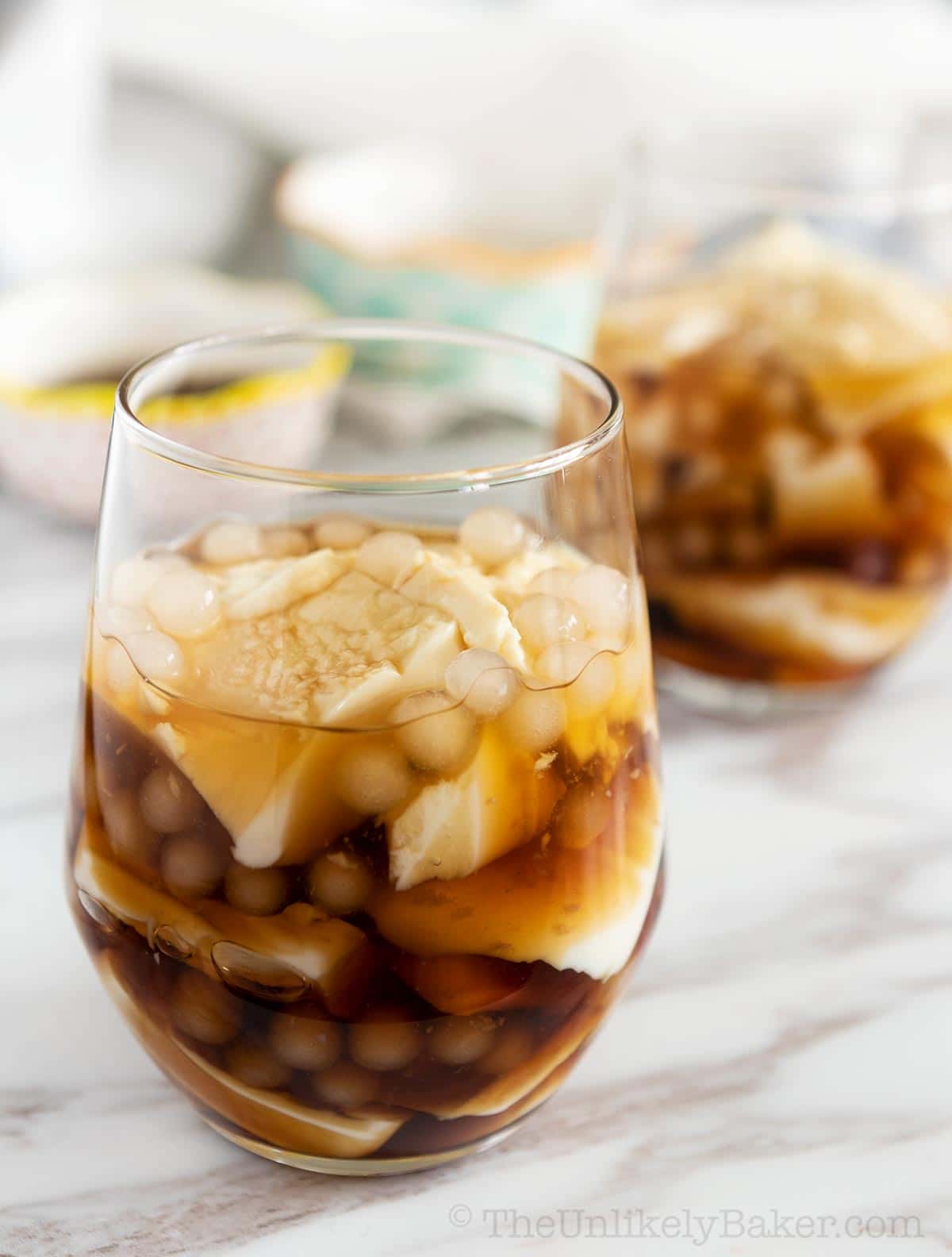 For homemade taho, you will need:
Soft or silken tofu – Make sure you buy soft or silken tofu. Medium or firm tofu will not work in this recipe.
Brown sugar
Sago or tapioca pearls – Either will work. See FAQs for more info.
Vanilla extract
Water
You can easily find these ingredients in your local Asian supermarket.
In your regular supermarket, tofu is usually in the chiller section and sago is sometimes in the baking section, sometimes in the international aisle.
Cooking tools
To make taho from scratch, you would need a steamer or a steamer basket to cook the tofu. Don't worry if you don't have one though. Here are DIY hacks you can try so you can steam the tofu without a steamer basket.
Other things you'll need include:
A pot to cook the sago in
A mesh sieve for scooping the sago out of the water
And a saucepan to make the simple syrup
How to make taho
Making taho is quick and easy because you can cook the components at the same time.
You can have 3 pots on your stove: one steaming the tofu, one boiling the sago and one cooking the arnibal. Make sure to watch each one though because they have different cooking times.
How to cook sago
How you cook sago depends on the kind of sago or tapioca pearls you have. I like the quick-cooking ones (it would say right on the package); plus, those usually have English cooking instructions on the back.
If you can't find those, you probably have the kind that needs about an hour to fully cook.
If you google how to cook sago, you'll find 101 ways to do it; this is how I do it:
Bring a big pot of water to a rolling boil. I don't bother to measure how many cups of water; I just make sure it's enough to fully cover the sago or tapioca.
Add the sago slowly and allow to simmer for 10 minutes. Stir occasionally so the sago don't stick to one another.
Switch off the stove and cover the pot.
Wait another 10 minutes before draining the water and catching the sago in a mesh sieve.
Rinse the sago in cold running water for 15-20 seconds.
Place the sago back in the pot, add water and cook on medium heat for 10 minutes.
Repeat 3 to 6 until your sago is fully translucent and chewy but still al dente.
I've found that how long this process takes largely depends on the brand of sago or tapioca you have. So I really make it a point to look for and buy the quick-cooking ones. They taste the same and perfect for lazy cooks like me.
If you have the quick cooking sago, all you'll need is to follow the package instructions. It's usually done in 15 minutes or less.
How to make arnibal or brown sugar syrup
Making arnibal or brown sugar syrup is simpler. Just combine brown sugar and water in a saucepan and bring to a boil. Then bring down to a simmer until the sugar dissolves.
Remove from heat, add vanilla extract and set aside. Note that you don't want this mixture reducing to a very thick syrup. It should still be easily pourable.
How to assemble
There's really no science taho assembly. Traditionally though, our vendor would smoothly scoop tofu from his tin container into our mugs, top it with sago, then pour arnibal.
You can put sago first if you like. Or you can layer tofu with sago. And you can put as much or as little taho syrup as you want. All up to you.
Expert tips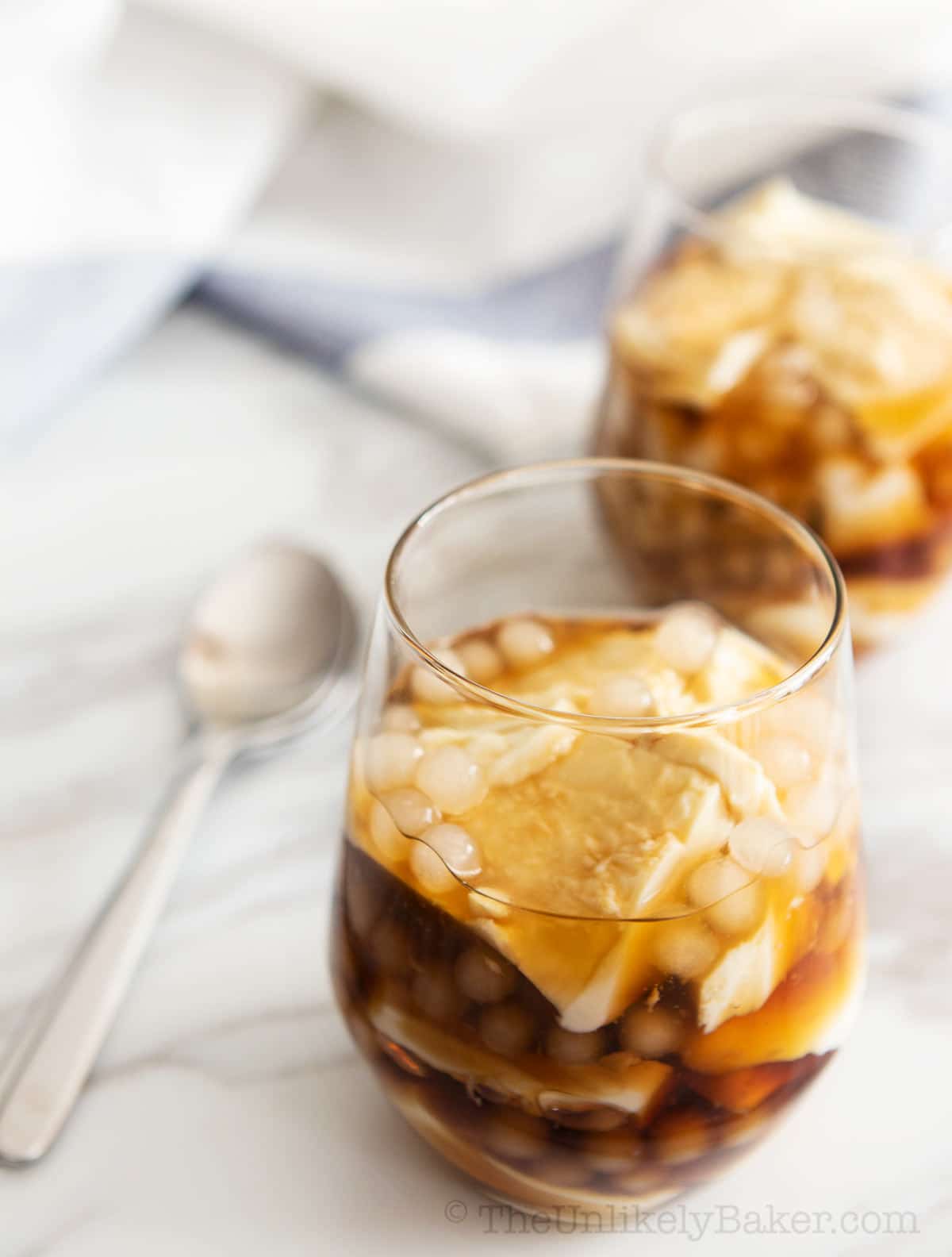 There are a few things to keep in mind for the perfect cup of sweet Filipino tofu.
Make sure to buy the right kind of tofu. Depending on where you are, this will be labeled soft tofu or silken tofu. Stay away from medium or hard tofu, which won't work in this recipe.
Use freshly cooked sago. Sago tends to get hard and rubbery the longer it sits. They're best eaten the day they're cooked but still okay to serve the next day.
Serve warm. Taho is traditionally served warm. What you can do is assemble and serve as soon as your tofu is ready; or warm your taho for a few seconds in the microwave if the components have been chilled.
Recipe FAQs
Who invented taho?

If you're wondering where this dish came from, you'll find this article on the origin and history of taho very interesting.

It says the word "taho" comes from the Chinese word for the soft soybean pudding douhua and that it originated in China in the time of the Han Dynasty (206 to 220 A.D.). According to legend, it was accidentally discovered by a cook whose original intent was to make soy milk.

Check it out!
Sago pearls vs tapioca pearls

I explain in my mango sago recipe that even though sago and tapioca are used interchangeably, they are actually different things in that sago is an edible starch that is made from the pith of an array of tropical palm trees while tapioca pearls are made with tapioca or the starch from cassava, a root crop.

However, they look similar, taste similar, have a similar chewy texture when cooked, and cooked the same way. They're often substitutes of each other in recipes too, though not always.

You can use either one for this recipe.
Is silken tofu the same as soft tofu?

Soft tofu is the Chinese-style equivalent of silken tofu. While it's slightly less smooth than silken tofu, the two are interchangeable and can be used and cooked the same way.
Are taho and tofu the same?

Taho and tofu are not the same things. Tofu is an ingredient in taho, the Filipino dessert.
What does taho consist of?

It has 3 components:

– Soft tofu or silken tofu
– Brown sugar syrup (arnibal)
– And sago or tapioca pearls

You then layer them in a cup or glass and enjoy with a spoon, similar to how you would eat a pudding.
What does taho taste like?

The silken tofu, when eaten on its own, is bland. You add brown sugar syrup to sweeten and sago pearls to give it texture.

How sweet or how much sago you put into your cup depends entirely up to you.
How long is it good for?

Kept in the fridge, your components will last up to 3 days. You can most likely still eat it a few days after that but the sago tends to harden the longer it sits.

Assembled taho is best eaten immediately.
Can you freeze taho?

I don't recommend freezing taho because it will drastically change the texture of the tofu and sago. It's best kept in the fridge.
How to reheat

After assembling, microwave the cup or glass it is in for 30 seconds to 1 minute or until it's warmed all the way through.
Can you eat it cold?

While taho is traditionally eaten warm or room temperature, you can certainly eat it cold or chilled. Just know that the sago will have a firmer bite to it when served cold.
Other Filipino childhood favourites
Looking for other Filipino recipes from childhood? Try these recipes and enjoy the trip down memory lane.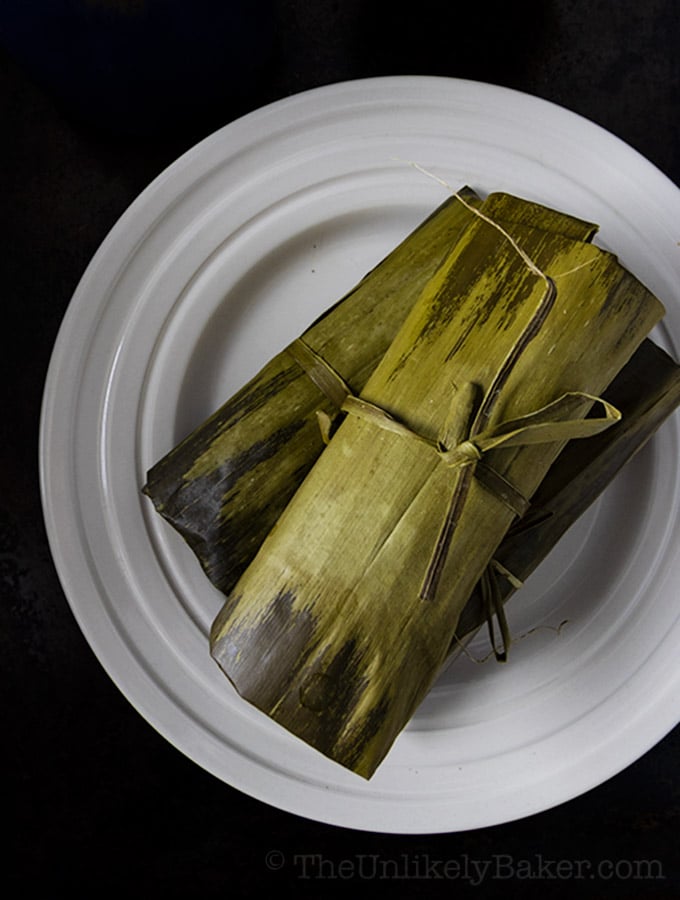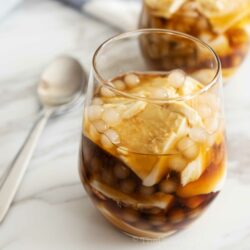 Filipino Taho Recipe: Sweet Tofu with Sago and Syrup
Taho is soft tofu (sometimes called silken tofu) that's sweetened with brown sugar syrup (arnibal) and topped with sago or tapioca pearls. It's a popular breakfast treat in the Philippines but it's also served as a snack and dessert.
Instructions
Place your tofu in a steamer or steam basket and steam until fully cooked through, 15-20 minutes.

While your tofu is steaming, you can work on your sago. This would depend on the kind of sago you have — some require almost an hour of cooking while others are done in 5 minutes. I provide more sago cooking tips in the post. Once your sago is done, put it aside in a bowl of cold water until you're ready to assemble.

To make the arnibal, simply combine 1 cup brown sugar with 1 cup water in a saucepan and bring to a boil.

Bring down to a simmer until the sugar dissolves, about 5-7 minutes. Continue to stir so the sugar doesn't stick to the pan. Remove from heat and add 1 tsp vanilla extract. Stir to combine. Set aside until you're ready to assemble.

To make taho, put tofu, sago and syrup in a mug, glass or bowl and enjoy! How much of each you put depends entirely up to you.
Notes
The number of servings depend on how you layer/customize your taho.
You can also prepare more sago or arnibal, adjust the quantities depending on how you like to take your taho.
Nutrition
Calories:
274
kcal
Carbohydrates:
69
g
Protein:
1
g
Fat:
1
g
Sodium:
41
mg
Potassium:
73
mg
Fiber:
1
g
Sugar:
53
g
Vitamin C:
1
mg
Calcium:
46
mg
Iron:
1
mg
Nutritional information are estimates only.
Tried this recipe? Leave a star rating today!
Also tag @iamtheunlikelybaker I'd love to see your creations.
Happy taho-making!
Did you make this recipe for taho? I'd love to hear from you in the comments section below.