Ube waffles – your favourite buttermilk waffles filled with the wonderful flavours of ube. Crunchy outside, soft inside, it's a great start to the day.
(Curious about ube? Try Ube Bread with Toasted Coconut for breakfast, Homemade Ube Ice Cream for dessert, or the crowd-favourite Ube Cake for special occasions!)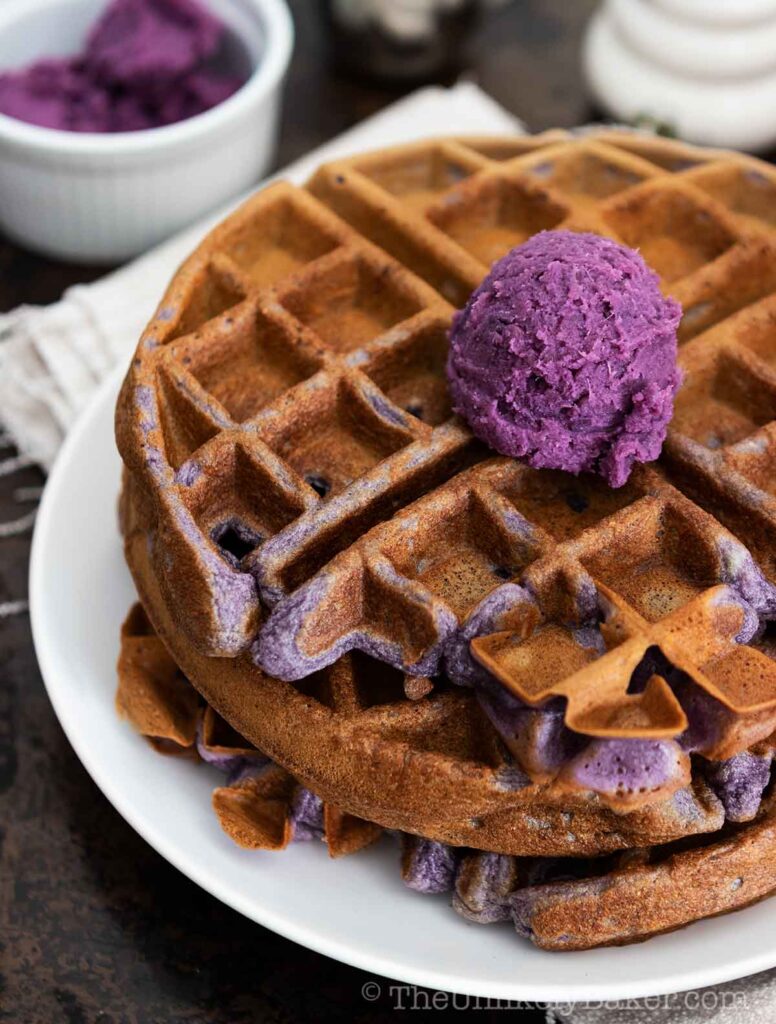 You might already have heard of ube (or Filipino purple yam). Filipinos grew up eating that delicious, earthy, purple root vegetable and we make all kinds of dishes (mostly desserts) from it.
Here's another one for you – ube waffles. Take your favourite buttermilk waffles then make it ube. How amazing is that?
What is ube?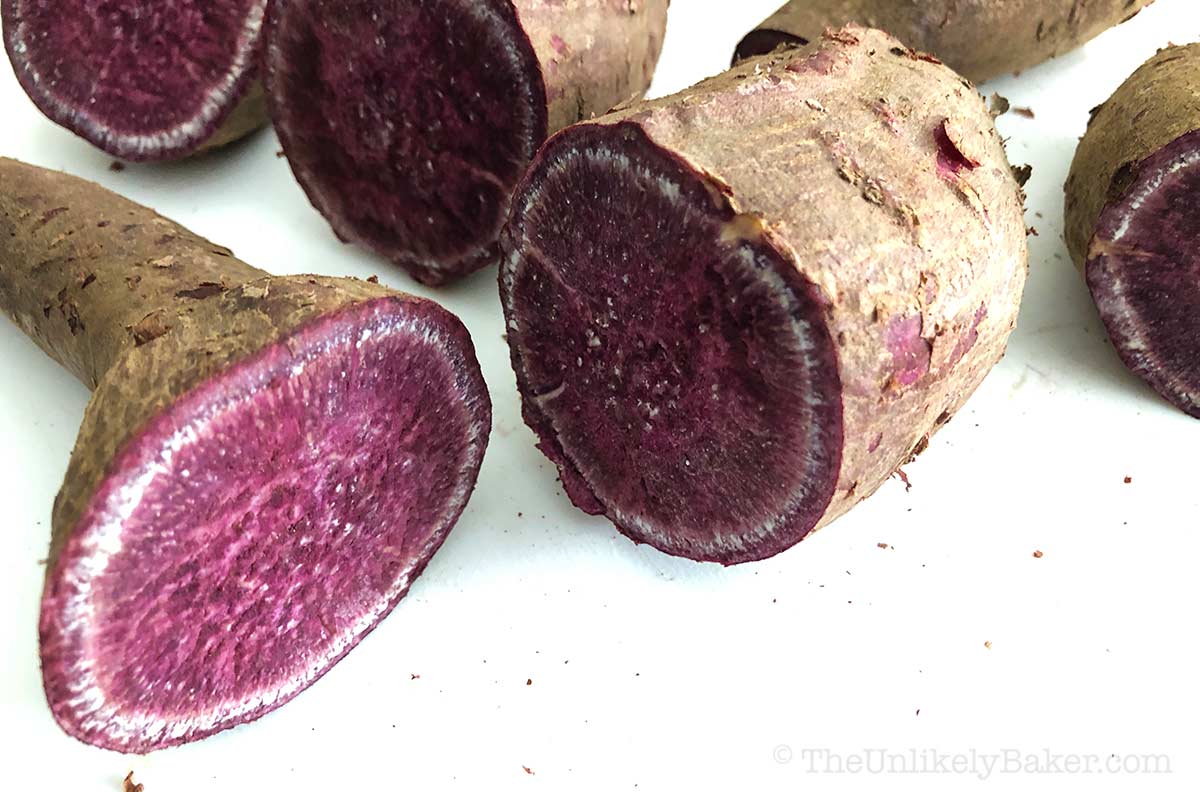 So back to the question on most people's mind: just what the heck is ube? Like I mentioned, it's Filipino purple yam.
It used to be difficult for me to find fresh ube here, only the frozen grated variety. Lately though, it's popped up in our local Asian market and I couldn't be happier!
If you're not familiar with how it looks, it's similar to a potato but darker brown and slightly hairy. When you cut it open though, it's a wonderful, bright purple.
A lot of people mistake it for taro, which is Okinawan sweet potato. Taro is not very purple inside at all (the purple you see on your bubble teas is most likely food colouring) and they taste different too.
Related: Sweet Potato Breakfast Hash with Sausage, Bacon and Eggs
What does ube taste like?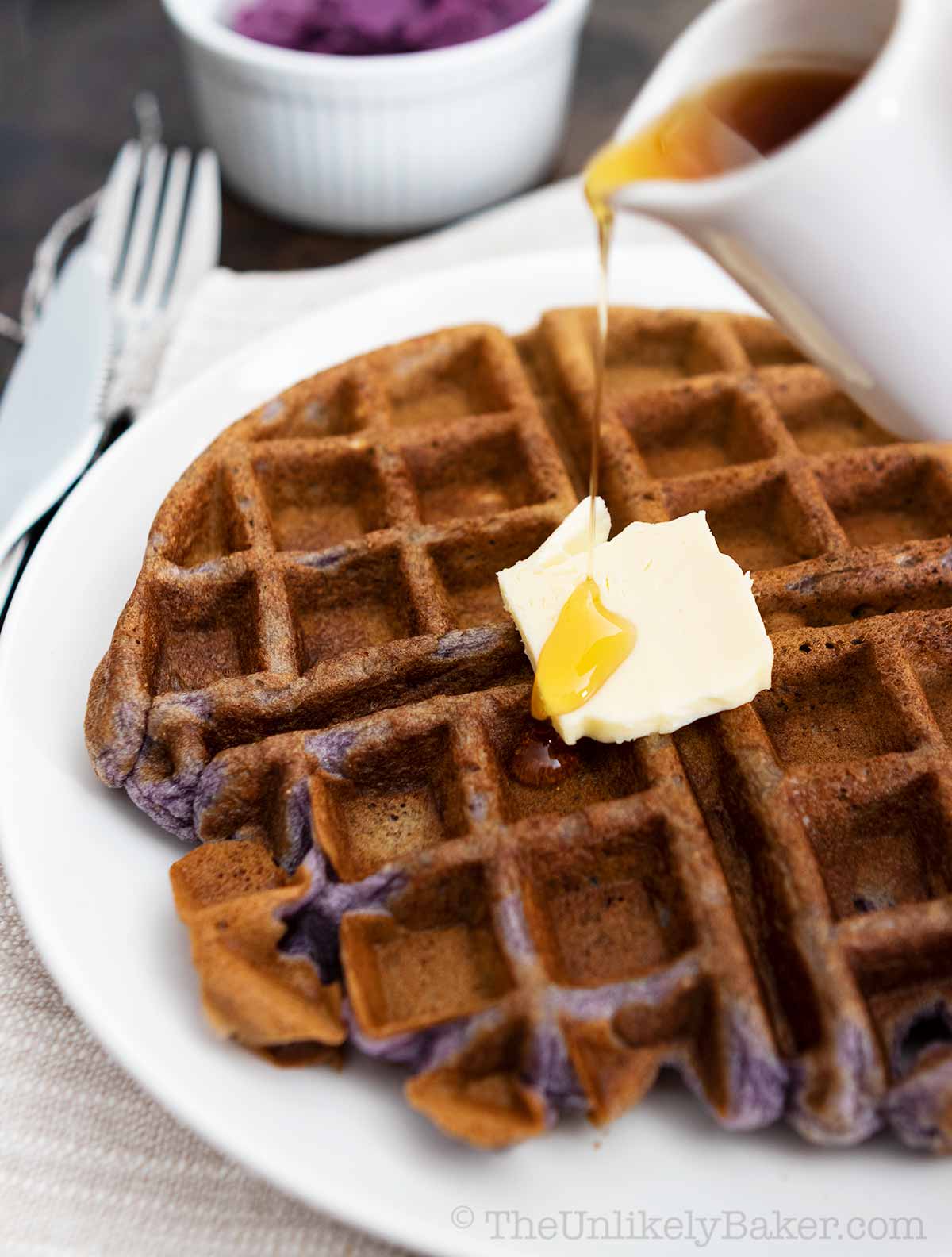 I've always had difficulty describing what ube tastes like. It's more sweet than savoury. But it's not overly sweet.
I used to compare it to sweet potatoes but that's just me doing an awful job of describing it. Bottomline: ube has a very unique flavour that you just have to experience!
How about give my homemade ube halaya or jam a try? It's delicious and way better than the ones you can find at the store. It might just make an ube fan out of you!
How to make ube waffles
So back to these delicious purple waffles. They're so easy to make and even easier to eat!
To make these ube waffles, whisk all your dry ingredients (like flour and cornmeal) in a bowl until combined.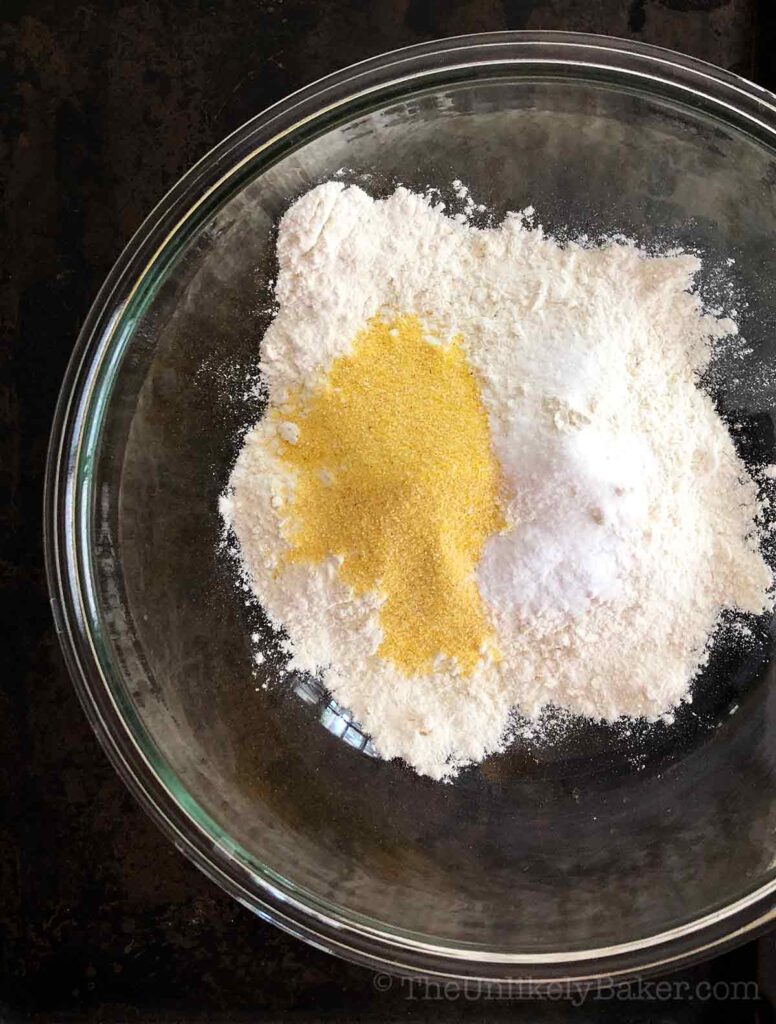 Whisk wet ingredients (buttermilk and eggs go here, plus ube extract and the ube halaya) in a separate bowl. I prefer using my blender here to ensure I incorporate the ube.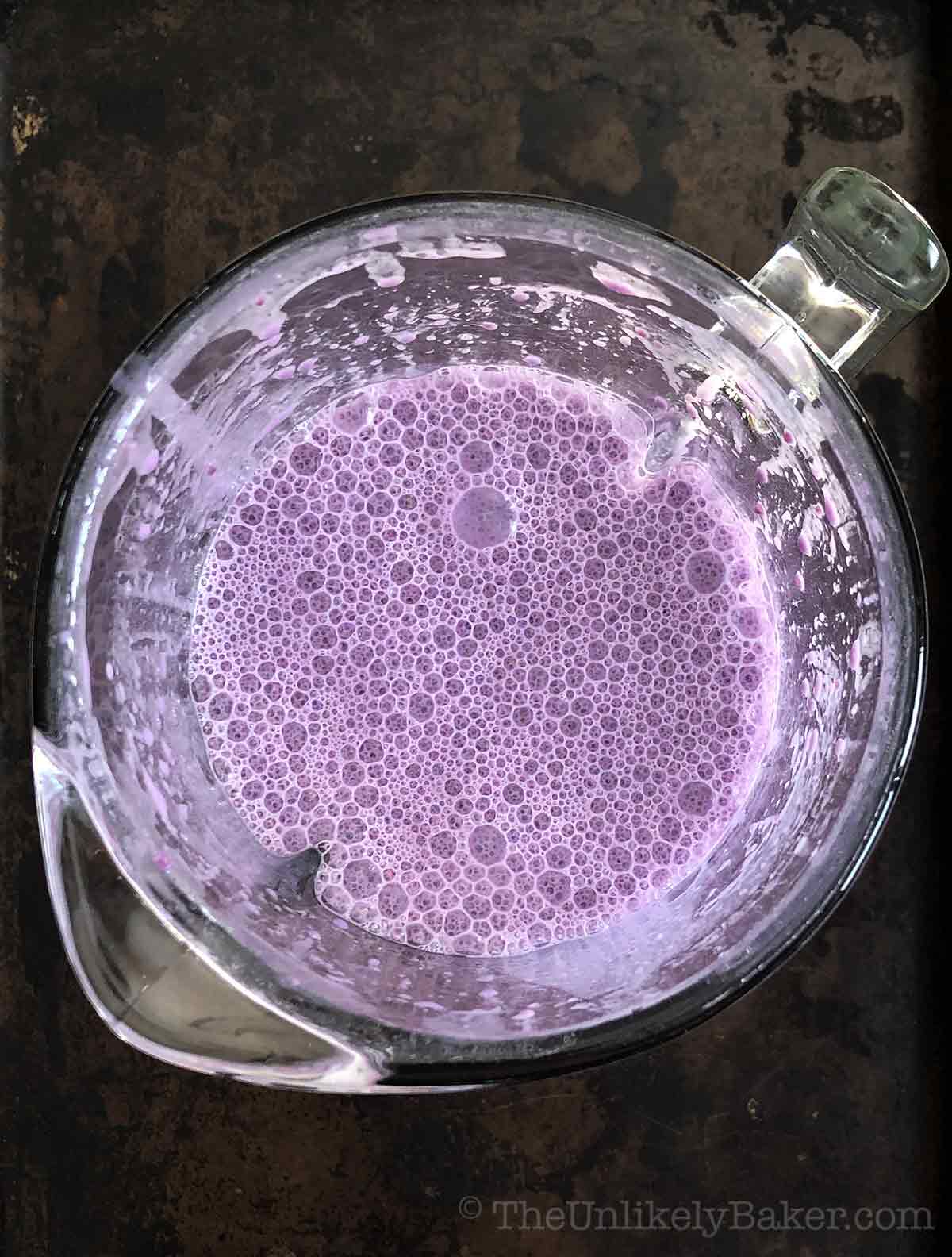 Then stir the two gently until combined. Cook according to your waffle maker insructions.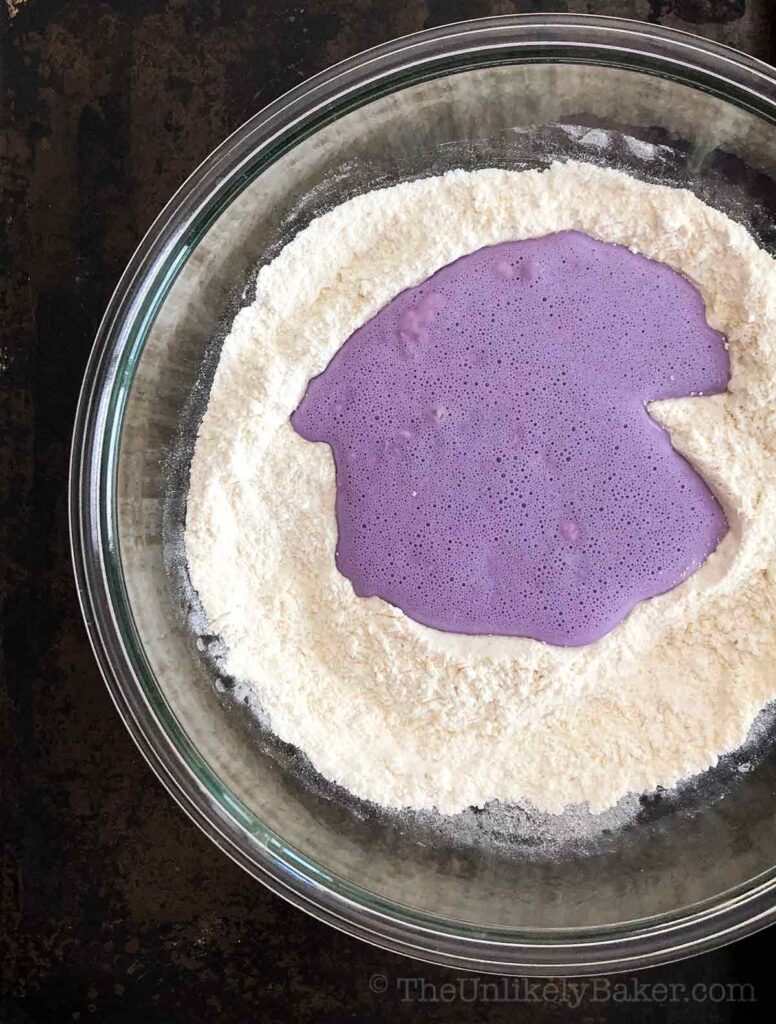 These waffles are already sweet because of the ube jam so I usually only add a little butter. Red likes drizzling maple syrup because, well, maple syrup!
But between you and me, my favourite way to eat them is butter plus ube jam plus maple syrup. Delicious!
However you want to eat these, they are delicious. And a great way to start the day.
How to make the perfect waffles
So. Waffles. Love making them. Love eating them.
I like them thick, Belgian-style, crunchy outside but soft inside. And here are some tips I've learned along the way:
First up: follow your waffle maker's instructions. Simple, right? Your machine dictates whether you need a coarse batter or a smooth batter, or the temperature you need to cook at and for how long.
Whatever texture you need, do not vigorously stir the batter. Gentle does it.
For crunch, I like adding a tablespoon or two of cornmeal. Doesn't affect the taste but adds to the waffle's crunchiness.
And while it's best to serve the waffles fresh, if I can't, I set them (one layer, not on top of one another) on my cooling rack so they don't get sad and soggy.
How to freeze waffles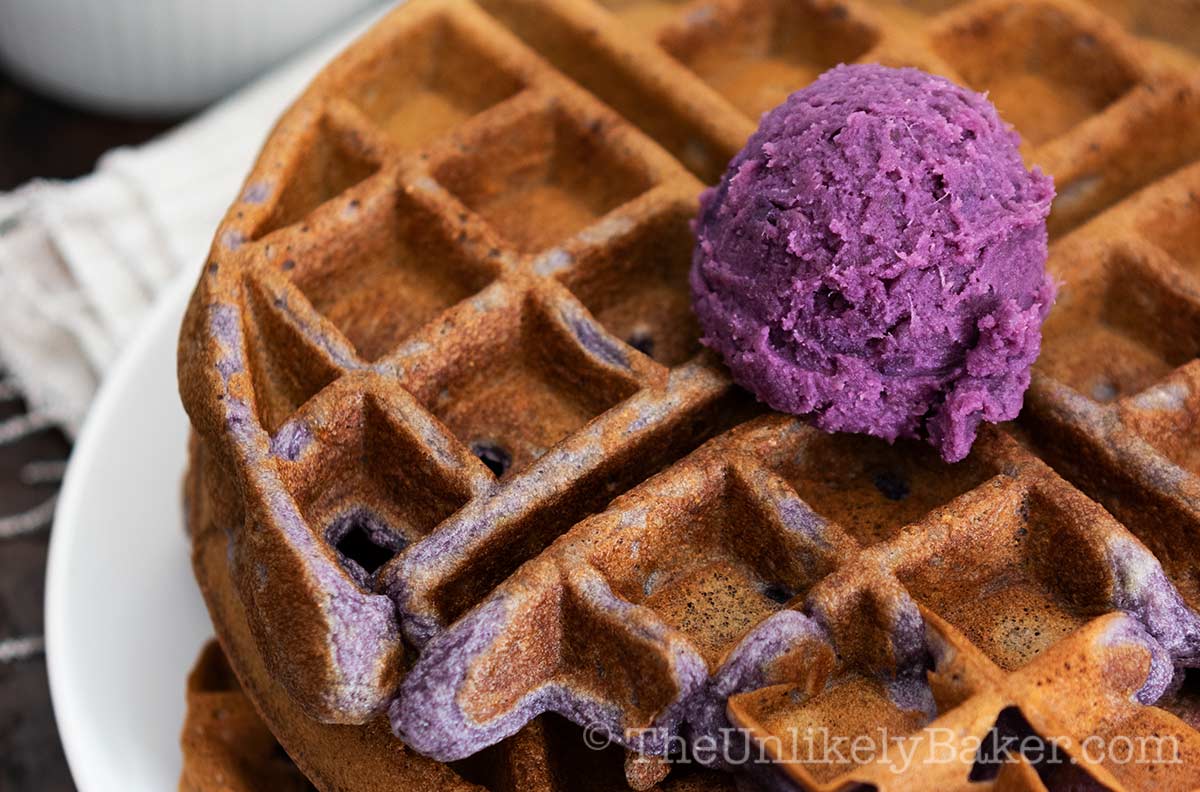 I freeze leftovers too (like these Jalapeño Cheddar Waffles with Fried Egg) and it's really simple – just place the completely cooled waffles in a large ziploc bag separated by pieces of parchment paper, put the bag in the freezer and you're done.
You don't need to thaw them either. Just pop it in the microwave for few seconds and that's it. They won't be crunchy but they will still be delicious.
Related: Classic Buttermilk Scones
More breakfast and brunch recipes
Love breakfast and brunch like I do? Here are more recipes you'd love: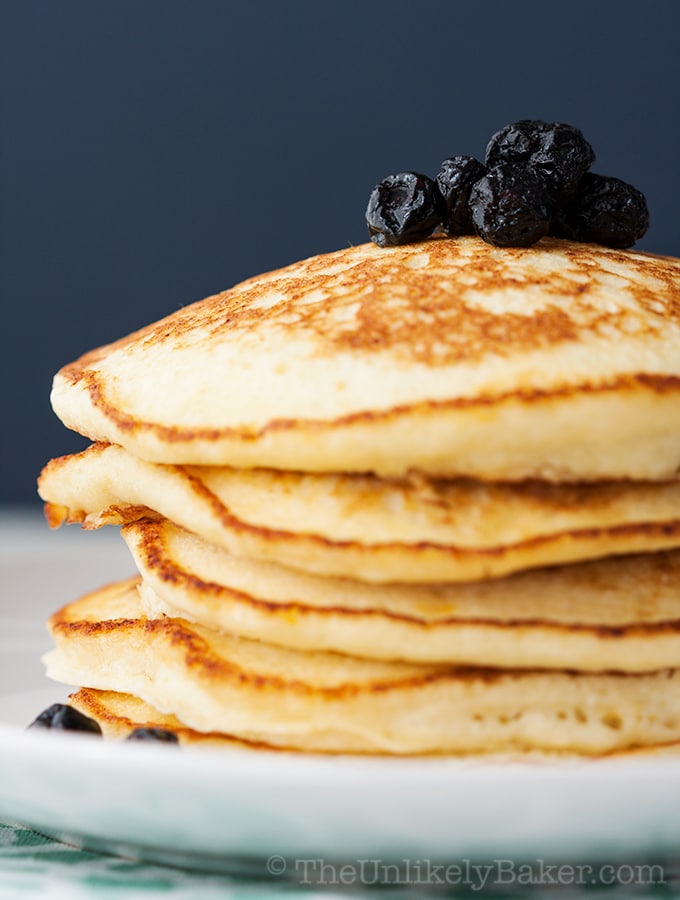 Whip up a batch of these light fluffy lemon ricotta pancakes and start the day with sunshine on a plate! Bright lemon flavour, not too sweet, soft as a cloud.
If lemon gets you up and running in the morning, this lemon cream cheese puff pastry braid is the perfect delicious, lemony, buttery treat for you.
Want something savoury? Start the day sunny side up! Follow this easy huevos rancheros recipe.
And you can't go wrong with pandesal, the quintessential Filipino bread roll. It's crunchy outside, soft and fluffy inside, perfect with butter or dipped in your morning coffee.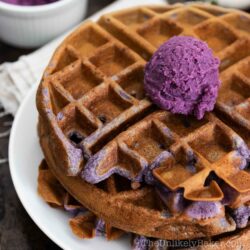 Ube Waffles
Ube waffles – your favourite buttermilk waffles filled with the wonderful flavours of ube. Crunchy outside, soft inside, it's a great start to the day.
Instructions
In a large bowl, whisk all dry ingredients until combined. Set aside.

In another bowl or using your blender, whisk or pulse all wet ingredients until incorporated. Make sure to break apart big chunks of the ube jam, if any.

Pour the wet ingredients into the dry ingredients and gently stir until combined.

Cook according to waffle maker instructions. Best served warm.
Notes
Yield depends on how big or small you make your waffles.
See post for waffle making tips.
Nutrition
Calories:
389
kcal
Carbohydrates:
37
g
Protein:
6
g
Fat:
24
g
Saturated Fat:
3
g
Cholesterol:
9
mg
Sodium:
459
mg
Potassium:
256
mg
Fiber:
2
g
Sugar:
4
g
Vitamin A:
133
IU
Vitamin C:
2
mg
Calcium:
87
mg
Iron:
2
mg
Nutritional information are estimates only.
Tried this recipe? Leave a star rating today!
Also tag @iamtheunlikelybaker I'd love to see your creations.
Happy waffle-making!
Did you make ube waffles? I'd love to hear from you in the comments section below. If you prefer pancakes, try this equally delicious ube pancake recipe.