Baked pumpkin donuts with cinnamon sugar that are soft, tender, delicious and so easy to make. You'd want to enjoy them with your coffee or tea all season long.
(Love making homemade donuts? Try these baked ube donuts. Wonderfully purple and packed with the ube flavour you love.)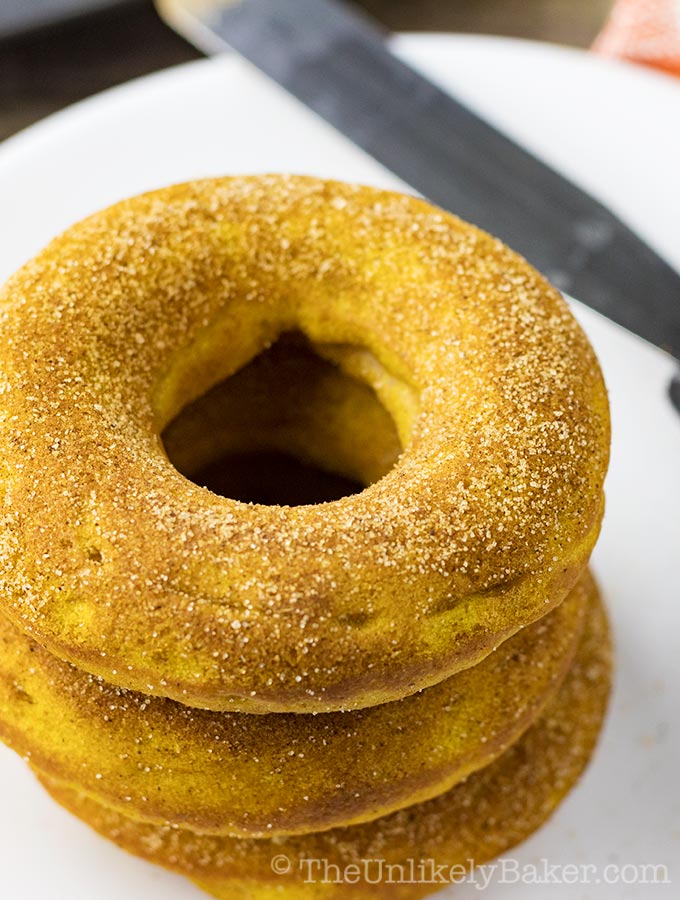 Remember my no-bake pumpkin cheesecake bars? These cinnamon sugar baked pumpkin donuts share the same mouthwatering flavour profile.
Filled with fall favourites like cinnamon, nutmeg and ginger, plus a generous helping of pumpkin puree, they go perfectly with coffee, tea or pumpkin spice latte on a crisp fall day.
You'd be surprised how they come together so easily too!
Difference between cake donuts and yeast donuts
Baked donuts are also called cake donuts because, unlike traditional donuts, they are baked and cake-like, not fried and airy. And that's really the main difference between the two.
But if you want to get really technical about it – a cake donut is made with a sweetened batter usually with baking powder to help it rise. It's firmer and often soft and cake-like, like these pumpkin donuts.
Yeast donuts, also called raised donuts, are the more traditional kind of donut. Think: Krispy Kreme Original Glazed (OMG drool).
It's made with a yeast dough then cut into shape before deep frying. They're light and airy, have a slight chew and yeast flavour.
Related: Pandesal Recipe (Filipino Bread Rolls)
What is better – cake donuts or yeast donuts?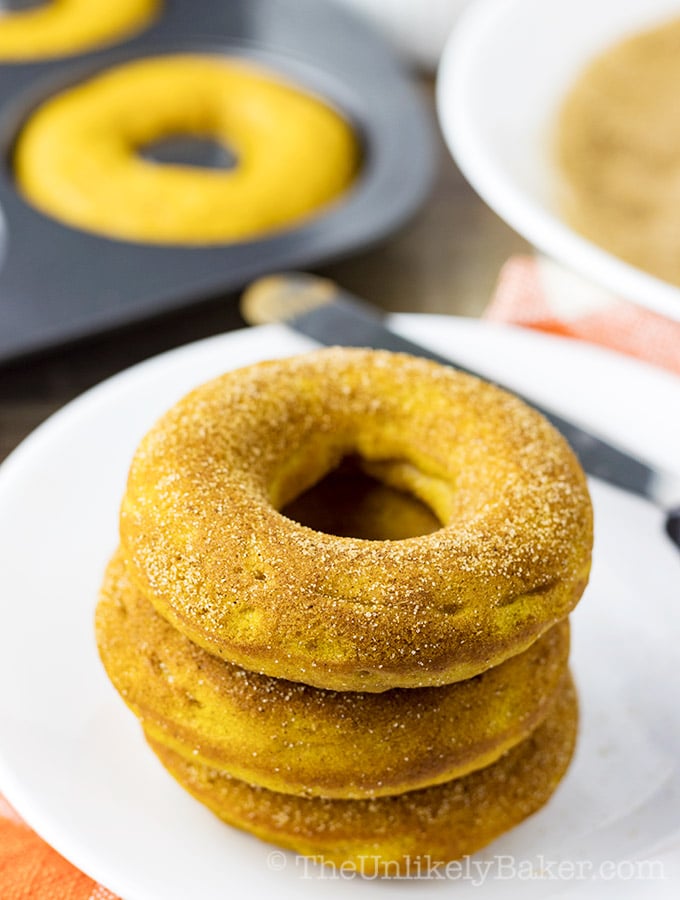 So what is the better donut? It's really a matter of preference.
Some people like that yeast donuts are airy but others don't like the fact that they're fried (though some cake donuts can be fried too).
Cake donut fans like the fact that cake donuts are baked and more filling while non-fans miss the light texture of a yeast donut.
I personally like all donuts (I'm not picky lol). I think the more important question is, is it donut or doughnut?! (I went with the simpler route, donut).
How to make cake donuts without a donut pan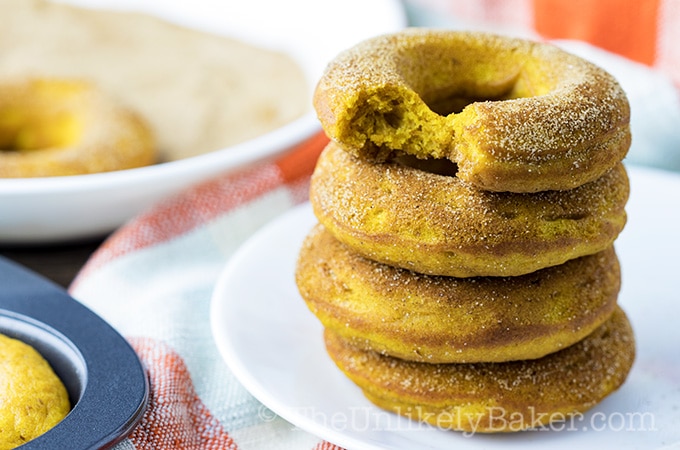 I was inspired by my friend Dawn over at Girl Heart Food (she has some amazing donut recipes) to start experimenting with donuts. It took me longer than expected to start though because I didn't own donut pans.
I did eventually buy some since I baked donuts a lot but you don't have to. Don't let not owning donut pans stop you from making donuts at home!
I found these two really clever hacks for you:
How to make baked pumpkin donuts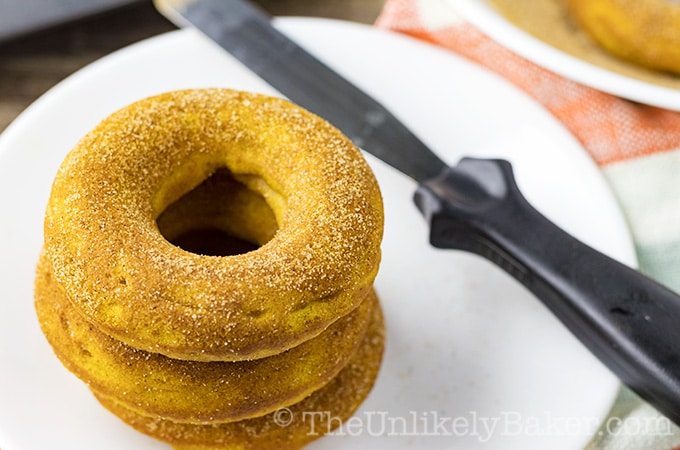 Once we've addressed the donut pan situation, we can get on with baking! And it cannot get easier than this.
You don't even need a mixer. In fact, as a general rule, cake donut batters should be mixed minimally to ensure tenderness so mixing by hand is preferable.
Make sure to mix thoroughly though. Ensure there are no patches of flour remaining in the batter.
So scrape the bowl to make sure your ingredients are combined well, but avoid over-mixing, which can make the batter tough. Gentle but thorough does it.
You then have a choice of scooping your batter into the pan or piping them. I like to pipe them – I find it's less messy that way (check out the video). Don't have piping bags? Just get a large Ziploc bag and cut off one tip.
Related: Pumpkin Buttermilk Pancakes with Candied Pecans
How to make cinnamon sugar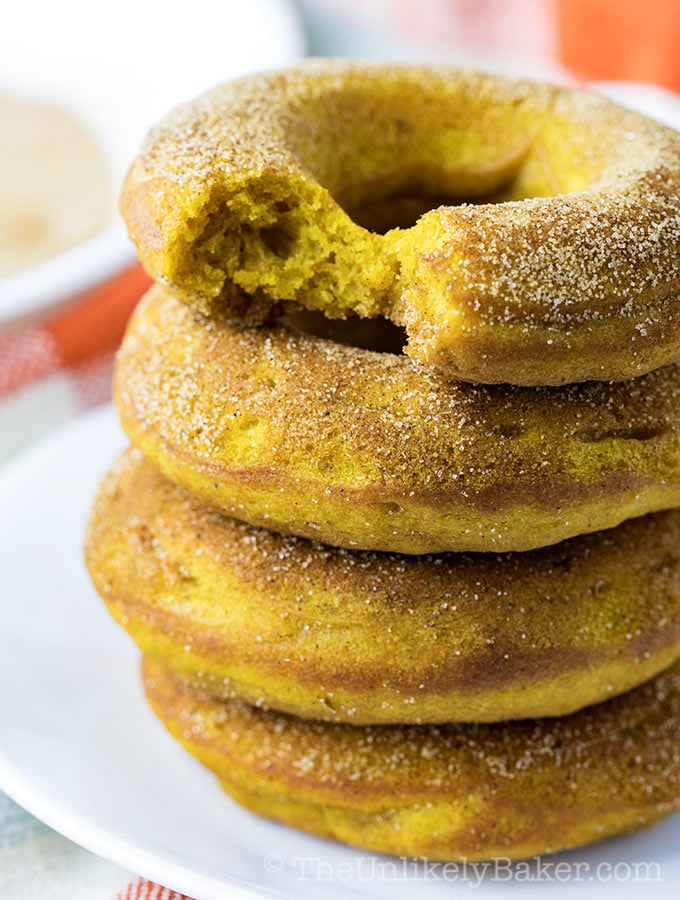 Can we take a moment to talk about cinnamon sugar? So simple, but so good.
Who knew mixing sugar with a little bit of cinnamon can take your baked goods to the next level?
In addition to these baked pumpkin donuts, you can also sprinkle cinnamon sugar in cakes, cupcakes and even your favourite lattes. It's also my favorite beaver tail flavor!
I'm convinced the perfect ratio is ¼ cup sugar to 1 tablespoon of cinnamon, which was what I used in this recipe.
Related: How to Make Churros con Chocolate at Home
Thanksgiving breakfast recipes
I'm not entirely sure how to categorize donuts. I eat them for breakfast, snack and the occasional dinner lol! But I suppose a lot of people have them in the morning.
In which case, these cinnamon sugar baked pumpkin donuts would be perfect on Thanksgiving morning. Nothing beats waking up to the smell of these baking in the oven!
Here are more Thanksgiving breakfast ideas for you: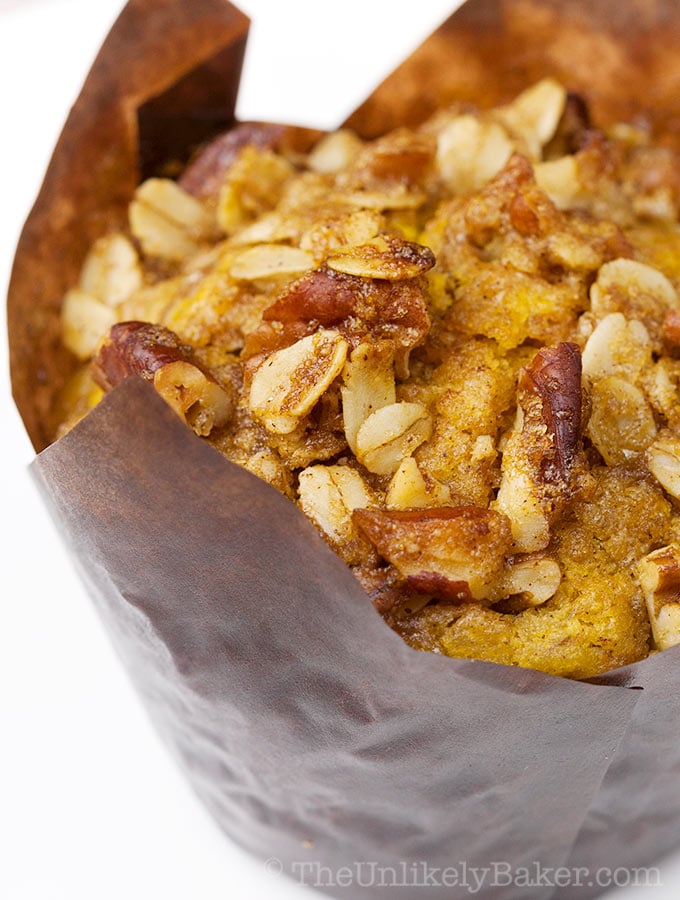 Pumpkin pecan muffins are a delicious way to start the day! With bits of crunchy pecans mixed in with the batter and a delightful pecan streusel topping, it's a muffin especially made for a lovely fall morning.
The mouth-watering flavour trifecta of apple, cinnamon and cardamom bursts in every bite of this apple crumble coffee cake. Crunchy on the outside, tender on the inside, it's perfect with coffee or tea on a crisp fall day.
Reward yourself with breakfast that tastes like dessert! Slightly boozy too. What more can we ask for? Chocolate kahlua bread pudding is bursting with chocolate flavour and a truly special morning treat.
Sweet potato breakfast hash is delicious and filling. And with all the best things about breakfast – potatoes, sausages, bacon and eggs – in one pan, it's a great way to start your day!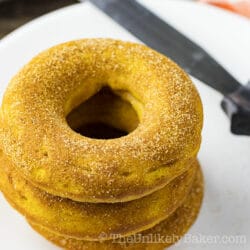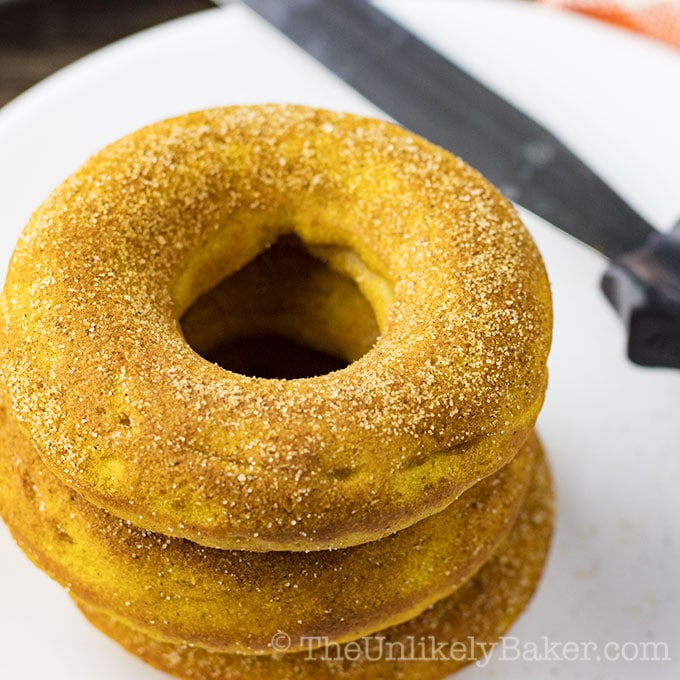 Cinnamon Sugar Baked Pumpkin Donuts
These cinnamon sugar baked pumpkin donuts are soft, tender, delicious and so easy to make. You'd want to enjoy them with your coffee or tea all season long.
Ingredients
For the Baked Pumpkin Donuts
Instructions
Preheat oven to 350F. Lightly grease donut pans (see note 2) and set aside.

In a large bowl, whisk all ingredients – except the flour – until incorporated. Add the flour and gently stir until combined and no more patches of flour remain.

Transfer to your donut pans. You can either spoon the batter into the pans or pipe them (see video).

Bake for 12-17 minutes or until a toothpick inserted into a couple of donuts come out clean (see note 3). Allow the donuts to slightly cool in the pan.

In the meantime, combine ¼ cup sugar and 1 tbsp cinnamon. While the donuts are still warm (but already set), roll/dip them in the cinnamon sugar.
Notes
I used canned pumpkin puree for this recipe.
I used regular-sized donut pans and mini donut pans for this recipe, which resulted to 12 regular-sized and 24 mini donuts. I think this batter is enough to yield 24 regular-sized donuts.
The regular-sized donuts were done in 17 minutes, the mini donuts were done in 12.
Nutrition
Calories:
119
kcal
Carbohydrates:
19
g
Protein:
1
g
Fat:
4
g
Saturated Fat:
3
g
Sodium:
50
mg
Potassium:
72
mg
Sugar:
10
g
Vitamin A:
2385
IU
Vitamin C:
0.7
mg
Calcium:
23
mg
Iron:
0.7
mg
Nutritional information are estimates only.
Tried this recipe? Leave a star rating today!
Also tag @iamtheunlikelybaker I'd love to see your creations.
Happy baking!
Did you make baked pumpkin donuts? I'd love to hear from you in the comments section below.
And let's get social! Find me on Facebook, Pinterest, Instagram, Twitter and YouTube.