This buttermilk pound cake is a classic – moist, delicious, simple to make and so buttery. It's an excellent addition to your recipe collection and a great way to use that extra buttermilk.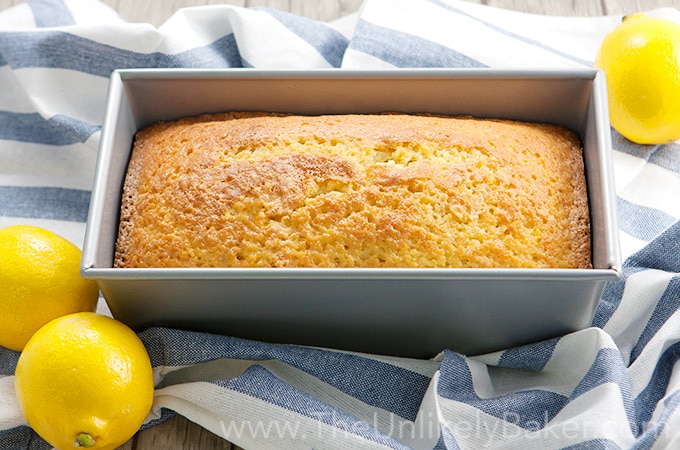 As much as I like frosting, I am partial to unpretentious cakes like pound cakes and butter cakes and sponge cakes. They are delicious on their own and don't need anything else.
This particular buttermilk pound cake is a favourite. Moist, delicious and oh so buttery! Simple to do, too; no special techniques required. It's also a great recipe to use extra buttermilk if you have it (I know I always do).
Extra buttermilk?
When I first started baking, among the many (many) things that puzzled me was why (why?) do they only sell buttermilk in 1L cartons (in and around where I live anyway)? I usually only need a cup so I always ended up with lots extra.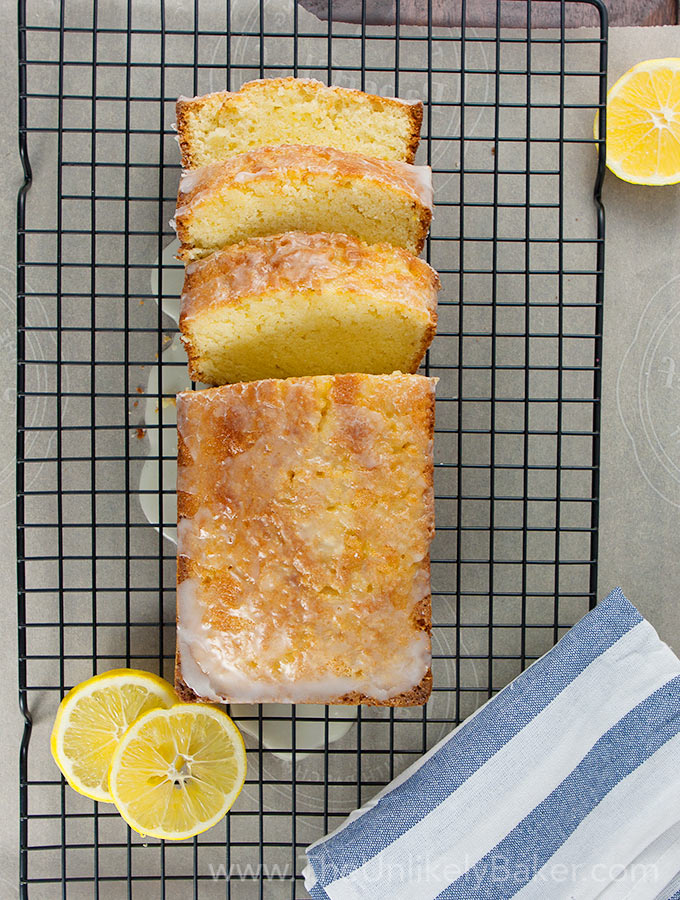 Baking a second cake was out of the question – there's only me and Red at home and even though having one 9-inch, 2-layer cake each would be fun (so much fun), we prefer not having that temptation so easily within reach because we will eat those cakes. All of it.
Need to use that extra buttermilk?
Click To Tweet
My buttermilk workflow
So my buttermilk would usually go bad and I would feel bad because these things are not cheap. Over time though, I developed a kind of workflow. Extra buttermilk = buttermilk scones + buttermilk pancakes (coming soon on the blog) that I would just freeze and then microwave in the mornings for breakfast (or whenever, no judgements in our house).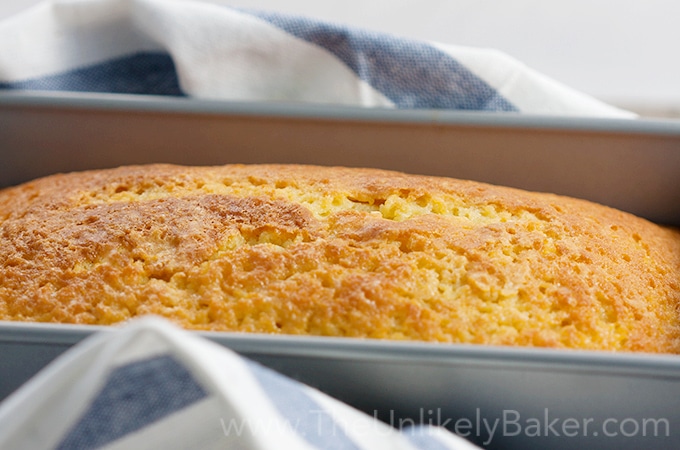 This solution worked really well but sometimes we wanted something other than scones and pancakes. So I started exploring other buttermilk options.
Buttermilk pound cake
The best one I've found so far is this moist, buttery, classic buttermilk pound cake. Technically, it's still a cake but it doesn't have frosting on it, it's great on its own, it has lemons in it, I eat it for breakfast, it's delicious…is that enough reasons to bake one?
You can drizzle a lemon glaze over this too and it is just wonderful.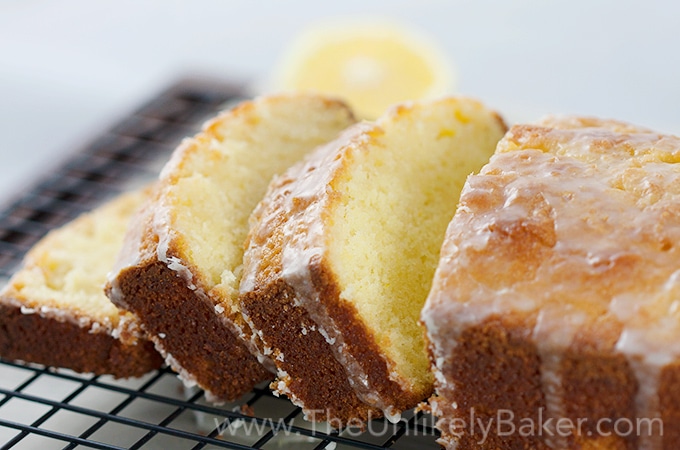 Key to success
Moist, simple to make and oh so buttery. A cake so delicious you don't need frosting!
Click To Tweet
What I've found as the key to making simple cakes spectacular is to spring for the best ingredients. In this case, look away from those budget butters and buy the best one in the store. And the best vanilla extract you can find. They will make a difference.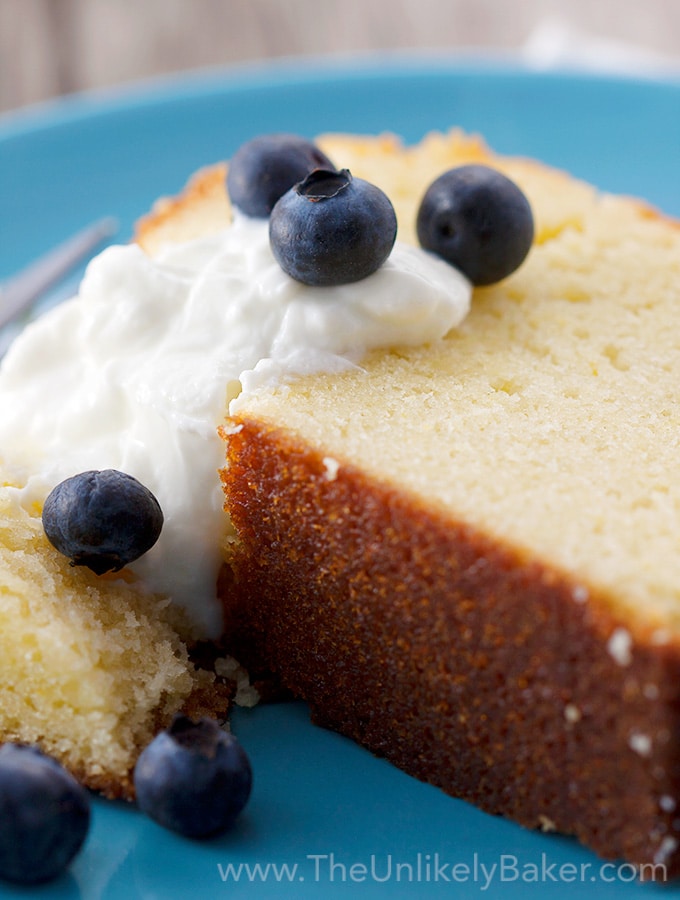 So whether you have extra buttermilk you want to get rid of or just craving for really delicious buttermilk pound cake that's excellent with tea, coffee, as a snack, or for a picnic, this is the cake for you.
Classic Buttermilk Pound Cake
This buttermilk pound cake is a classic – moist, delicious, simple to make and oh so buttery. Plus it's a great way to use that extra buttermilk.
Ingredients
Cake:

3 cups all purpose flour
1/4 teaspoon baking soda
1/2 teaspoon salt
1 cup unsalted butter, room temperature
3 cups granulated sugar
6 eggs, room temperature
1 tablespoon lemon juice (1 medium-sized lemon should be enough)
2 teaspoons lemon zest (I usually have to zest 2-3 medium-sized lemons to get this amount)
1 teaspoon vanilla extract
1 cup buttermilk, room temperature
Optional Lemon Glaze:

3/4 cup confectioner's sugar
2 teaspoons lemon juice
Instructions
Cake:

Preheat oven to 325F. Grease the bottom and sides of 2 loaf pans (see notes) and set aside.
In a large bowl, combine 3 cups flour, 1/4 teaspoon baking soda and 1/2 teaspoon salt. Set aside.
Using a handheld electric mixer or a stand mixer fitted with the paddle attachment, beat 1 cup butter and 3 cups sugar on medium-high speed until light and fluffy (about 5 minutes).
Switch to low speed and add the 6 eggs one at time, making sure each one is incorporated well after each addition.
Stir in 1 tablespoon lemon juice, 2 teaspoons lemon zest and 1 teaspoon vanilla.
Add in a third of your flour mixture then half of your buttermilk. Then another third of your flour, the rest of your buttermilk and finally the last of your flour, making sure to combine well after each addition.
Transfer the batter into prepared pans and bake for 60-75 minutes (see notes). The cakes are done when they start to pull away from the sides of the pan and if a toothpick inserted in the middle comes out clean or with minimal crumbs clinging to it.
Take out from oven and let cool in the pans for 10 minutes before transferring to a wire rack to cool completely.
Drizzle with lemon glaze, if using, while the cakes are still warm.
Optional Lemon Glaze:

Mix 3/4 cup confectioner's sugar and 2 teaspoons lemon juice in a small bowl until the sugar completely dissolves and the consistency becomes runny.
Notes
The original recipe called for a 9 or 10 inch tube pan, which I don't have. So I use 2 loaf pans. One is 8.5x4.5 inches and the other is 9x5 inches.
The cake on the 8.5x4.5 inch pan is done in 60 minutes while the other is done in 75 minutes. Every oven is different so watch your cakes - just don't test for doneness too soon (I'd say wait until an hour has gone by before you open that oven).
Over time I've learned to make my own buttermilk if I only needed a small amount. Mix 1 cup milk + 1 tablespoon of lemon juice. Stir. Let it sit in room temperature for 30 minutes. Ta-dah! Buttermilk.
https://theunlikelybaker.com/classic-buttermilk-pound-cake/
This delicious recipe brought to you by www.TheUnlikelyBaker.com | (c) 2016-2017
(Recipe adapted from All Recipes)
Happy baking!
Did you make this buttermilk pound cake? Tell me about it in the comments section below. I'd love to hear from you. Do you prefer cakes with frosting or cakes without?
Speaking of cakes, all cake recipes are here.
And let's get social! Find me on Facebook, Pinterest, Instagram, Twitter, Google+ and Flipboard.
Or subscribe so you don't miss a recipe. I promise I don't spam (I hate spam too).
Do you want to improve your food photography, monetize your blog or start your very own food blog? Check out my Blogging Resources.