This ube cheesecake is everything you ever wanted in an ube dessert. Luxurious ube cheesecake filling on a bed of crunchy coconut cookie crust then topped with creamy coconut whipped cream.
(Love ube? Try Ube Cake (Filipino Purple Yam Cake) – it's one of the most popular recipes on TUB. Ube Cupcakes and Ube Chiffon Cake are also fast becoming everyone's favourite. You'll also love these Ube Bread Rolls with Toasted Coconut. Craving for ice cream? I have Homemade Ube Ice Cream for you too!)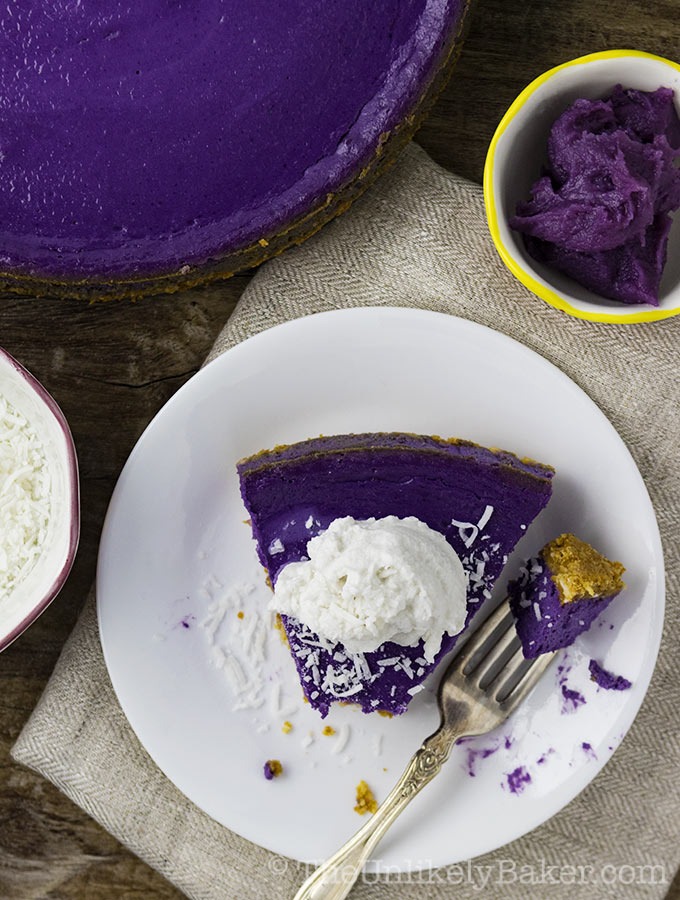 Can you tell I just love ube? I don't make ube halaya or jam myself (update: I finally learned! Check out my recipe for homemade ube halaya – it's delicious) but when I get my hands on the real good ones like the Good Shepherd brand, I'm known to do 1 of 2 things.
I either eat it straight out of the jar and don't stop, or just lovingly stare at it and ration it so it lasts for months because I'm afraid it would be years before I can get a jar again.
Other times, extra special times, when someone from home is nice to me and gifts me with more jars of ube jam than I can handle, I bake with it. And it's really become one of my favourite ingredients to work with (a very close second to lemon).
And of all the ube recipes I've shared, this is by far my favourite. It's just so dang good. Dangerously good. You won't be able to stop eating it good.
And with that gorgeous purple colour, it has that wow factor too that's sure to impress your family and friends.
Ube cheesecake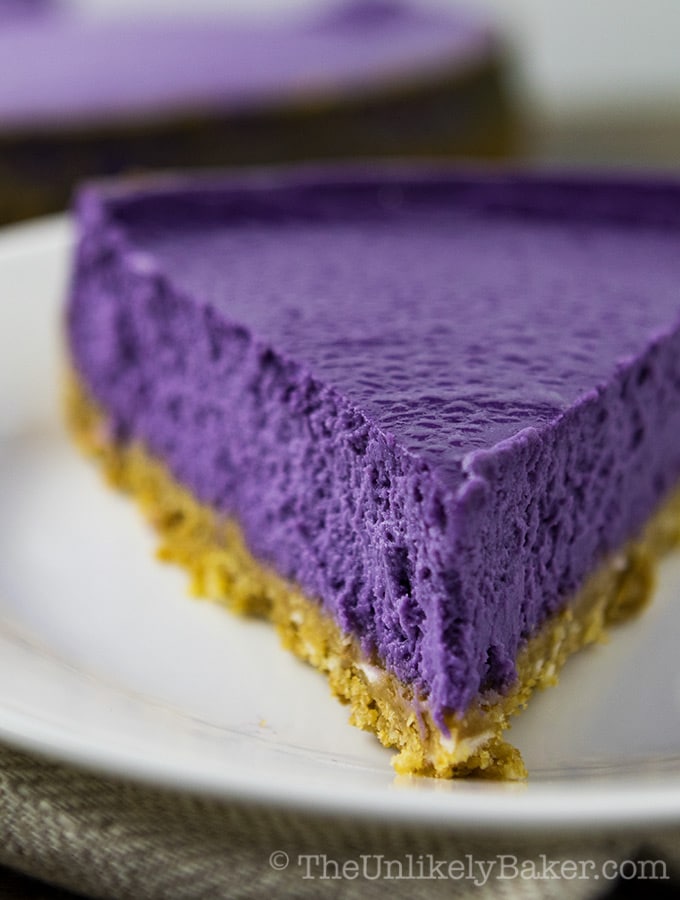 I know ube sounds foreign and unfamiliar to a lot of you. The simple explanation is it's Filipino purple yam (my post on Ube Waffles has more information about it). Filipinos use it mostly for desserts, the most common of which is ube halaya or jam.
Filipino food hasn't gone quite mainstream yet (unlike Chinese or Korean cuisine) which is a shame because it is so unique and delicious. Ube has been slowly making headway though and it's popping up in more and more menus and restaurants worldwide.
And rightfully so. The lowly ube is delicious! Like this ube cheesecake.
It has the same basic ingredients as your classic New York cheesecake – cream cheese, eggs, sour cream – but the addition of ube jam and ube extract makes it that much more scrumptious.
Related: The Best No Bake Mini Cheesecakes
Tips for making the best cheesecake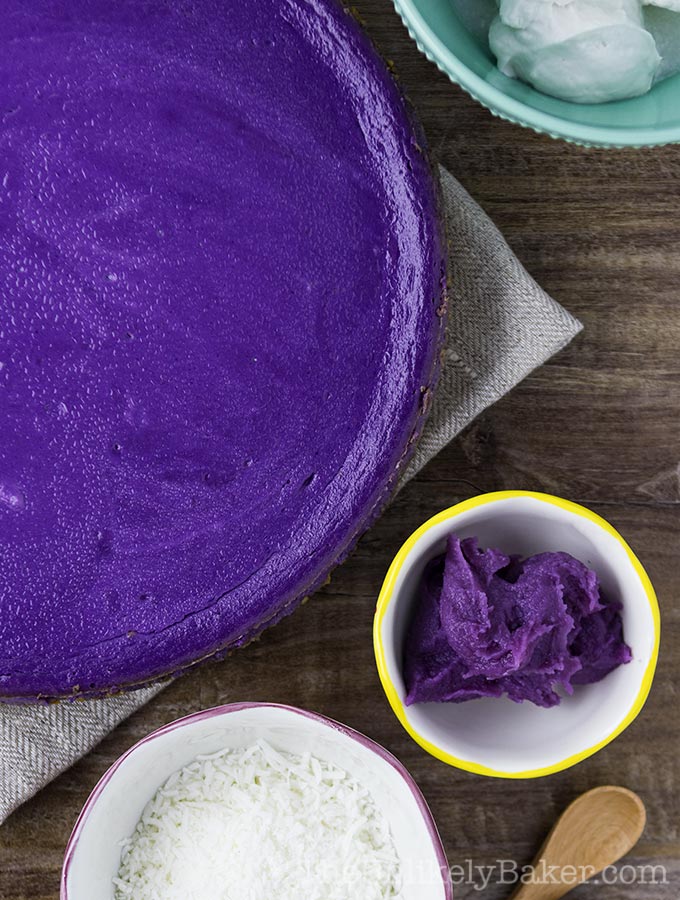 Don't be intimidated because it's a cheesecake.
While cheesecakes are admittedly more finicky to bake than a regular cake, here are little things you can do for a perfectly smooth, creamy, crack-free cheesecake every time:
Start with room temperature ingredients. This ensures a smooth cheesecake batter and helps prevent the cheesecake from cracking later.
Add your eggs 1 at a time and beat for about 15 seconds or just until blended. Avoid over beating the batter because you don't want to incorporate too much air into it.
Before putting your cheesecake in the oven, gently tap your pan on the counter a few times to release any air bubbles hiding in the batter.
Patience is key! Don't be tempted to open the oven door to check on your cheesecake.
You want your cheesecake to cool gradually too. Once it's done, turn the oven off but keep the cheesecake in the oven for about an hour with the oven door slightly open.
And remember to chill the cheesecake completely too. Wait until it's completely set before cutting into it.
What about the water bath (or bain marie)?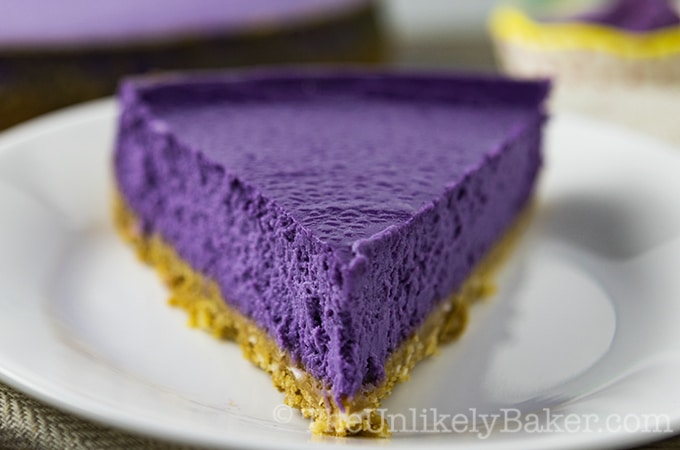 Traditionally, cheesecakes are baked in a water bath – you wrap your springform pan with aluminum foil and place it on a roasting pan halfway filled with water. The idea is to create a gentle and even heat around the cheesecake.
My problem with this method has always been seeping – water would always get into my cheesecake no matter how well I wrapped it. Happily, I discovered a new way to bake cheesecakes without all this mess and fuss.
I simply place a roasting pan with hot water on the lower rack of the oven with my cheesecake baking on the middle rack. No cracks, no seeping, just perfect creamy cheesecakes every time!
Of course you can continue baking cheesecakes using a water bath if you like but I hope you try this new method too. It's a game changer.
Related: Salted Caramel Apple Cheesecake with Pecan Crisp Topping
How to know when the cheesecake is done baking
Another question I get a lot is how to tell if the cheesecake is done baking.
You can't really test a cheesecake for doneness by inserting a toothpick in the centre because it would cause the cheesecake to crack for sure.
Signs to look for:
The edges of the cheesecake should be slightly puffy and the centre should be almost set but still slightly wobbly (not soupy though).
To be sure, gently shake the pan, the centre should jiggle ever so slightly. This centre part will set as the cheesecake cools.
Not quite there yet? Continue baking but watch your cheesecake like a hawk.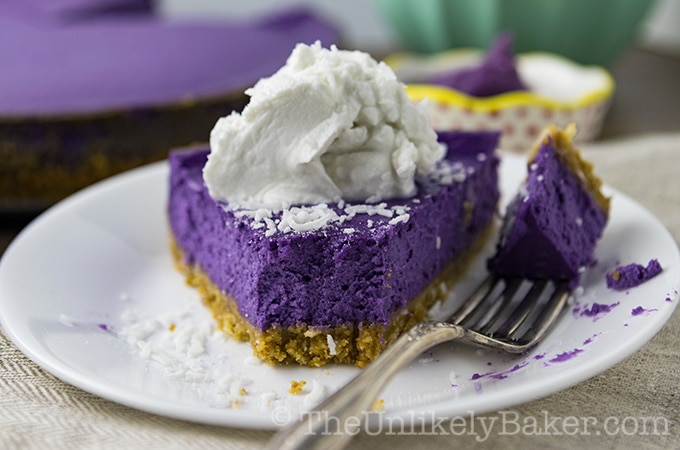 Going back to this mouth-watering ube cheesecake. You might have noticed I used a coconut cookie crust again. This really is my favourite crust to make!
And for good reason. It's so simple but so good.
It's the same crust I used for this Dreamy Creamy Meyer Lemon Pie, these Creamy Lime Bars and The Best Lemon Cheesecake Ever – one of the the most popular recipes on TUB!
How to make coconut whipped cream
The coconut whipped cream is to-die for too. I used it as topping for my No Bake Pineapple Coconut Cream Pie and it takes both desserts over the top.
It cannot get any easier to make:
Take a can of coconut cream (cream not milk) and chill it overnight. The next day, open the can and scoop out the solid parts (don't throw away the liquid parts though, they're great for smoothies).
Add sugar and vanilla extract and beat until stiff. It's delicious.
Related: 32 Stunning Holiday Cakes
Stunning desserts for the holidays
Already planning for all the holiday parties coming our way? Add this ube cheesecake to your menu for a truly memorable end to a fabulous meal.
Here are other desserts you can try. Impressive, but secretly very easy to make (aren't those the best?):
Irish Cream Creme Brûlée. Luxuriously smooth and creamy custard, perfectly crunchy caramelized sugar on top, slightly delightfully boozy.
No-Bake Pumpkin Cheesecake.

From the sweet and zesty gingersnap crust to the creamy pumpkin filling, this cheesecake bursts with the flavours of fall.
Happy baking!
Did you make ube cheesecake? I'd love to hear from your in the comments section below.
Click here if you're looking for ube cheesecake bars – a fantastic 2-in-1 ube dessert.
And check out this recipe for bibingka cheesecake, a delicious and extraordinary take on the beloved Filipino kakanin.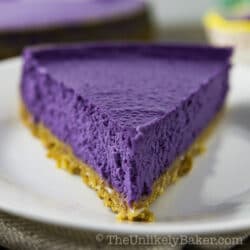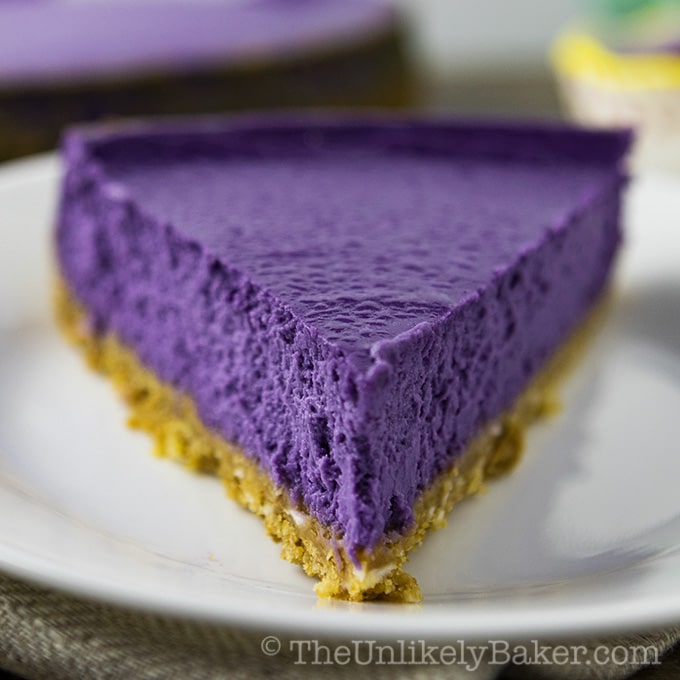 Ube Cheesecake with Coconut Cookie Crust and Coconut Whipped Cream
This ube cheesecake is everything you ever wanted in an ube dessert. Luxurious ube cheesecake on a bed of crunchy coconut cookie crust topped with creamy coconut whipped cream.
Instructions
Preheat oven to 325F. Line the bottom of a 9-inch springform pan with parchment paper and set aside.

In a medium bowl, combine all crust ingredients and stir until evenly moist.

Transfer to your prepared pan and use the back of a spoon or measuring cup to pack it tightly to the bottom. Set aside.

Using a handheld electric mixer or a stand mixer fitted with the paddle attachment, beat cream cheese on med/high speed until fluffy (2-3 mins).

Add ½ cup sugar and continue beating for another 2 minutes.

Add 5 oz ube jam and ¾ cup sour cream. Beat until smooth and incorporated. Make sure to break apart any chunks of ube jam (some brands are chunkier than others).

Add 1 tsp vanilla extract and 3 tsp ube extract and stir until combined. Taste your batter and decide if you're OK with the sweetness. Add sugar 1 tbsp at a time, if necessary.

Add eggs one a time, beating each one just until combined. Remember to scrape the bottom and sides of your bowl to make sure you're getting to every last inch of batter.

Pour the batter into your pan and tap gently on your counter. Place the pan on your oven's middle rack. Place a roasting pan filled with hot water on the bottom rack.

Bake for 30 minutes at 325F then lower the oven temperature to 300F and bake for 30 minutes more or until set (see blog post for tips on how you can tell if your cheesecake is done).

Turn the oven off, open the oven door slightly but keep the cheesecake inside for another hour so it can gradually cool.

Take the cheesecake out of the oven, run a thin, sharp knife around the edges to separate the cake from the pan. Don't take the cake out of the pan though. You can place it straight into the fridge to chill 6-8 hours, preferably overnight.

When you're ready to serve, prepare your coconut whipped cream by taking the chilled can out of the fridge and scooping out the solid parts into a small bowl (see notes). Add 2 tbsp sugar, 1 tsp vanilla extract and beat until stiff.

To serve the cheesecake, top with a dollop of coconut whipped cream and sprinkle with shredded coconut.
Notes
I use prepared graham cracker crumbs which are very finely crushed.
Every ube jam is different so depending on the kind/brand of jam you use, your cheesecake may need more sugar. Taste your batter before adding the eggs so you can adjust accordingly.
For the coconut whipped cream, make sure to only use the solidified parts of the coconut cream otherwise, your cream will be too soupy. It won't come together. You can use the liquid parts for smoothies and other recipes.
Nutrition
Calories:
277
kcal
Carbohydrates:
30
g
Protein:
1
g
Fat:
16
g
Saturated Fat:
10
g
Cholesterol:
35
mg
Sodium:
138
mg
Potassium:
77
mg
Sugar:
22
g
Vitamin A:
400
IU
Vitamin C:
0.2
mg
Calcium:
39
mg
Iron:
0.8
mg
Nutritional information are estimates only.
Tried this recipe? Leave a star rating today!
Also tag @iamtheunlikelybaker I'd love to see your creations.