Ever wondered what to do with leftover ricotta cheese? Here are sweet and savoury recipes that use ricotta cheese that are so good you'll want to have leftover ricotta all the time!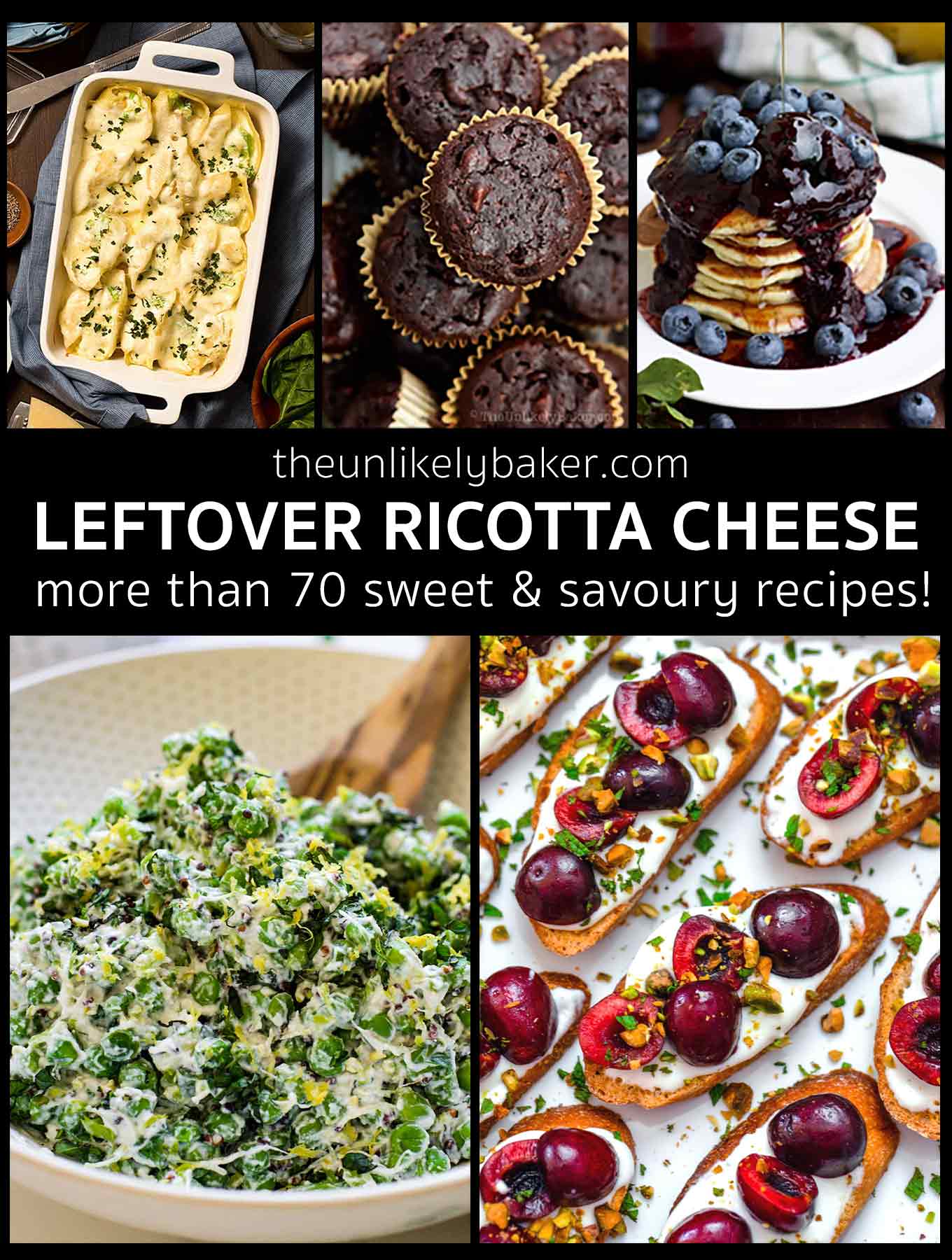 When you bake as much as I do, you'll inevitably end up with leftover ingredients.
Sometimes a recipe only needs ½ cup and you have 1 cup. Or it only needs egg whites not the yolks.
I found myself always looking for ways to use up leftovers so I decided to put these recipes in a handy-dandy list so I can easily go to them when needed. And now you can too!
I have recipe collections for:
This ricotta recipe collection is one of the most popular on the blog.
Ricotta cheese is such a versatile ingredient, used for both sweet and savoury dishes. It's such a waste to not use it all up!
Hope you found this collection helpful. There's just so many ways to incorporate ricotta cheese in your recipes! Enjoy!
If you have questions about storing ricotta cheese, check out the FAQs below.
FAQs
How long can you keep ricotta cheese in the refrigerator?

Remember to always keep your ricotta cheese covered (they usually come in tubs/containers with lids) and in the fridge. I use the best before date as a guide but find that ricotta cheese typically stays fresh for up to 2 weeks after opening.
Can you freeze leftover ricotta cheese?

Freezing is a better option if you want it to last longer than 2 weeks. Unopened containers/tubs can go from your shopping bag straight into the freezer.

If you're dealing with leftovers, it would be better to transfer the cheese to an airtight container (those tubs they come in are not exactly airtight) or in a Ziploc bag (be sure to drain excess water first before freezing).

Word of warning: freezing ricotta cheese will affect its texture. Instead of soft, creamy ricotta, you'd have a drier, crumblier cheese. Which is fine if you're baking with it but probably not OK if you're planning to serve it on its own on a platter.
How to thaw frozen ricotta cheese

To thaw, simply bring down the ricotta into the fridge a few hours before use.